Hyatt is making yet another move to expand its share of the luxury hotel market.
The hotel chain announced Friday it plans to acquire Mr. & Mrs. Smith, a London-based hotel booking platform with over 1,500 boutique and luxury properties worldwide. It will take full ownership of the Mr. & Mrs. Smith brand for 53 million British pounds, about $66.5 million when the deal closes at the end of June.
With this deal, Hyatt isn't actually acquiring any new hotels or resorts, but rather giving World of Hyatt members access to the properties available on the Mr. & Mrs. Smith booking platform, many of which are smaller, unique luxury stays.
It's clear this move is intended to quickly grow the Hyatt footprint in parts of the world, like Europe, where they don't currently have a big presence or operate at all. Hyatt's Chief Commercial Officer, Mark Vondrasek said, "We are excited by this planned acquisition and to explore bringing guests and World of Hyatt members even more global luxury offerings across hundreds of geographies – including over 20 countries where there are currently no Hyatt hotels such as Fiji, Croatia, Iceland and Anguilla."
Hyatt's renewed focus on the luxury hotel market is somewhat surprising, given that it comes on the heels of last week's new brand announcement of Hyatt Studios – a more affordable, extended-stay hotel. Friday's news is a move in the opposite direction, furthering Hyatt's expansion into the world of luxury hotels.
What Does This Mean for World of Hyatt Members?
There are more questions than answers when it comes to how Hyatt is planning to integrate its World of Hyatt rewards program with the Mr. & Mrs. Smith booking platform.
For starters, it won't be immediate. Hyatt said in the news release that direct booking access to properties within the Mr & Mrs Smith platform through Hyatt's distribution channels such as Hyatt.com and the World of Hyatt app will come at a later date.
There's also some uncertainty about how elite benefits and award bookings will be handled at these properties. As of now, Hyatt has only said it is "exploring ways to enable World of Hyatt members to earn and redeem points across eligible hotels in the Mr. & Mrs. Smith collection."
Another interesting note in all of this is that Mr. & Mrs. Smith operates in the same market as current Hyatt partner, Small Luxury Hotels of the World (SLH). This new acquisition could certainly have an impact on that partnership moving forward.
Interestingly, Mr. & Mrs. Smith has been partnering with IHG One Rewards for the past few years, allowing IHG members to earn and redeem awards at most properties on the Mr. & Mrs. Smith booking platform. That partnership is likely coming to an end with this latest announcement.
Our Take
In general, this is a really good thing for World of Hyatt members. More options for booking hotels and earning rewards is always a positive in our opinion.
Some of the properties currently available to book on the Mr. & Mrs. Smith platform are unique and will make for a memorable stay in some of the world's most desirable locations that World of Hyatt members didn't previously have access to.
One of these properties, the Arctic Treehouse Hotel in Rovaniemi, Finland, was recently featured in an episode of the Reluctant Traveler on Apple TV+ with Eugene Levy.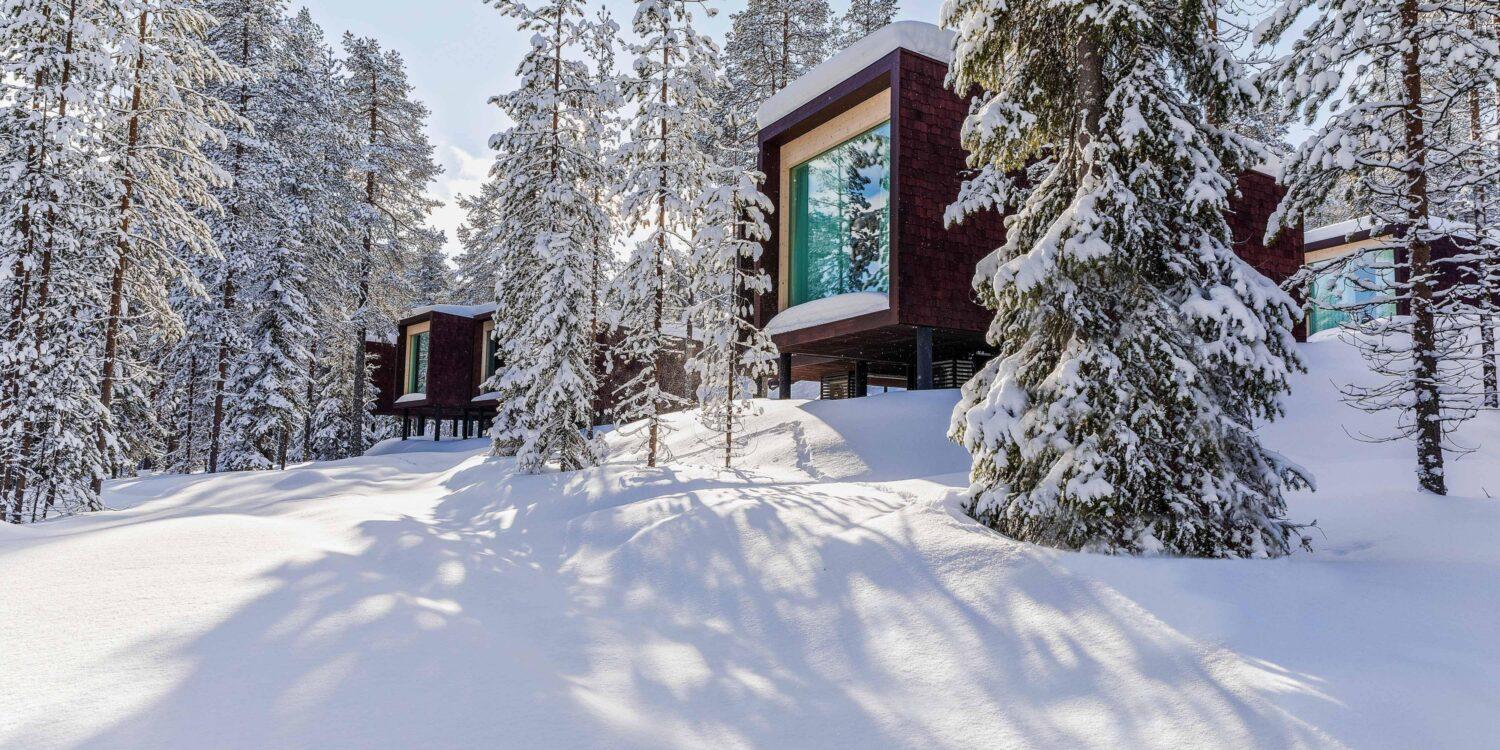 This property is one example of the many gems that can be found on Mr. & Mrs. Smith, and the option to (eventually) earn valuable World of Hyatt points while staying at a property like this is just icing on the cake.
Bottom Line
Hyatt is set to acquire the luxury and boutique hotel booking platform Mr. & Mrs. Smith later this year. The deal will give World of Hyatt members the opportunity to book independent, luxury hotels in many parts of the world where Hyatt doesn't currently operate.
With this move, Hyatt is further enhancing its luxury travel offerings and expanding its reach across the globe.
All images courtesy of Mr & Mrs Smith