Getting a nice hotel in London can cost a small fortune. But then there's the Andaz London Liverpool Street, a Hyatt property with all the usual modern touches of the Andaz brand along with some quintessentially British touches that you can book for a bargain using World of Hyatt points.
Located just a mile north of London Bridge, this London Andaz property was the perfect springboard to explore the rest of the city during my stay in September. The building's old English exterior conceals a vibrant, young, and energetic interior that defines Andaz properties.
Is it a true luxury hotel? The room didn't scream five starts to me … but the service and the dining were truly exceptional. And booking this property for as low as 17,000 Hyatt points a night? You can't beat that in London.
Here are my impressions of the Andaz London Liverpool Street and why it might be your best bet for your next visit to London.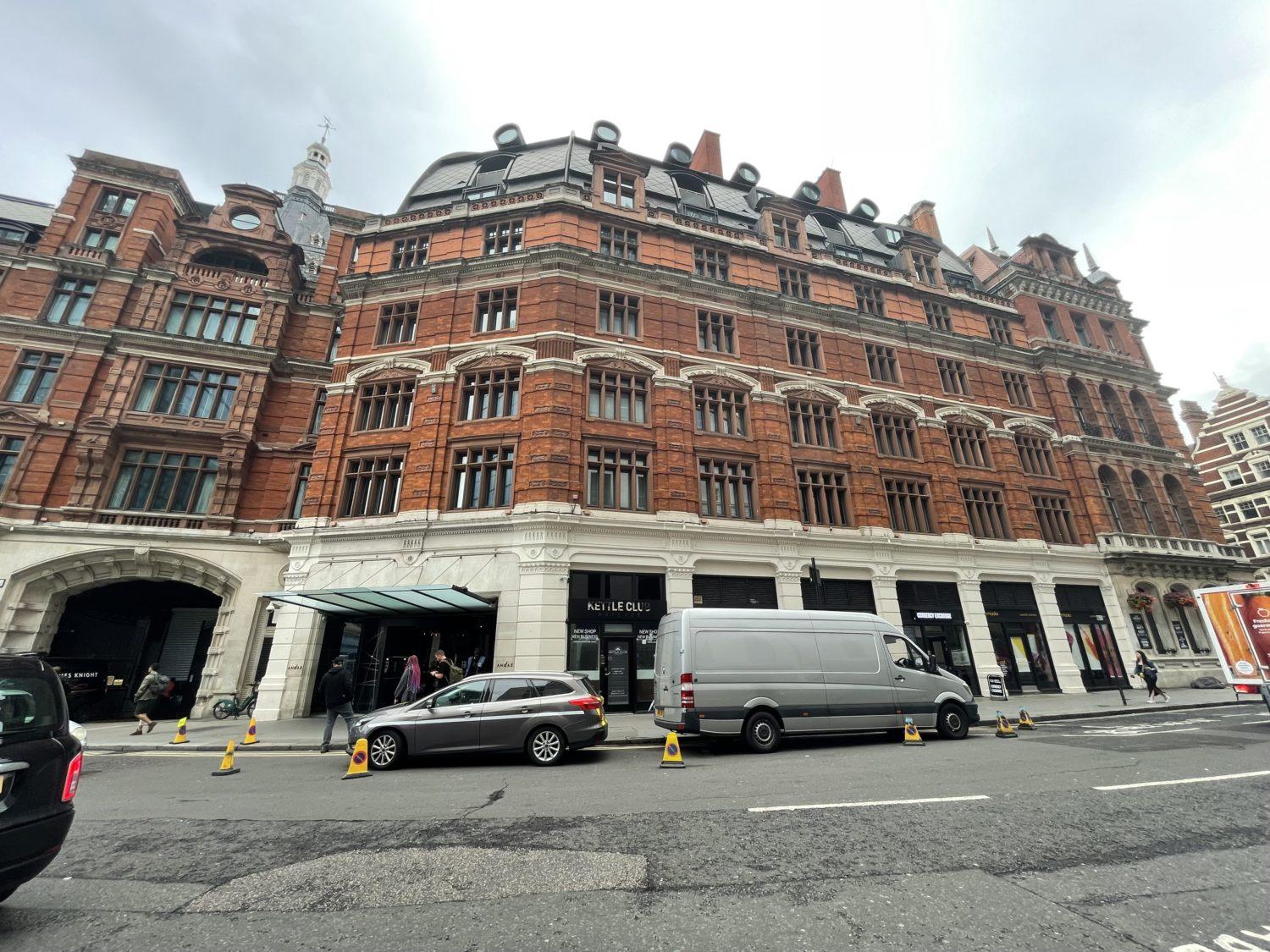 Booking the Andaz London Liverpool Street
The Andaz London Liverpool Street is one of a handful of World of Hyatt properties in the city. And it might be one of the best values you can find.
This map shows all of the points values for the mid-week September 2022 night I was searching for when I booked the Andaz. Most of the Hyatt properties around Buckingham Palace and Hyde Park, the heart of London, are at least 25,000 points per night.
Paying cash, the prices can be eye-watering. At the Andaz London, you're looking at more than $450 per night for these fairly intimate rooms. This is what I paid for the room, as the award space was no longer available when I tried to book.
At Thrifty Traveler, we don't accept freebies. We use our own, points, miles, or cash to pay for every single flight or hotel you see reviewed here – including this one.
But the best strategy here is using Hyatt points to book. It's where there's the best value at the Andaz London. Standard award nights cost just 20,000 points per night, which is a great deal for a hotel of this caliber.
But it can get even cheaper thanks to Hyatt's peak- and off-peak pricing. You can find nights at these off-peak rates (including weekend stays next spring) for just 17,000 points per night. 
Don't have Hyatt points? They're easy to earn as World of Hyatt is a Chase transfer partners – in fact, they're one of the best.
That means you can transfer points from cards like the Chase Sapphire Preferred® Card or the Chase Sapphire Reserve® straight to your Hyatt account, then book this hotel.
Andaz London Liverpool Street Location
The Andaz London Liverpool Street is on … Liverpool Street. Go figure, right?
The hotel is located in the City of London neighborhood, just a few blocks up the hill from the River Thames and within 100 feet of Liverpool Station, which is a major tube and regional rail hub that can get you almost anywhere you need to go in the city. While it's not quite in the heart of London's tourist district, it's still a great location.
If you've been to London, you know that using the tube is shockingly easy, especially coming from the transit-challenged United States. Plus, the Liverpool Street station is a stop on the brand new Elizabeth Line, which is (no exaggeration) the nicest train I've ever been on.
To reach Buckingham Palace, for instance, Google Maps quoted me 27 minutes total, including walking to and from the stations. All said and done, it took me more like 20 minutes.
I also took the tube all the way out to Stamford Bridge to watch a Chelsea match during my stay. The entire journey took me less than 35 minutes on the tube and under 45 leaving the stadium with tens of thousands of football fans.
Checking In
The check-in process started long before I even landed in London.
A week before arriving, I got an email from the hotel's guest services department asking how they could help with my stay. I was asked if I wanted to include breakfast and if I needed any other dining reservations while I was at the Andaz. They also offered to help book transportation or tours of London.
By the morning I arrived at London-Gatwick (LGW), I turned on my phone and had this email waiting. I completed the online check-in right away and was told I would be contacted when my room was ready.
So by the time I walked into the Andaz London Liverpool Street lobby, I had already been in communication with the hotel for a few days. Yet nothing prepared me for the visual stimulation of the lobby!
Aside from some music, the lobby was quiet. Visually … it was not quiet. The relatively small space was busy with color and light. The check-in counters on the right continued on into a smaller bar area in reception.
I waited and worked in this comfortable lobby for a few hours while my room was being readied. The nearby lobby bathroom was similarly vibrant. It was also extremely clean and well appointed.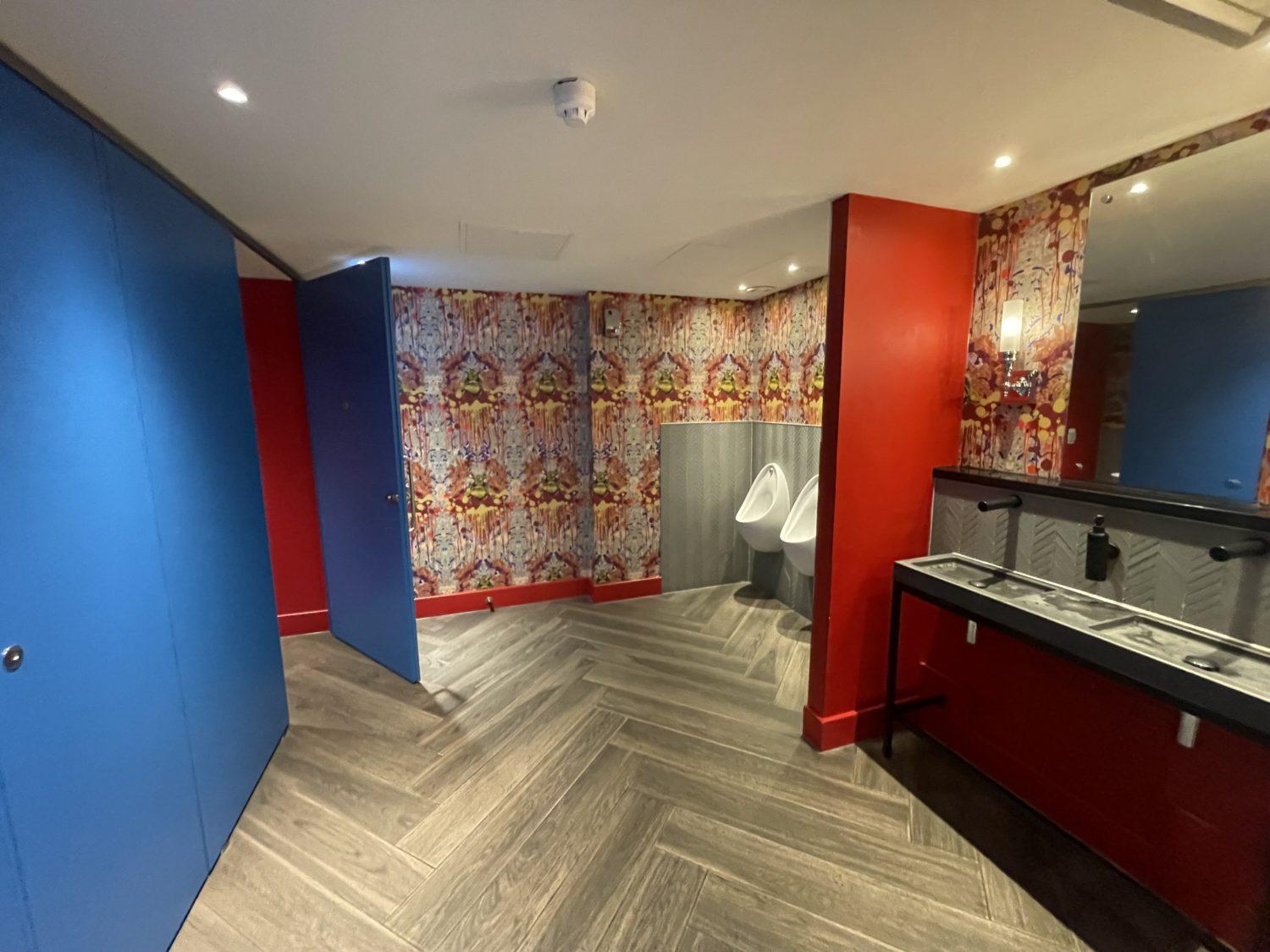 When I arrived, I checked in at reception and was informed I had been named "Guest of the Day." Let's be clear: I don't have status with Hyatt. This was a legitimate surprise with some nice perks!
I used the amenity to take a nightcap glass of red wine up to my room after the football match at Stamford Bridge, and I also was able to redeem a free house drink with my dinner at Eastway for dinner earlier in the night.
As soon as my room was ready, I was emailed by the front desk and the hotel brought my bags up to my room for me. Room 567 was perfect for my stay.
Rooms at the Hyatt Andaz London Liverpool Street
After checking in to the Andaz London Liverpool Street, I headed up to the fifth floor to check into my room.
The room was pretty small and nothing too out of the ordinary. While not the nicest hotel room I've ever stayed in, it was very clean, stylish and had all the amenities I could have needed in London.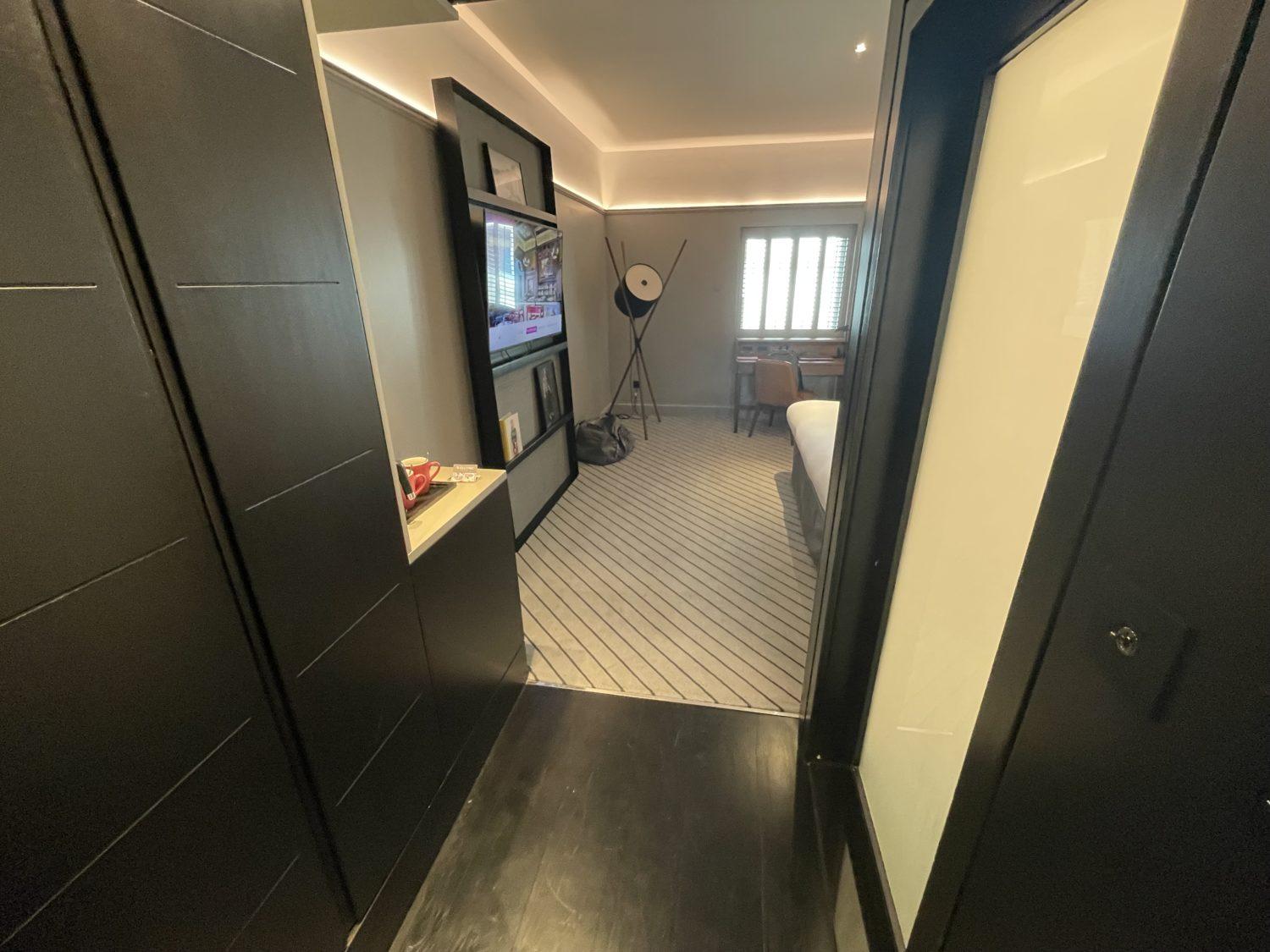 This is the standard room the hotel offers. It's pretty simple, too: Closet, bathroom, TV, coffee maker, desk, chair. Notably, the TV had Google Chromecast available so you can stream your own content from your device when connected to the Wi-Fi.
The bathroom was small but very nice. The rain shower was amazing and everything was spotlessly clean.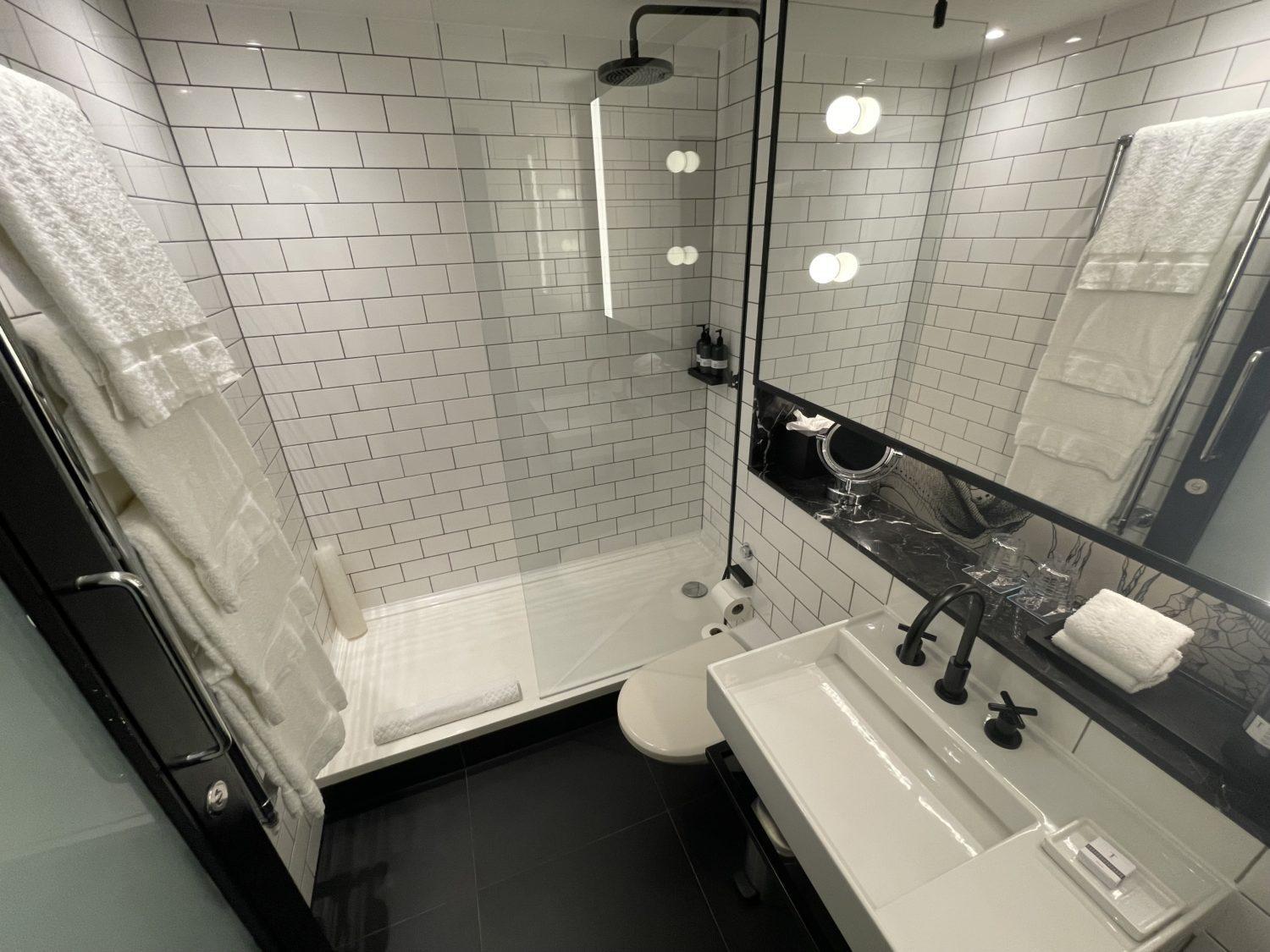 The room itself was also very well-kept and clean. The housekeeping team at Andaz London deserves high marks.
Next to the king-sized bed are three switches to control the lights throughout the room and some charging ports. There's a USB port on either side, plus a full plug as well.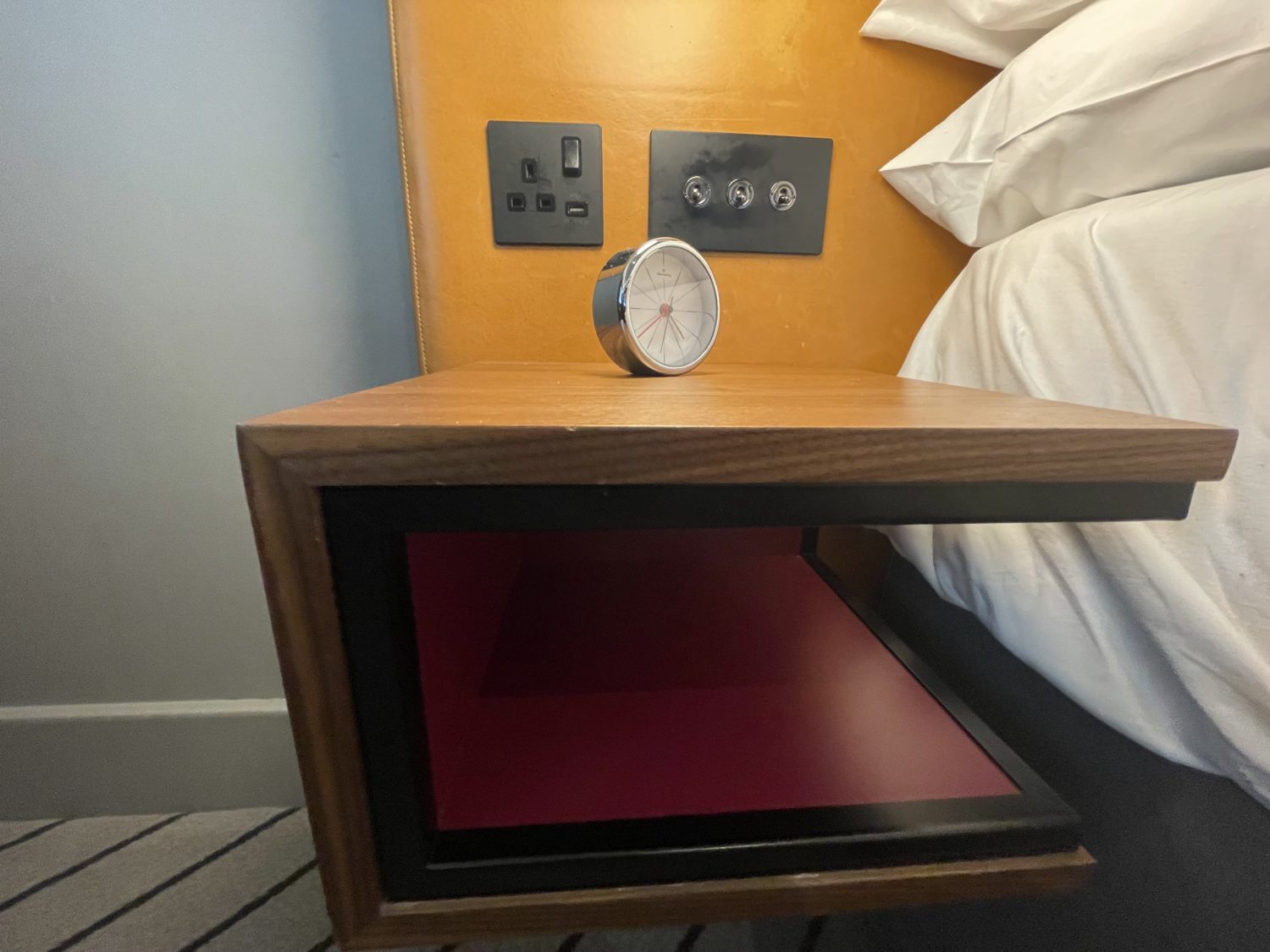 In the entryway are two side-by-side closets. One is a typical, well-lit hanging closet with a shoe rack underneath.
The other side were some cubby holes, a basket with some amenities, and a safe.
Next to the closet was a bureau with a coffee and tea stand on it. Inside the drawer were Nespresso pods, teas, and even some snacks.
The mini fridge underneath the coffee and tea stand had soft drinks inside. As is the case at every Andaz property, everything in the minibar area was free for hotel guests. It included both still and sparkling waters and some sodas that were plenty to get me through a night's stay.
Dining at Hyatt Andaz London Liverpool Street
The Andaz London Liverpool Street is a very lively property with a shocking amount of common space and restaurant options.
Aside from the lobby area, the cafe, the sushi bar, the main restaurant, and the English pub (see, I wasn't kidding), there was this huge, multi-floor atrium that featured a terrace sitting area, a pool table, and an event space that was occupied by some company hosting a retreat of sorts.
During my stay, Rake's Café Bar was being rented out for some sort of a photoshoot. It's an eccentrically colorful and beautiful space that I was unable to photograph because of the professional shoot going on. You'll just have to see for yourself.
Everything else was open, including Miyako sushi bar, 1901 Wine Lounge, Eastway Brasserie, and Lady Abercorn's Pub and Kitchen, where I had my first meal after arriving.
Lady Abercorn's Pub & Kitchen
The pub's black doors frame a very quintessentially British spot.
I sat down in the ornately decorated pub with soccer on the TV and ordered a cold beer – sorry, British readers: I will not do a warm beer. No way.
In retrospect, I put in an extremely strange pub order: A risotto to go along with my Guinness … I was very jet-lagged and sleep-deprived. It was delicious, all the same.
Dinner & Breakfast at Eastway Brasserie
On the other side of the hotel from Lady Abercorn's is the Eastway Brasserie, which is accessible from the outside of the hotel as well as via this huge stairwell.
I found the sheer size of the stairwell bizarre in a building that was otherwise pretty compact and efficient. It was beautiful and detailed, though, and I loved that it felt candlelit.
When you get down the stairs, you walk into the Eastway Brasserie, which is a nice though regular-looking dining room. This is where both dinner and breakfast are served at the hotel, so I ate here for two straight meals.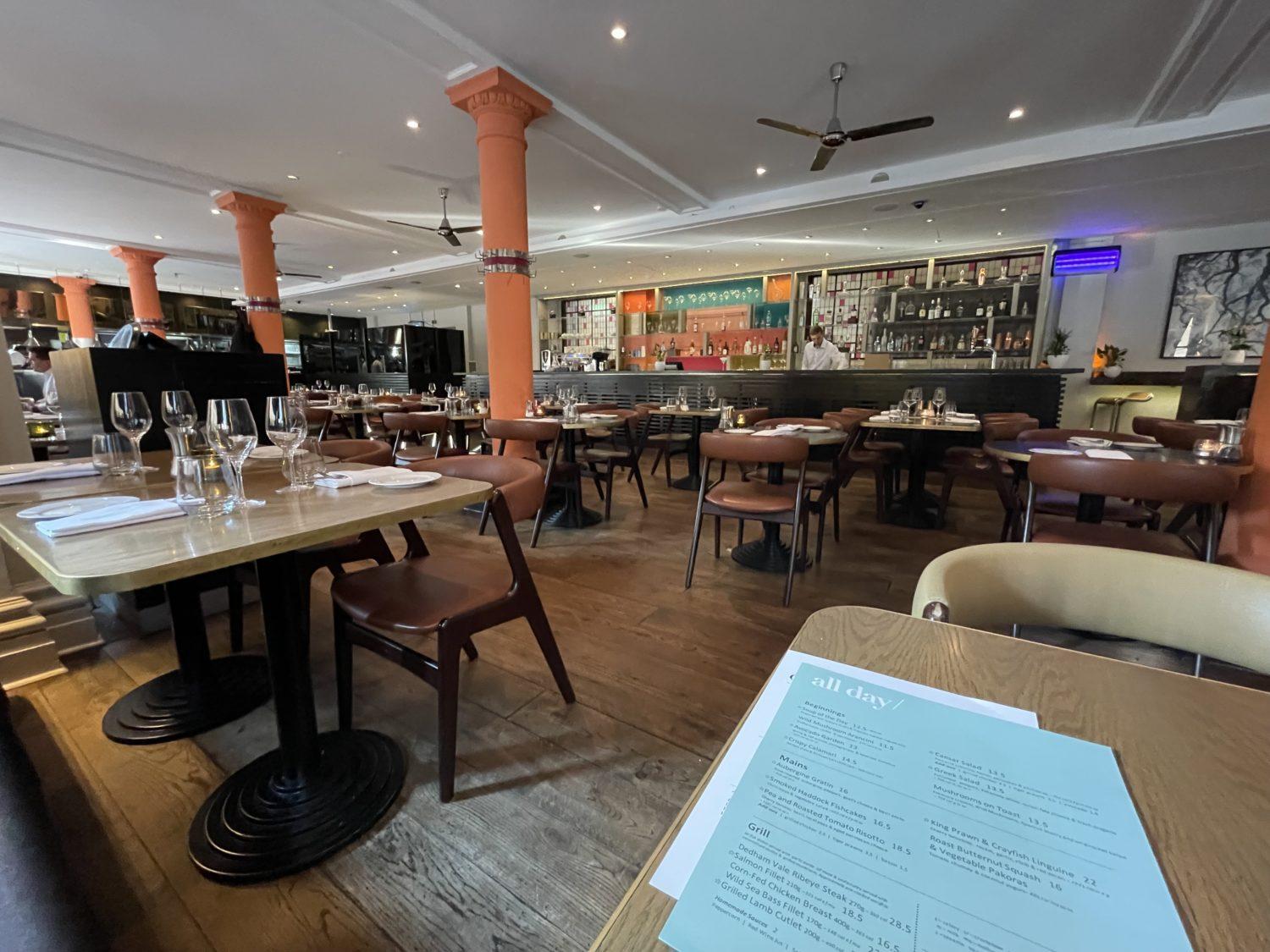 The aforementioned Guest of the Day ticket gave me a free drink, which I used on this interesting take on a margarita I knew I had to try. I know – not very English, but I can't resist a margarita and the twist really caught my eye. For my main course, I ordered the lamb, which came with a side of spinach and a comically large mushroom.
The dinner was very nice and surprisingly fairly inexpensive, especially after the first (oops!) drink was taken off the bill.
Daily breakfast at Eastway Brasserie really shined, though. Despite being a buffet, service was snappy and the food was exceptional. I'd never pulled honey straight from the comb before, but they had a station for that!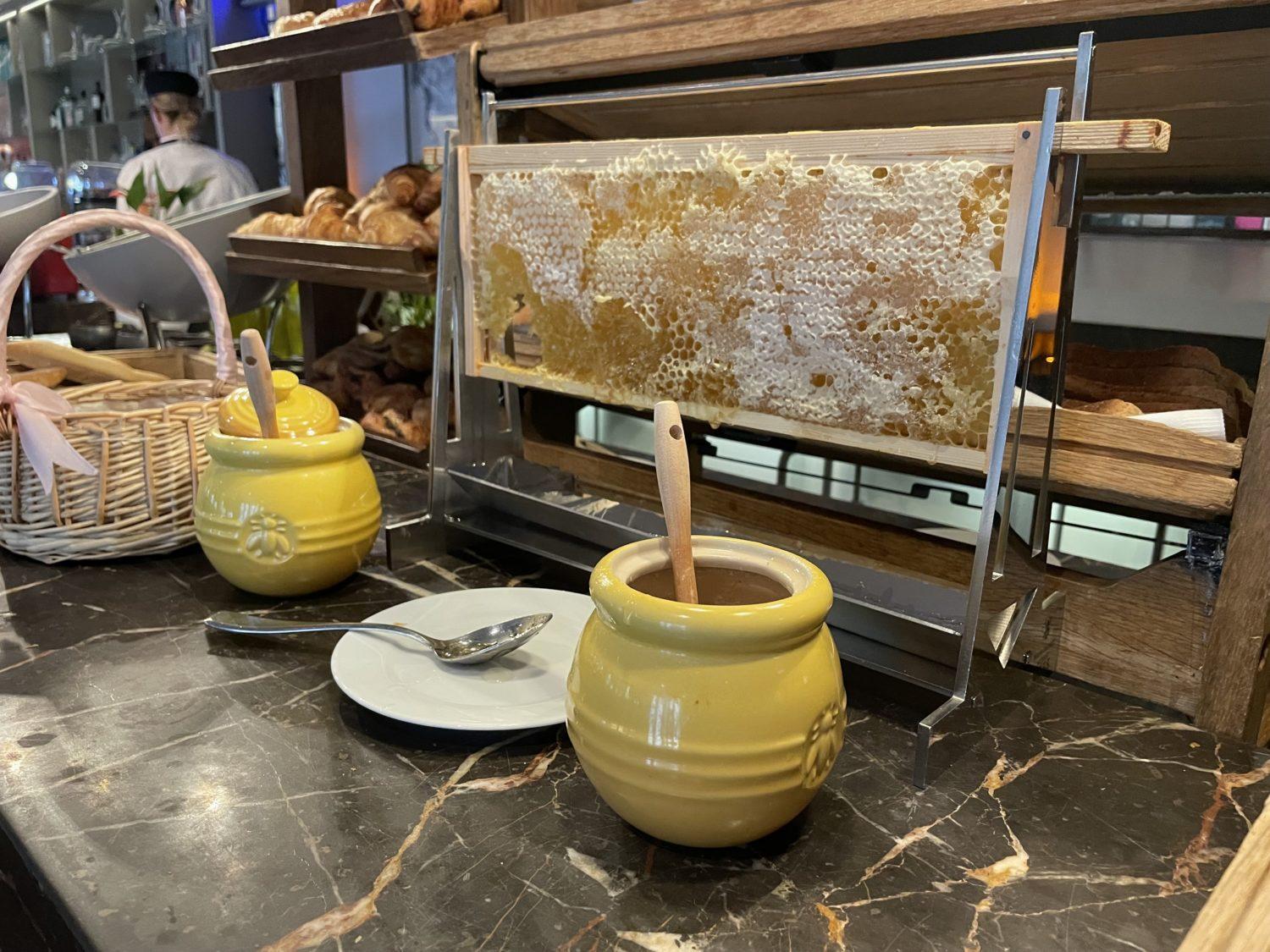 Nearby was a constantly rotating set of pastries and breads. Employees were keeping everything refreshed throughout the 45 minutes I spent at breakfast.
The same goes for the traditional European breakfast spread of meats, cheeses, and vegetables laid out for the guests.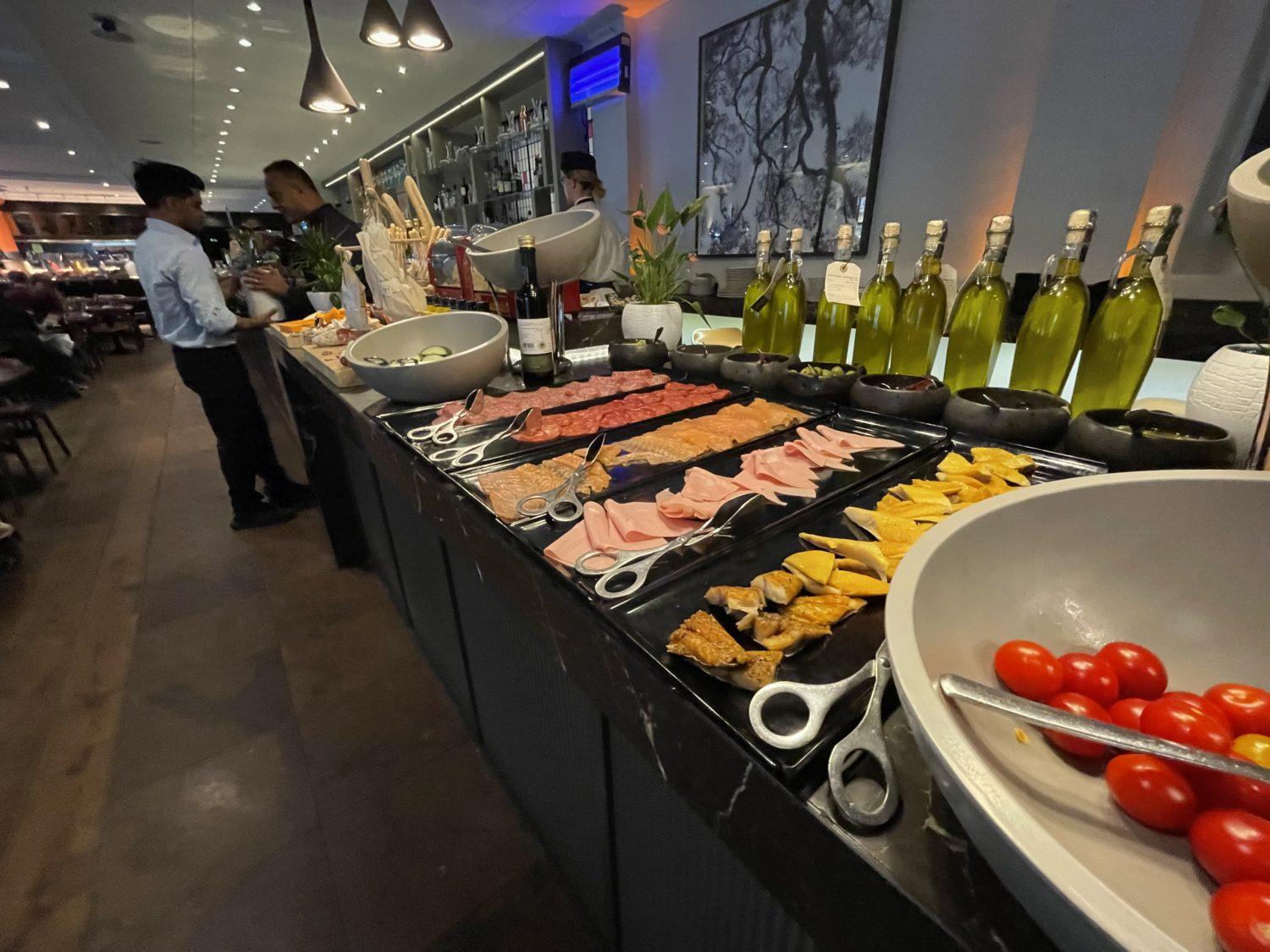 And the produce and juice selection was also enormous. Besides these three juices (including a wildly tasty ginger beetroot juice), there were also a selection of smoothies you could take to your table.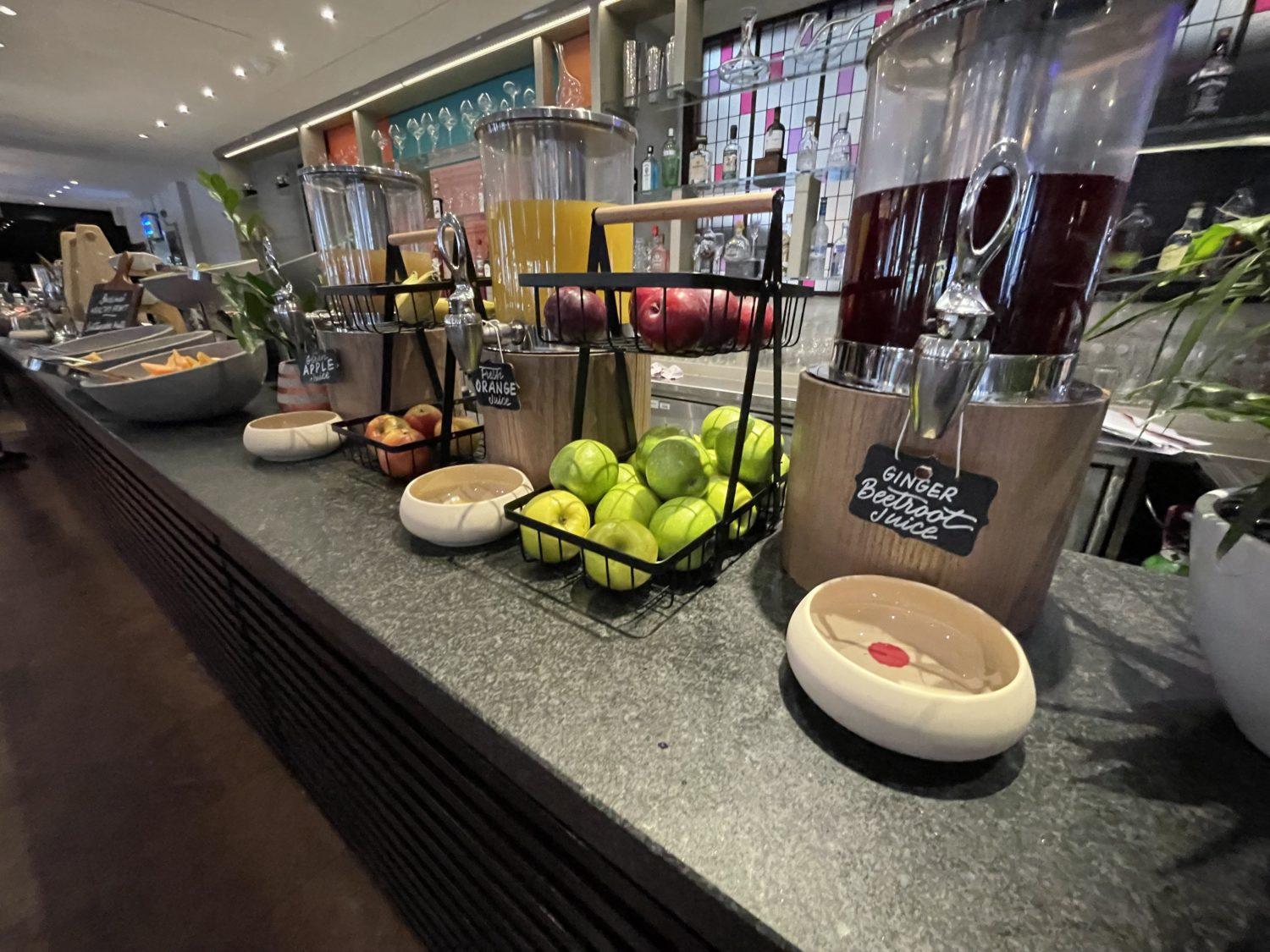 I was even given my own carafe of coffee at the table.
Overall, the dining experience at the Andaz London Liverpool Street was exceptional. I never had an average bite.
Each restaurant was fun and cool – you could spend days trying to try them all. I never even got to the wine bar or sushi restaurant during my stay and the café was closed for a photoshoot. They'll all be on my list when I return.
Bottom Line
If you ask me, the Andaz London Liverpool Street is one of the best Hyatt values in the city if you book using points.
The classy, but modern five-star hotel has a bevy of stylish and tasty restaurants inside and is close to the tube to take you wherever you need to go in London. The rooms are practical and clean, and the service was exceptional throughout.