This week, Hyatt announced it's adding an entirely new brand to its growing portfolio of hotels: Hyatt Studios.
Don't expect a cushy Park Hyatt or a trendy Andaz property from this new brand. Instead, Hyatt Studios will be much more … basic, filling a gap in Hyatt's footprint with properties geared toward longer-term stay. The hotel chain describes Hyatt Studios as "upper mid-scale lodging," in the same vein as existing brands like Hyatt Place, Hyatt House, and Caption by Hyatt.
Expect to see these properties begin to pop up starting sometime in 2024 – including in smaller, secondary cities. Hyatt's global footprint is a fraction the size of the likes of Hilton and Marriott, so this is just another way for Hyatt to keep working on closing that gap.
"We identified a white space for Hyatt, creating a compelling opportunity to significantly accelerate our industry-leading net rooms growth, care for World of Hyatt members on more stay occasions and introduce World of Hyatt to new guests in a new segment which we expect will drive increased direct bookings for all properties across the Hyatt portfolio," said Jim Chu, Hyatt's chief growth officer, said in a statement.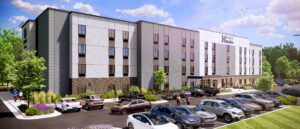 Hyatt says it worked in tandem with multiple hotel developers on this new Hyatt Studio concept, so they've already got signed letters of intent for more than 100 locations. Construction is slated to begin this year, with the first Studios expected to open sometime next year.
What to Expect from Hyatt Studios
The Hyatt Studios brand is expected to cater primarily to extended stay guests.
Hyatt Studios rooms should feel much like a studio apartment, with amenities including a convection microwave, dishwasher, and a much larger refrigerator than you typically see in most hotel rooms.
The hotel will feature complimentary grab-and-go breakfast and a 24-hour market where guests can purchase a variety of snacks as well as ready-made-meals that can be prepared in each individual room using the convection microwave.
Our Take
The new brand as a whole isn't much for most travelers to get excited about.
Don't expect to find Hyatt Studio properties in many must-visit tourist destinations. But i'm sure these new hotels will make for very nice accommodations for business travelers in areas where Hyatt isn't already an option. And that's the point.
The fact that Hyatt is expanding its footprint into smaller markets is a good thing for consumers because it ultimately provides more opportunities for people to earn (or redeem) valuable World of Hyatt points. For years, the biggest knock on Hyatt has been that they don't have properties in the places that travelers need them.
This new brand will help fix that issue.
Thrifty Tip: Staying at a Hyatt Studios may help you score a free night faster thanks to the Hyatt Brand Explorer program. It works like this: Every time you stay at five of Hyatt's individual hotel brands (think Park Hyatt, Andaz, Hyatt Place, Hyatt Centric, Hyatt itself, etc.) you'll earn a free night certificate to use at almost any category 1-4 Hyatt property. 
Bottom Line
Hyatt has announced a new brand, Hyatt Studios, will be debuting in 2024 across the Americas.
The renderings and description make it look very similar existing brands like Hyatt Place and Hyatt House, so Hyatt isn't doing anything earth shattering here. But it's intended to fill a gap within that segment and serve customers in markets where Hyatt isn't currently operating. Be on the lookout for one of these new properties soon.
All images courtesy of Hyatt