Travelers headed for Dubai are spoiled for choice when it comes to hotels, with just about every hotel brand from the big chains and plenty of luxury, five-star properties. If you're looking to use points for a free stay, picking a spot is almost daunting.
But after a recent stay, one property stands out: The Park Hyatt Dubai.
Park Hyatt is the cream of the crop in Hyatt's portfolio, practically renowned for a consistent, high-quality experience no matter where you are in the world. The Park Hyatt Dubai delivered on that promise, offering an incredible stay and a great way to use Hyatt points. From check-in to check-out and everything in between, we loved it all.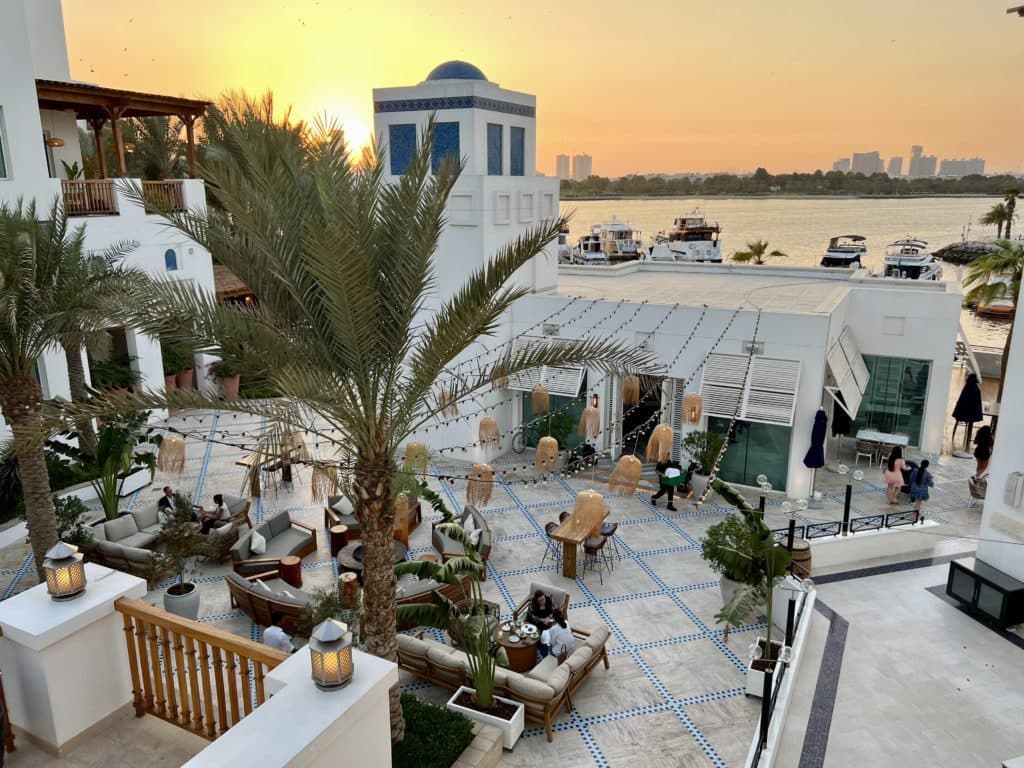 Booking the Park Hyatt Dubai
The Park Hyatt Dubai is a category 5 Hyatt property. That means if you're using World of Hyatt points, you can expect to pay 20,000 points each night for a stay in a standard room.
Thanks to Hyatt introducing peak and off-peak award pricing rates last year, that amount could be more (or less) depending on the timing of your stay. A night can cost as few as 17,000 points per night or as many as 23,000 points per night.
Here's a full look at the Hyatt award chart.
We booked our stay with Hyatt points during a peak period, meaning we used 23,000 points for a one-night stay. Paying cash, you can generally expect to pay about $400 to $600 a night at the Park Hyatt Dubai.
If you don't have World of Hyatt points in your account already, Hyatt is one of the best Chase transfer partners. A stash of 50,000 Chase Ultimate Rewards points gets you 50,000 Hyatt points: Enough for at least two free nights at the Park Hyatt Dubai.
At Thrifty Traveler, we don't accept freebies. We use our own points, miles, or cash to pay for every single flight or hotel you see reviewed here – including this one!
Park Hyatt Dubai Location
Dubai is a sprawling city, stretching from the shores of the Arabian Gulf and famous palm-shaped islands, city centers where skyscrapers dominate the skyline, lower-key neighborhoods, and everything in between. There's a lot to pick from.
But in my opinion, the Park Hyatt Dubai's location gives you the best of it all. It's located in Dubai Creek area, not far from the Dubai (DXB) airport and more or less in the heart of the city … but it certainly doesn't feel like it. Thanks to its location along the creek, it feels more like a secluded resort despite being a short drive away from many of the city's main attractions.
You'll be about a 15-minute drive from the Burj Khalifa and the Dubai Mall – two of the biggest tourist attractions in the main part of the city. It's also very close to the Dubai airport which was nice for our early morning flight on the day of our departure. You'll also have fantastic views of the Dubai Creek and the city skyline.
Uber and taxis are very accessible in Dubai so you can get anywhere pretty quickly. We found it to be a great home base for our short stay.
Park Hyatt Dubai: Lobby and Checking In
We arrived in Dubai after about an hour-and-a-half cab ride from Abu Dhabi, where we had stayed for a few days to attend the Formula 1 Abu Dhabi Grand Prix. Immediately upon arrival at the Park Hyatt Dubai, we were greeted by the warm and welcoming staff, who promptly took our luggage, guiding us inside the main entrance and to the check-in desk.
From the moment you drive up, you'll notice an almost Moroccan design aesthetic that continues throughout the property. The reception area itself is in the shape of an octagon with a few different hallways to move about the rest of the property.
Since we arrived around noon, our room wasn't quite ready but a staff member told us to head to the lounge where they would fetch us when it was available. After a bite to eat and a drink, the associate came to get us to inform us our room was ready and showed us how to get there.
I appreciated the thoughtful service from the very start. After letting check-in staff know we'd have to depart early the next morning, he offered us a form to order an early breakfast to have delivered to the room first thing in the morning. Since we were flying Emirates first class, we'd have access to the lounge and thus skipped the breakfast option – still, it was a nice touch.
Just past the lobby area, you'll find a beautiful hallway with glass windows that overlook the entire property. It makes for a pretty grand entrance and is a great focal piece of the property.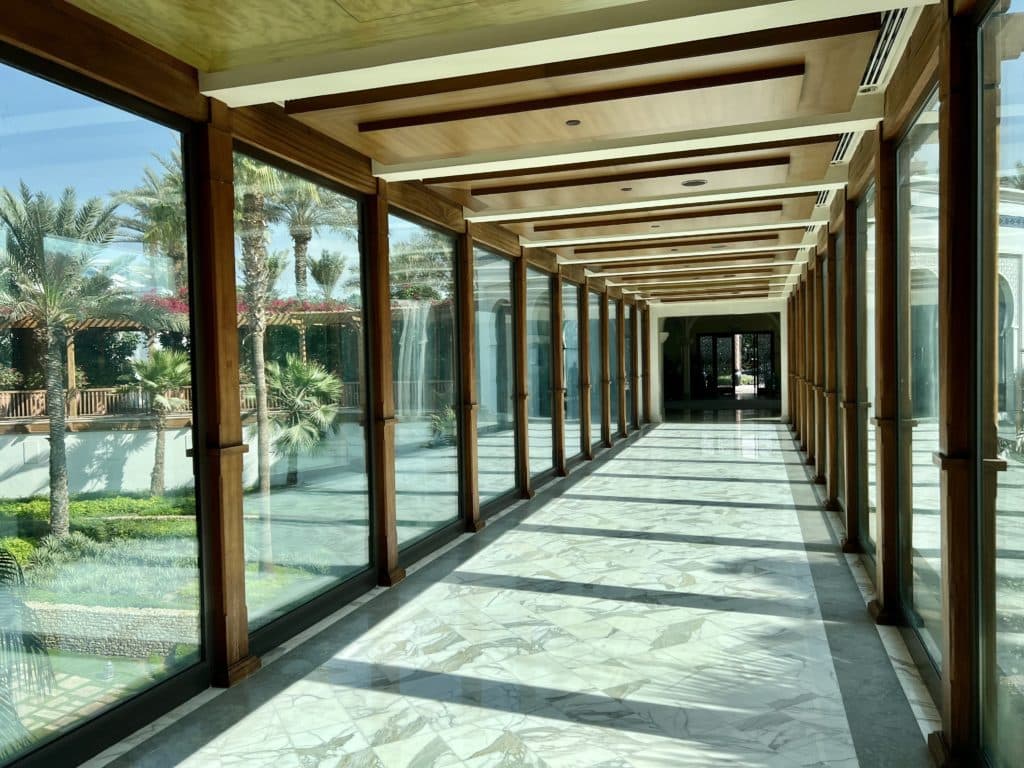 But the scope of this property is undeniable. It's very spread out, so it took us a good half-day to get a feel for the place.
Our room was located in a building far away from check-in, and the walk was a bit of a trek. But the grounds are beautiful, so it's a pleasant jaunt.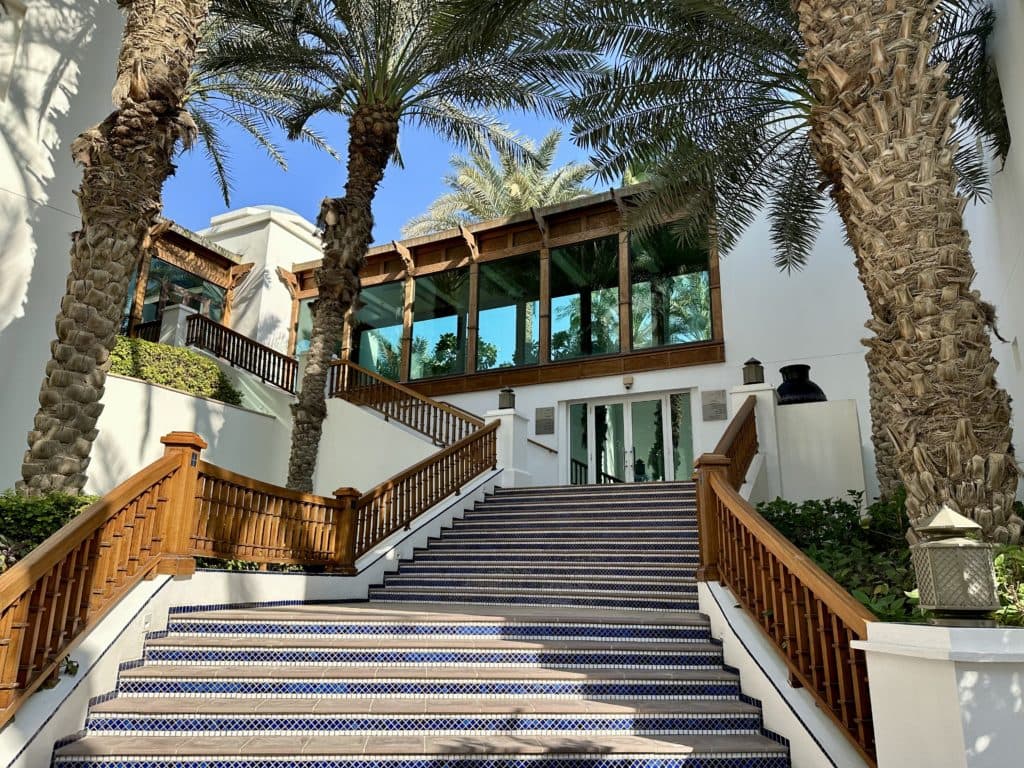 Just outside the doors of the lobby bar area, you'll find an amazing outdoor lounge space with plenty of spots to relax.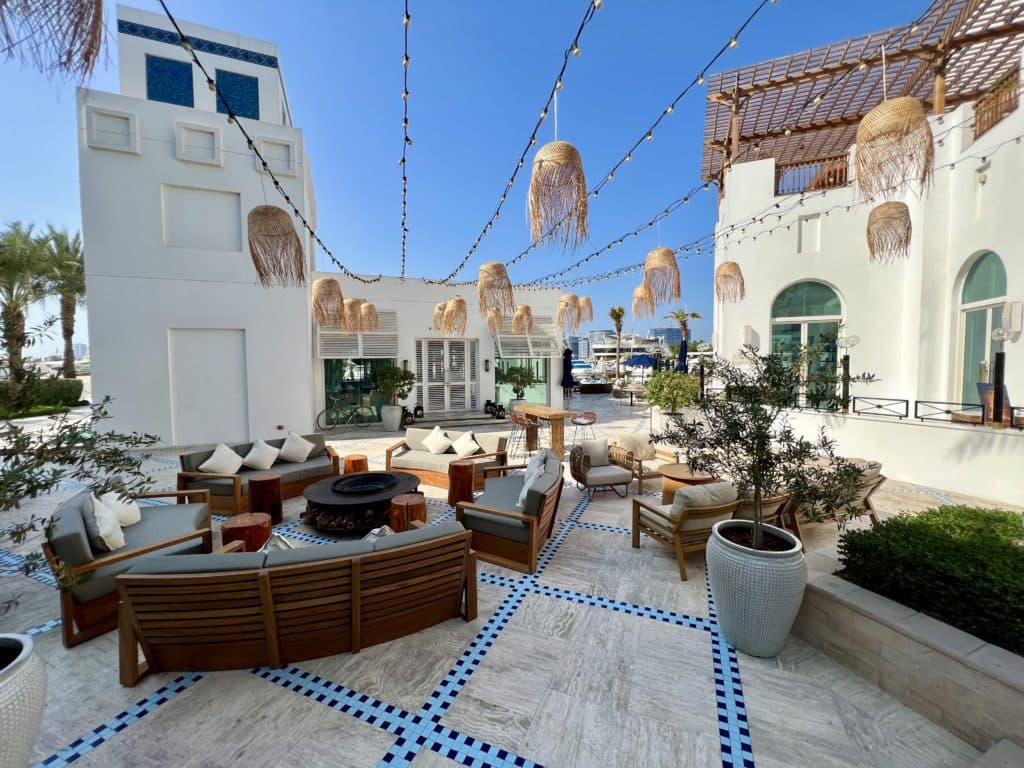 Park Hyatt Dubai Rooms
The Park Hyatt Dubai has 223 rooms, including 34 suites with private balconies and fantastic views of Dubai Creek and the Dubai skyline.
One thing to note about the property is that it's in the midst of a major renovation. When complete at the end of 2023, almost the entire interior of the hotel will have received a facelift. There was construction during our stay, but we hardly noticed it – it didn't impact the experience whatsoever.
That said, our room was in a portion of the hotel that clearly hasn't yet been renovated yet. While it was certainly very nice, it felt a tad dated. I'd love to see what the rest of the renovated rooms look like once the project is completed.
We booked a standard room for 23,000 Hyatt points for the night. But with Hyatt's top-tier Globalist status, our room was upgraded at check-in to a Park Suite, complete with a separate bedroom and a private terrace overlooking Dubai Creek.
We were assigned room 2207 on the second floor.
As soon as you walk into the Park Suite room, there is a large entryway with an option to head into the main living room area or head left into the master bedroom.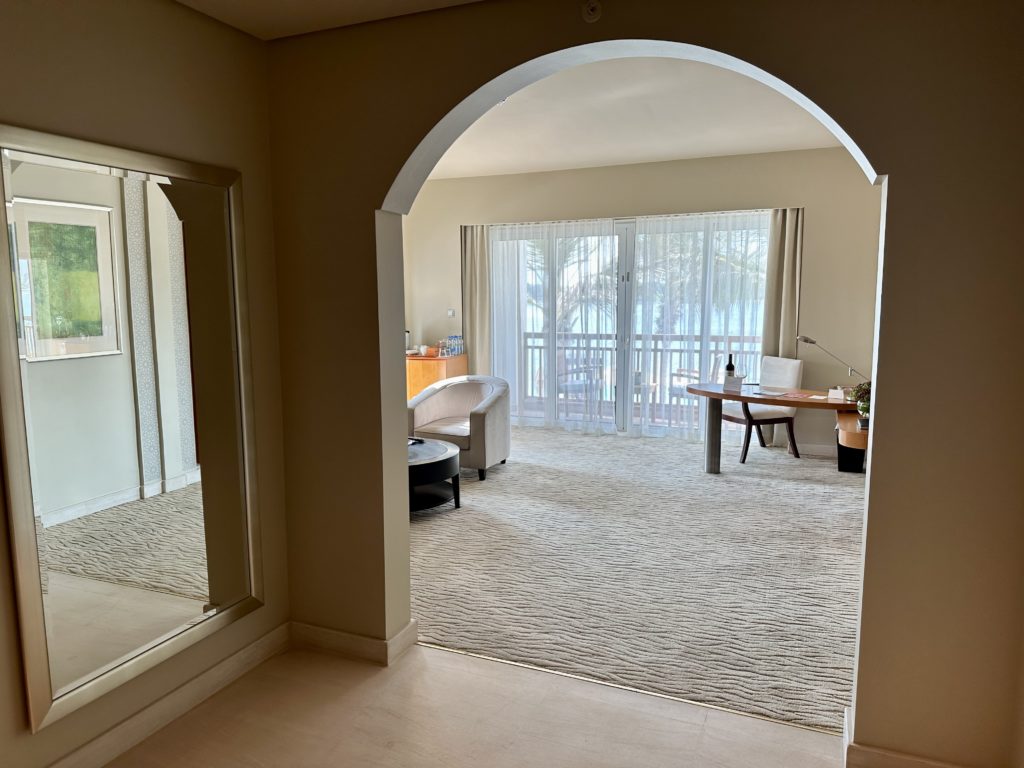 In the living room, you'll find a sitting area with a couch and two chairs as well as a desk and a mini bar. Food and drinks in the mini bar were not complimentary.
You'll also find a door that leads to the expansive walkout patio that overlooks the main pool club.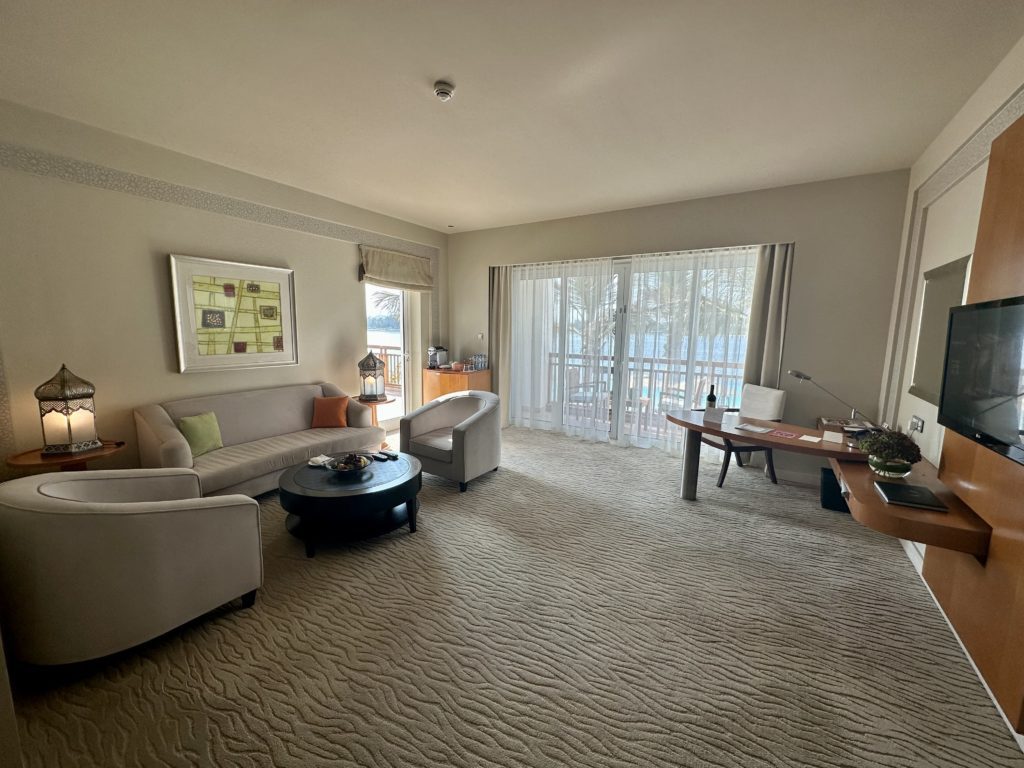 Waiting for us on the desk in the living room area was a bottle of wine with a personalized note from the property's director of rooms, Bhawani. Whether they do it for all suite guests or only those with status, it was a nice touch.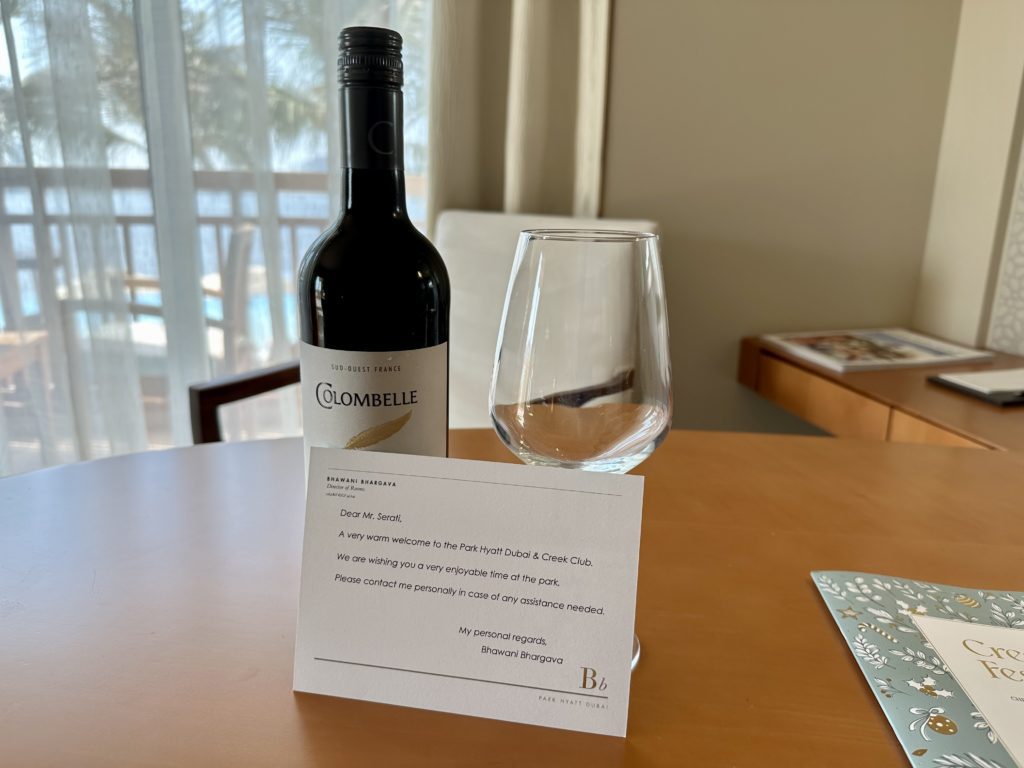 In the bedroom area, you'll find an expansive space with a king bed, a chair, and a TV.
You'll also find another patio door that leads out to the room's balcony.
Right in the center of the room, you'll find the beautiful bathroom with a window just above the sink that opens to the master bedroom.
Just behind the sinks, there's a bathtub, a gorgeous walk-in shower, and a separate room with a toilet and a bidet.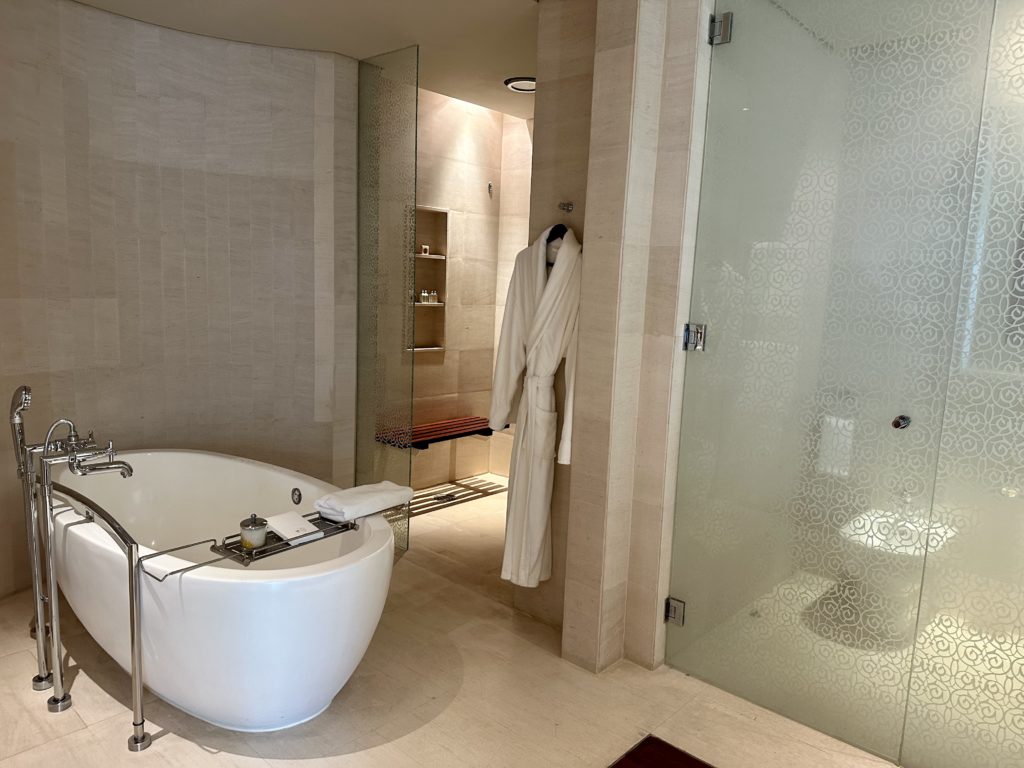 The highlight of the room was the massive outdoor private terrace, outfitted with two lounge chairs overlooking the pool club.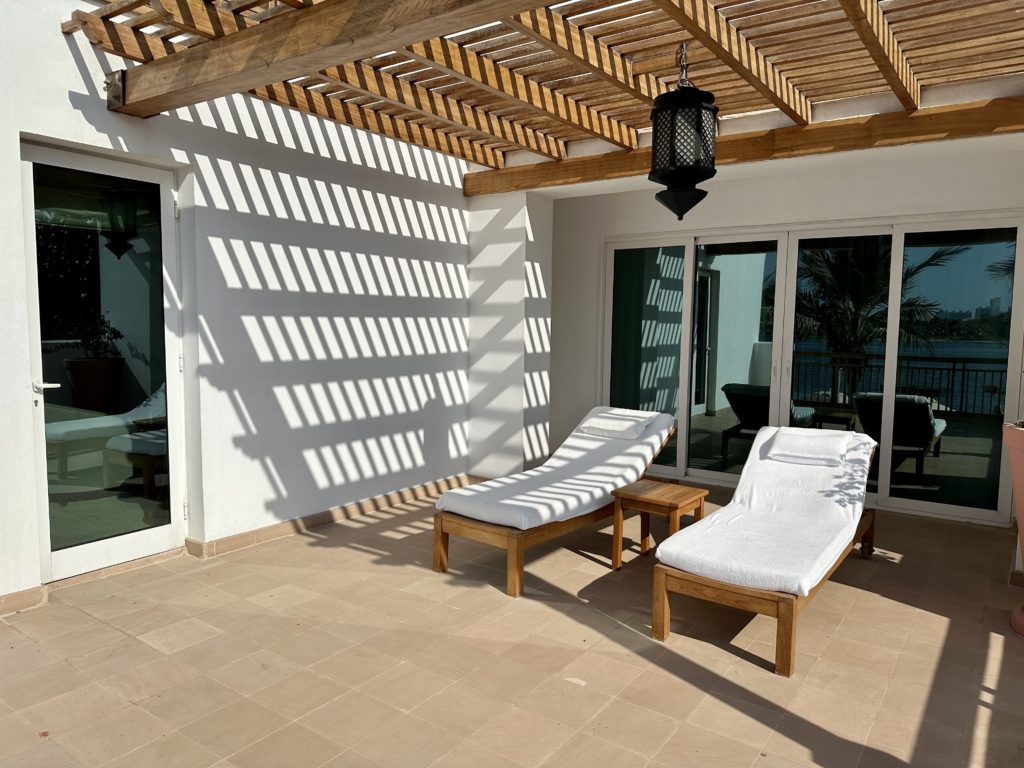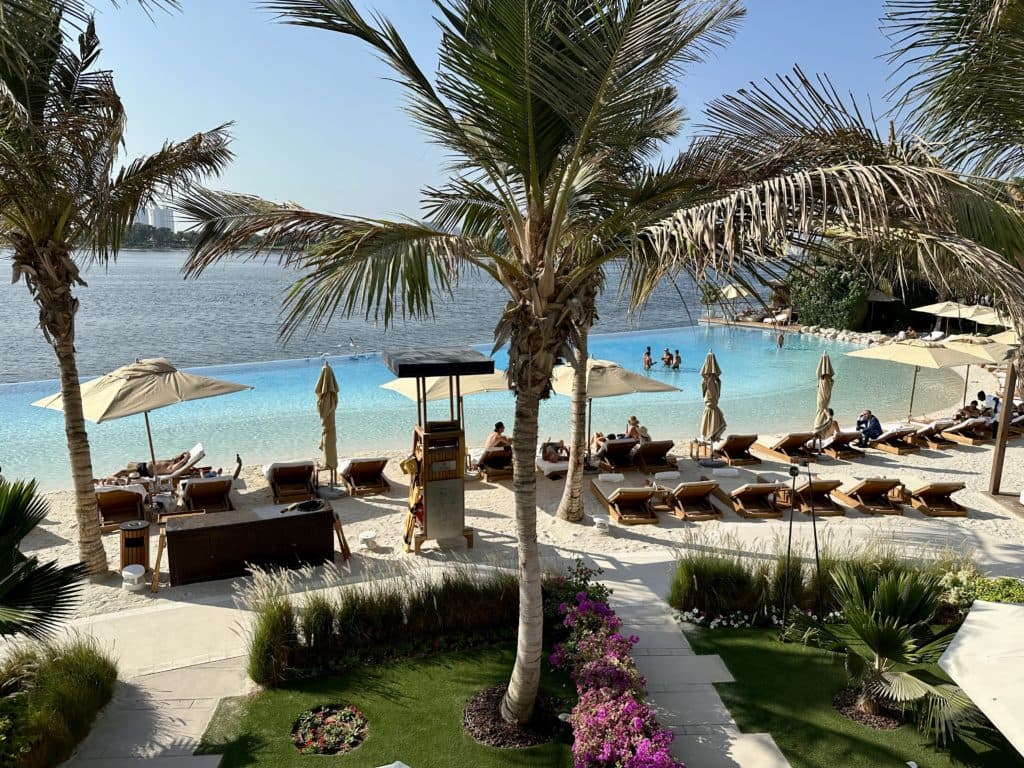 But if I have one complaint about the room, it was its location: With the pool club just a few feet away, the music was loud and easy to hear throughout the day. If that's not your thing, you might want to request a room located farther away.
Park Hyatt Dubai Facilities and Amenities
Pool and Beach Club
You'll find two different pool options at the Park Hyatt Dubai.
The first is the main pool, which is outfitted with palm trees and includes four different hot tubs throughout the space. The pool is open daily from 6 a.m. to 10 p.m. During our stay, we never found it to be too busy.
There is also a dedicated play area for kids around the main pool area including foosball, ping pong, sand castle building, an oversize chess game, and more.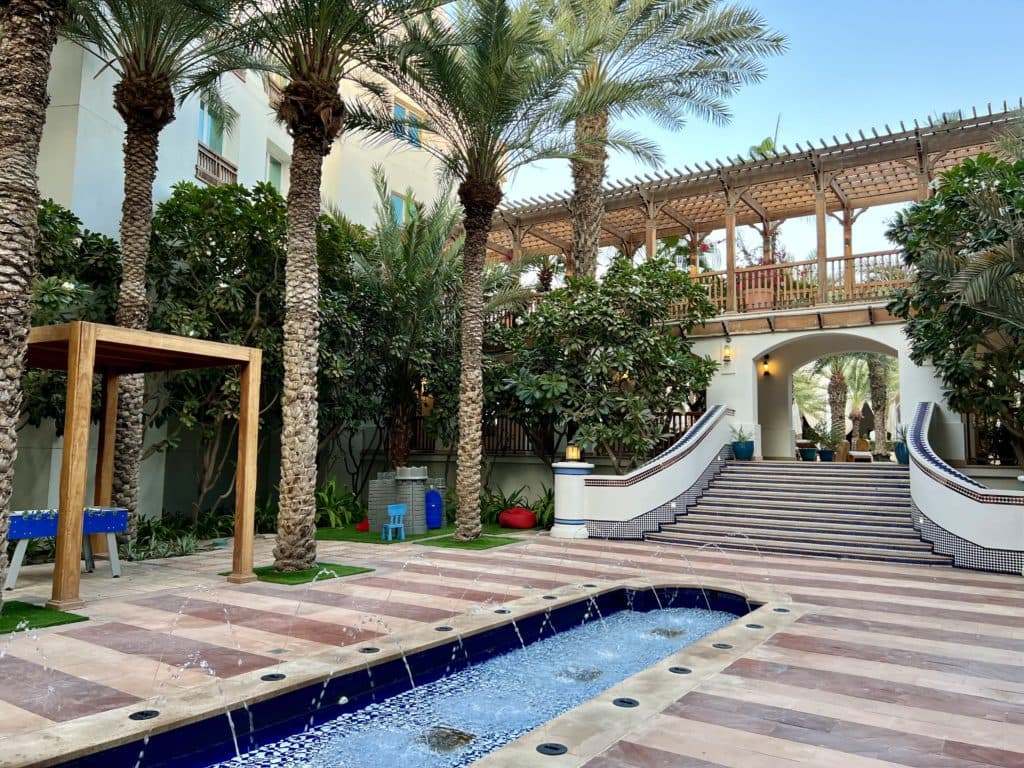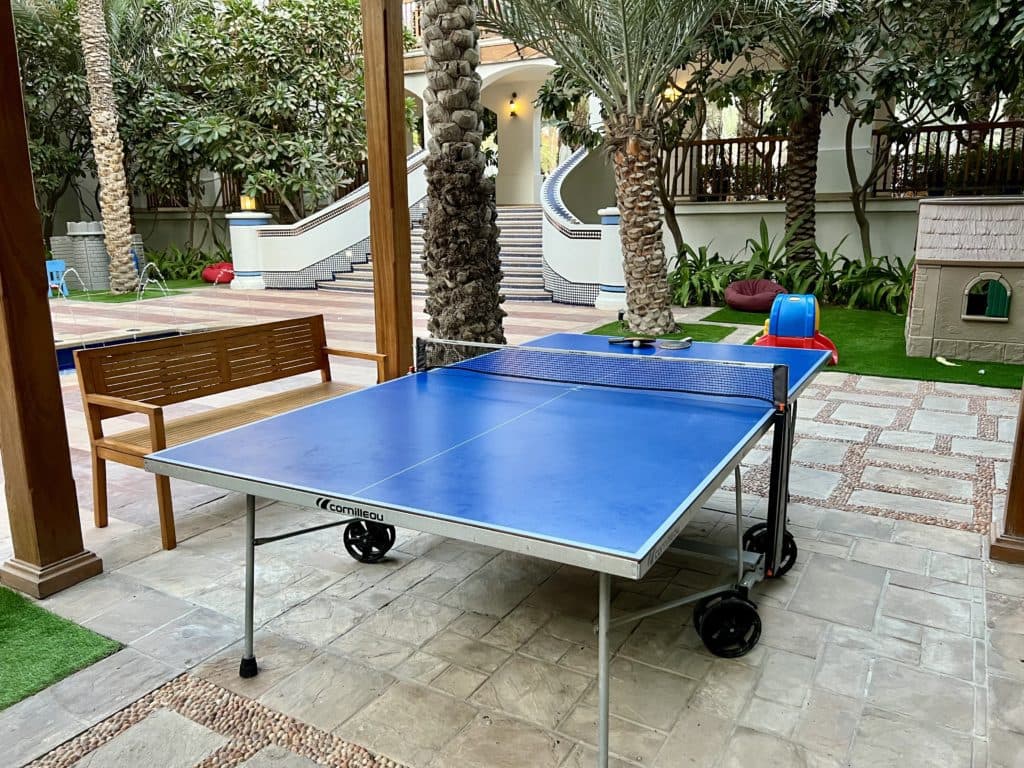 Lagoon Beach
The star of the show for the Park Hyatt Dubai's outdoor spaces is its brand new Lagoon Beach infinity pool, which just opened last fall as part of the ongoing renovations.
The brand-new, family-friendly pool includes a beautiful private beach leading into an infinity pool that overlooks Dubai Creek.
Currently, the lagoon is only available for Park Hyatt Dubai guests. However, the property plans to launch day passes for purchase by those not staying at the property in the future.
Lagoon beach guests have full poolside food and beverage service.
During our stay, the poolside lounge chairs were pretty full. If you want to get a spot, I would suggest claiming one early in the day.
Fitness Center & Spa
Located just off of the main pool area, you'll find the Amara spa and fitness center.
The fitness center itself is a good size with plenty of cardio and free weight machines available if you want to get a workout in during your stay.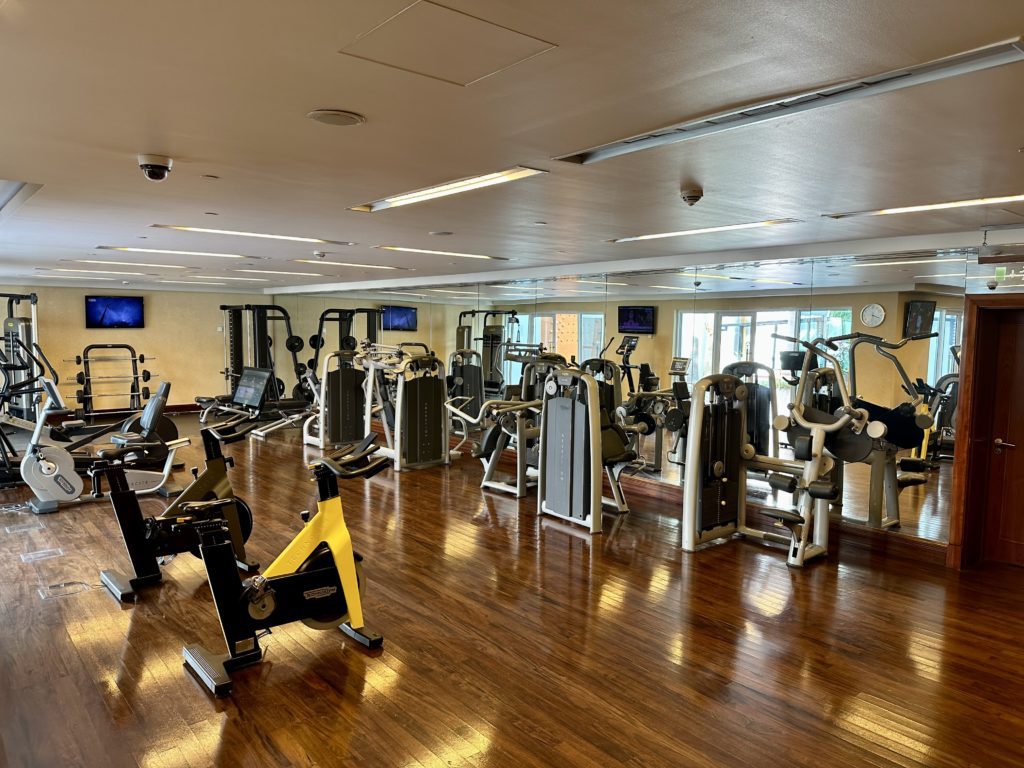 Just out the door of the fitness center, you'll even find a small rock climbing wall and a lot of additional space to complete a workout.
We didn't use the spa, but if you are interested in the services, you can find the full menu with pricing here.
The Cave Kids Club
In addition to the kid's activities available poolside, the Park Hyatt Dubai also has a kids club with daily supervised activities for kids ages three to 12 running from 10 a.m. to 6 p.m.
Access is complimentary for Park Hyatt Dubai guests.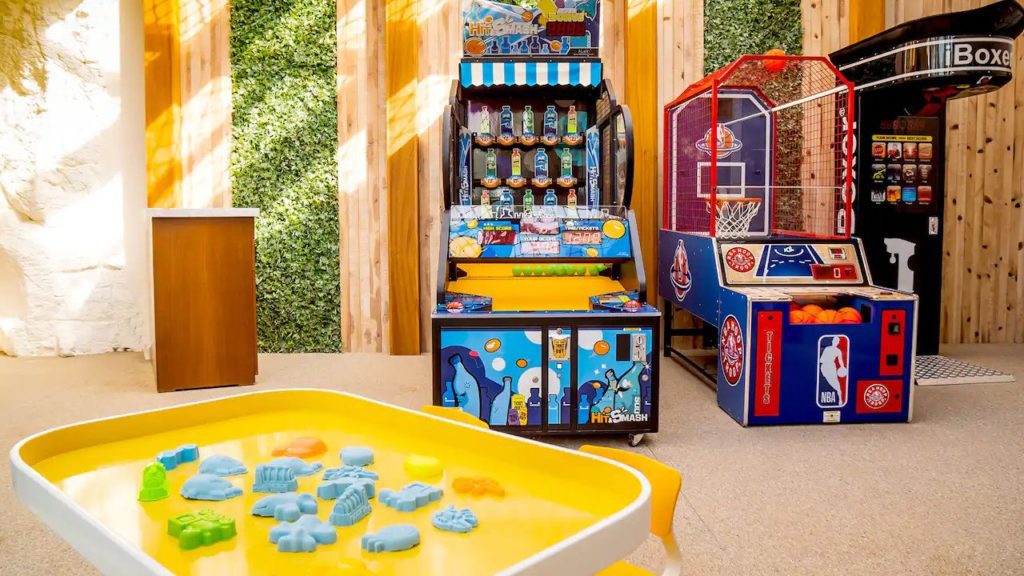 Park Hyatt Dubai Restaurants
No matter which hotel you stay at in Dubai (or anywhere else in the Middle East), there are almost always some stellar dining options onsite.
The Park Hyatt Dubai is no exception as there are plenty of dining options with plenty of different food to choose from.
The Thai Kitchen
The Thai Kitchen is an authentic Thai restaurant located at the property that features three live kitchens – one each for the wok, grill and noodles, as well as a kitchen dedicated to the preparation of traditional Thai desserts.
The restaurant is open daily from 6 p.m. to midnight. We had dinner there during our stay.
The menu is expansive and offers a lot of small plate options. Between the two of us, we started with the grilled chicken satay in peanut sauce, an order of the pad Thai, an order of the pad see ew, and a house-made yellow curry with white rice.
Despite warning repeatedly that the yellow curry was extremely spicy, I found it was just fine – not overwhelmingly spicy for my sensitive palate.
We finished the meal off with an order of sticky rice with mango from the dessert menu. We washed everything down with some traditional Mai Thai cocktails, which were also quite tasty.
Overall, it was the right amount of food. And more importantly, everything was delicious.
Check out the Thai Kitchen menu here.
NOÉPE
NOÉPE is located right in the heart of the property with fantastic views of the Dubai Creek marina with cuisine inspired by what the property calls "classic coastal splendor of Cape Cod."
The property is open daily from 12 p.m. to midnight.
We didn't have a meal at NOÉPE but did enjoy a classic negroni cocktail on the marina while we waited for the Thai Kitchen to open its doors at 6 p.m.
You can find the NOÉPE menu here.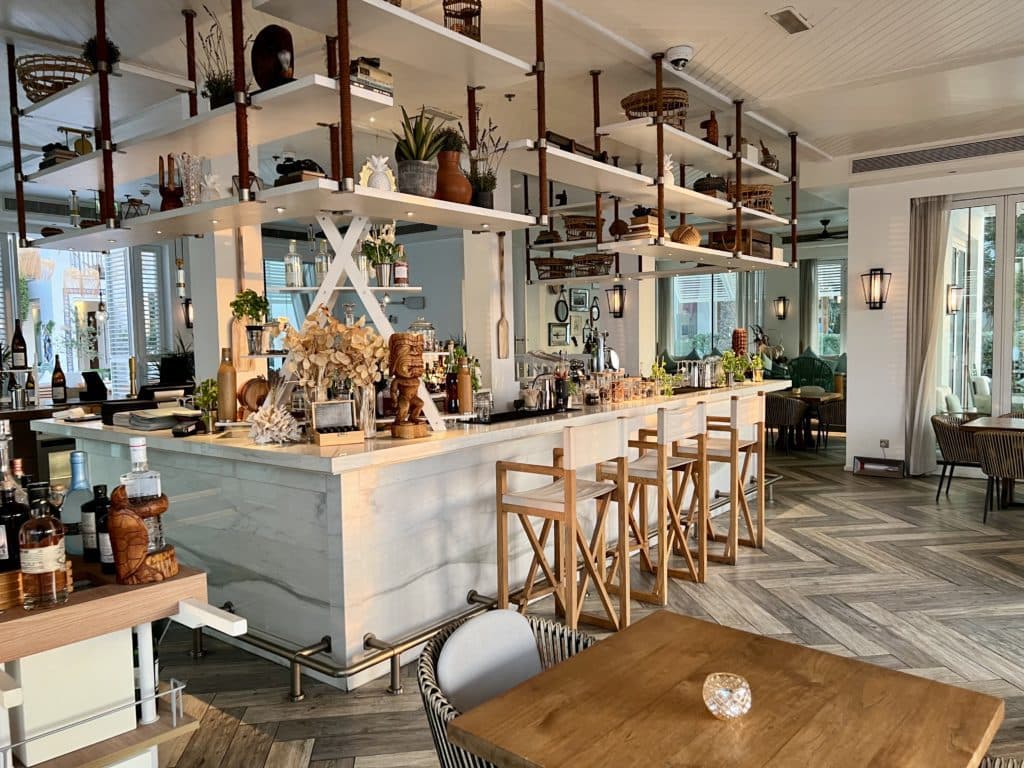 Brasserie du Park
Brasserie du Park is also located right in the heart of the property. This is where you'll find breakfast served each and every day.
The restaurant is open daily from 6:30 a.m. to 11 a.m., and every Saturday for a brunch from 1 p.m. to 4 p.m. You'll have the option to enjoy a full breakfast buffet as well as order off of an a la carte menu.
Due to the short nature of our stay and an extremely early departure the morning we left Dubai, we didn't get to get to sample breakfast at Brasserie du Park.
You can find the Brasserie du Park breakfast menu here.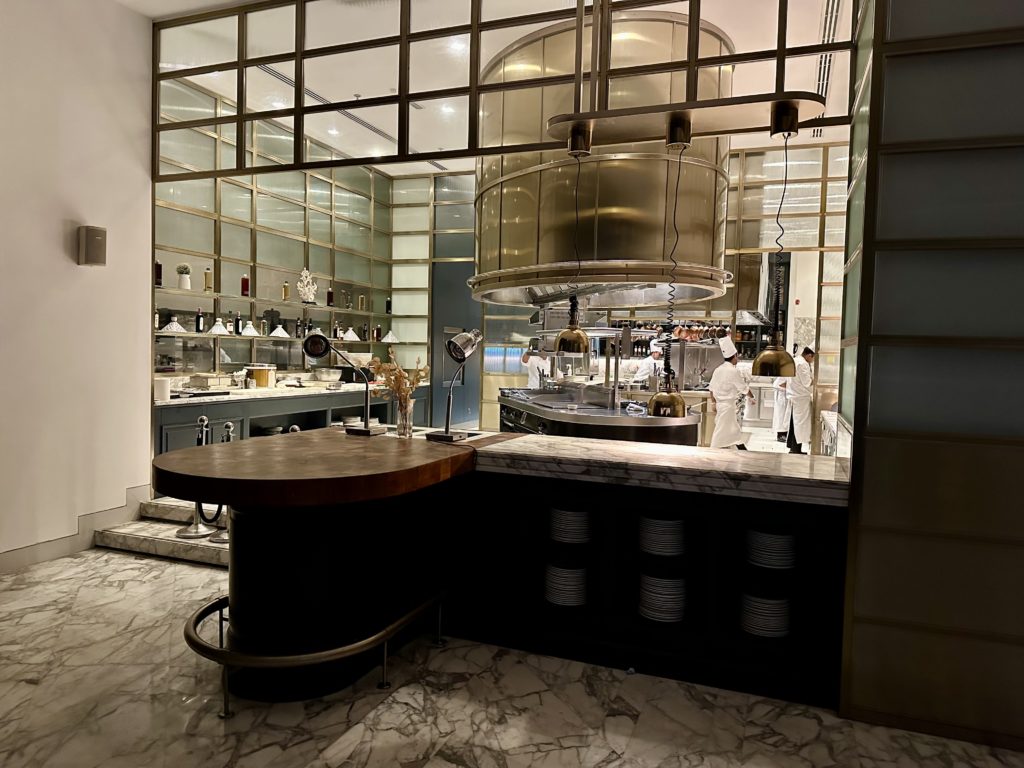 The Cinnamon Club
The Cinnamon Club is located just past the main lobby, serving contemporary fine Indian dining.
The property is open Monday through Friday from 5 p.m. to 11:30 p.m., and on Saturdays and Sunday from 1 p.m. to 11:30 p.m.
You can find the Cinnamon Club's menu here.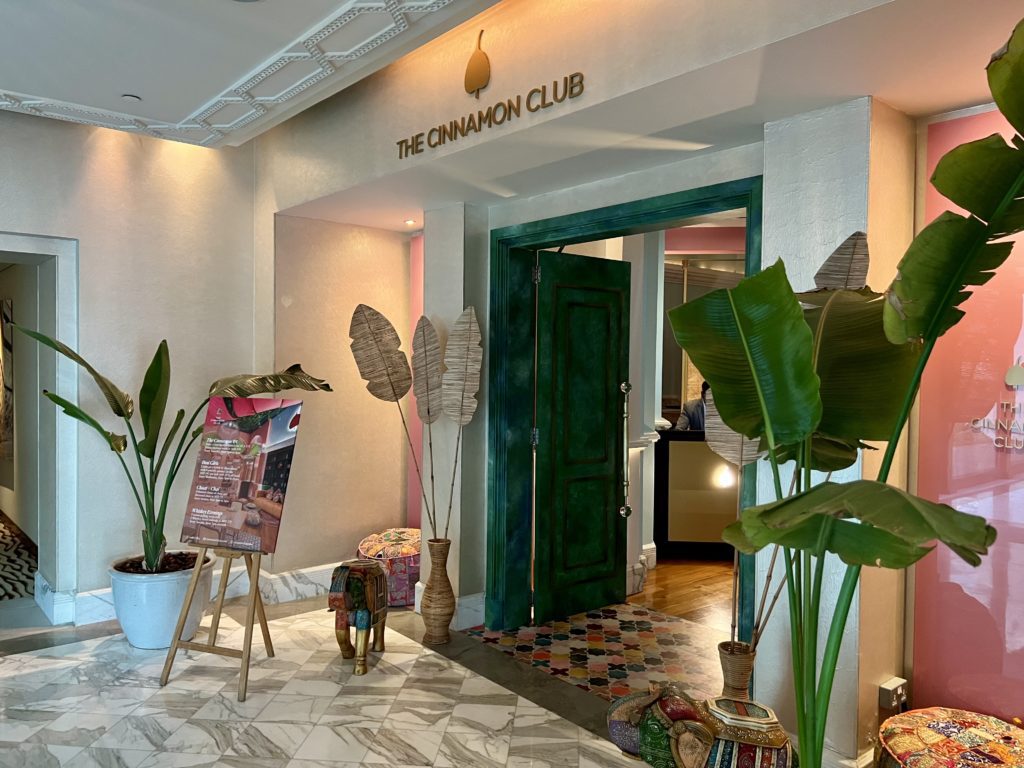 Twiggy by La Cantine
Twiggy by La Cantine is the newest restaurant at the property, located by the new beach club lagoon.
While we didn't get a chance to try it out, the property describes it as a restaurant with a "French soul" while also offering a full sushi menu. The property is open daily from 12 p.m. to 2 a.m.
You can find the Twiggy by La Cantine menu here.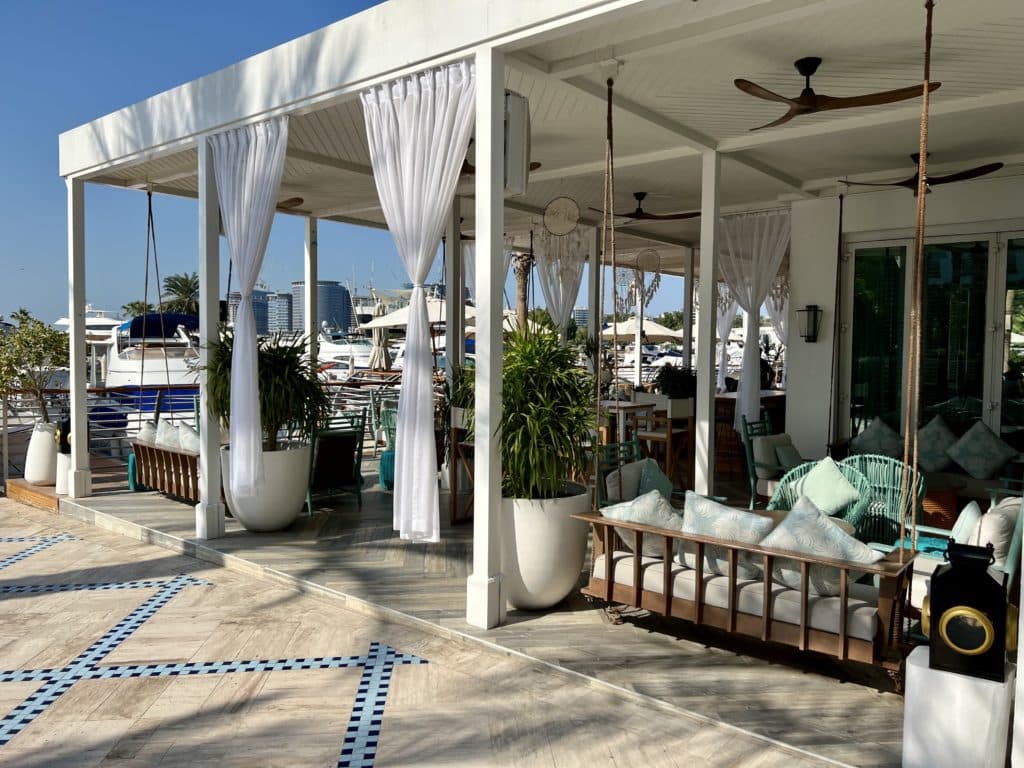 Pool Bar
Looking to grab a drink or a bite to eat at the pool? You'll find the pool bar just off the main pool area close to the Amara Spa.
The restaurant is open daily from 9 a.m. to 10 p.m. You can find the full menu here.
Park Hyatt Dubai Service
During our short stay at the Park Hyatt Dubai, we encountered nothing but wonderful service. From check in to check out and everything in between, I don't have a negative thing to say about the service.
The staff was warm, attentive, and more than happy to help us with anything we needed.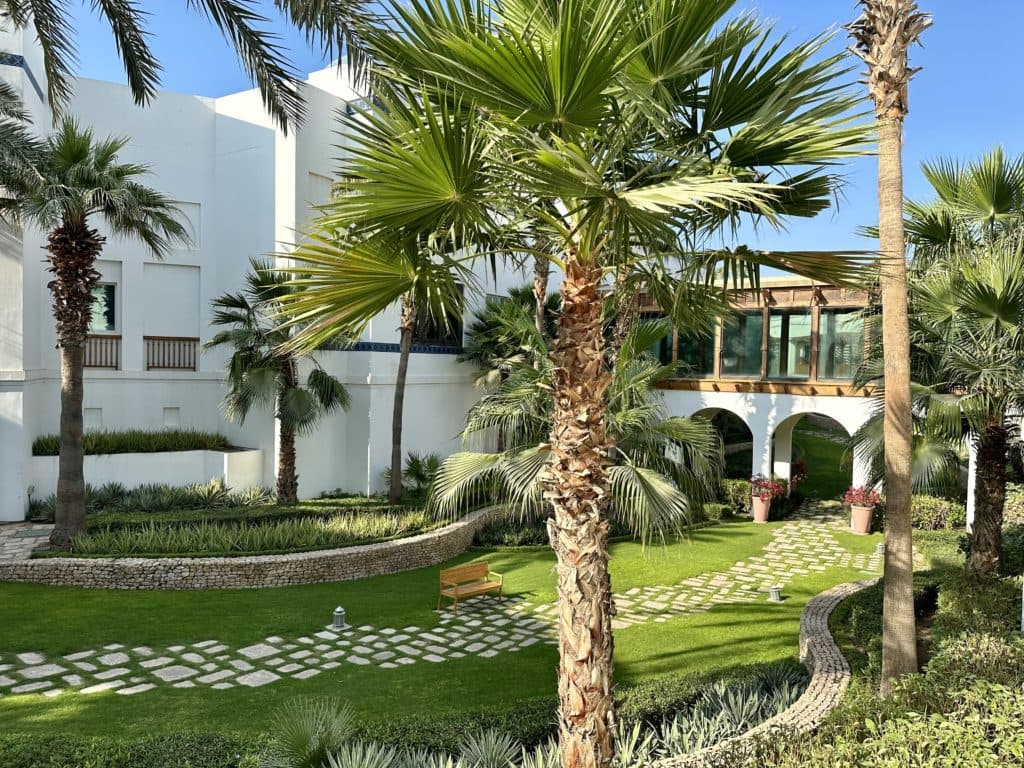 In fact, since our stay was on the tail end of a longer trip to the Middle East, we wanted to do a bit of laundry before our long journey home. After dropping off one of the laundry bags in the room with a few clothes at the front desk before dinner, we returned to our room after our meal at the Thai kitchen to find the laundry done and hanging in the closet just a few short hours later.
The staff truly made sure every aspect of our stay was top-notch.
How to Earn World of Hyatt Points
Don't worry about earning Hyatt points to cover your stay at the Park Hyatt Dubai. You don't need to be a road warrior to rack up the required amount of points.
There are a few different credit cards that make earning Hyatt points relatively simple and straightforward.
First, you can earn World of Hyatt points by transferring Chase Ultimate Rewards points to your Hyatt account. Because Hyatt is one of the airline and hotel transfer partners of Chase's Ultimate Rewards program, you can transfer Ultimate Rewards points into your World of Hyatt account at a 1:1 ratio – 1,000 Chase points gets you 1,000 Hyatt points.
And if you don't have Chase Ultimate Rewards points, they can be earned from a number of personal and business credit cards. Our favorite option: The Chase Sapphire Preferred® Card, which is currently offering a welcome offer bonus of 60,000 points after spending $4,000 in the first three months of card membership. That's enough for two free nights at the property with some points left over.
This card also has an annual fee of $95 which is not waived in the first year of card membership. However, the welcome offer bonus alone is worth at least $750, and oftentimes much more. If you book two nights, you could easily get more than $750 out of these points.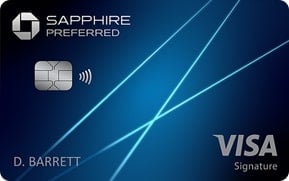 Click Here to learn more about the Chase Sapphire Preferred Card. 
Then there's the World of Hyatt Credit Card. Just for opening the card and spending $3,000 in the first three months of card membership, you will receive 30,000 World of Hyatt points. You'll also earn 2x points per dollar spent on up to $15,000 of spending in the first six months of card membership. That's 60,000 points total – enough for up to three free nights.
The card has a $95 annual fee which is not waived for the first year of card membership. But starting in year two, it offers an annual free night certificate to be used at any Hyatt category 1-4 property. Unfortunately, Park Hyatt Dubai is not eligible for the free night certificate. Still, it's reason enough to justify the annual fee.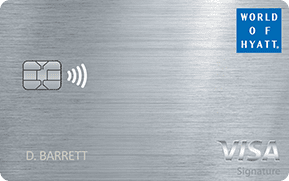 Click Here to learn more about the World of Hyatt Credit Card.
There's also a World of Hyatt Business Credit Card, which allows you to earn bonus_miles_full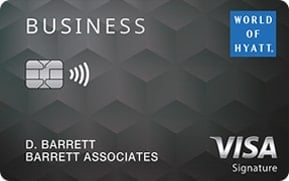 Click Here to learn more about the World of Hyatt Business Credit Card.
Bottom Line
The Park Hyatt Dubai was my third hotel stay in Dubai over the years. But it was the first Dubai hotel I've stayed at that I'd return to … in a heartbeat.
The property is simply stunning, and the location is hard to beat. It has a tranquil resort-like feel while being located in the heart of the city, just a short drive from the airport as well as many major attractions.
Ongoing renovations mean this property is only likely to get better … but that could mean it'll cost more (in cash or in points) in the near future. For now it's a great use of Hyatt points and a stellar option for a trip to Dubai.