A safari is on nearly every traveler's bucket list, and if you're willing to jump through the necessary hoops to get to Africa, it can be an epic experience. But I've also seen firsthand that planning a trip to Africa for a safari is not for the faint of heart.
Last year, I traveled to the Masai Mara region of Kenya for a safari as part of my honeymoon. The Masai Mara is, in my opinion, the easiest place to plan a safari – and one of the best to see the most wildlife, too. It's a great starting point for anyone looking to take a safari trip.
Even so, the planning process felt a bit overwhelming. In the end our trip went off (mostly) without a hitch. Now I'm here to help you do the same.
If you're considering traveling to Africa, advance preparation is key. Here are my safari planning tips to help you put together a stress-free trip to the Masai Mara this year or next.

Why the Masai Mara?
I'm tempted to just let a few of my photos answer the question: Why should I plan my safari trip to the Masai Mara in Kenya?

A lot went into the decision to plan my honeymoon in the Masai Mara instead of one of the other popular safari sites in Africa.
The Masai Mara, also known as the Mara, is one of the most popular safari destinations in the world, and for good reason. It's a relatively small area compared to the neighboring Serengeti (about 10 times bigger than the Mara) for instance, but the animal populations there are thriving.
The Masai Mara is 583 square miles, so it's not exactly an intimate setting either. Yet there are an estimated 850 to 900 lions in that area alone, and the safari guides know exactly how to find them.
The end result: You don't have to drive far to find wildlife activity in the Masai Mara.

You can get right up close and personal to the animals, too. The wildlife are used to humans and are completely unthreatened by us because they're protected. While poaching and hunting of these animals used to be a problem, it's been all but completely eradicated in the region, according to our guides.
The Masai people are strict conservationists with a spiritual attachment to the land. It's a beautifully maintained region of Africa, making it possibly the most fertile wildlife-spotting region in the world.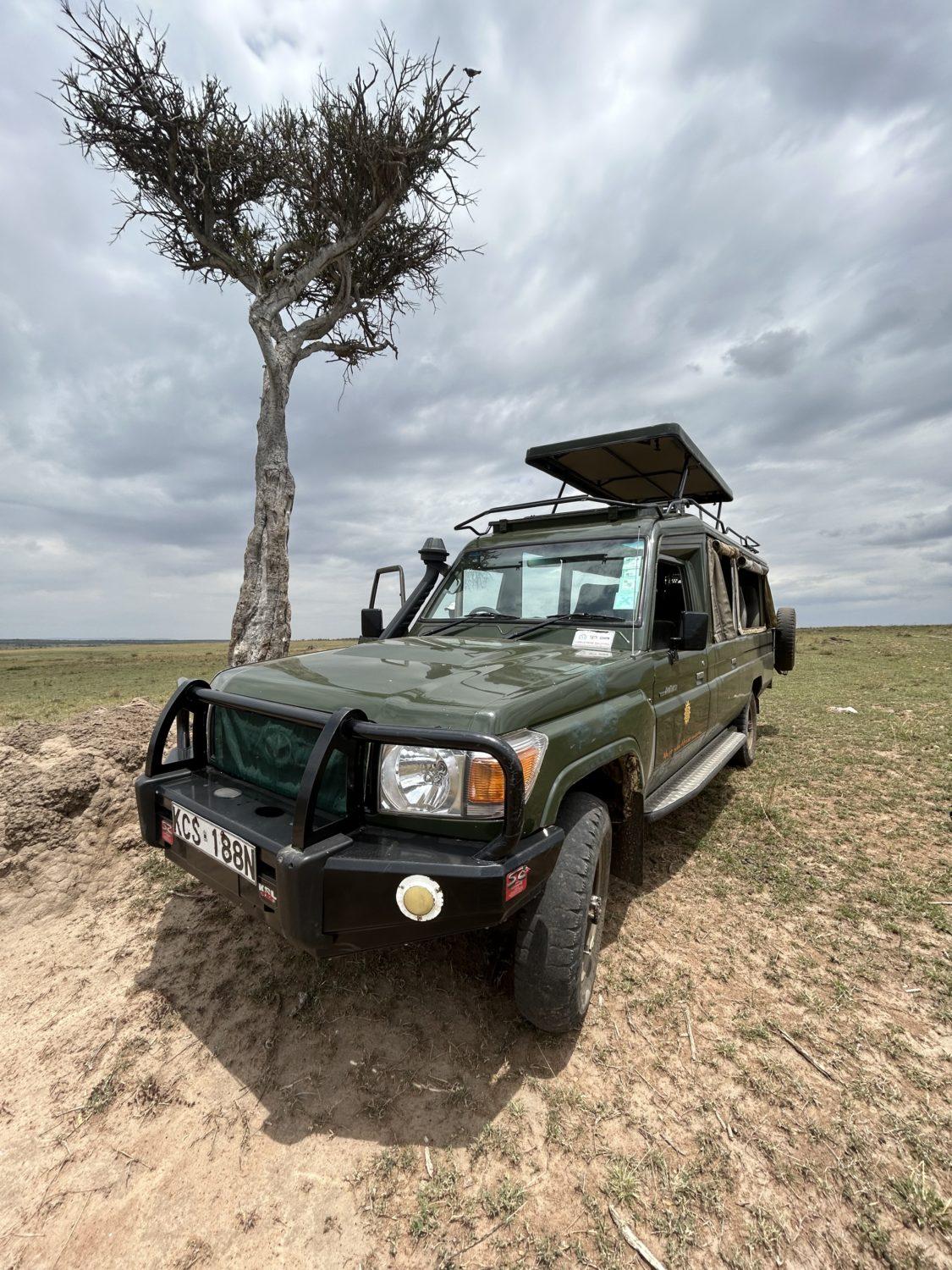 And the access to this land is amazing. Every safari outfitter and safari lodge has a fleet of trucks like the one above. These trucks are durable and can drive almost everywhere. We logged dozens and dozens of hard miles every day.
By hard miles, I mean hard miles. The roads are extremely bumpy: We didn't see a patch of pavement for five days while we're there (so make sure you bring dramamine if you are prone to car sickness.) But the drives are worth every bump, taking you to some spectacular vistas and wildlife viewing points.
Another reason why the Masai Mara is a perfect safari destination are the lodging opportunities. Just look at this Google Maps "hotels" search for the entire region.

There are dozens of options for visitors with designs on a Masai Mara trip at all kinds of price points.
Throughout Africa, you can find other really great safari opportunities, too. Just to the south of the Masai Mara is the Serengeti in Tanzania, which is a much larger, more spread out version of the Mara. If you're looking to see species of gorilla, a trip to Uganda might be the best option for you. And if you want to see South Africa, there are plenty of day trip wildlife excursions from there, too.
But for my money, if you want an immersive safari camp experience with the best opportunities to see lions, elephants, giraffes, rhinos, and more, the Mara is the best bet.
Getting into Africa
If you're sold on a trip to the Masai Mara, there are some things you need to know and get done before you can enter Tanzania or Kenya.
The Masai Mara is in Kenya, but it borders Tanzania and many travelers – including myself – will combine the two countries into a single trip if they're making the long journey to East Africa. So when we boarded our flights to Tanzania and Kenya, I clutched a folder full of documents and information for my wife and I, and some of those documents came at no small cost.
From required vaccinations, to e-visas, and lingering COVID-19 restrictions, here's what you need to know to enter Kenya or Tanzania.

Documents Required to Visit Kenya and Tanzania
There are some things I always bring with me on international trips, like photocopies of my passport and detailed, printed out itineraries of the entire trip. But my folder was a little extra plump heading to Africa.
Here's a running list of what every person needs to enter both Tanzania and Kenya:
Health surveillance form (COVID-19-related)
E-Visa (~$100)
Passport (with six months of validity left)
Yellow Fever vaccination card
COVID-19 vaccination card (CDC cards were accepted in both countries)
First things first: Make sure your passport has six months of validity past your arrival date in Africa. Kenya and Tanzania both require travelers to have six months of passport validity to enter the country.

About one month before our trip, my wife discovered hers was not eligible, so we had to do anUrgent Travel Passport renewal. It was stressful, but completely doable.
The COVID-19 health forms are available on each country's U.S. Embassy website. You can find the latest restrictions and forms on Kenya's COVID-19 U.S. Embassy site and Tanzania's COVID-19 U.S. Embassy site.
Fully vaccinated travelers don't need to test before entering Tanzania or Kenya.
In addition to the COVID-19 requirements, every U.S. traveler to Kenya and Tanzania needs an e-visa that you can complete before your trip. Luckily, these e-visas are very easy to fill out online and printing out your e-visas ahead of your trip will save you valuable time at the airport upon arrival.


You'll need to enter a bunch of information about your trip and take a headshot of yourself for the e-visa, as well.
You can fill out these forms at Kenya's e-visa website and Tanzania's e-visa website.
We're all used to COVID-19 restrictions, visas, and passports, but the trickiest entry restriction for Tanzania and Kenya is the Yellow Fever vaccine requirement.
The Yellow Fever vaccine is pretty widely available in the United States, but it's not an inexpensive shot. Without insurance, the Yellow Fever vaccine can cost anywhere from $200 to $400. And you have to have that yellow vaccination card in order to enter either country.
My advice? Schedule a visit with a travel medicine doctor. My wife and I went to an appointment together and the doctor told us all of the recommended vaccinations for the region and was able to administer our Yellow Fever vaccine and give us our proof, all in a half-hour's work.

Other Things You'll Need in the Masai Mara
In addition to the mandatory shots, our doctor also recommended we take a Malaria medication. Malaria is still relatively prevalent in East Africa. The mosquito remains the deadliest animal on the continent of Africa year after year.
Malaria series vary. Ours was a pill that we started taking a few days before the trip and continued taking daily through about two weeks after the trip.
Depending on your own vaccination history, the doctor might tell you to re-up on some other vaccinations before heading to Tanzania and Kenya, too. I, for instance, also got the Typhoid Fever vaccine during the visit to cover my bases.
Again, I'd recommend booking an appointment to take care of these things. Our doctor laid out everything in clear terms to us, including what we needed, what we should have, and what we could elect to get in terms of vaccinations for Africa.

How to Get There
When it comes to planning a safari to the Masai Mara, the best place to fly to before you connect onto a bush flight is Nairobi International Airport (NBO).
Nairobi is an extremely well-connected African hub where nearly every major airline flies. Whether you prefer SkyTeam partners like Air France and KLM to Star Alliance partners like SWISS, Lufthansa, and Turkish or OneWorld partners like Qatar Airways, and other favorites like Emirates, you'll be able to find a connecting itinerary to Kenya, no problem.
Additionally, Nairobi is a hub for Kenya Airways, which has a pretty robust route network throughout Africa, Europe, Asia, and even to New York (JFK).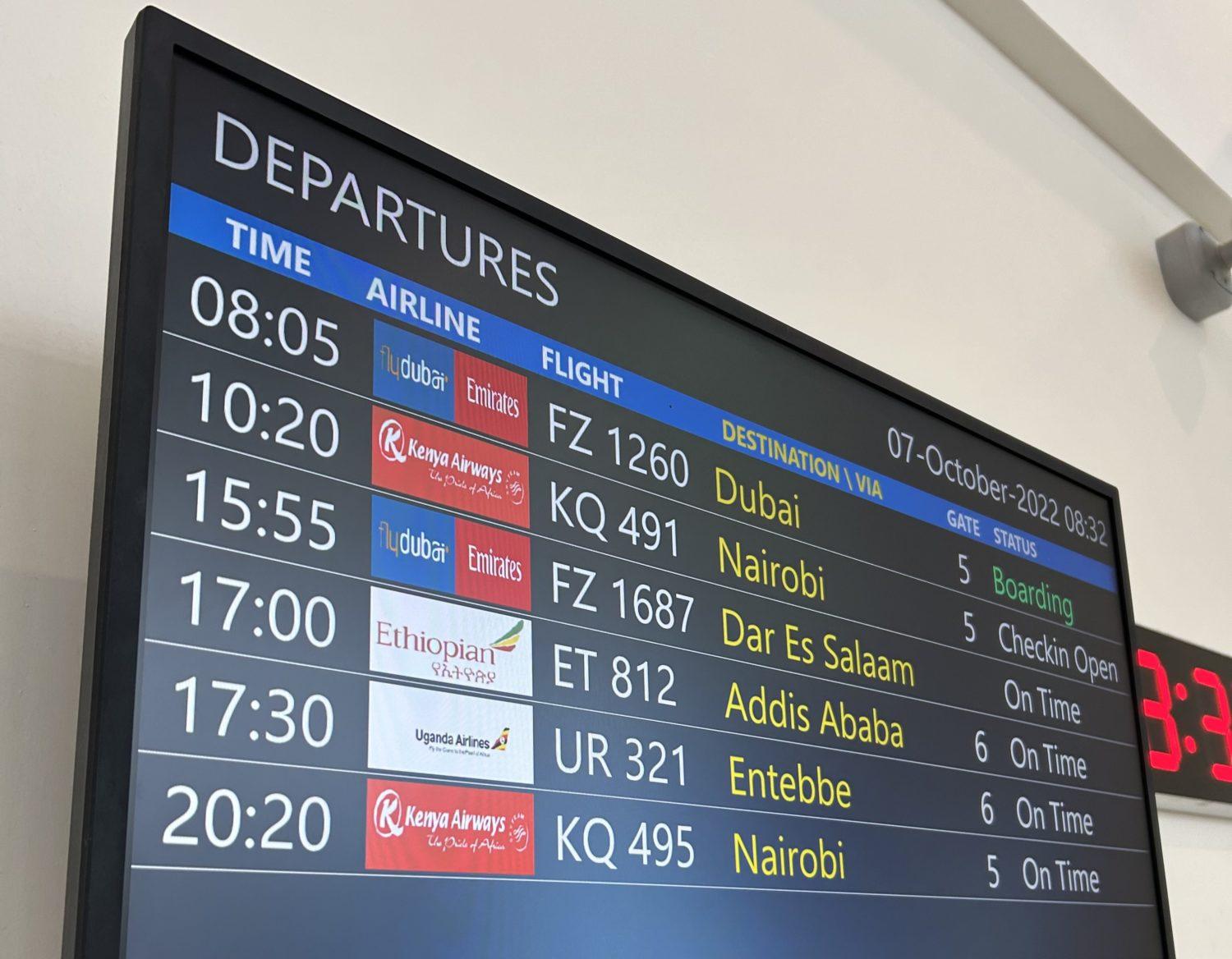 For our journey to Africa, we flew Qatar Airways from Chicago (ORD) through Doha (DOH) to Zanzibar (ZNZ). After a few days there, we grabbed a quick Kenya Airways flight from ZNZ to NBO.
We even got a glimpse of Mt. Kilimanjaro along the way!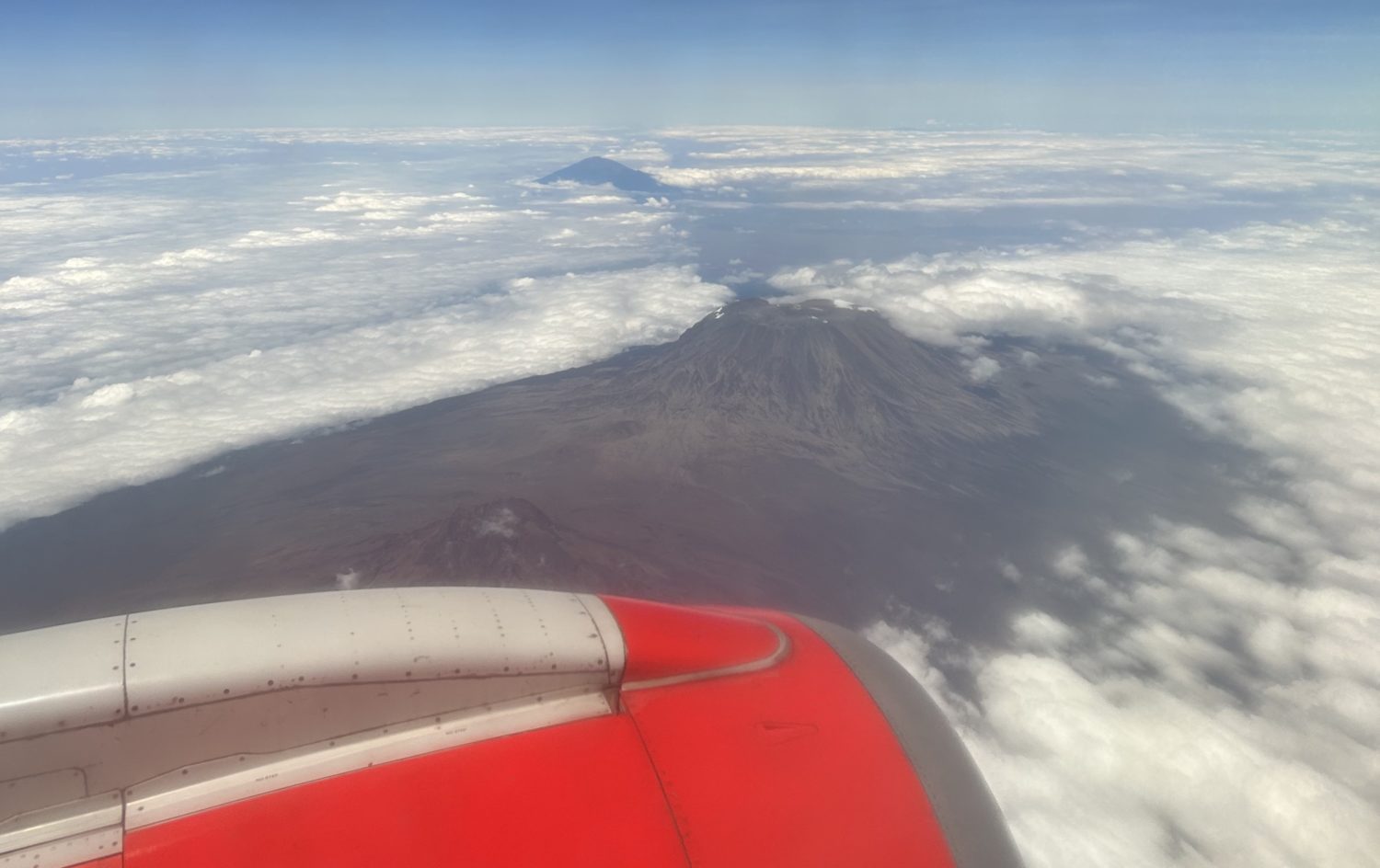 Beyond Nairobi, you can also fly to Dar es Salaam (DAR) in Tanzania, which has some connectivity to the Serengeti and the Masai Mara. Same goes for Mombasa (MOI) in Kenya.
But far and away, the most convenient option is to start your journey with a flight to NBO.
Flying to the Bush
It's possible to drive to the Kenyan bush, but that doesn't mean it's a good idea.
It's some of the roughest physical terrain in the world. The roads are hardly roads. From everything we read, it's really a fool's errand. Your best bet for getting to the Masai Mara is to fly in on one of a few airlines that offer service to the region.
Airlines that service the Masai Mara include Safarilink, Air Kenya, or Mombasa Air Safari. Safarilink and Air Kenya operate out of Nairobi-Wilson Airport (WIL) which is not to be confused with Nairobi International Airport (NBO). Mombasa Air Safari operates out of Mombasa in eastern Kenya.
In order to fly to the Mara from Nairobi, you have to get a car service or taxi between NBO and WIL. A one-way car service booked through Kenya Airways (our inbound flight operator from ZNZ to NBO) cost us only about $30, but the drive took close to an hour. Nairobi has some of the worst car traffic in the world, so build in a multiple-hour connection if you're changing airports.
The best way to book these airlines is directly through their website. But if you want to get a sense of their approximate schedules first, you can search for flights to the Masai Mara on Google Flights – although the details can be misleading.
This table, from Safarilink's website, gives you a sense at how frequently they operate flights from Wilson (WIL) to the Masai Mara.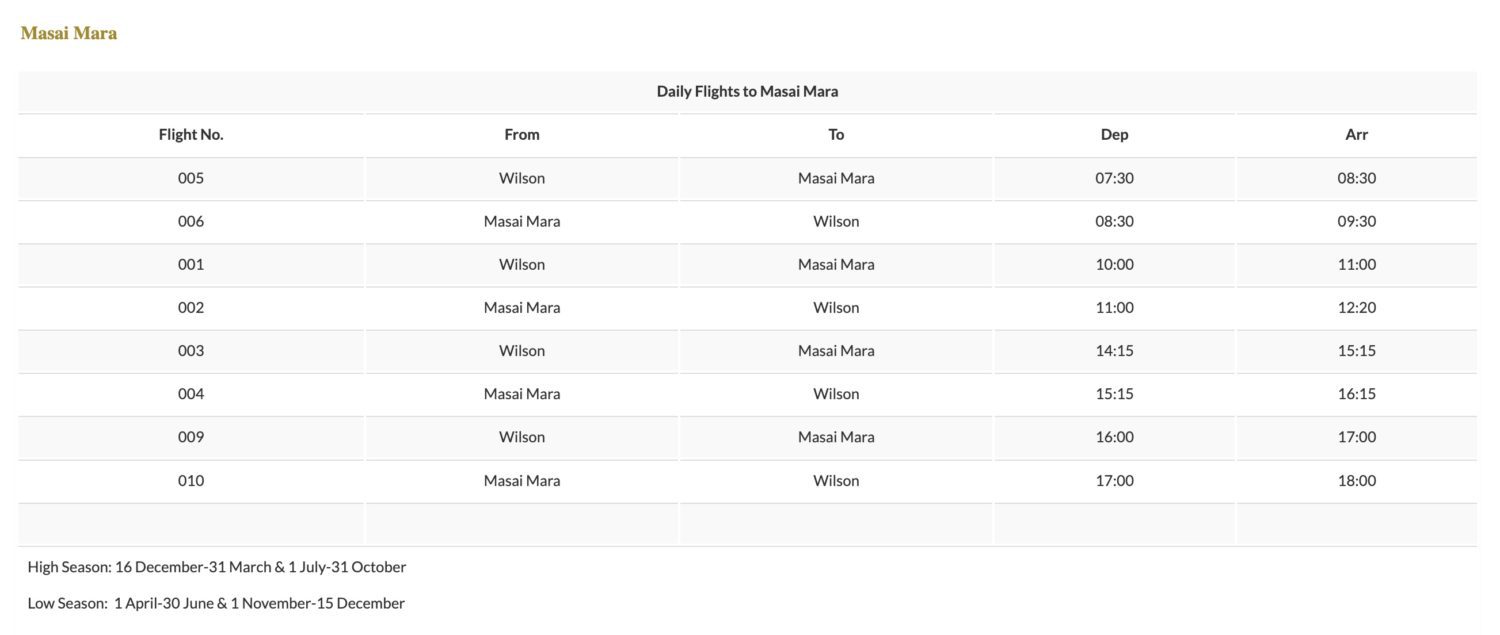 These flights, while regularly operated, aren't your typical point-to-point flights. In almost every case, these planes are making a few stops on their way to the final destination, even if the fare is sold as a "nonstop" flight. Safarilink loads and flies these planes based on how many people are flying which routes.
Also, Nairobi-Wilson is not your typical airport. Each airline has it's own "terminal" like this one we used for Safarilink.

It's modern and nice on the inside, featuring a gift shop, an upstairs lounge for paying customers, and a snack bar in the back right of the photo above. But getting to this terminal was a trip. Every car goes through the gates of the airport into what I can only describe as a complete free-for-all, with cars and people are zig-zagging every which way.
Once inside, however, Safarilink made everything pretty smooth. We checked in with agents behind the counter and they whisked our bags away for our flight.

Let's talk about bags. On our way to Africa, flying Qatar Airways Business Class, we were given essentially zero restrictions about how much we could or could not bring. That is not the case on these tiny Cessna planes into the Masai Mara. The baggage restrictions are extremely strict, so you have to pore over your fare terms and conditions before you board.
We expertly packed our suitcases to meet very specific weight restrictions. The most unique restriction: You are not allowed to have any hard-sided suitcases onboard Safarilink and other bush flights. That appeared to be the norm for all the airlines servicing the Masai Mara. Hard suitcases are more difficult to pack into the underbellies of the tiny planes.

With a baggage weight limit of 33 pounds (or 15 kgs) per person, I had to purchase an extra heavy bag each way that could weigh up to 50 pounds. We kept the other one close enough to 33 that the agent let us slide with just one extra purchased bag.
From the terminal window, we could see our plane ready to depart. As you can see, it isn't quite the 787 we arrived to Africa on.

When it was time to fly, we lined up outside of the plane to board, told a baggage handler which bags were ours, and he gave us a thumbs up that we could get on the plane. We were assigned seats in row two. Apparently row one is for the pilots.

It was a cool vantage point of a flight and something like I've never experienced. The flight took about 45 minutes from "gate" to "gate". We even saw some elephants from above as we were descending.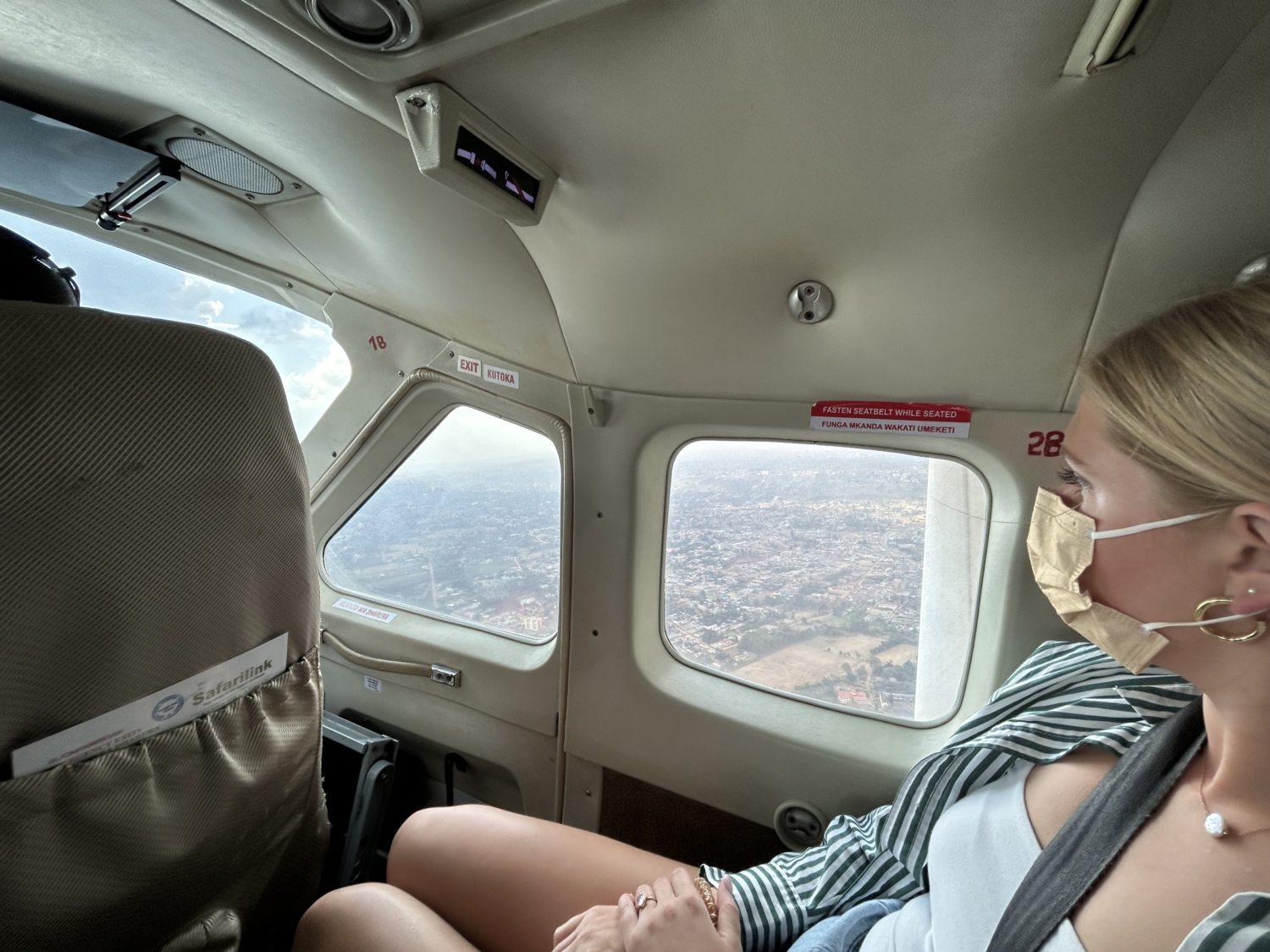 The plane goes by the runway very low before the landing as there is no air traffic control to inspect the landings – everything is visual for the pilots. After landing on the dirt strip, we were in the Mara. It was a very cool experience, overall.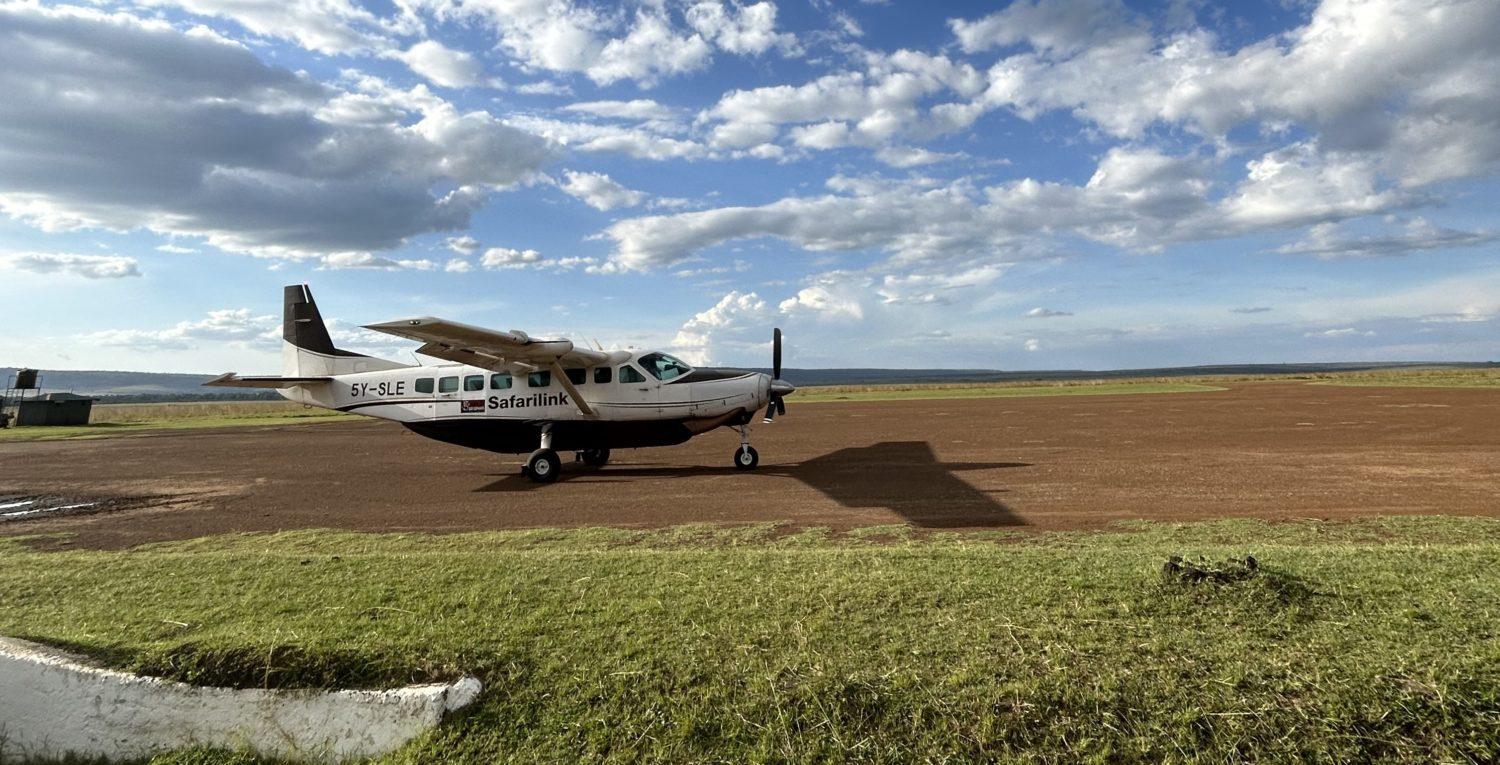 The Musiara Airstrip was where our safari lodge told us to fly for a free pickup. It was a sleepy little airstrip and probably my favorite airport in the world.

The "terminal" was three connected benches underneath a sun shade. No Priority Pass lounge or Hudson News stand in sight.

Interestingly, on our way back to Nairobi after the trip, Safarilink put us on a Dehavilland Dash-8 dual-propeller plane, which was much bigger than our inbound aircraft. With 20 rows of seats and dedicated flight attendants, the way back was a much different flight experience.
Checking in from the Masai Mara consisted of our guide rushing our paperwork up to the flight attendant, who checked us off the manifest and allowed us to board. She told us which row to sit in when we got on.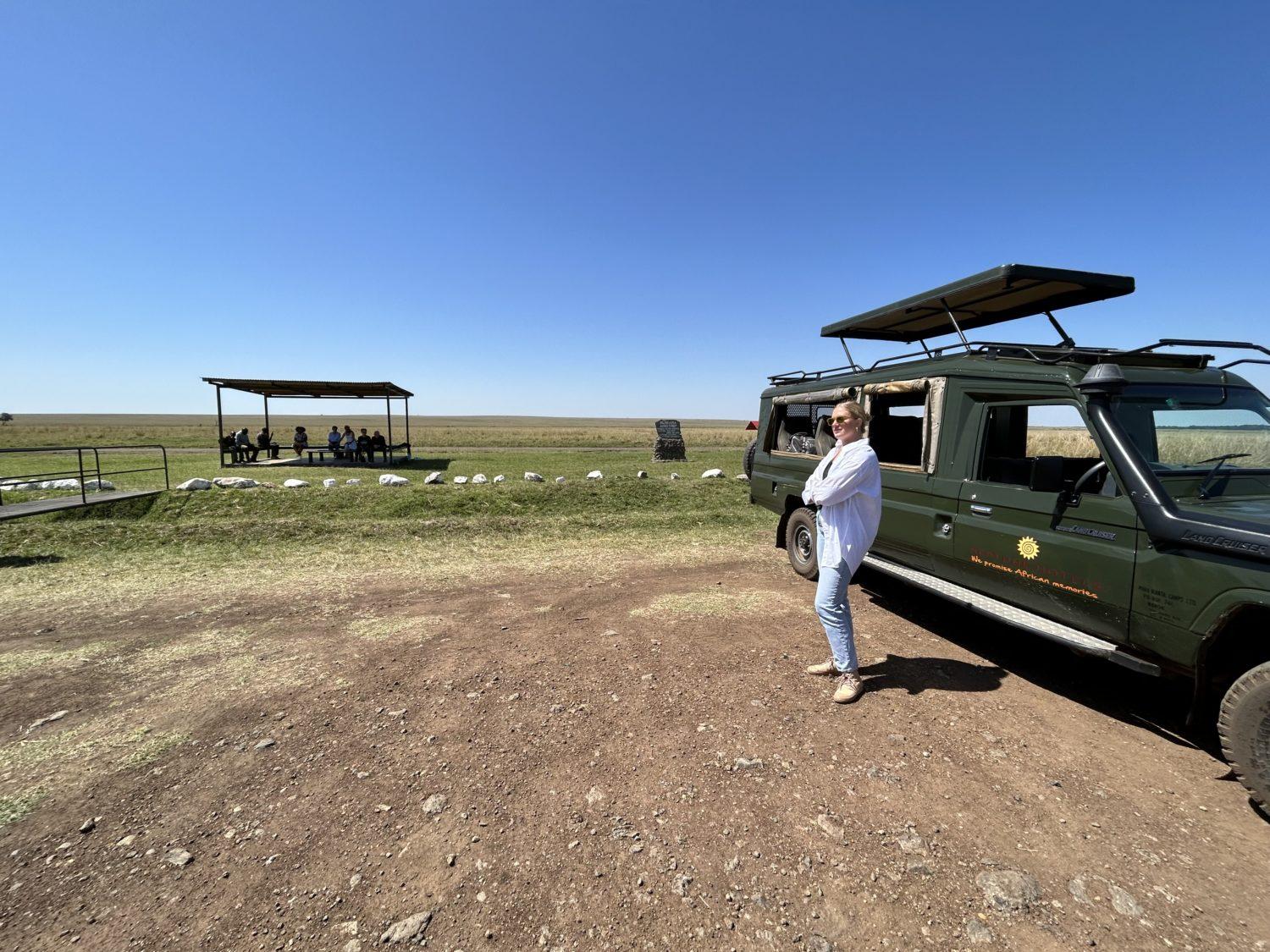 Here's one last look at the Musiara Airstrip parking lot and terminal as my wife gave a final glance at the Mara.
How to Find a Safari Lodge
When it comes time to search for a safari lodge in the Masai Mara, I would start with two resources.
And then for more details about those properties: Google Hotels
Google Hotels is great resource to begin narrowing your search because of its filters. You can filter for things like "all-inclusive available," "pool," by star rating, and much, much more.
Using Google Hotels, you can get your list of potential properties down to a manageable level in no time.
If you're looking to use points and miles to book, take your search results to those specific loyalty websites. There aren't many western hotel chains (besides Fairmont) with safari lodges in the Masai Mara, but many of the safari lodges you'll find are bookable through travel portals where you can use your hard-earned points.
We used the Capital One travel portal to book the Neptune Mara Rianta Luxury Camp. We paid for our stay through the portal as we were trying to hit a spending bonus on the Capital One Venture X Rewards Credit Card at the time, which earned us 10x points on the stay. We also got $300 back onto my credit card statement thanks to the Venture X's annual travel credit, too.
Here's what the listing looks like for Neptune on the Capital One Travel Portal for a one-week's stay in October 2023.

As you can see, camps like these are not cheap. A week at Neptune will cost you more than $5,000 or a half a million Capital One points. But nearly everything is included in that rate, which can save you a lot of headaches if you choose to go that route.

Should You Book An All-Inclusive Safari Camp?
Booking an all-inclusive safari camp is the best way to go about booking a safari, in my opinion.
There are very few, if any, food and drink options outside of these resorts because the Masai Mara is an extremely wild place! The native people, the Masai, are a very traditional community, meaning food and drink service is done almost exclusively at the resorts. Therefore, the resorts can charge exorbitant amounts to guests not staying on all-inclusive rates.
When you book an all-inclusive fare, you don't have to sweat hour-to-hour about feeding yourself. The resort takes care of it all.
You can also book all-inclusive hotel rates that include your inbound and outbound bush flights and your game drives, too. In our case, at Neptune, the rate we booked through Capital One did not include our game drives, which were $75 per day plus the fee to enter the parks. (More on that later.)
Overall, the all-inclusive rates are the best option for most travelers, unless you're extremely confident in your ability to get around the African bush and feed yourself.
Neptune Mara Rianta Luxury Camp
There's no shortage of epic safari lodges in this region. You'll see many of these camps advertised on the sides of the other vehicles when you drive around the Masai on game drives. Governor's Camp and Little Governor's Camp, for example, is one of the fanciest (and priciest) options for travelers. Angama Mara is another higher-end option.
The camp we chose after weeks of searching and poring through reviews was the Neptune Mara Rianta Luxury Camp. The first review on TripAdvisor started with "We cried when we left." I was sold.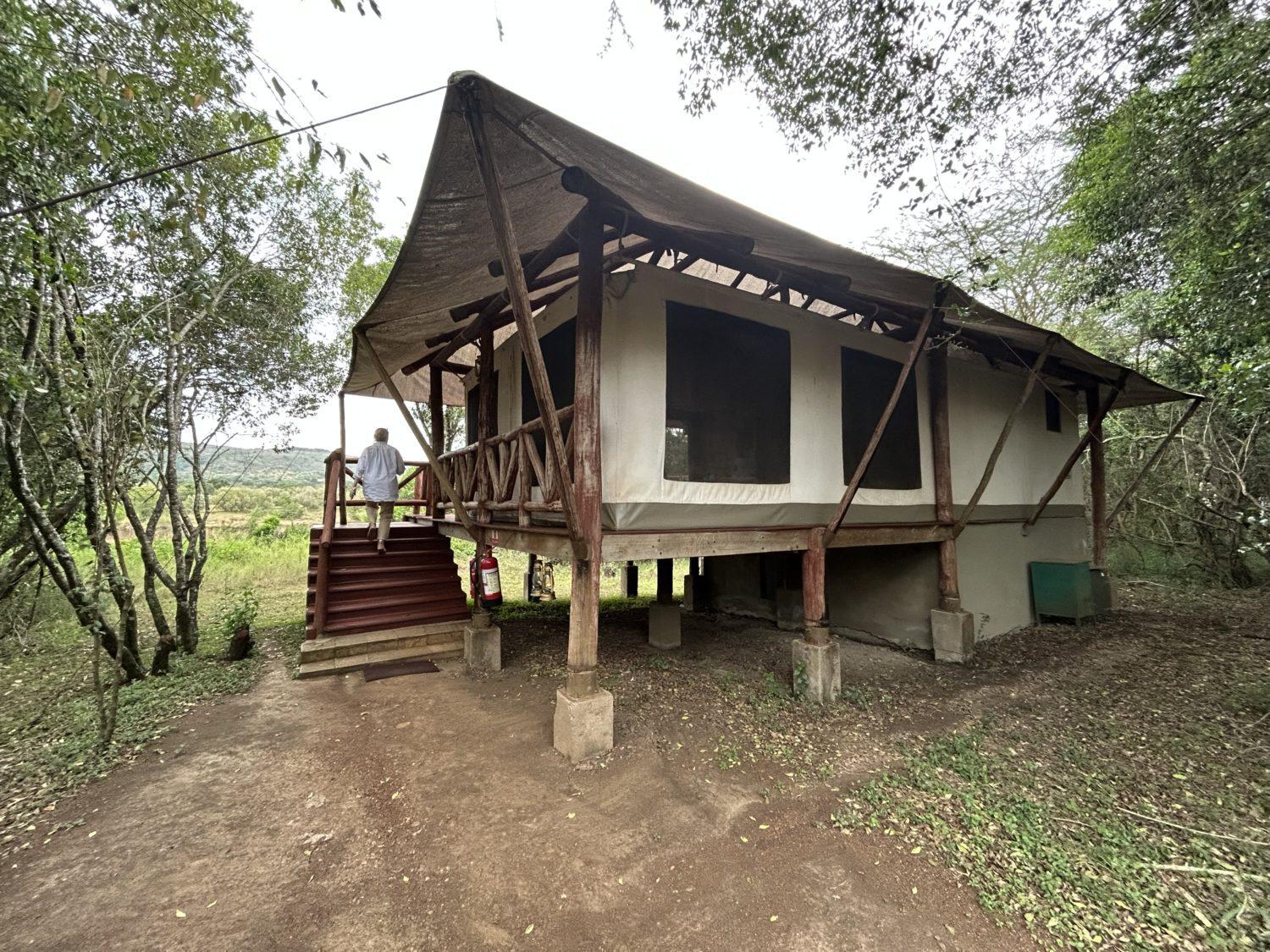 Neptune Mara Rianta Luxury Camp is situated right on the Mara River on the northern end of the Masai Mara. You can hear the hippos (safely down a steep, 30-foot embankment) oinking and grunting all day and all night. The resort actually gives you earplugs for this exact reason, but my wife and I delighted in hearing their hilarious symphonies.
Neptune has 20 tents on the property, each one facing the river. In the middle of the tents is a huge main lodge tent, featuring a spa, a lounge area, a bar, and a dining room. There's a swimming pool in the back between the main tent and the river, too.

We spent hours in the main tent reading and relaxing during our trip. The service was extremely prompt. I was offered drinks or tea the second my butt hit any of the couches or chairs.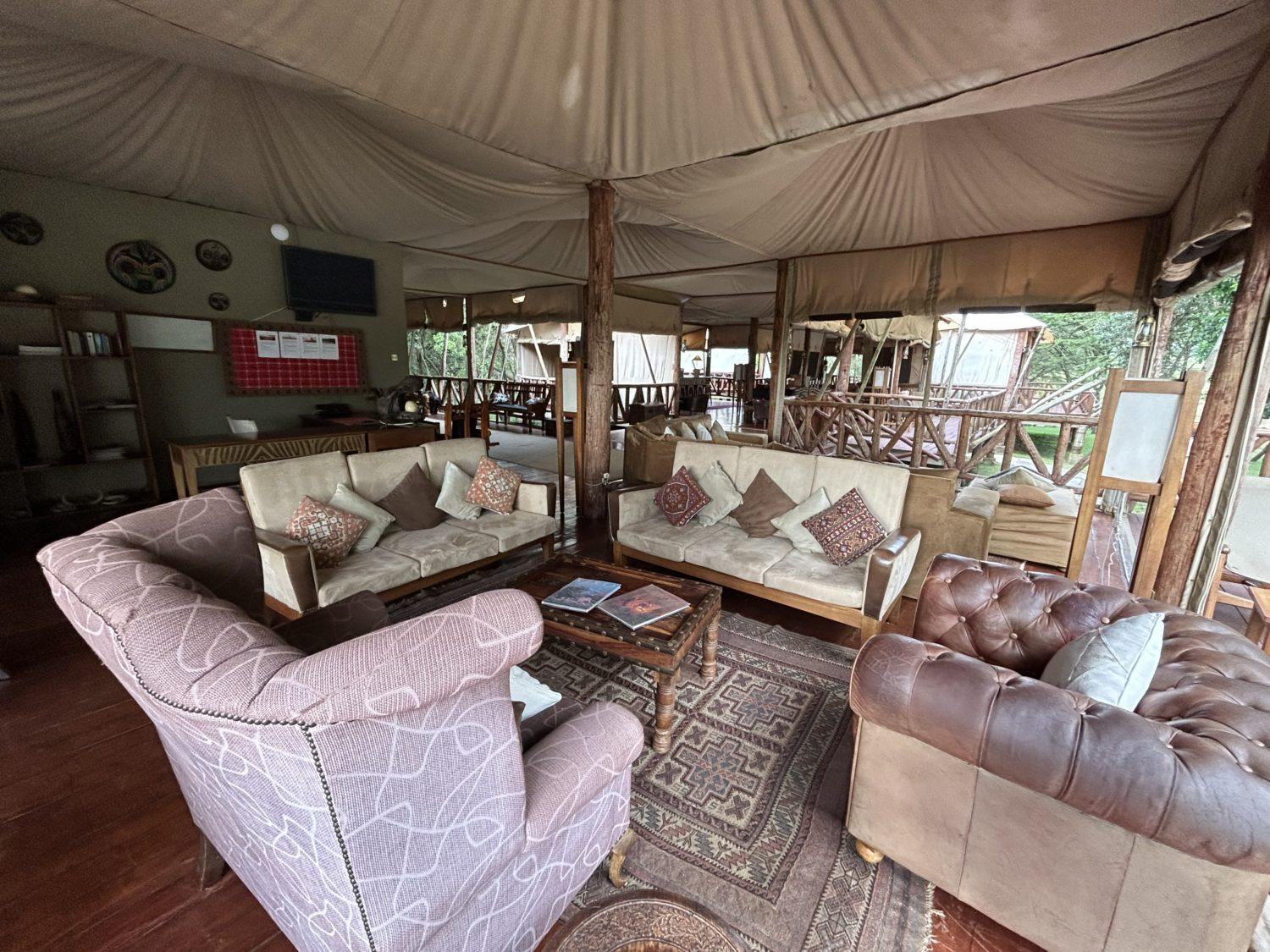 The staff at the resort would also come find us in the evening hours before dinner to ask us what our plans were for the next day, which gave us a few hours after each day's game drives to unwind and think about our plan for the next morning.
The dining room was beautiful. The tent walls would be rolled up each morning for breakfast, which put your right among the tree tops overlooking the river.

The food was also exceptional. This is no buffet-style all-inclusive. Each four-course meal with unlimited drinks was fantastic, and we never had the same thing twice in our 4-night stay.
If you opted for a game drive that got back around lunchtime, they would serve you at tables right along the river. Hippos and other wildlife were visible from the table at lunch.

The rooms were connected to the main tent by a long, sweeping bridge that took you onto a walking path. Our tent happened to be the closest to the main area, so our walk was only about a minute long. Multiple times we saw tiny monkeys swinging from the trees as we walked to the tent.

The tents aren't rustic as they sound – you're not sleeping on the ground Neptune. I'd describe it as glamping on steroids.

Each tent comes with its own riverfront deck with a seating area outside where you can sit and eat, journal, or relax.
The tents have tons of natural light thanks to very large windows that can be rolled up or down. Every reservation is assigned a butler when you check in, and that person handles rolling up and down your windows and turning your bed down and cleaning your tent every day. They even warm your bed up for you with a bag of hot water during dinner.
The nights get chilly in the bush given it is at a pretty high elevation, so these touches were amazing.

This is just one half of the tent. The other half had a wardrobe, a toilet room, a double sink, and a full stone shower, too. I failed to photograph that part of the tent, but I can tell you it was a nicer bathroom than 90% of the brick and mortar hotels I've stayed in.
But the single best part of the Neptune Mara Rianta Luxury Camp was our guide, Daniel. Daniel is the head guide at Neptune and taught us so much in our four days. We spent probably three-quarters of our time in the Masai Mara with Daniel, who is a native Masai and grew up in the region. He was funny, smart, and had an unbelievable eye for wildlife. Within five minutes of picking us up from the airport, Daniel found us some giraffe.

Daniel was extraordinary, and from talking to the other guests, there were no slouches among the guides at Neptune.
I can't recommend Neptune Mara Rianta Luxury Camp enough. It was a perfect safari lodge experience. Word is that camps like Governor's are truly above and beyond, but it's hard to imagine another property doing it better than Neptune did.
Game Drives 101: What to Bring and Expect
Let's get to the fun part! You've done all the hard work, you've got all the shots, and now you get to start daydreaming about the game drives. It's the reason you wanted to book this crazy trip to begin with.
Game drives are excursions into the bush, usually in an open-sided vehicle, for the purpose of viewing wildlife. Here are a few things I wish I knew before my first game drives this fall.

Pack a pair of binoculars. This is embarrassing to admit, but I forgot to bring binoculars. On a safari. I know.
You don't need an epic pair of monster binoculars to bring along. A pair of pocket binoculars will suffice. The guides often get you so close that you don't need binoculars at all, and luckily ours was kind enough to share his with us every day, but it would have been nice to have our own.

Bring plenty of cash before heading into the Masai Mara. Another thing I didn't know before getting to the Mara was that each park has a cash-only entry fee. At one park entrance, we were able to pay using a credit card because the sky was clear that day (seriously), but most of the park entrances for the game drives required cash payment for park entry.
In most cases, that was a $75 per person fee, so it's important to have enough cash for that. ATMs are scarce in the bush. We were told we could go to one if we needed, but it would be a long, bumpy drive to get there.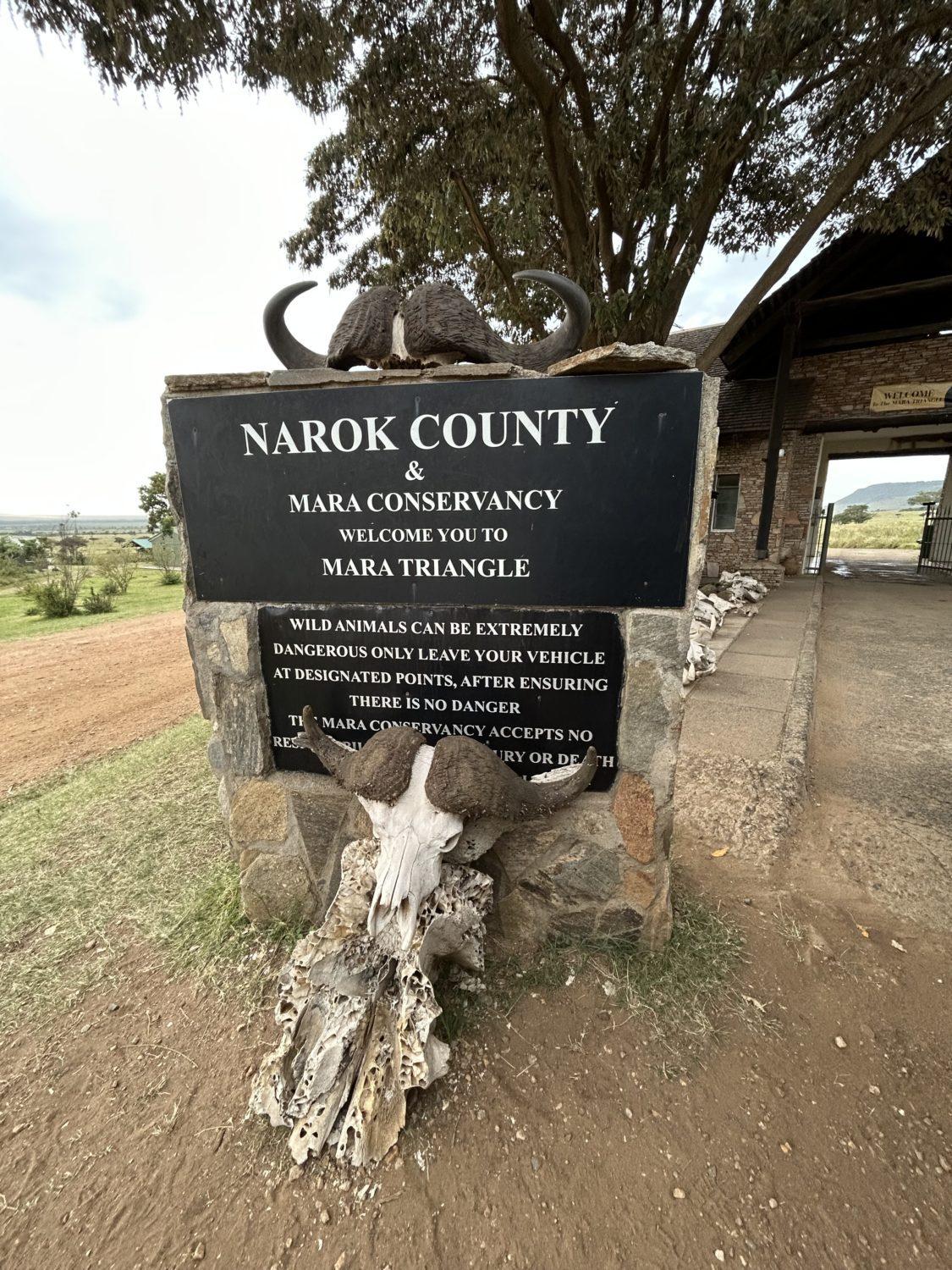 U.S. dollars are widely accepted in the Masai Mara, so you don't need too much local currency, but you should have plenty of cash for the park entrances and for tipping your guide and the resort staff.

As is evident from these photos, there aren't a lot of Wells Fargos or even convenience stores in the area. Having cash is important when you're that far from a developed city.

It's both the charm and the drawback of the Mara. Make sure you're prepared for your journey before you get on your bush flights.
Bottom Line
A safari in Africa is truly a once-in-a-lifetime experience. But planning and preparing for a safari trip can be tricky.
My own trip to the Masai Mara region of Kenya last year taught me a lot about what it takes to travel to East Africa. Although the process can seem daunting, its not hard to cover your bases for an Africa trip if you take the right steps.