Just because you're not traveling right now doesn't mean you should give up on travel. Just the opposite.
The coronavirus outbreak has us all pining for easier days. It's tough on us travelers, sure, but much worse for those sick or with loved ones in the hospital amid a global economy has come to a screeching halt.
With no easy end in sight, we're all cooped up at home and wondering when it may be safe to travel again. But you can – and should – put that downtime to use. Start planning, learn something new, and get primed and ready to travel better and further than before.
Here are five things you can do to keep travel alive until it's time to actually, you know, travel again.
Book A Flight for the Future
You're not traveling right now. We get it: Few people are comfortable traveling right now, and for good reason.
But that doesn't mean you can't book travel, period. There are two important factors to keep in mind:
Those two principles give you great freedom to book now for travel later – even much later. Scope out a great deal for a flight as far out as summer 2021 with the comfort that you can change or cancel that flight if things haven't cleared up by the time you're supposed to depart.
If you're feeling stir-crazy, fire up Google Flights Explore, where you can type in what dates you want to travel (or even a rough timeframe) and find a cheap place to go. If you just want a getaway and don't care where you go so long as the price is right, this is the best tool.
Otherwise, check out Thrifty Traveler Premium! We send the cheapest domestic and international flight deals directly to our members' inboxes.
Start planning your perfect bucket list trip now, then pull it off when this clears up.
Put Your Canceled Flights to Use
Did you change or cancel a flight due to coronavirus? If so, you may have a travel voucher burning a hole in your pocket.
The ins and outs of how these vouchers work will depend on which airline you booked with and when you booked it. But you should have at least a year from your original purchase to use up the value from one of these vouchers or credits for a different trip.
Keep in mind: You don't need to put that voucher toward the exact same flight. Just because you canceled a flight from Chicago-O'Hare (ORD) to San Francisco (SFO) doesn't mean you have to head back for San Francisco when the time is right. The world is your oyster.
Monitor our daily flight deals here to put your voucher or eCredits to good use. Or sign up for our daily newsletter and get them delivered to your inbox.
Have a United voucher in hand? Be sure to use every last cent – if you don't use the entire amount on your next booking, United will pocket the difference.
Devise a Points-Earning Strategy
The time may not be ripe for travel, but this lull is a chance to stockpile points and miles. Or at least draw up a strategy.
This is ultimately a personal situation. The right points-earning strategy for one person will be wildly wrong for another. And given the dark cloud surrounding the economy right now, it may not be the right time to open credit cards to earn points and miles.
But even if you're not ready, that doesn't mean you can't devise a gameplan for when the time is right. And a winning strategy starts around the flexible points you earn from banks like Chase and American Express. Let's look at Chase first.
We always tell readers to start with Chase cards above all others for two reasons. For starters, cards like the Chase Sapphire Preferred Card give you a perfect introduction to using points. You can use them to book travel directly with Chase, where every point is worth at least 1.25 cents toward travel. But you can get even more value by transferring those points to airline and hotel partners like United, British Airways, Iberia, and Hyatt. That flexibility makes these points more valuable than your typical airline miles.
What's more, Chase also has some heavy restrictions around getting approved for cards. It's called the 5/24 rule, and it means that once you've opened five or more credit cards (from any bank, not just Chase) in the previous 24-month period, you will not be approved for a Chase card.
When you're ready to take the next step, think about how you can complement that first card. For example, Chase has other cards like the Chase Freedom credit card and Chase Freedom Unlimited credit card. They're cashback cards, but if you've got a Sapphire card in your wallet, you can convert that cashback into Chase Ultimate Rewards points to accelerate your points-earning ability. Got a small business? Check out the Chase Ink Business Preferred Credit Card.
Leaning Amex's way? There's a suite of three major Amex cards that earn equally valuable Membership Rewards points: The American Express® Green Card, The American Express® Gold Card, and The Platinum Card® from American Express.
Read our guide putting all three of these Amex cards head-to-head-to-head.
Just which one of these cards is best will depend upon your budget and spending. But you can always branch out down the line to double (or even triple) down on your points earning.
And again, think about how you can complement what's already in your wallet – and your stash of points. For example, you can transfer Amex points to more than 20 airline and hotel partners, from Delta and JetBlue to Japan's ANA and Virgin Atlantic and more.
Let's say you're a loyal Delta flyer, always looking for more SkyMiles to book dirt-cheap SkyMiles flash sales. You could pair the Amex Gold card, for example, with one of a co-branded Delta SkyMiles card from American Express. So you could earn a stash of SkyMiles, then use points from a different Amex card as a backstop in case you need more down the line.
These are just a few scenarios in the hundreds of ways you could start laying out a points-earning strategy. Only you can decide what makes the most sense for your personal financial situation and future travel plans. Need some help? We give all Thrifty Traveler Premium and members free one-to-one consulting!
Just remember: It doesn't make sense to only focus on an airline's co-branded credit card. Sure, it's simple and straightforward and feels good to know you're constantly padding your balance of Delta SkyMiles or American AAdvantage miles with every swipe or online purchase.
But the points you earn from Chase, Amex, and other banks are much more valuable – and versatile. Spending bonuses like 5x on flights, 4x on dining and groceries, and others help rack up miles even faster.
And with all the uncertainty surrounding airlines today, you're much better off prioritizing those more flexible points from Chase or Amex rather than putting all your eggs in one basket.
Read our guide to getting started with points and miles.
Prepare for More Flight Deals
At some point, this will pass. Travelers will eventually start making their way back on planes.
But that's not going to happen overnight. Many wary travelers will likely stay home longer than necessary. And just as with the onset of coronavirus, we expect to see airlines cut fares to convince flyers to return to the skies when the time is right
As coronavirus began to hit, we saw some once-unthinkably cheap flight deals. A flight from Minneapolis-St. Paul (MSP) to the Hawaiian islands for $300 round-trip? On Delta, no less? It was a sign of the times – and the trouble airlines were having selling seats.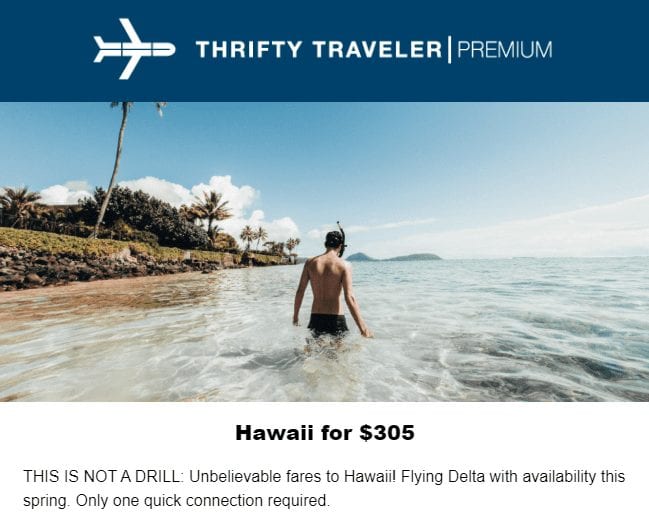 The deals may not be quite that steep. Airlines have drastically cut how much they're flying, and that likely won't return to normal for many years, either. So while demand to fly will be low to start, so will the supply of those flights.
But still, the flight deals will come. We know that in large part because we're still finding amazingly cheap flight deals as far out as June 2021 – both domestic and international.
If you want the best of those international flight deals delivered straight to your inbox (plus Hawaii and Alaska), sign up for Thrifty Traveler Premium!
Bottom Line
Somewhere, sometime in the future, there is a light at the end of the tunnel. It may be farther away than any of us would like.
But travelers shouldn't let this idle time pass them by.