This summer travel season has been marred by higher airfare prices, huge crowds, and mass delays and cancellations all over the world. But there's a light at the end of the tunnel.
Fall should be much better.
We can already see the light in upcoming flight prices. If you faced down multiple quadruple-digit fares as you looked to book summer travel this year, you weren't alone. But flights for this September, October, and beyond bring the return of some of the great deals we've all grown accustomed to during the pandemic.
At Thrifty Traveler Premium, we're back to finding ultra-low fares to destinations near and far that have been harder to come by for months. And after a rough start to summer with delays and cancellations dominating the news, U.S. airlines seem to have found their footing recently which bodes well for smoother travel days this fall.
All that adds up to a better, cheaper travel experience this fall. Here's why.
Travel Should Be Smoother This Fall
While things have calmed down and airlines have caught up a little bit over the last few weeks, it was tough sledding in airports in Europe and North America at the beginning of summer.
The airlines, who cut staff at the outset of the pandemic weren't able rehire and retain all the workers they needed to operate the schedules they sold this summer. From Southwest to Air Canada and everyone in between, the airlines were simply stretched too thin. Thousands of flights were delayed and cancelled, leaving travelers stranded in many cases.
It caused airlines like Delta to issue unprecedented systemwide re-booking flexibility over July Fourth weekend. It's still bad over in Europe, with airports like London-Heathrow (LHR) capping the number of inbound and outbound passengers allowed daily.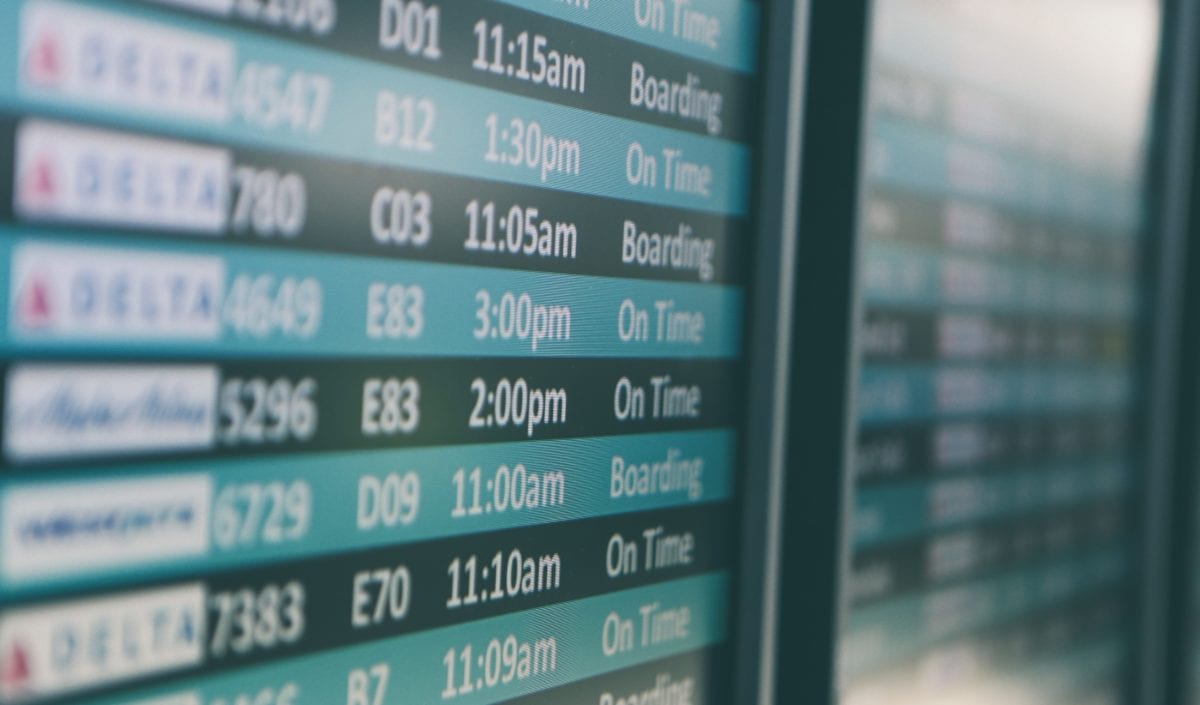 It was messy. But this fall should be different – at least here in the U.S.
For one, airlines know they messed up and have a new game plan. Most have scaled back their schedules through the end of 2022, buying precious time and wiggle room to staff back up and avoid more disruption.
Plus, the airlines don't need to be able to staff the packed schedules they flew this summer – they just need to be able staff the schedule they sold this coming fall.
Fall is a much slower travel period for airlines, meaning there isn't that crush of people flowing in and out of airports like there is all summer long. Wedding season is over, kids are back in sports and school for the year, and people are simply less likely to take time off in the lead-up to the holidays. That means fewer travelers flying fewer flights, all requiring … you guessed it: fewer crews.
So the delays and cancellations that plagued Memorial Day through July Fourth aren't expected to linger on past Labor Day – at least not to the same extent. So, if you see a good flight deal for this fall, book it!
And you're in luck…
Flights Are Cheaper This Fall
Flight prices this summer were … way too high.
On average, fares were up 38% at one point this summer, leading inflation indicators and pushing the big-picture price increases Americans were feeling even higher. Surging travel demand combined with airlines' inability to keep up and high fuel prices were the perfect storm for higher fares.
But through it all, we kept finding cheap flight deals for this fall and beyond. And that hasn't changed.
From domestic trips within the U.S. to epic European journeys and more, there are plenty of candidates for a cheap fall trip. We'll start with a spot that may already be on your list: The Grand Canyon.

Get cheap flight deals like this one in your inbox with Thrifty Traveler Premium!
Just this week, we sent subscribers a deal straight into Flagstaff, Arizona (FLG) – the doorstep of the Grand Canyon and beautiful Horseshoe Bend. It included plenty of cheap fares for a trip in September through November: the perfect time to visit with fantastic weather yet fewer crowds.
If you're talking about pristine, epic mountains, the Sierra Nevadas would like a word. And the best way to get there is by flying into Reno (RNO).

This flight deal was bolstered by the new Minneapolis-St. Paul (MSP) to Reno nonstop Delta flight, which the airline quietly put on the schedule this summer. Now, travelers from all over the Midwest can get to the Lake Tahoe area in a flash.
But not everyone is looking for a mountain to hike for their fall getaway. And if you're one of those people, there's another Nevada destination you might have heard about: Las Vegas (LAS). And it's even cheaper.

A fall trip to Las Vegas (LAS) never disappoints, and these fares starting as low as $89 could get you to the Strip in no time. The weather is lovely in Las Vegas in the fall, and there is never a shortage of things to do in Sin City.
Vegas is a perfect, quick Fall Break weekend. But this next locale might require a little bit more time. At these prices, it's worth it.
Hawaii is incredible in the fall. In fact, the fall months are some of our favorite months of the year to visit the islands. The weather is nearly perfect year-round, but the lack of crowds during September and October give you more of the Islands to explore all by yourself!

Looking to get somewhere even farther away? Maybe head to Europe? You can't beat Iceland – especially at these fall prices.

Iceland is impossibly scenic any time of year, but when you combine it with the fall colors, it's hard to describe. But because Iceland is only a five- to eight-hour flight from many U.S. cities, it's not impossible to pull off a quick fall getaway. Plus, it's expensive in Iceland, so a shorter trip might be your sweet spot.
We've routinely found fares like this right into Reykjavik (KEF) for $450 or less roundtrip, whether you're flying Delta or Icelandair nonstop.

These dirt-cheap fares to Iceland are gone now, get the next deal to Europe with Thrifty Traveler Premium!
Thinking elsewhere in Europe? Maybe one of those major cities you've always dreamed about? How about Paris for just over $500 roundtrip?

These nonstop fall flights from cities like Chicago-O'Hare (ORD) into Paris-Charles de Gaulle (CDG) are the perfect, quick fall adventure this year. While the European airports have been anything but accommodating this summer, by late fall, some of their staffing issues should be ironed out, making for a much cleaner experience – knock on wood.
Plus, if you're flying on a nonstop itinerary like this one, you have less to worry about.
But even if you're connecting, like you would be on this cheap Croatia flight in October, airports like Amsterdam (AMS), which was home to tons of flyer disruptions during peak summer travel, should be ready to handle the lighter passenger load once again. And at these prices, it's worth it.


Plus, doesn't Croatia sound pretty amazing? We think it is. Take a visit to one of the world's finest National Parks: Plitvice Lakes. You won't regret it.
Last – but certainly not least – are the Greek Islands, which are an absolute treat any time of year. You can island-hop your way through the chain of islands, or just settle on a hotspot like Santorini (JTR).

Fall is the best time to visit the Greek Islands. There are fewer visitors, so you won't have that dreaded "Instagram vs. Reality" moment with everyone angling for the same photos. Plus, the weather is still amazing there in September, October, and November.
Bottom Line
Travel is looking much easier and cheaper this fall.
After a summer of flight disruptions and astronomically high prices, fall fares are falling before the leaves and the airports and airlines alike should be better equipped to handle the traffic.
Right now is a perfect time to book your fall trip … and leave those summer worries behind.