American Express just can't help itself in offering eye-popping welcome offers to lure in new customers. Now, travelers who can get a small business credit card (and trust us, that might include you) can get a mammoth bonus.
Amex just rolled out a new targeted offer on The Business Platinum Card® from American Express: This new offer will net you 200,000 Membership Rewards points after you spend $15,000 on your card in the first three months. 
That's massive … but this offer is targeted, so you won't find it available through travel sites like ours or even by searching for the Business Platinum Card. You'll have to go directly to Amex's offer page and see if you're eligible. But if you're targeted, you may be able to get this bonus even if you've already had a Business Platinum Card – or still have one in your wallet. This offer doesn't include the typical "once per lifetime" restriction that most Amex welcome offers do, meaning you could get it again.
You can also earn an additional 5,000 Membership Rewards points by adding an employee card at the time of application and having them spend $1,000 in the first three months. And keep in mind, that $1,000 spending requirement on the employee card also counts towards the $15,000 in total spending needed to earn the 200,000-point bonus.
Earning 205,000 points is great, but spending $15,000 or more in three months is no small matter. Credit cards are serious business. You should never apply for a credit card if you're already in debt, and never charge more to a credit card than you can afford to pay off immediately.
But if you have a small business and can manage this kind of spending responsibly, this is a fantastic way to earn a ton of points with one of our favorite small business cards. Much like The Platinum Card® from American Express available to everyday travelers, the Business Platinum Card packs a huge punch with great travel benefits.
That includes Amex Centurion Lounge access and a trip into the Delta Sky Club if you're flying Delta that day; an annual $200 airline incidental credit; a credit for TSA PreCheck or Global Entry; and more. But the Business Platinum Card goes further with novel benefits like up to $400 in annual credits at Dell.com and one of our favorite perks of all: A 35% rebate when using points through Amex Travel to book any first or business class flight, or all flights with your chosen airline.
Keep reading for more details on this new, targeted offer.
Not sure if you're eligible for business credit cards? You might be surprised to find out just what the banks consider a small business. 
Benefits of the Business Platinum Card From American Express
Welcome Offer: Earn 200,000 Membership Rewards points after spending $15,000 within the first three months of card membership. Earn an additional 5,000 Membership Rewards points when you add an employee card at time of application and that employee spends $1,000 in the first three months.
Adding Employee Cards: There is an additional $350 annual fee for each employee Platinum Card you add. It costs an additional $45 each year for adding an employee Gold Card and $0 per year for an employee Green Card. If your employees don't need airport lounge access, the Green Card is your best bet.
5x Membership Rewards points on flights and hotels booked through amextravel.com.
1.5x Membership Rewards points on all eligible purchases of $5,000 or more. Business Platinum Cardholders will also earn 1.5x Membership Rewards Points per dollar spent on up to $2 million spent each calendar year on electronic goods retailers, software and cloud service providers, U.S. construction materials, hardware supplies, and shipping providers.
$200 Airline Fee Credit: Get up to $200 per calendar year for airline incidental fees at one airline. Read up on the best ways to take advantage of this credit.
Lounge Access: Get access to Amex Centurion Lounges, Delta Sky Clubs (when flying Delta), Escape Lounges, and membership in the Priority Pass Select program. This card is widely considered the best credit card for airport lounge access. You will receive all of the same access offered by the personal Platinum Card from American Express.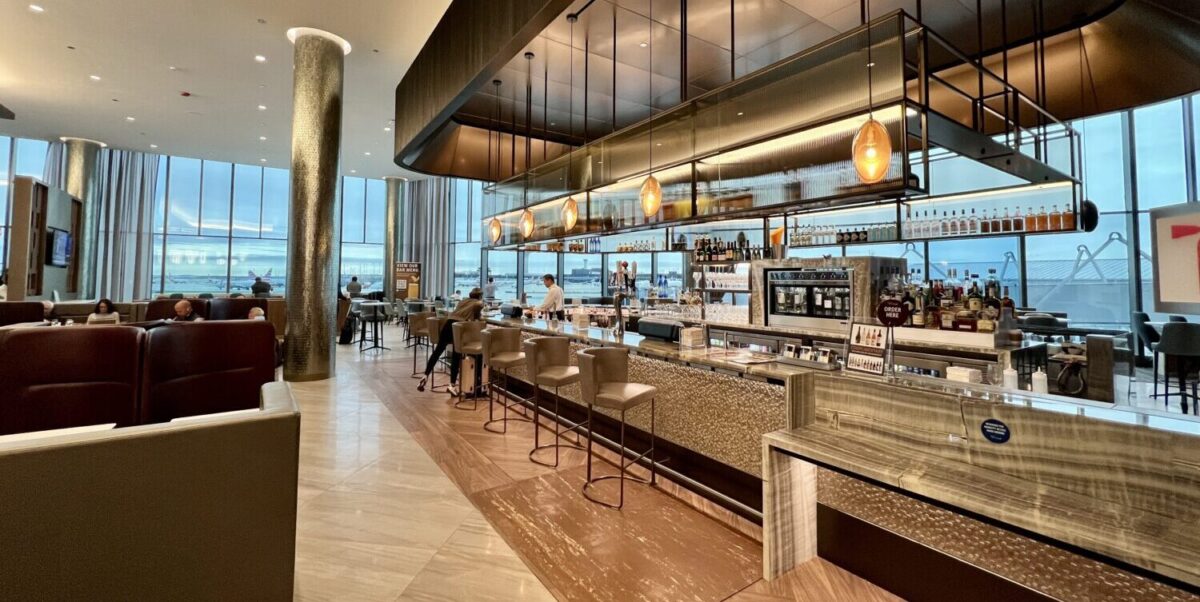 $100 Application Fee Credit for Global Entry or TSA PreCheck: If you apply for either Global Entry or TSA PreCheck and pay with the Amex Business Platinum Card, the application cost will be reimbursed ($100 for Global Entry and $85 for TSA PreCheck). You are eligible to receive a statement credit every 4 1/2 years for the application fee for TSA PreCheck and every 4 years for Global Entry. Membership in both programs is good for five years.
35% Points Rebate: Receive a 35% rebate on points redemptions on your selected airline or all premium cabin redemptions, for up to 1 million bonus points back per calendar year. Read more about this lucrative perk!
$400 in Annual Statement Credits at Dell: Get up to $400 in statement credits annually for U.S. purchases with Dell. This credit is split into two installments: One $200 credit from January through June and another from July through December.
Up to $360 in Annual Statement Credits at Indeed: Get $360 annual statement credit on all Indeed hiring and recruiting products. Cardholders will get up to $90 each quarter. Enrollment is required.
Up to $150 in Annual Statement Credits on Adobe Products: Get $150 each year to spend on select Adobe purchases, including Adobe Creative Cloud, and Acrobat Pro DC with e-sign. The benefit is valid only on purchases of annual prepaid subscriptions.
$120 in Annual Wireless Phone Service Credits: Business Platinum Cardholders now get up to $120 in statement credits each year for purchases made directly with any U.S. wireless telephone provider. The credits will be issued $10 per month ($120 per year). Any unused amount will be forfeited.
$189 in Annual Statement Credits for CLEAR Plus: Get up to a $189 annual credit for CLEAR Plus, the privately run security program. Just pay for your membership with your Business Platinum Card and the credit should kick in automatically.
Hotel Status: The Business Platinum card offers complimentary Marriott Bonvoy and Hilton Honors Gold status just for being a card member. Enrollment is required.
Access to the Platinum Concierge: Receive around-the-clock assistance with travel planning and booking, shopping advice and other personal requests.
Annual Fee: The Business Platinum Card carries an annual fee of $695 (see rates & fees).
Who is This Offer Right For?
This is a fantastic offer that deserves the attention of any small business owner. A $15,000 spending requirement in three months is steep, but earning 200,000 points or more is tough to beat.
What really makes this offers special is the fact that it doesn't include the normal "once per lifetime" language that we see with most American Express Cards. This is crucial: It means that someone who previously received a welcome offer on the Business Platinum Card – or even someone who currently has a Business Platinum – could still be eligible for this elevated bonus.
But if your business doesn't typically spend an average of $5,000 per month or more, you might be better off looking at some other fantastic business card offers with a more tolerable spending requirement.
Bottom Line
Amex is out with a fantastic targeted offer on the Business Platinum Card, allowing you to earn 200,000 Membership Rewards points after spending $15,000 in the first three months. Plus, you can earn an additional 5,000 points if you add an employee and that person spends $1,000 in the first three months on their card.
The fact that this offer doesn't include the "once per lifetime" language we normally see on American Express makes it worth the attention of any business owner who is targeted and can meet the spending requirement responsibly.