Hawaii is welcoming travelers back again – and the recent dirt-cheap fares are making it hard to say no to a trip to the islands in 2022.
After a brief pause over the summer, trips to Hawaii are back in full swing with COVID-19 vaccination or testing requirements in place for travelers. Hawaii is always a tourist magnet, and the pandemic hasn't changed that. But what has changed is how cheap it is to get there.
Thanks to fare wars between the airlines, we have seen airlines drop prices again and again (and again) for flights to Hawaii – dropping to unthinkable, record-low prices. Get this: We've sent Thrifty Traveler Premium several alerts in just the last week for cheap flights to Hawaii under $200 roundtrip – and some even under $125 roundtrip. 
It doesn't get any cheaper than that. Heck that's less than almost any short domestic flight within the mainland.


This eye-popping deal to Maui looked too good to be true, but it all checked out! It was the culmination of a week of back-and-forth between airlines, battling it out customers with lower and lower fares.
So what else are we seeing, flight-wise? And why does it stand out so much? We're so glad you asked.
Related reading: How to Find Cheap Flights
How to Find Hawaii Flight Deals
Getting a cheap flight to Hawaii is never a sure thing. Paying $600 to $800 or more per ticket can be the norm, and travelers can go months without seeing even a halfway decent deal to the islands.
But that has changed in a big way: The flight deals and fare wars to Hawaii are red-hot right now. In the last few months alone, we've found and sent Thrifty Traveler Premium members several flight deals from airports nationwide under $400 round-trip – all for travel in 2022. 
Remember that $123 roundtrip, nonstop fare to Maui? Well, it wasn't just that one route that went on sale. It was part of a landslide of cheap fares from the West Coast.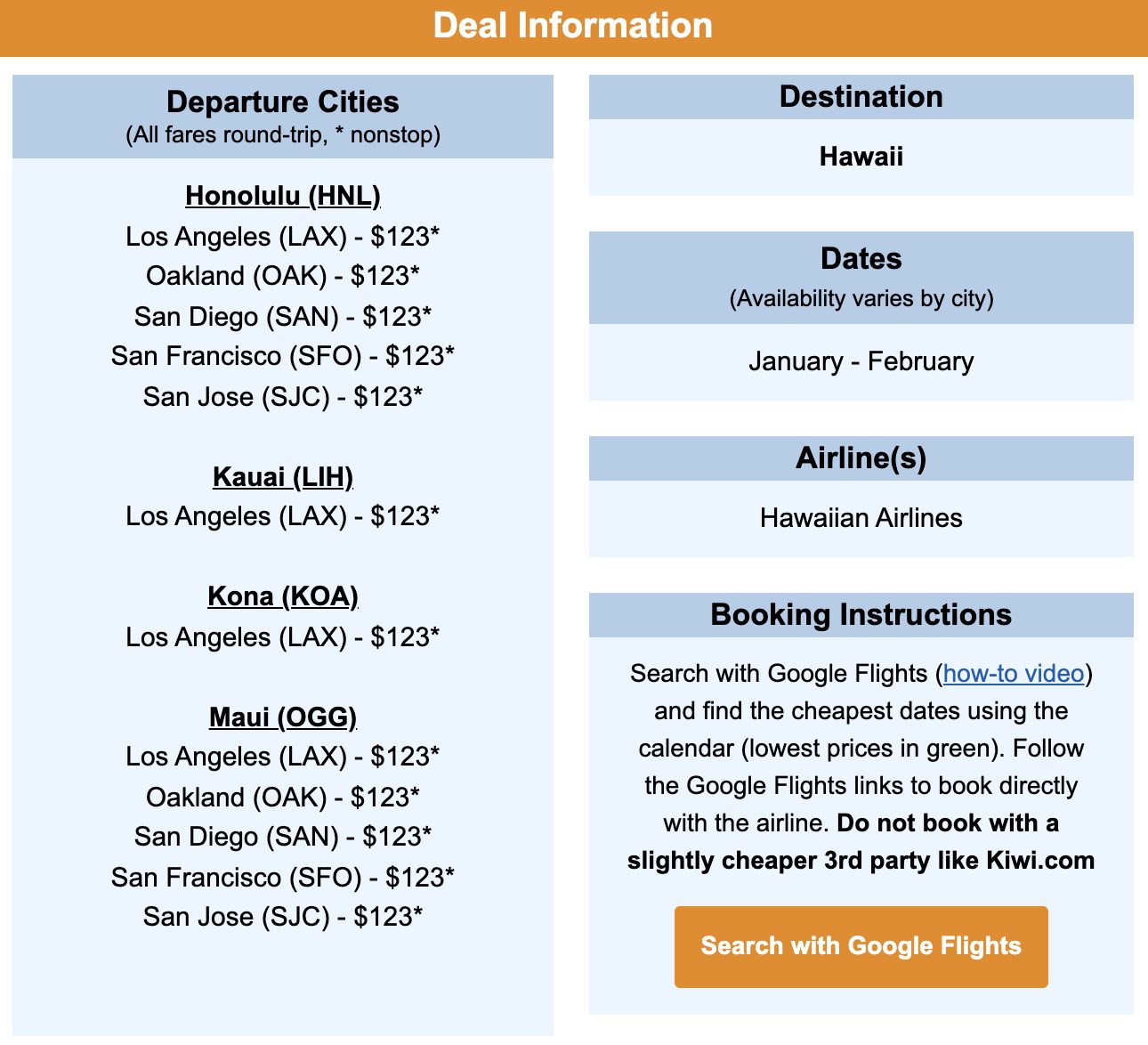 That's nonstop fares from five different west coast airports to Hawaii for $123 roundtrip. Even if you don't live on the West Coast, you can book a cheap positioning flight and take advantage of cheap flights like this.
While the West Coast will almost always benefit from the absolute cheapest fares, the flight deal love has spread beyond California and Washington. We've found fares from all the major U.S. airlines under $400 roundtrip from cities across the country. That's more than $300 off normal prices!

We've seen one-stop flights to Honolulu (HNL), Maui (OGG), Kauai (LIH), and The Big Island (KOA) nationwide at half-off or more. Now all you have to do is pick the best island to visit in Hawai for your cheap trip.
Chances are, we've found a great deal to Hawaii from your home airport, like we did for our hometown travelers from Minneapolis-St. Paul (MSP) recently.

Rather pay a bit more to skip the stop along the way and fly nonstop to paradise? That usually costs a small fortune from the Midwest and East Coast – think $1,000 or more – but it doesn't have to. Here's a peek at nonstop flights to Hawaii, all over half off typical nonstop fares: 

The hotter the deal, the shorter it lasts! This deal is no longer live, but you can get the next great deal we find with Thrifty Traveler Premium!
Use Points & Miles to Get to Hawaii
Why pay cash when you can use your points and miles to get to Hawaii? In the past few weeks, we've been finding some exceptional award deals to these islands and instantly alerting our Thrifty Traveler Premium members.
Flying to Hawaii on Southwest would typically run you 30,000 Southwest Rapid Rewards points. A flash sale earlier this week could get you there for just 12,000 to 15,000 points total. It doesn't get much better than that.

At least that's what we thought. But as airlines went back-and-forth with cheaper and cheaper fares, the unthinkable happened.

That's right. Southwest slashed an already incredible deal in half, giving travelers a way to get to Hawai and back for just over 6,000 points! We have never seen flights to Hawaii this cheap.
Don't have Southwest points? Earn the bonus from the Chase Sapphire Preferred® Card for the next deal, then instantly transfer your Chase points to your Southwest account. And remember: Every Southwest fare includes two free checked bags! Pack as many swimsuit and flip flop combos as you'd like.
Prefer to fly Delta to Hawaii? The SkyMiles award rates can be astronomical, but there's a great hack to get you on a Delta plane to the islands for less. Only Thrifty Traveler Premium members got this deal alert with details on how to book. This is how you level up your thrifty travels: Rather than pay 80,000 SkyMiles or more, use this workaround to fly Delta using just 35,000 miles roundtrip!


Read more: How to Fly Delta to Hawaii for Just 35K Miles RT!
And yes, this deal was available from nearly every single U.S. and Canadian airport. with Delta service. It doesn't get much easier than that!
Breaking Down These Cheap Flights to Hawaii
It's tough to know exactly what's behind these enormous and frequent sales on flights to Hawaii. No matter the reason, it's a chance for travelers to take advantage of a dirt-cheap fare to paradise for later this year or into 2022.
Although Hawaii has been back open for travel for months, it's clear that Hawaii's previous entry restrictions scared off some would-be visitors. But with loosening restrictions for vaccinated travelers and the governor welcoming mainlanders back starting this fall, Hawaii is regaining its place in the spotlight.
Airlines that are eager to fill up seats may be capitalizing on growing demand to get to Hawaii with cheaper fares.

So airlines are turning to the most powerful tool they have: price. They're batting it out for a piece of your wallet. And that's a win for any travelers with a cheap trip to Hawaii in mind this winter or next spring.
Bottom Line
This is real. More than ever before, airlines are regularly slashing flight prices to Hawaii for this winter and beyond. This trend has built up for months, and we hope (and think) it will continue. The savings can be enormous.
And that's your chance to capitalize: Booking one of these Thrifty Traveler Premium flight deals is the difference between paying $800-plus for your next trip to Hawaii … or less than half that.
FAQs About Finding Cheap Flights to Hawaii
The COVID-19 pandemic has triggered a flood of lower prices for flights to Hawaii. This guide is all about those recent deals.
But when it comes to finding cheap flights, it won't always be this easy. While you might find that airlines are currently slashing prices, there are some general tips and tricks to keep in mind when it comes time to book the cheapest flights to Hawaii down the line.
How do I find cheap flights to Hawaii?
We'll update this post with new deals and updates about cheap flights to Hawaii. It's a hotspot for travelers, and we're constantly on the hunt.
But if you always want to be up to date on flight deals for Hawaii and other bucket list destinations the moment they pop up, we highly recommend signing up for Thrifty Traveler Premium! Premium members get all the best flight deals to Hawaii – you'll only see a fraction of them here on Thriftytraveler.com and other flight deal websites.
What is the cheapest airline to fly to Hawaii?
Looking for the best airline to fly to Hawaii on a budget? We regularly see affordable prices with direct flights to Hawaii on Hawaiian Airlines, Alaska Airlines, Delta Air Lines, American Airlines, Southwest Airlines, United Airlines, and WestJet – if you live in Canada, of course.
When is the best time to book a flight to Hawaii?
We always recommend booking your flights at least three to six months before you plan to travel – especially if your travel dates are flexible.
But as with all things in finding cheap flights, the key to getting a great deal on flights to Hawaii is simple: You may need to wait for a great price to come to you, then book on the cheapest dates. Flexibility is the key to getting discounted tickets.
What is the cheapest time of year to fly to Hawaii?
It depends: A great flight to Hawaii can pop up for a trip at any time of the year.
But many find that it's cheapest to fly Hawaii in January, February, April, and September through November. During the holidays and the peak travel months of June and December, you're far more likely to encounter higher prices, so it could be worth avoiding a trip over those times.
Are there Hawaii travel restrictions currently due to COVID-19?
Hawaii has been open to visitors since October 2020 – with a catch.
In an effort to keep COVID-19 cases low and protect its residents, the state has enacted its own set of travel restrictions and guidelines – far more stringent than what you'll find traveling to almost any other U.S. state.
Starting October 2020, Hawaii allowed visitors with a negative COVID-19 test taken no more than 72 hours before arrival. Hawaii now also allows vaccinated travelers to bypass these testing requirements by signing up for Hawaii Safe Travels. You'll need to set up an account and upload information about your trip as well as documentation for your test results or proof of vaccination.
For more information, you can read up on our up-to-date guide on Hawaii travel restrictions.
When is the best time to visit Hawaii?
If getting the cheapest flight possible to get to Hawaii is your end goal, then you might not be worrying too much about the best time to visit Hawaii – it's Hawaii, after all. However, if you're evaluating various options based on the cheapest flights to Hawaii that you've found, here are some factors to keep in mind:
Hawaii is the warmest during the summer months, and the sunny weather is accompanied by calmer waves during this time of the year if activities on the beach are the main focus of your trip.
For those looking to avoid crowds, aim to book a visit in January, February, September, October, or early November – all of which tend to be slower tourist seasons on the islands.
Planning to do some whale watching? Prime viewing for these beautiful mammals occurs from February to early March.