Just like every other aspect of traveling, accommodations have changed since your last stay. With new cancellation policies, enhanced cleaning procedures, and additional safety measures in place, hotel chains big and small, as well as homestay companies like Airbnb and VRBO, have adapted during the pandemic.
But that still leaves you with an important choice: Airbnb vs hotels for your next trip? Now more than ever, that's a choice many travelers are weighing as they consider their future travel.
From Hiltons to Hyatts to individual properties within each brand, each hotel is different. But most have implemented stringent cleaning procedures, with plexiglass dividers and social distancing markers in common areas. Homestay hosts like Airbnb, meanwhile, can opt into more flexible cancellation policies and enhanced cleaning protocols to make guests feel safer.
Which wins out: The corporate approach of a hotel? Or the additional privacy of your own Airbnb? On a recent trip to move a family member halfway across the country, I put that question to the test. I stayed in a Holiday Inn Express in Kearney, Nebraska; a Home2Suites by Hilton in Fort Collins, Colorado; a Hyatt Place in Park City, Utah; and an Airbnb home in Reno, Nevada
Here's a look at how hotels and Airbnbs compared in each aspect of our stay.
Booking
We searched solely for accommodations with flexible cancellation policies and enhanced cleaning procedures. All of the hotel reservations we made were fully cancelable and refundable up to 24 hours of check-in.
But our Airbnb was less flexible. The best we could do was an option to cancel with a full refund up to 2 weeks before the trip. Airbnb now offers a search filter to only see bookings with flexible cancellation policies. And the company is incentivizing hosts to offer more flexible cancellation policies.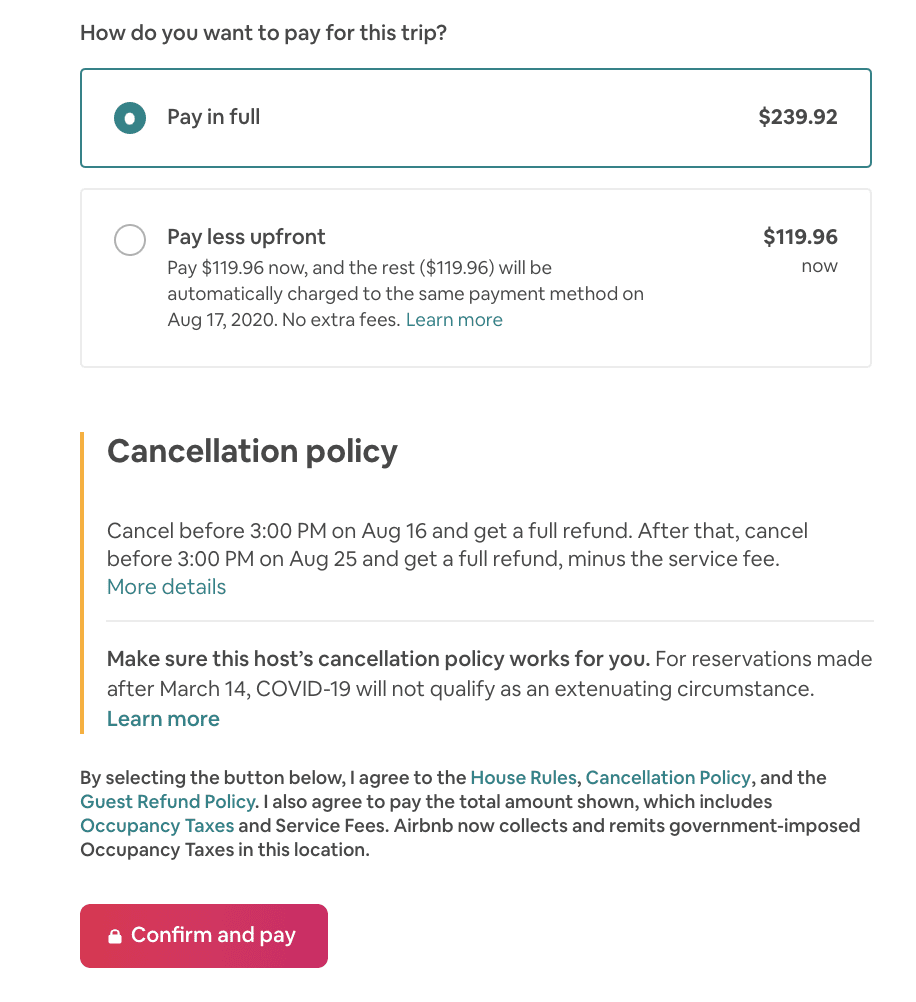 Booking: Airbnbs vs hotels?
Tie. Nearly all hotel chains boast COVID-friendly cancellation policies, and platforms like Airbnb are offering more flexible options.
Check-In
Check-in procedures at all the hotels we stayed at were very similar. Receptionists wore masks, plexiglass dividers were stationed between guests and staff at the desk, and 6-feet social distance markers were placed on the floor to limit crowding near check-in desks.

All the hotels also offered hand sanitizer pumps and stations throughout common areas, and posted social distancing and mask reminders in the check-in area. Otherwise, the check-in process hasn't changed much.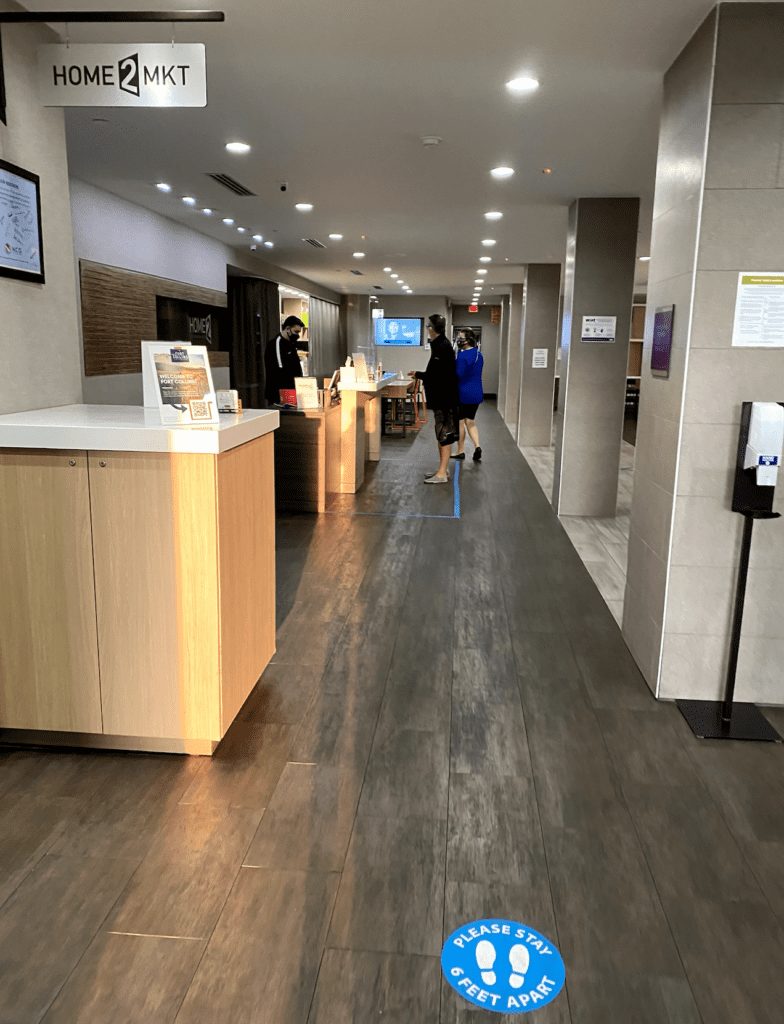 For our Airbnb, the host offered contactless check-in, so we simply let ourselves into the Airbnb.

Check-in: Airbnbs vs hotels?
Airbnb. While hotels have done their best to social distance the check-in process, cards and room keys still exchange hands. Contactless Airbnb check-in and check-out procedures are easily more COVID-19 friendly.
Cleanliness
Cleanliness was our top priority when booking this trip.
All major hotel chains have made a commitment to enhanced cleaning procedures.
Airbnb has also changed their cleaning processes during COVID-19: Airbnb hosts can opt into "enhanced cleaning" procedures to earn a badge on their listings. Here's what hosts must commit to in order to earn this badge: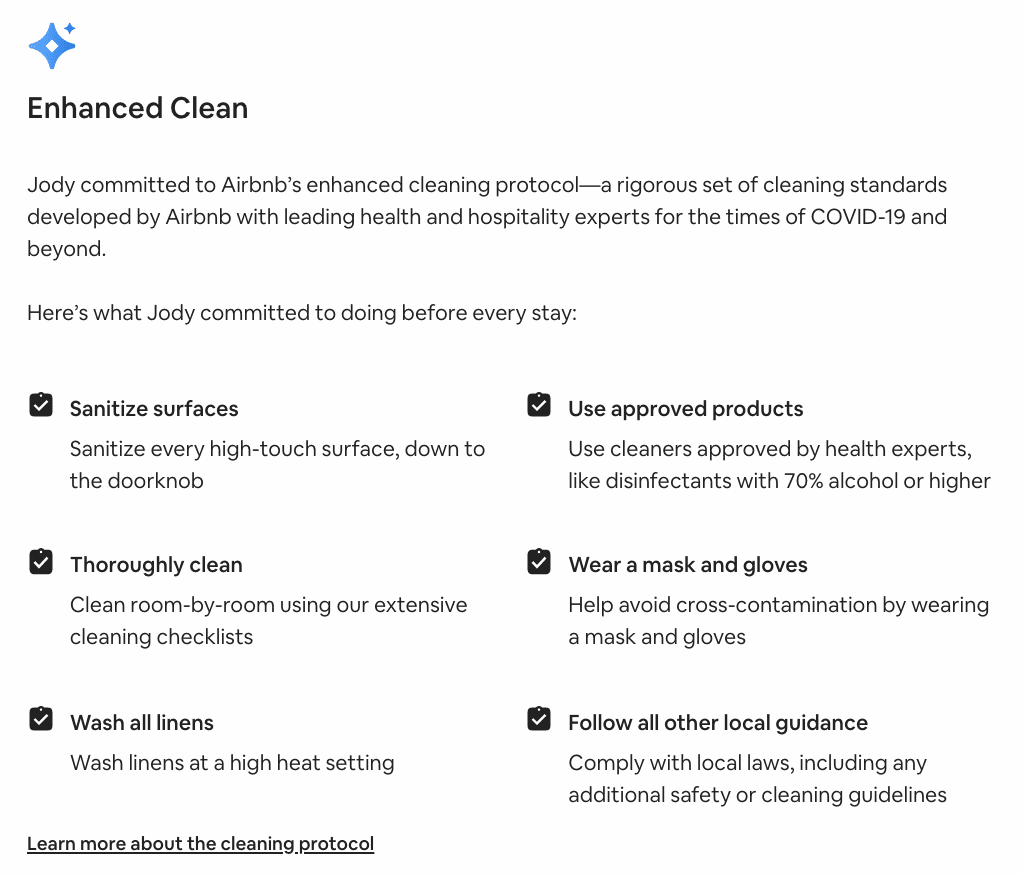 To be sure we were getting the safest experience possible, we booked an Airbnb that had committed to these cleaning protocols.
IHG properties have removed extra in-room furnishings. In our room in particular, it seemed as they'd replaced cloth furniture with easier-to-clean materials like these faux leather couch cushions and removable couch covers.

Hilton's cleaning procedures really stood out among the hotels we stayed at. Their CleanStay process includes cleaning all touched surfaces. When cleaned, a room is "sealed" with this sticker on the door. It was a comforting guest experience to break that seal knowing that your room for the night had been freshly sanitized.

Our Hilton stay had additional cleanliness touches like this note on the remote that made it clear they'd gone the extra mile in making our stay feel safe.

We had selected an Airbnb that committed to extra cleaning procedures, and our space looked and felt clean.
Cleanliness: Airbnbs vs hotels?
Hotels. When it came to cleanliness, Hilton knocked it out of the park. All of our stays were clean, but those extra touches really made a difference.
Communal Areas
All hotels we stayed at had posted signs reminding guests of social distancing measures and required face coverings. Depending on the state, masks were required in all public areas. But the major hotel chains are requiring masks in communal areas like the check-in counter and in hallways.
Luckily, we happened to get an empty elevator each time we went up or down during our stays. But social distancing certainly gets tricky when passing other guests in the hallway.
We spent very little time in communal areas during our stays. For most hotels, communal areas like pools and fitness centers were at limited capacity. We did check out the pool and spa area at the Hyatt Place, but there were several people occupying the pool and hot tub, so we passed. In some states, hot tubs have closed.

Naturally, social distancing in your own private Airbnb is much easier – provided you're staying in a standalone home and not an apartment complex. It was nice having the entire space to ourselves, with no need to worry about whether other guests were wearing their masks or taking precautions as seriously as we did in the hotels.
Communal areas: Airbnb vs hotels?
Airbnb. It's hard to beat having an entire space to yourself during COVID-19. While hotels have done what they can to enforce social distancing and mask requirements, they can only do so much.
Breakfast
The Holiday Inn Express and Hilton Home2 Suites we stayed at had changed their breakfast offerings for grab-and-go COVID-19 compliance. While both of the hotels' offerings were different, each had a to-go baggie filled with at least a few different breakfast foods and drinks.

Both focused on foods that didn't need to be heated or refrigerated to cut down on guest touchpoints. We were glad they still provided a grab-and-go breakfast and had found a way to make it COVID-friendly.

Surprisingly, the Hyatt Place still had a full continental breakfast, with spoons and communal items. Unlike the Hilton and IHG properties we stayed at, guests were sitting and dining in the breakfast area like normal at the Hyatt Place.
At our Airbnb, breakfast was not provided, but it was nice to have our own space to dine during our stay.

Breakfast: Airbnb vs hotels?
Hotels. The IHG and Hilton properties we stayed at had adapted their complimentary breakfast for COVID-19 grab-and-go offerings.
Bottom Line
So, hotels vs Airbnb… which comes out ahead in these strange travel times?
It really depends. We enjoyed our hotel stays largely due to their stepped-up cleaning procedures and COVID-friendly breakfast offerings. But there's no denying the appeal of your own Airbnb, with contactless check-in and check-out without the worry of running into other guests.
Ultimately, your decision between Airbnb vs hotels will depend largely on your destination – and what's available.