The coronavirus pandemic has changed air travel. But exactly what that means for you (and your next flight) will depend on which airline you fly.
From changing up the boarding process to blocking middle seats to overhauling in-flight service, each of these airlines has responded to the pandemic in drastically different ways. So we put the nation's four largest airlines to the test: American, Delta, Southwest, and United. See for yourself.

This summer, I flew American Airlines from Minneapolis-St. Paul (MSP) to Washington, D.C.-Reagan (DCA) and then back home with Delta. A few weeks later, I hopped on a United flight out to Denver (DEN) before returning home on Southwest.
We'll give each airline a score (out of three) on some of the most crucial elements of the flying experience: booking and check-in; boarding; cabin and seating; cleanliness; and in-flight service.
You'll want to keep reading to see how these airlines stack up while flying during the pandemic.
Booking and Check-In
For years, every flight you've booked follows a similar script: Find a cheap flight, book your ticket, check-in for your flight, and head for the airport. You'll notice the changes before you make it all the way through that process.
For starters, every airline website and smartphone app is filled with reminders about the increased cleaning and new safety requirements onboard. Every single major U.S. airline now requires travelers to wear a mask inflight (and throughout much of the airport, too). Violating that policy could result in a ban on flying that airline.
Read more: From Masks to Cleaning, How Each U.S. Airline is Handling Coronavirus
And without fail, each of these four airlines now requires travelers to certify during the check-in process that they'll wear a mask onboard and haven't recently been diagnosed with COVID-19 or experienced symptoms.
American: American began requiring travelers to certify they'd wear a mask and haven't suffered from any COVID-19 symptoms back in late June. But where American really stands out in the booking process is in price: We've noticed American is far more willing than its competitors to cut fare prices in order to sell tickets – especially domestically.
Delta: You'll notice the check-in process is more involved with Delta, too. But even before that, I received several texts and email from Delta reminding me of the changes in the flying process.

United: Different airline, same story. You'll have to complete that checklist while checking in for a United flight. And I also got a few text reminders from United about wearing a mask before my flight, too. Just beware that if you book a United basic economy fare and aren't checking a bag, you can't check-in online – you'll have to finish checking in at the airport.
Southwest: Just like its competitors, Southwest requires flyers to certify they'll wear a mask and haven't been diagnosed with COVID-19, or experienced any symptoms recently.

Boarding
In the age of social distancing, plenty has changed when it's time to get onto the plane. At least on most of these airlines…
American Airlines: I'll be honest … boarding my American Airlines flight had barely changed from the pre-COVID days. American still boards the plane in nine groups as normal, with basic economy travelers getting on last. There were no markers for social distancing at the gate, and I never heard an agent remind flyers to give each other extra space.

Delta: Delta has completely overhauled its boarding process during the pandemic. You'll board the plane from back to front, in groups of five or six rows at a time, in order to limit how many passengers pass each other while getting on the plane. Delta put markers in the boarding line six feet apart, and a gate agent reminded everyone to give each other ample space when travelers inevitably bunched up in line.
United: Just like Delta, United is now boarding planes from back to front, with passengers getting in line and filing onboard in groups of four rows at a time. But the United gate areas at Minneapolis-St. Paul (MSP) were missing social distancing markers in line. On the bright side, United did something to address something every airline still struggles with: the deplaning process. A United flight attendant called row-by-row to give travelers more room when it was time to leave.
Southwest: Southwest's often unruly boarding process (line up on both sides of markers in groups of 30-plus) has been replaced with a more orderly boarding order, with just 10 passengers getting in a single-file line at a time to file onto the plane. But seating is still first-come, first-serve onboard, so you'll inevitably pass some strangers. Gate agents constantly reminded travelers to spread out as much as possible, and social distancing markers in line helped.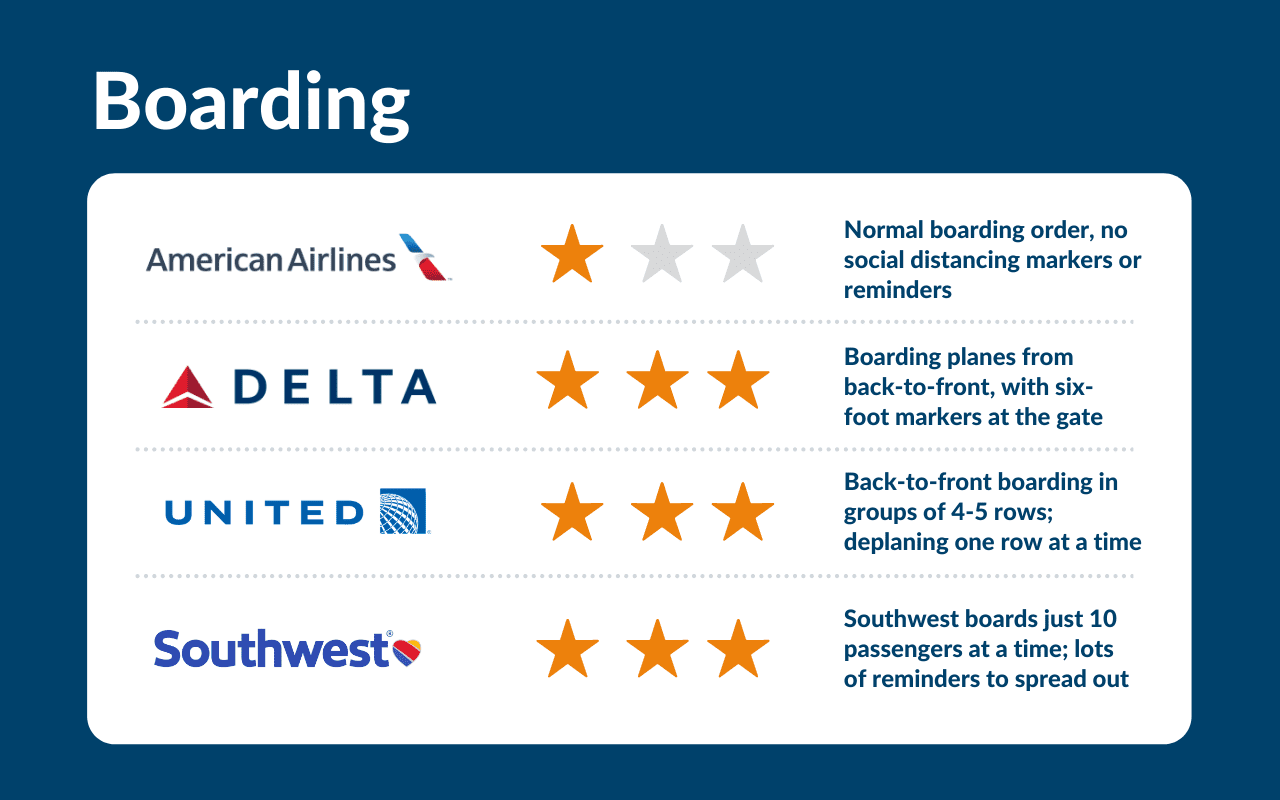 Cabin and Seating
If you're like me, this is what you care most about.
Airlines have taken drastically different strategies when it comes to how many people they'll put on each flight. Two of these airlines are keeping middle seats empty, while two others are more than happy to sell flights to 100% capacity when they can – which means you may wind up rubbing elbows with a stranger.
American: American has been selling flights to 100% capacity since July 1. In my case, I paid a bit more for a Main Cabin Extra seat with extra legroom in hopes that I wouldn't have a neighbor. Despite a flight that was about 80% full, I lucked out and had an empty seat next to me. Phew. American says it will contact passengers on flights that are more than 70% full and offer to rebook them (though that didn't happen in my case.)
Delta: Delta has gone farther than any airline when it comes to giving travelers more space onboard, blocking middle seats all the way through early January 2021. Delta does allows groups of three or more to select middle seats to sit together, but they're otherwise blocked from selection.
United: Just like American, United will sell flights to 100% capacity and offer to rebook you on an alternate flight if your plane is filling up. My flight must have been just under that bar, but I was able to snag a seat in a row with an empty middle seat after monitoring the seating chart closely just before departure.
Southwest: Love it or hate it, Southwest's seating free-for-all remains in place. But Southwest is capping sales at 66% or so of seats on each flight, ensuring middle seats can stay open – in my case, I had a full row to myself. And from the gate area to the time the boarding door closed, I heard more reminders from agents and flight attendants to spread out than on any other airline.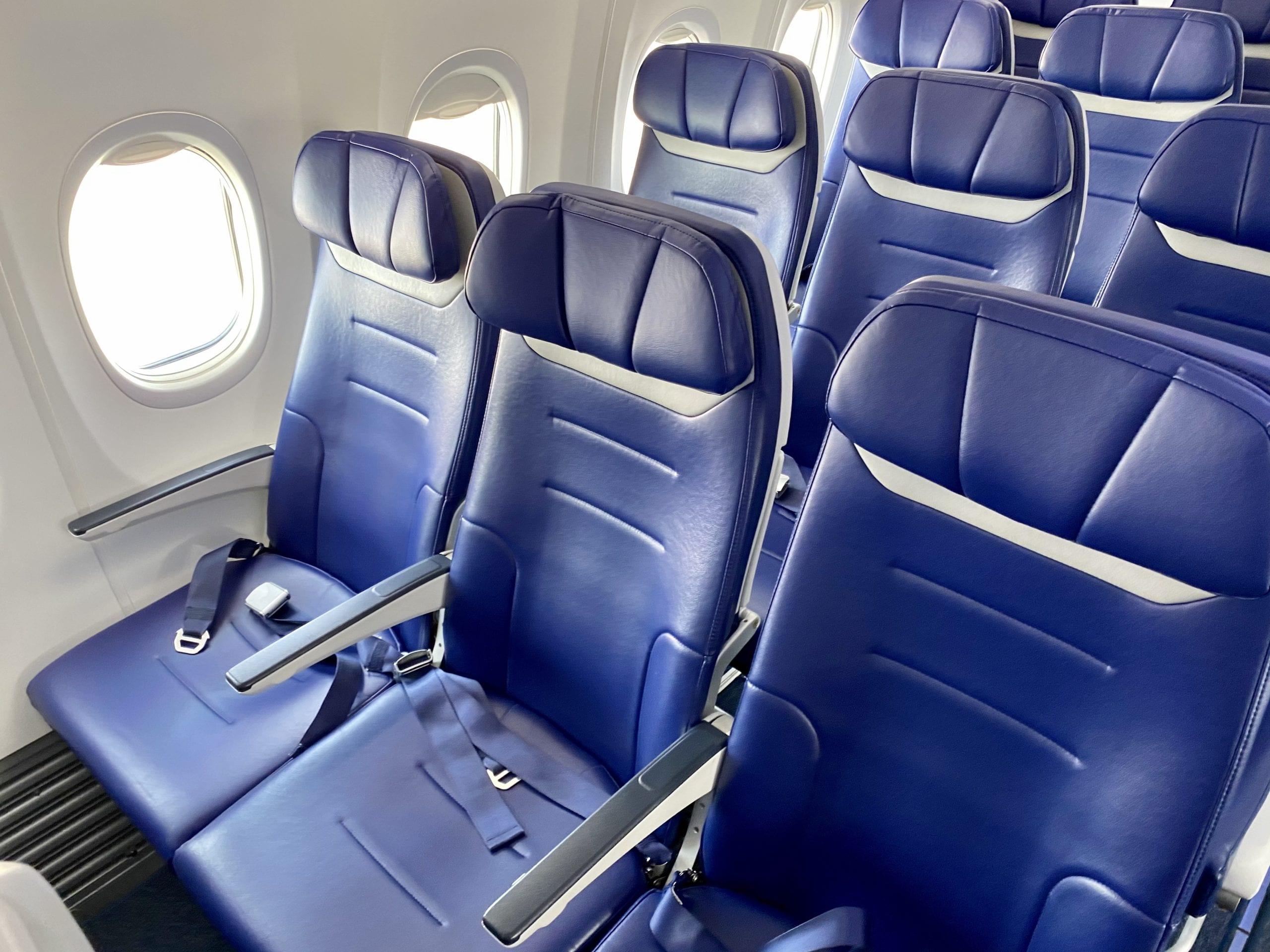 Cleanliness
One thing's for sure: Planes are cleaner than ever before. And that's true no matter which airline you fly.
Every airline has stepped up their game when it comes to cleaning the planes, deep-cleaning planes daily, using hospital-grade air filtration systems, and stepping up cleaning between each and every flight, too. Fancy buzzwords like "electrostatic spraying" are the name of the game in aviation these days.
I'm no expert, but there were some noticeable differences between the airlines.
American: American talks a big game when it comes to cleaning, even touting a new surface protection coating that kills viruses called SurfaceWise. And for the most part, American lived up to those standards But one area where my American flight was noticeably lacking was in the lavatory: It could have used some more attention between visits.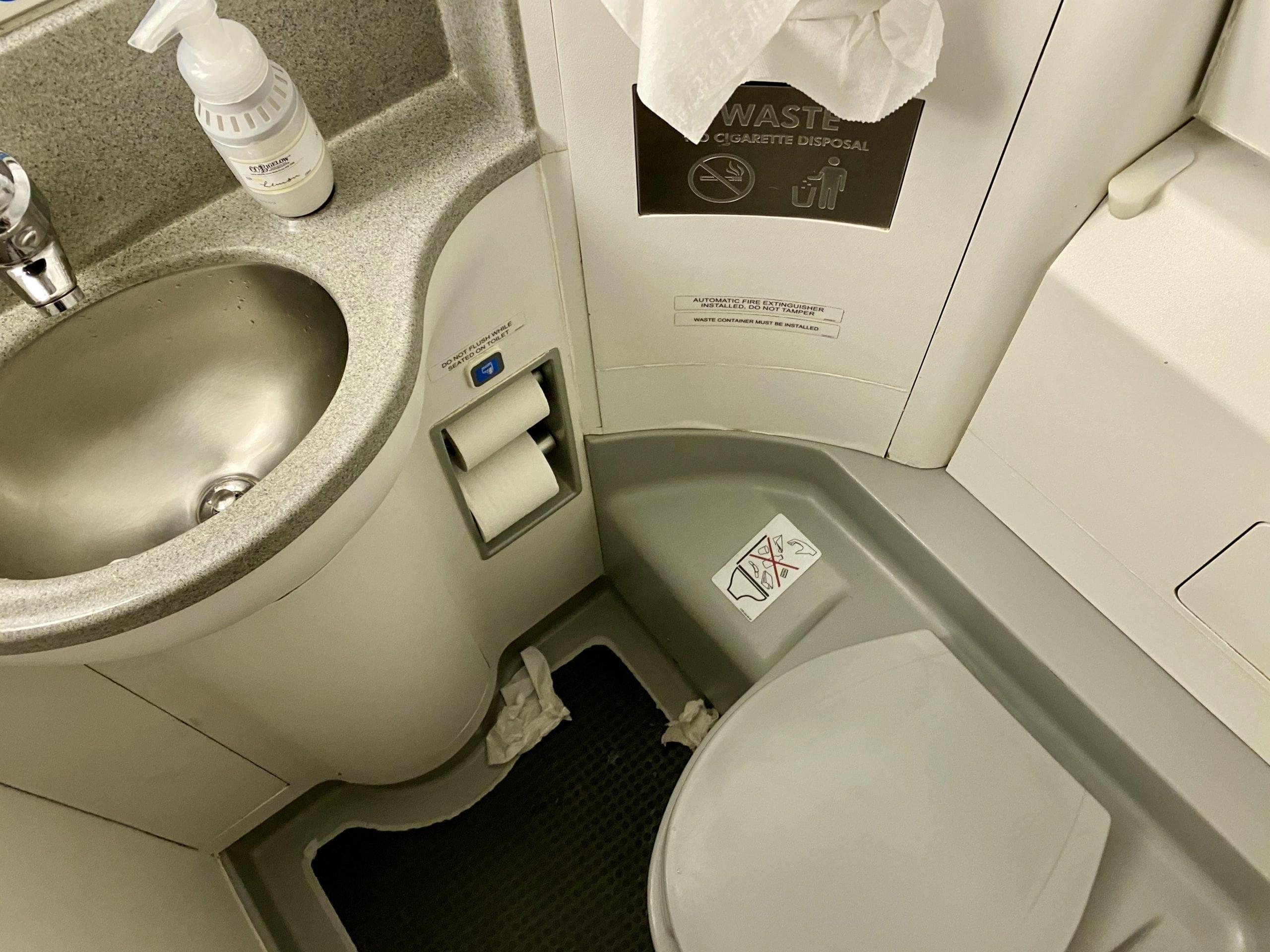 Delta: The plane looked spotless, including the lavatory during a mid-flight visit. But what stood out the most was how much Delta talks about how much it cleans the plane. Delta has made safety and cleanliness the cornerstone of its coronavirus playbook to win flyers back, and it showed on my flight. Bonus: Flight attendants handed passengers a Purell wipe while boarding the plane, too.
United: United may be second only to Delta in how much it trumpets its cleaning procedures, including a partnership with Clorox and electrostatic spraying between each flight. And I had no complaints whatsoever: The plane was definitely clean from top to bottom.
Southwest: Southwest made a puzzling decision this summer to actually scale back on its cleaning, with USA Today reporting the airline would stop cleaning armrests and seat belts between each flight to save time. But my Southwest plane looked, smelled, and felt 100% clean.

In-Flight Service
Whether it's in the name of safety or pure cost-cutting, perhaps no part of the flying experience has changed more than drink and snack service. And each airline has come to different conclusions about how to handle it during the pandemic.
Read more: What Drinks, Food & Service Do You Get Flying During COVID-19
American: You might want to come prepared, because there was no water or snacks offered during my flight. And that's the norm on shorter American Airlines flights (and even some longer flights operated by American Eagle, the airline's regional partner). You may be able to ask a flight attendant for a bottle of water if snacks and drinks aren't offered. In my case, the flight attendants largely stuck to the back of the plane throughout the flight. Alcohol isn't available unless you're flying First Class.
Delta: Drink cart service is gone. Instead, a flight attendant came through the aisle shortly after takeoff with a sealed plastic bag with a small bottle of water, two snacks, a napkin, Purell, and a card. Alcohol isn't available unless if you're flying Comfort Plus or First Class.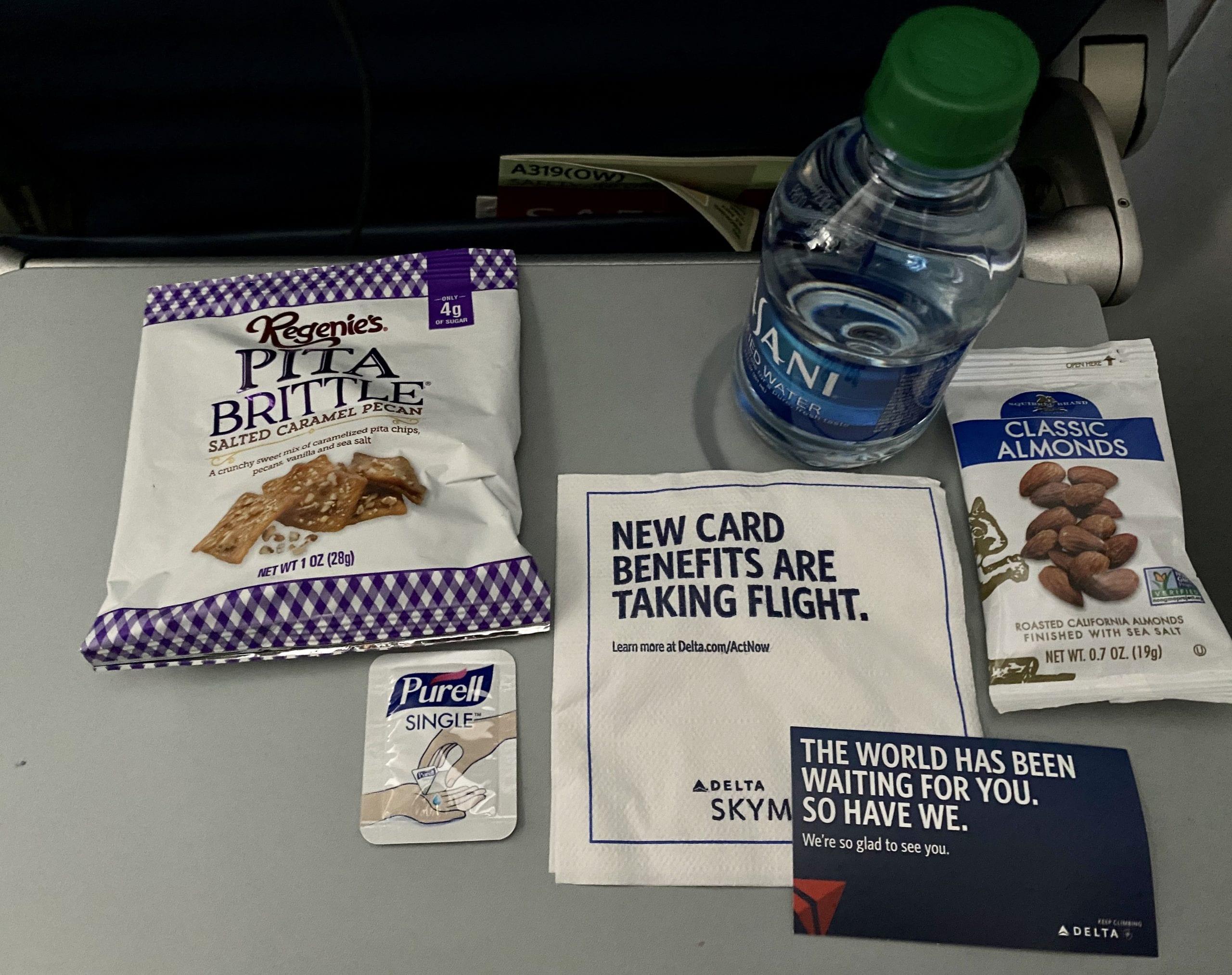 United: United surprised me as the only airline of these four major carriers currently offering a full drink cart service, including bottles of water, canned soft drinks, or even coffee for my early morning departure. No snacks were available flying economy because the flight was shorter than 2 hours 20 minutes. Don't expect any alcohol to be available (even for purchase) unless if you fly up front.

Southwest: Southwest flight attendants came through the aisle shortly after takeoff to offer a small snack bag as well as a glass of ice water. Alcohol isn't currently available on Southwest, period.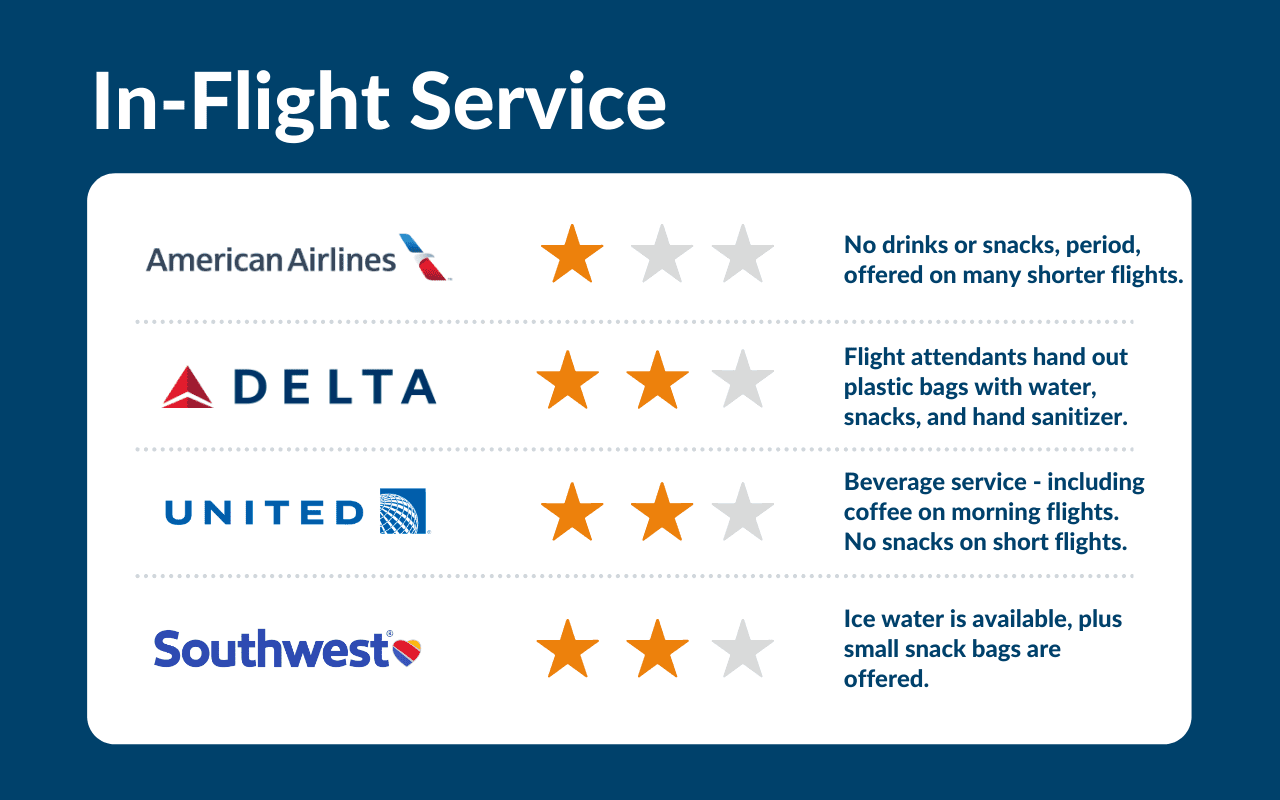 And the Winner Is…
By the numbers, Delta and Southwest each notched 14 points total to tie for first. United won 11 points. And American came in last with eight points.
And while it's obviously subjective, I think those numbers paint a compelling picture of what it's like to fly each airline today.
Delta and Southwest clearly stood above the rest thanks to their commitment to blocking middle seats, creative ways to address crowding during boarding, and other consumer-focused changes. United has made a lot of strong changes and stands out for its in-flight service, but loses points for selling flights to capacity. And while American has certainly made some improvements, I felt like its competitors had simply done far more to make travelers feel comfortable flying.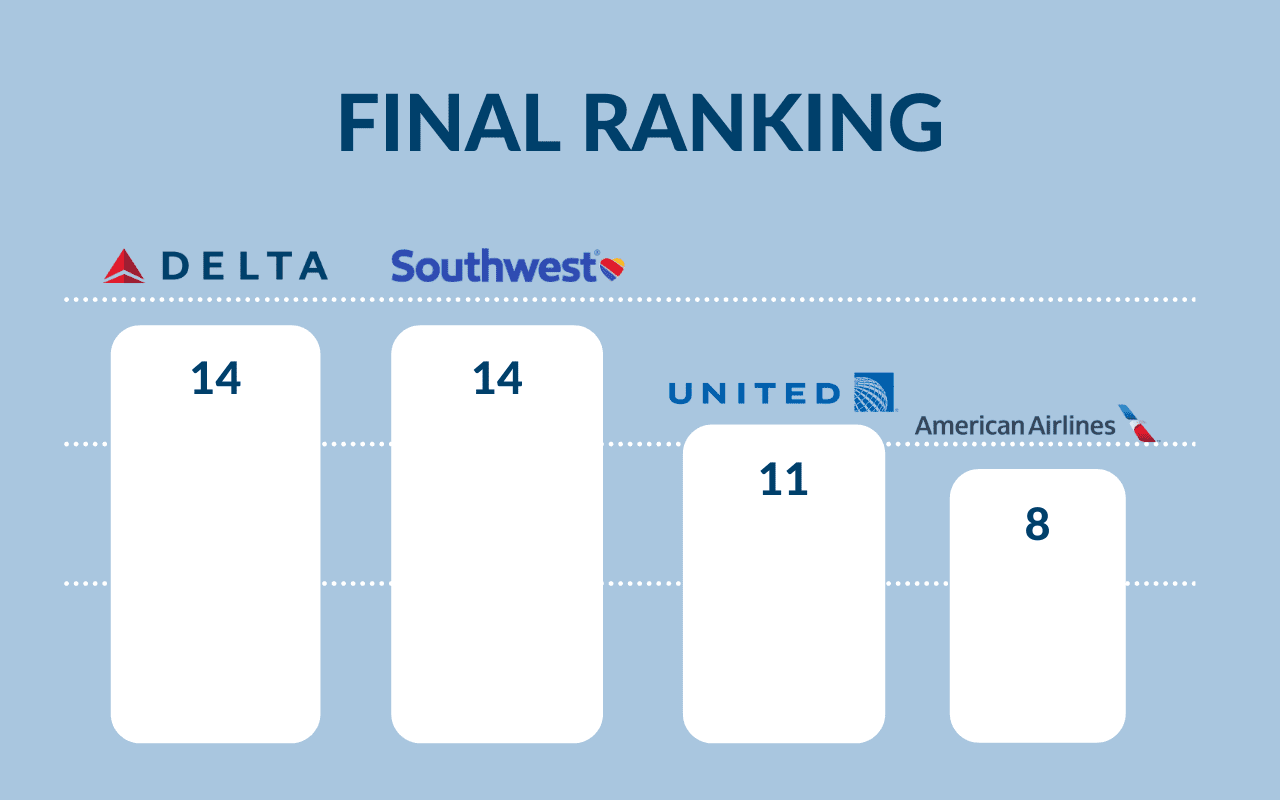 This doesn't mean you'll feel exactly the same way I do – perhaps you value these factors differently. And it certainly doesn't mean you should rush to get out on a plane.
But if you're deciding to travel again, you should be aware of what you'll find when you finally get back on board – and just how much it varies between even the nation's largest airlines.
Bottom Line
Yes, the pandemic has changed travel. That much is obvious after flying these four largest U.S. carriers. But it's just as obvious that some airlines have done more than others to change the flying experience … in good ways and bad.