How can you describe perfection?
Introduced just in 2017, the new Emirates 777 first class suites are the best in the world – and we mean that. These fully-enclosed suites are designed to be like a hotel room in the sky, with individual lighting and temperature controls that have revolutionized what "first-class" really means.
From the minute you step onto the plane, the champagne and ivory color scheme accented with beautiful lighting tells you it's going to be a special flight. The photos cannot do these suites justice. They're larger and even more luxurious in person, making Emirates' Airbus A380 first class seem outdated and old.
The only thing it's missing is the showers onboard the A380. But forget about the bar on board – you won't want to leave the suite for even a second. 
We had giant smiles on our faces for the entire flight. Read on to see why.
Where You Can Fly Emirates 777 First Class
Emirates is best-known for its massive fleet of Airbus A380s, the signature double-decker planes complete with an onboard bar and showers for first class passengers. But the U.A.E.-based airline has just a handful of Boeing 777s featuring these new suites, which means it's only available on a small number of routes.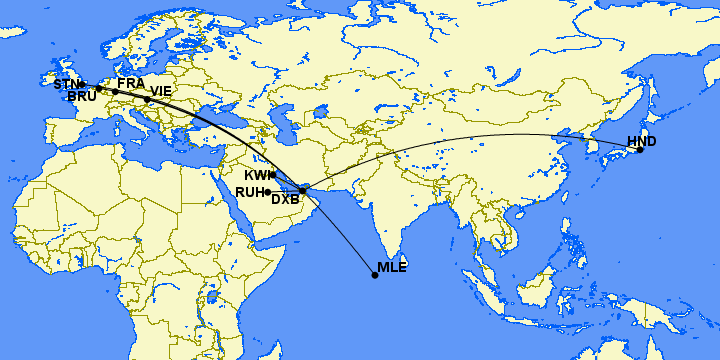 You can generally fly this aircraft on these routes out of Dubai: Brussels (BRU), Geneva (GVA), Frankfurt (FRA), London Stansted (STN), Vienna (VIE), Tokyo Haneda (HND), Riyadh (RUH), Kuwait City (KWI), and Male (MLE). However, it is not always guaranteed to get the new suites on these routes. Check the aircraft seat map (there will only be six seats) before you book but also be aware that the aircraft can change without notice.
Emirates is adding more and more routes with this new product. So check the Emirates website for announcements.
Booking
As if you needed convincing that you should go to the Maldives…
The best way to book Emirates 777 First Class using miles is to use 150,000 Alaska Mileage Plan miles (plus about $52 in fees) to fly from the U.S. to Dubai (DXB) and then onward to the Maldives. Alaska's award chart treats India and the Maldives essentially as an extension of the Middle East – so you can book this connecting flight from Dubai for free.
In addition to American Express Membership Rewards and Capital One, you can also transfer points to Emirates from Chase Ultimate Rewards. But beware that taxes and fees on Emirates award flights like this can be spendy, often surpassing $800 for a one-way flight from the U.S. to the Middle East.
But if you're already in Dubai, the one-way flight from Dubai (DXB) to Male (MLE) would cost 71,000 miles + $340. If you wanted to fly one-way from San Francisco (SFO) to Male (MLE) via Dubai (DXB) it would cost 168k miles + $852. If you have Alaska miles, always use those miles first to save on taxes and fees.
We flew from San Fransico (SFO) to Dubai (DXB) on the A380 (with a bar and shower!) and then stayed in Dubai for four nights before flying on to Male (MLE), Maldives. Emirates offers free layovers in Dubai for up to seven nights. It brings more tourists to Dubai and allows you to add another destination on to your trip.
Emirates First Class Check-in
There is a separate terminal for business and first-class check-in, as well as security. Even during peak hours, it rarely takes more than a minute or two to check-in and then you're on to security screening.
Emirates First Class Lounge
Start your experience in the Emirates First Class Lounge in Dubai, one of the largest, sprawling lounges in the world.
The First Class Lounge offers several food stations and bars in addition to a complimentary full-service sit-down restaurant. Enjoy a handful of 15-minute complimentary spa services as well.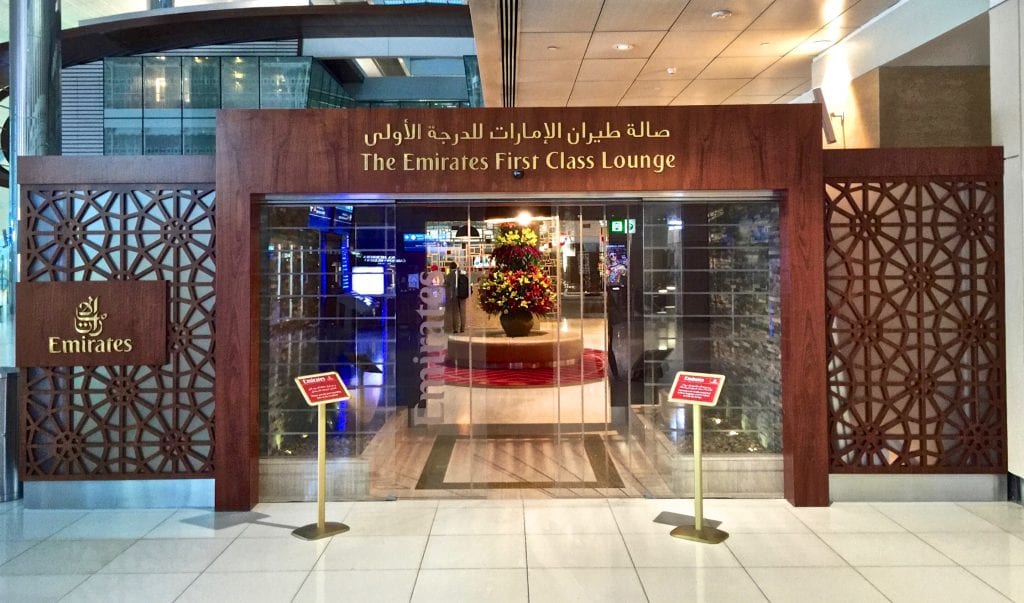 Mr. TT and I loved sitting in the restaurant and ordering from the comprehensive menu. Mr. TT had garlic butter prawns, while I enjoyed a wagyu beef burger accompanied by a glass of Moet Brut Champagne. It was all delicious.

There are no boarding announcements in the lounge so you will have to pay attention and head to the gate at your boarding time. If you were flying on an A380 where business and first class are on the upper deck you could board right from the lounge level. For the 777 you will have to exit the lounge and go downstairs into the airport to get to your gate.
Emirates 777 First Class Cabin
There are just six suites at the front of Emirates' new 777s: two on each side and two in the middle. And we lucked out: We were the only two first-class passengers on our flight. We had our choice of the lot.
Put simply, there are no bad suites in this new Emirates 777 first class cabin. Every suite is nearly identical, with the utmost privacy and luxury you can find on a commercial plane.
That does come with a slight downside: There's no great way to spend time with a companion or loved one, as there are no adjoining suites or seats in this first class cabin. If you are traveling with another person, we recommend picking suites 1A and 1E or 2F and 2K.
The hallways are lit with beautiful designs like the Ghaf tree, the national tree of the UAE, and the Emirates signature "stars" in the ceiling. No other airline comes close to these small touches like Emirates.
Notably, Emirates has done away with the blinged-out gold look that its older first class cabins are known for. This design is more tasteful and elegant.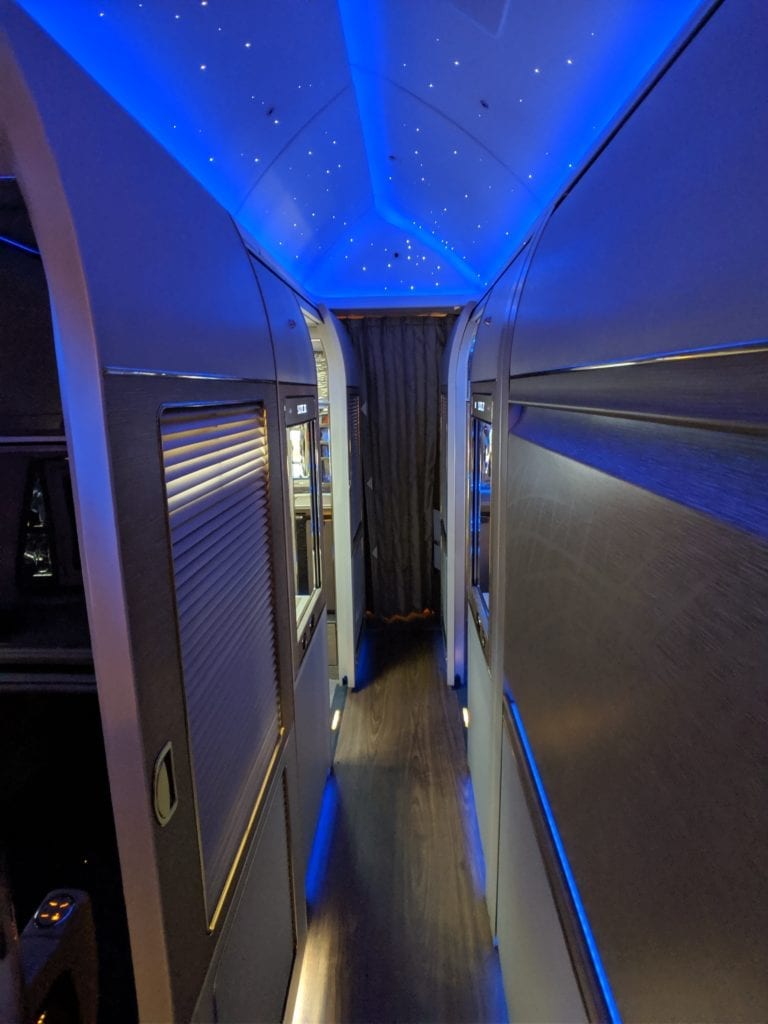 At the front of the cabin, you'll find two dedicated bathrooms next to the galley. The bathrooms themselves aren't too large – but because you have so much privacy and room in your suite they don't need to be.
Each lavatory is stocked with plenty of toiletries including toothbrushes, hand lotion, perfume, and cologne – and oddly, tiny bars of soap. There are also small cloth towels in addition to paper towels. Although we were the only two passengers on board, it was still nice to have the bathroom lightly cleaned after every use.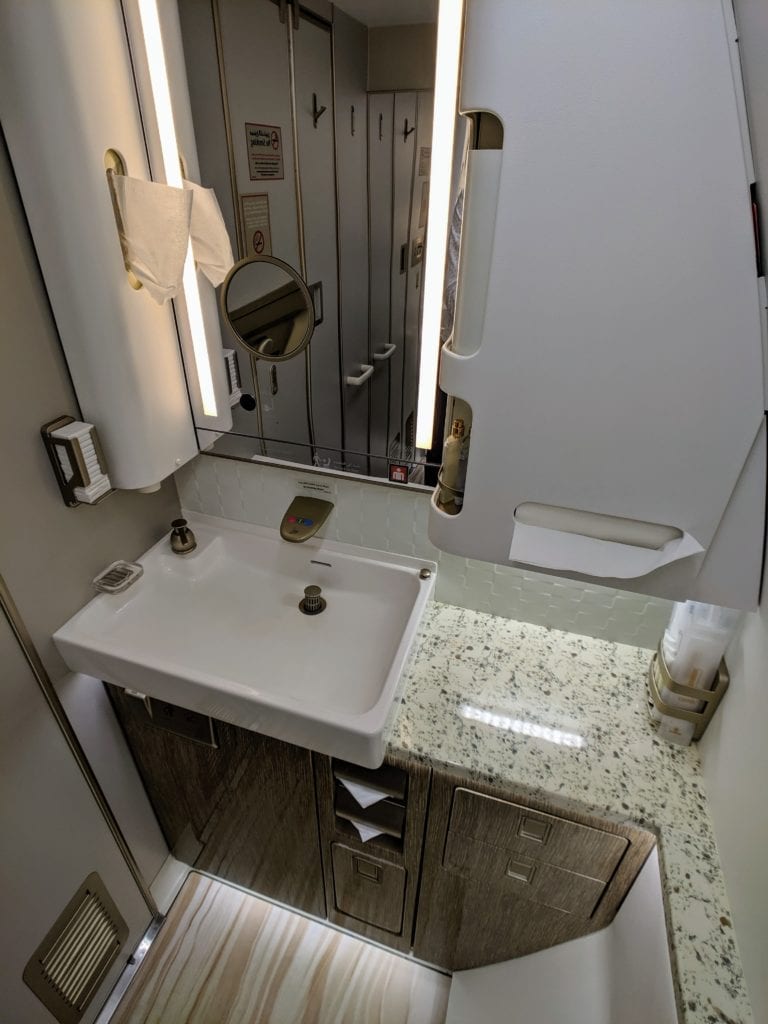 Your Private Suite
I won't mince words here: The suite onboard the new Emirates 777 First Class is simply amazing.
It is one of the largest and most comfortable first-class suites out there. With floor-to-ceiling walls and fully-closing doors, it is truly like your own little hotel room. I was in seat 2F and Mr. TT was in 2K.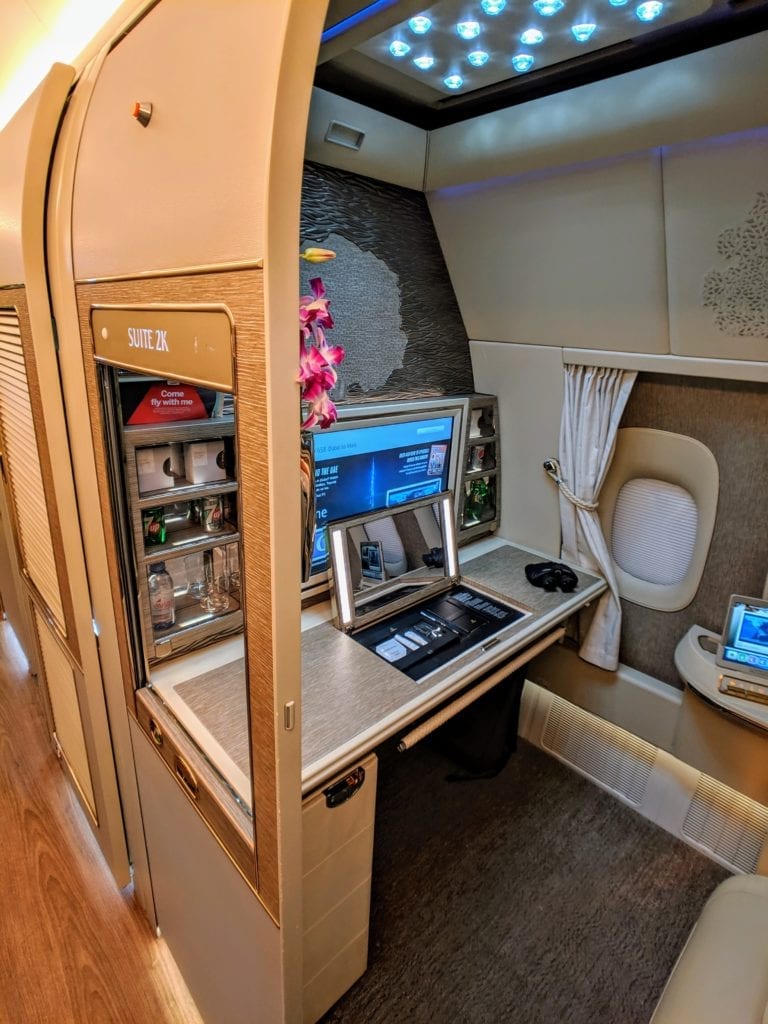 Mr. TT has flown Singapore Airlines massive new First Class suites as well as the Etihad First Class Apartment and he thinks it beats both – by just a hair. And safe to say it blows away the first class seats on Emirates A380 planes.

A crisp, 32″ TV screen sits at the center of the suite with hundreds of new movies, tv shows, games and more. Emirates ICE entertainment system is amongst the best in the world. There were more entertainment options on this flight than on the A380 flight we took a few days earlier.
The TV is surrounded by mini bars on each side full of snacks, water, and soda. On the side of your suite, you'll find a service window. It's a brilliant touch, as you can keep the suite doors closed to maximize privacy but have this window open for service from flight attendants throughout the flight.
A lighted mirror pops up from your table with a bound notebook, pen, and in-flight amenities such as eye cream, calming pillow spray, and a towelette. All the suites with real windows offer Steiner Safari binoculars as well – truly an over-the-top touch.
There is plenty of storage in the suite, including a small closet for hanging handbags or jackets where you will find your in-flight Bowers & Wilkins noise-canceling headphones. There is also a  compartment underneath the counter for your carry-on bag.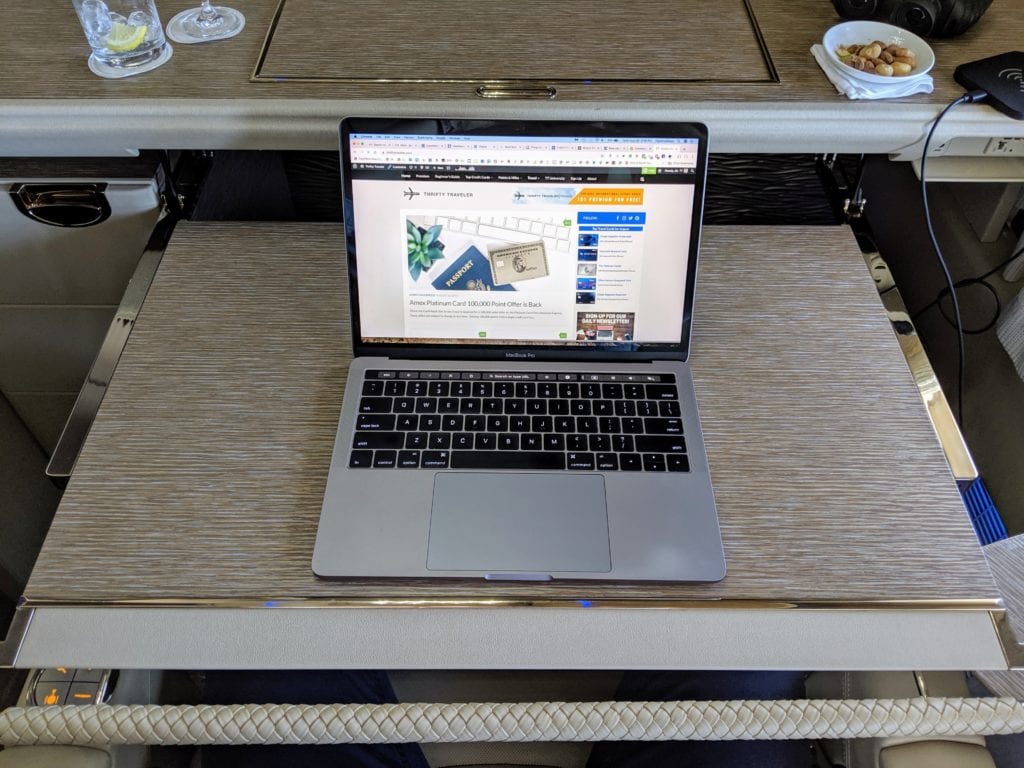 A stylish large tray table directly under the center of the counter pulls out for easy access for meals or if you need to get work done. Another nice feature is the detachable tablet with controls for the seat, entertainment, and … pretty much everything. It's much slimmer and crisp than the device on the A380.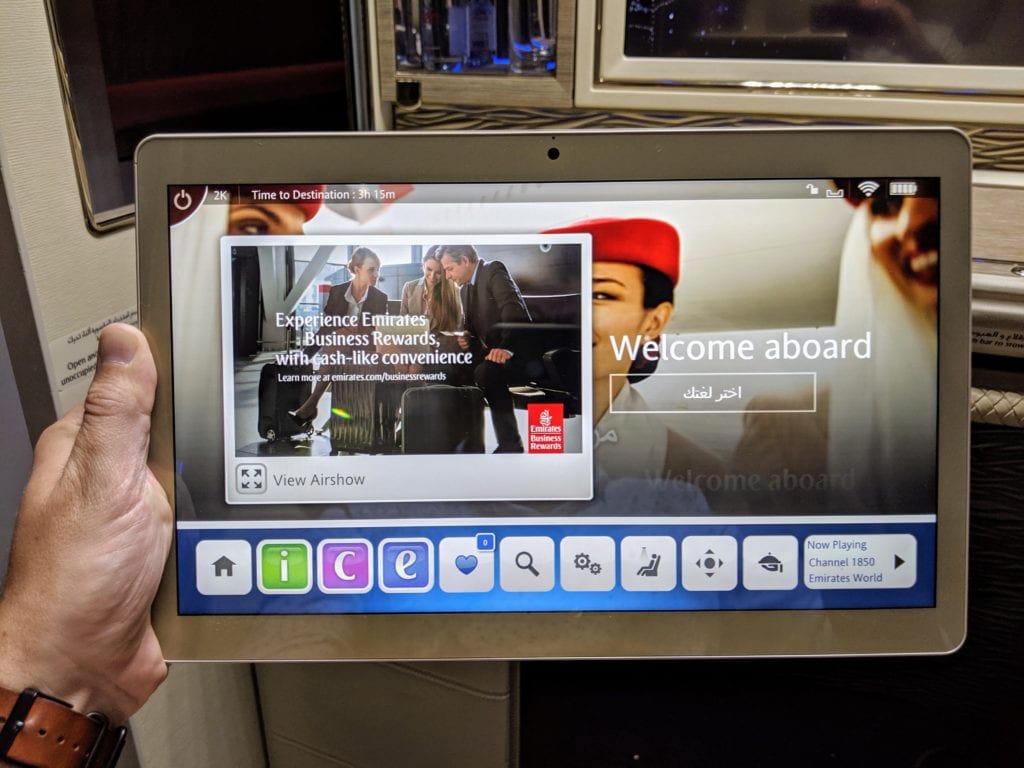 But here's where these suites get really crazy: There are several customizable features that allow you to be as comfortable as possible.
There is a panel, separate from the entertainment, that has a lot of great features, including temperature control. The only bad thing about it is that you can not lower the temperature in your suite, you can only increase it. But, if you're like me, most planes are too cold and raising the temperature just for yourself is a great feature.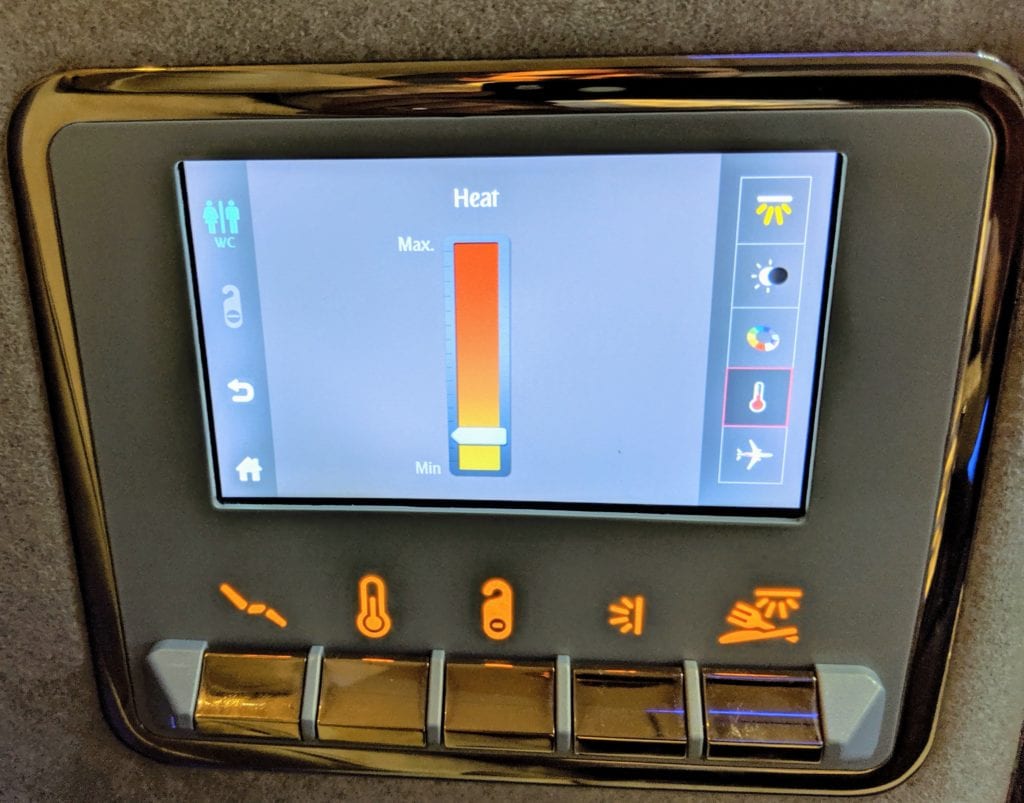 The purser told us that because we were the only people in first, they could lower the overall temperature if we wanted.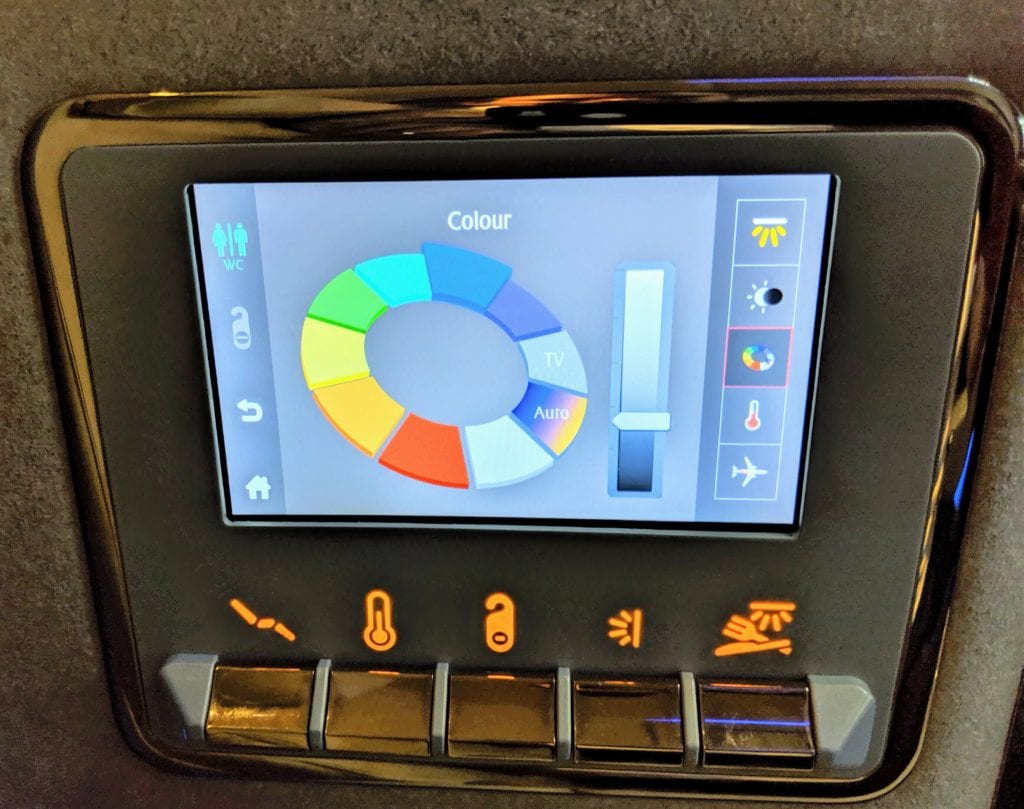 Another new feature is the ability to select the color and the intensity for the mood lighting. I chose blue because it felt relaxing. I think Mr. TT played with the color features for an unnecessary amount of time.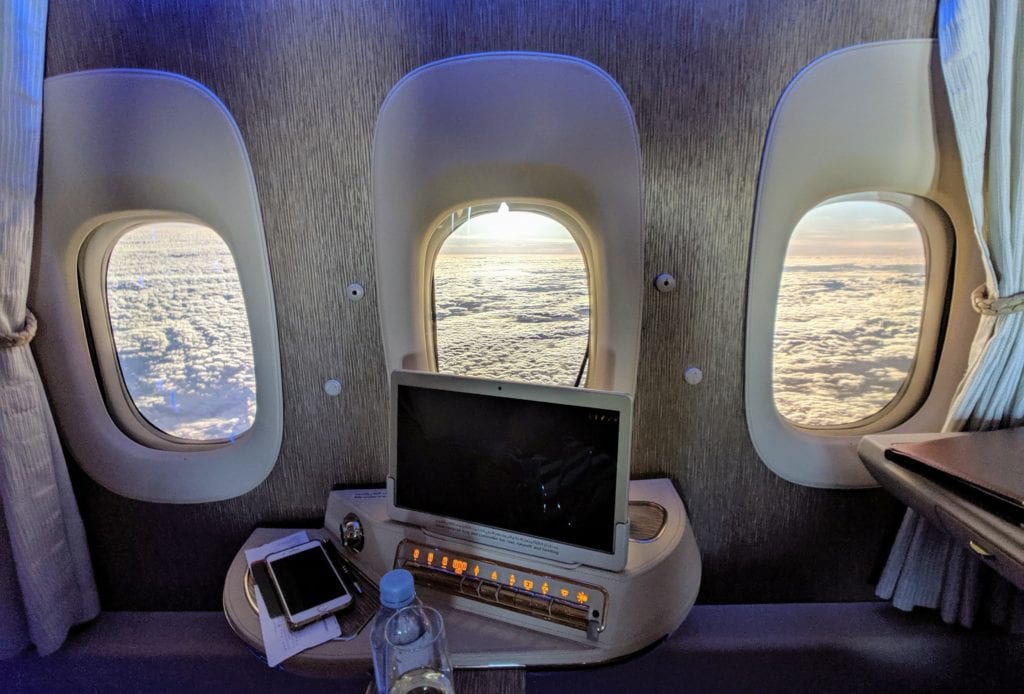 If you end up in a center suite, the best feature is the virtual windows. They mirror the view outside of the plane and change throughout the flight. You can "close" them by turning the screens off, but I enjoyed watching them change throughout the flight.
The Seats
The soft leather seats inside these suites are some of the best and most comfortable I have experienced on a plane.
It lays flat for sleeping and even has a "zero-gravity" position inspired by NASA technology. It's a good PR flourish, but I'm not sure what makes it zero gravity – I've never been in space. Nonetheless, it was easily the most comfortable seat I have been in sitting upright, lounging, and in bed mode.

Service & Dining
The service on our flight was impeccable from the start.
My glass of Dom Perignon Champagne never went empty. The cabin crew was friendly and helpful and came by frequently because they saw how excited we were. The champagne on our flight was Dom Perignon 2008, but be sure to ask if they are serving anything else for your flight. Once in a while, you will get lucky and they will have Dom Perignon Rose – a step above their normal (outstanding) bubbles.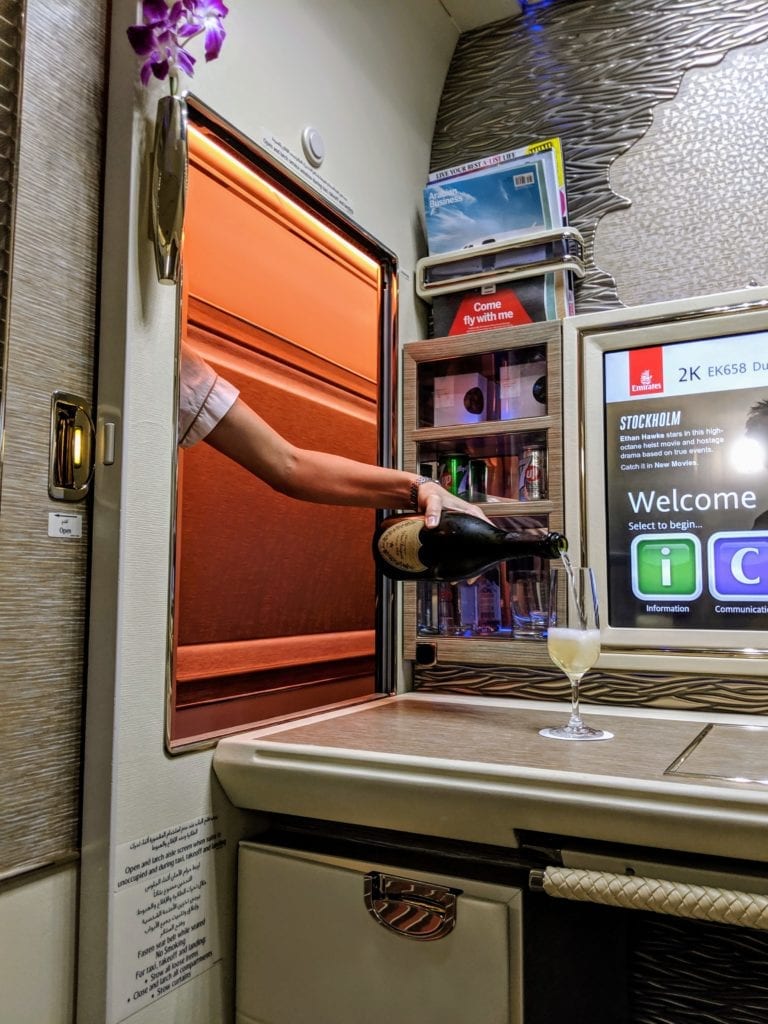 Our flight attendant noticed our Polish last name and came over to talk about it. She was from Poland, so we made a fun connection and she insisted on taking a photo for us.
In our experience, service on Emirates flights can vary wildly, crew by crew. We have had excellent and friendly service to uninterested and spotty service. Most of the time, if you are friendly, ask questions, and attempt to strike up a conversation, your service will be better. In this case, we lucked out with an amazing crew.
Drinks and meals are all served through the service window, so you don't need to open the door. You can close the service door for total privacy and contact the flight attendant at any time using the video screen. Talk about extra…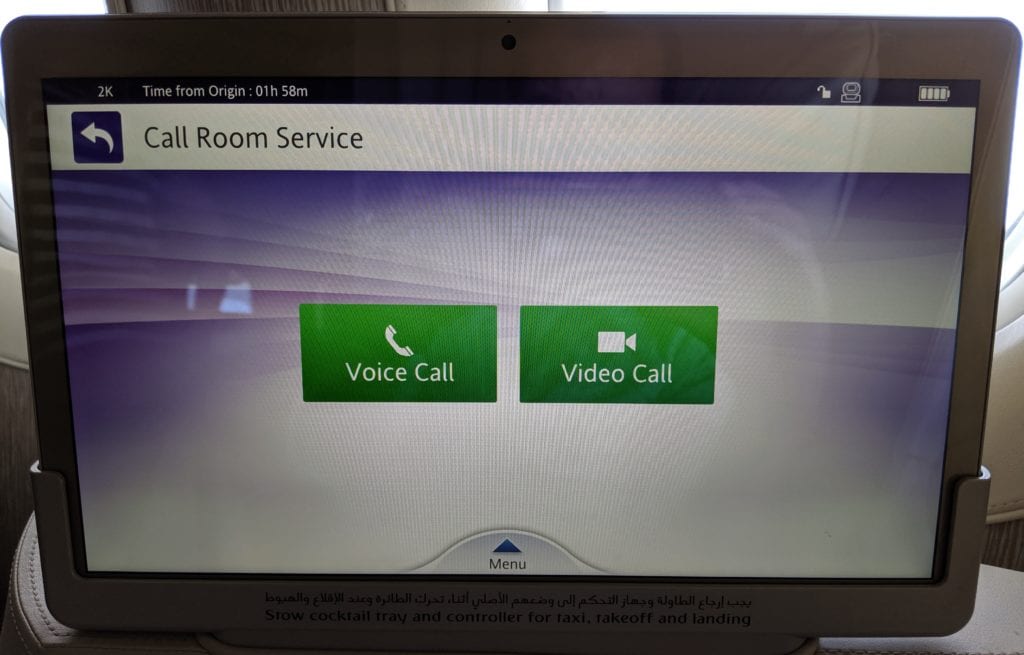 Our flight was only a little over four hours, so the only meal served was breakfast. The short flight also meant we didn't get pajamas or amenity kits.
Breakfast began with an option of muesli or yogurt served with a fruit plate, coffee, juice, and more Champagne (of course!)  followed by a choice of a main course. No caviar is offered on short flights like this one.

Bottom Line
Mr. TT and I are already developing a points strategy on how to fly the new Emirates 777 first class suites again. Our only complaint is that most of the routes this plane flies are fairly short – at least when we took this flight.
Four hours just isn't long enough to experience the magic of these suites.