After flying hundreds of thousands of miles in economy seats, I experienced my first business class flight with American Airlines, flying from Paris-Charles De Gualle (CDG) to Minneapolis-St. Paul (MSP). And let me tell you: It will be hard to fly across the Atlantic any other way again.
Whether you've got points and miles or plenty of cash, flying business class should be on your bucket list for 2019 if you haven't done it already. In this case, I paid just 57,500 American AAdvantage miles and $80 for what's usually an insanely expensive flight. Check out our reasons why you should collect American Airlines miles, and start racking up those miles for your own lie-flat seat across the pond.
Here's what I learned on my first trip. at the front of the plane.
1. Legroom and Flights Don't Have to be an Oxymoron
Seriously, just look at all this room! I am pretty tall at 5 feet 9 inches and usually feel cramped in Economy seats. But not on this flight.
2. Some People Actually Paid Money for These Seats …
It was fun to look around and wonder who in the American Airlines business class cabin had paid for their seats straight up for more than $4,000, and who had booked with points. I'm sure they were looking at 25-year-old me thinking: "How did she get in here?"
3. Not Sharing an Armrest or Touching Hips with Your Neighbor is Liberating
The extra legroom is nice, but the additional width is even better. I'm usually cheap and buy Basic Economy tickets to get the best deal. But nothing can beat having all this space to yourself, with BOTH armrests, too.
4. You Get Treated How You Present Yourself
It's sad, but it seems true.
When I'm flying economy, I wear what's comfiest – athleisure, on a good day –  and board the plane half-asleep. However, for my first Business Class experience, I dressed up. I was amazed at what a difference it made. I felt better, I looked like I actually belonged in the Business Class cabin, and the attendants communicated with me like I was a true business class lady. Of course, the service in business class is a step up regardless. But I can't help but feel like my attire made a difference.
5. Grandmas in Business Class are the Cutest Things Ever
Okay, I didn't get a picture of this. And maybe there won't be a grandma on your business class flight. But there was a sweet old lady in the seat across from me, and it was precious!  She was taking full advantage of the lie-flat seat. Peak grandma goals.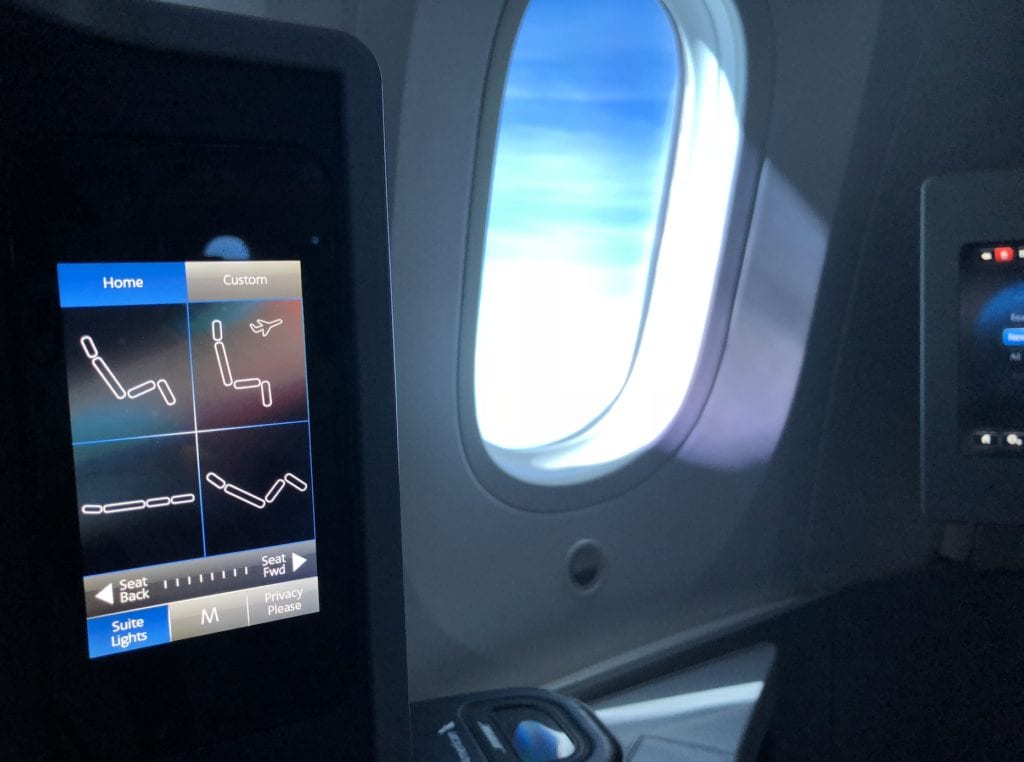 To prove this point, here's TT founder Jared's grandma in business class. TT Grandma is the original points and miles pro — she's been collecting points since the beginning and always flies in style!
6. You Don't Want to Fall Asleep Because it's So Exciting! 
A spacious seat that reclines into a lie-flat bed is an incredible way to glide through the sky for eight-plus hours. But with the excitement of flying in business class, it was impossible to get myself to shut my eyes and rest. I know I'm not alone on this one.
7. Airplane Food Isn't All Bad
I've had my fair share of terrible airline meals served in tin foil and heated to lukewarm (im)perfection. This made my first business class meal – complete with REAL silverware, salt and pepper shakers, olive oil bottle, and a delicious three-course meal – a dream come true. The salad on the left in this photo was delectable!
8. You Feel Like a Million Bucks Even if You're Just a Few Thousand Points
There's something about smugly sipping on champagne in a lie-flat seat while Basic Economy passengers just begin boarding that is priceless. I'll be one of those passengers again, but it was a moment that underscored just how powerful points and miles can be.
Bottom Line
We have a saying at Thrifty Traveler: The best use of points and miles is for something you wouldn't be able to otherwise afford. Whether that's taking another vacation because you've got the miles to make it free or treating yourself to a business class flight complete with a bed and champagne, this is what points and miles are all about.
Learn about getting started with travel rewards cards here.