Wait, what's the Amex Green Card?
We'll forgive you if this is the first you're hearing of Amex's practically-forgotten card: The American Express® Green Card. After all, cards like The Platinum Card® from American Express and the American Express® Gold Card command far more attention with huge bonuses and tons of travel perks.
But that's changing: The Amex Green Card is finally getting some long overdue attention from travelers (and Amex itself) thanks to a new, bigger welcome offer. But there's much more to it that should put this card in the spotlight.
Really, it could be the perfect introductory Amex travel card thanks to the wide range of spending categories you'll earn bonus points on, from flights to hotels and any other travel expense as well as when dining at restaurants. Plus, it comes with annual statement credits that can cover a CLEAR Plus membership and some airport lounge access via LoungeBuddy – both of which can make your overall travel experience more enjoyable.
But is all of this worth the card's $150 annual fee (see rates & fees)? Let's take a closer look at all this card has to offer in order to help you decide for yourself.
Additional reading: Full Review of the American Express Green Card
Welcome Offer and Card Overview
You can currently earn 60,000 Membership Rewards Points after you spend just $3,000 in the first six months of card membership with the American Express Green Card. On top of that, you can also earn 20% back on eligible travel and transit purchases made during your first six months for up to $200 back in statement credits.
Here are the full details on this card:
Earn 3x Membership Rewards points at restaurants
Earn 3x Membership Rewards points on travel – airfare, hotels, cruises, tours, car rentals, campgrounds, and even travel purchases on third party travel websites (including amextravel.com)
Earn 3x Membership Rewards on transit – trains, taxicabs, rideshare services, ferries, tolls, parking, buses, and subways
Earn 1x Membership Rewards points on all other purchases
$189 CLEAR Plus Credit: Earn up to $189 in statement credits per year after you pay for CLEAR Plus with your Green Card
$100 LoungeBuddy Credit: Earn up to $100 in statement credits per calendar year when you use your Green Card to purchase lounge access through LoungeBuddy
$150 Annual Fee (see rates & fees)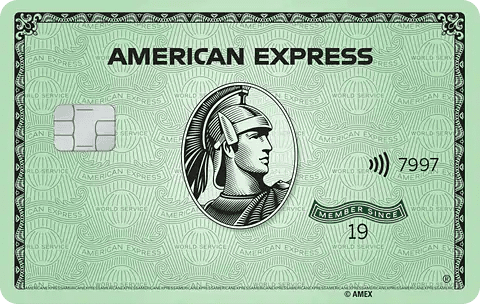 Learn more about the American Express® Green Card
$200 Back on Travel
Getting 20% back in the form of statement credits on up to $1,000 in travel and transit expenses during the first six months of card membership could make the $150 annual fee on the Amex Green Card a no-brainer for most travelers – at least for the first year.
This rebate isn't a part of the card's ongoing list of benefits – it's part of the initial welcome offer. But it's still worth highlighting as it will easily offset the card's annual fee for the first year and can actually put you money ahead.
Since this card is geared specifically toward travelers, it's reasonable to assume anyone considering it is likely going to spend $1,000 on travel in the next six months. Doesn't fit the bill for you? It's probably worth looking at other travel cards that better meet your needs.
For everyone else though, this 20% rebate can easily be viewed as $200 back in your pocket and a clear win.
$189 CLEAR Plus Credit
You've likely heard of programs like TSA PreCheck and Global Entry, but CLEAR Plus is a different animal. Whether you've got those other memberships or not, having CLEAR Plus can get you through airport security faster.
Think of it as a fast pass to skip to the front of the security screening line and get you on your way quicker. It works like this: Once you've signed up and finalized your registration, you simply head to the CLEAR lane at participating airports, confirm your identity by using the CLEAR pod's iris or fingerprint scanner, and get whisked away to the front of the TSA line by a CLEAR ambassador.
If you've got TSA PreCheck, you cut to the front of that shorter line. Without it, you still get to go to the front of the standard security queue.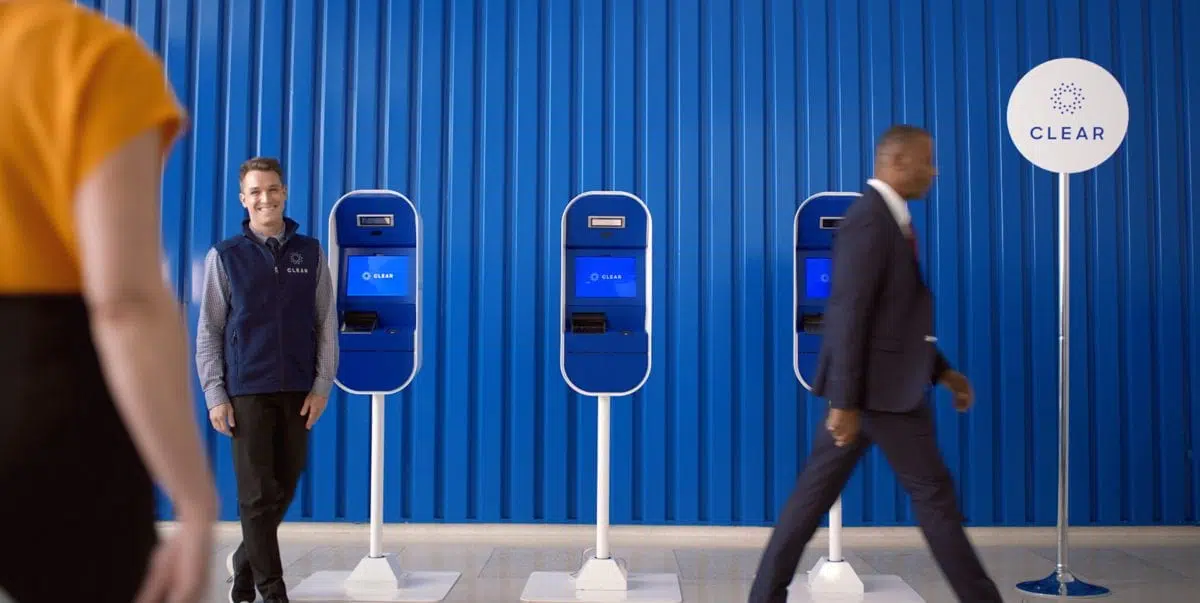 If this fast pass sounds like something that would make your travel experience less stressful, the Amex Green Card has you covered by providing an annual credit of up to $189 towards the cost of a CLEAR Plus membership.
That's enough to cover the entire cost of CLEAR each year – though after some recent price increases for loyal Delta and United flyers, that credit won't go quite as far as it did previously. Here's what you can expect to pay for an annual membership, depending on your airline elite status and any other discounts that may apply to you:
Travelers who enroll straight with CLEAR pay $189 a year
Travelers who link their free Delta SkyMiles or United MileagePlus accounts pay $179 a year 
Travelers with Delta or United status (or a co-branded Delta SkyMiles Amex card or one of United's Chase cards) pay $149 a year
You can add up to three adults to your CLEAR Plus account for just $70 each (minors can tag along for free)
United 1K or Delta Diamond Medallion status members get CLEAR Plus for free as a perk
If you are already paying for a CLEAR Plus membership, this benefit alone can easily justify the Green card's $150 annual fee.
Additional reading: Is CLEAR Plus Worth the Cost?
$100 LoungeBuddy Credit
Nothing makes the chaos of air travel more tolerable than having access to an airport lounge. These spaces used to be reserved for business travelers and airline elites, but now it's possible for ever day travelers to enter simply by holding the right credit card.
While many premium travel rewards cards include a complimentary Priority Pass Select membership, the Amex Green Card takes a different approach by providing card members with an annual $100 LoungeBuddy credit. And since this benefit renews each calendar year (rather than your cardmember year) it's possible to double-dip and get $200 of lounge credit all within your first 12 months of having the card.
Here's how it works: Use your Amex Green Card to purchase airport lounge access directly from LoungeBuddy through the their website or the LoungeBuddy app and you'll receive a statement credit up to $100 to offset your purchase. Since LoungeBuddy offers single-use airport lounge access passes starting at just $25 each, this credit can get you into lounges up to four times each year at no additional cost.
Depending on what other travel credit cards you carry, this lounge credit may or may not be worthwhile to you. If you would otherwise be paying out of pocket to access an airport lounge on an annual basis, this benefit can definitely help offset a majority of the card's annual fee.
Want to learn more about LoungeBuddy? Read more about the best app for determining which lounges you can visit.
Earn More Points on Your Spending
Since the Amex Green Card slants heavily towards travelers, it should come as no surprise that they beefed up your point earning by offering 3x Membership Rewards points on a broad-ranging travel category. In fact, this card might be better than Amex's even pricier travel cards when it comes to earning points on travel.
With Amex's top-tier Platinum Card, for example, you can earn 5x Membership Rewards points … but only on on flights booked directly with the airline, or on flights and hotels booked directly through Amex Travel. That's it.
There aren't any other travel bonus categories beyond that. It makes the Amex Green Card and its additional point-earning a much more well-rounded travel rewards card for the average person – with a far smaller annual fee, to boot!
On top of that, you'll also earn 3x Membership Rewards points at restaurants and on any transit purchases with the Green Card.
That puts the Amex Green Card most closely in line with cards like the Chase Sapphire Preferred® Card and the Capital One Venture Rewards Credit Card, both of which earn 2x points on travel purchases compared to the Amex Green's 3x point earning. Both the Sapphire Preferred and Venture Rewards Cards have $95 annual fees – $55 less each year than the Amex Green's $150 annual fee.
That extra 1x points on travel and restaurants could tip you toward the Green Card, despite the steeper fee.
Related reading: Chase Sapphire Preferred vs. Capital One Venture Card
Bottom Line
The American Express Green Card is back in the spotlight thanks to an excellent, 60,000-point welcome offer after spending $3,000 in the first six months.
That bigger bonus alone makes the card's $150 annual fee an easy win in the first year. But beyond that? Whether the Amex Green Card annual fee is worth it hinges on your personal spending and travel plans … but for many, it could be an easy yes.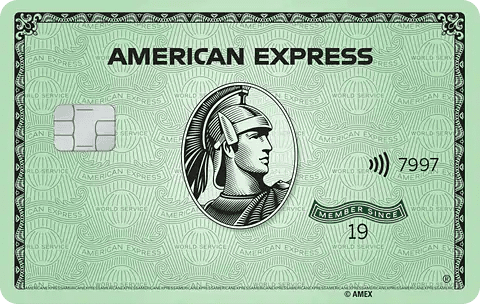 Learn more about the American Express® Green Card