Bilt Rewards, the loyalty program that allows you to earn transferable points on your monthly rent payment without paying any fees whatsoever, recently announced a new partnership with the hotel award search tool Awayz.
Bilt Rewards members can now use the Bilt website or app to search for real-time award availability at Hyatt and IHG properties, Bilt's two hotel transfer partners. Neither program makes that information easy to find on their own website, making this tool possibly the easiest way to find available nights to book with your points. 
Members can complete up to 50 hotel award searches each month. Better yet, Bilt is free to join – regardless of whether or not you pay rent or hold the *bilt rewards card*. Awayz has a Premium membership which costs $11.99 per month or $99.99 per year as of publication, so getting access to the service through your free Bilt account is a great deal.
Whether you have Bilt points or Hyatt or IHG points through a different rewards program, you can use this tool to search for award nights to use them. All you need is a Bilt account.
Read on for how to use Bilt's new hotel award search tool, and why it's a great new way to find real-time award availability at Hyatt and IHG properties.
How to Search Hotel Award Space Through Bilt
Once you have a Bilt Rewards account you can head to the mobile app or the website and click on "Rewards" and then the "Travel" tab. Then, select the "Hotels" option.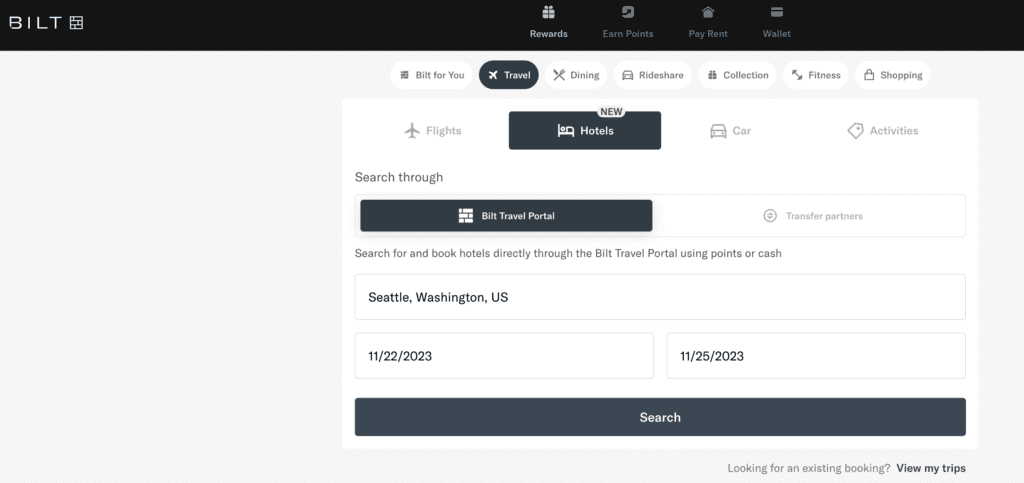 From here, the tool will give you the option to search for hotels through the Bilt Travel Portal or with Bilt's hotel transfer partners. Again, to date, that list only consists of Hyatt and IHG. To take advantage of the new functionality available through Awayz, you'll want to select the transfer partners option.
In this example, I searched for available award nights at the Park Hyatt Kyoto in Japan – a sought-after property that opened recently and is notoriously hard to book with Hyatt points.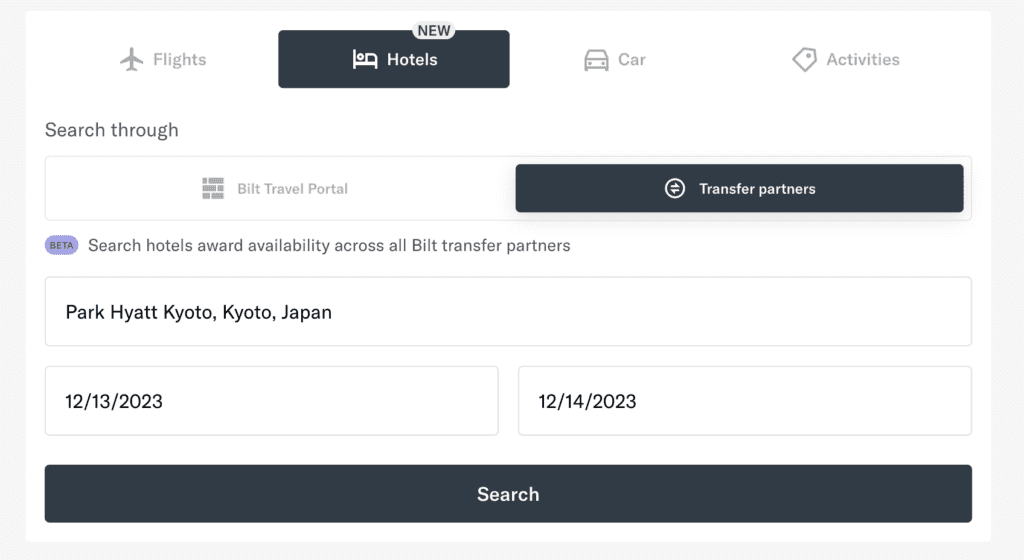 Once I enter the name of the property, enter dates (the dates you enter don't actually matter just yet), and hit search, I land on a results page that shows both the location of the property and says that the dates I selected are not available.

However, once you click on the image of the property, it will pop open a real-time award availability calendar with 12 months of bookable dates. Hyatt uses a peak and off-peak award pricing system, meaning the price in points for a stay can be higher (or lower) based on the nights you choose. Since the Park Hyatt Kyoto is a Hyatt Category 8 property, a standard night can be booked for 40,000 points each night. Off-peak nights can be booked for 35,000 points while peak nights can be booked for 45,000 points.
As you can see below, the new Awayz tool available through Bilt will quickly show you what nights are actually available to book with points. It'll also highlight the cheapest date each month in green – much like you'll find when looking at flight prices through our favorite tool, Google Flights.
Once you've found available dates that will work, you can select them from the calendar view and then select the "Browse Available Rooms" option. From there, you'll be taken directly to the Hyatt website to actually make the booking.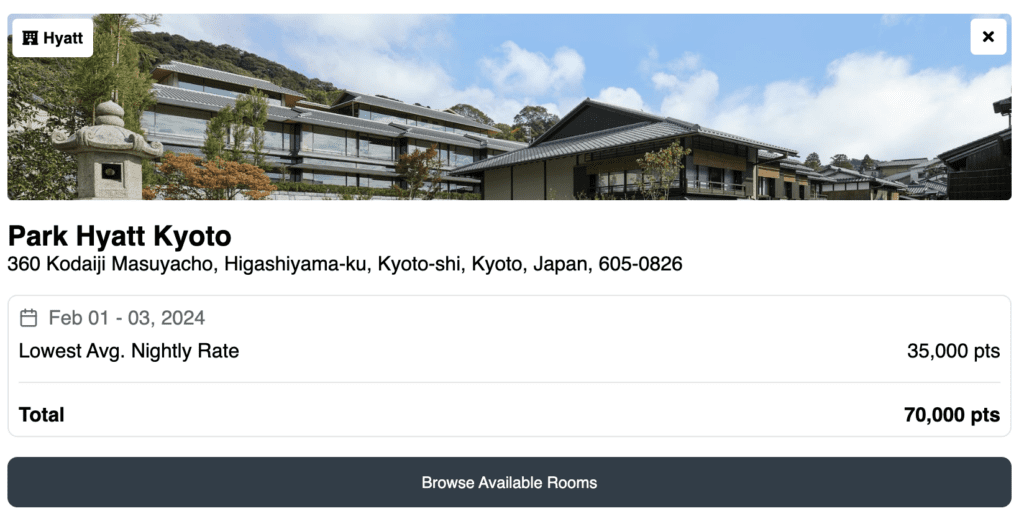 Searching For Award Space on Hyatt's Website
The reason this tool is so useful for searching for Hyatt award space specifically is because Hyatt doesn't actually show available award space on their "Points Calendar" view. That means to find nights that are actually bookable with your Hyatt points, you would need to search day by day to find availability.
Case in point, when I click on the Hyatt award calendar for the Park Hyatt Kyoto and look at the month of January 2024, all it shows are the nights that are considered standard, peak, and off-peak. You'll see a disclaimer that states, "See how many points you'd need to redeem a free night award at this location. Note: calendar does not reflect actual award availability."
We know from searching through Bilt above that roughly half of the dates in January 2024 are not available to be booked with points. Without that information at our fingertips, finding bookable nights can feel like a wild goose chase. In fact, if you run an award search for four nights, and one of the nights you want isn't available, the entire search will error out.
Again, you don't actually need Bilt points to use the tool. So if you've got Hyatt points, Chase Ultimate Rewards points, Bilt points or a combination of all three, it is a great way to find nights for using your points.
Searching For Award Space on IHG's Website
Much like Hyatt, finding IHG's award calendar on their actual website is difficult, so the Bilt award search tool is useful for these bookings as well.
In fact, the only way to actually pull up a calendar on the IHG website is to first search for a property and find a date that doesn't have any award availability. For example, after completing a search on IHG's site for award night availability at the InterContinental Rome Ambasciatori Palace I got the following result.

By clicking on the "View available dates" button in the top right-hand corner, I can see a more expanded view of available dates.
But again, the only way to find this calendar view is by first searching for a date that doesn't have award space. IHG differs from Hyatt, though, in that most nights will be available to book with points, so this can be difficult. To make matters more difficult, their rewards program uses dynamic pricing, which means how many points you actually need to book a stay will vary depending on when you're looking. Without pulling up that calendar view, you won't be able to see how many points you'll need for a given night.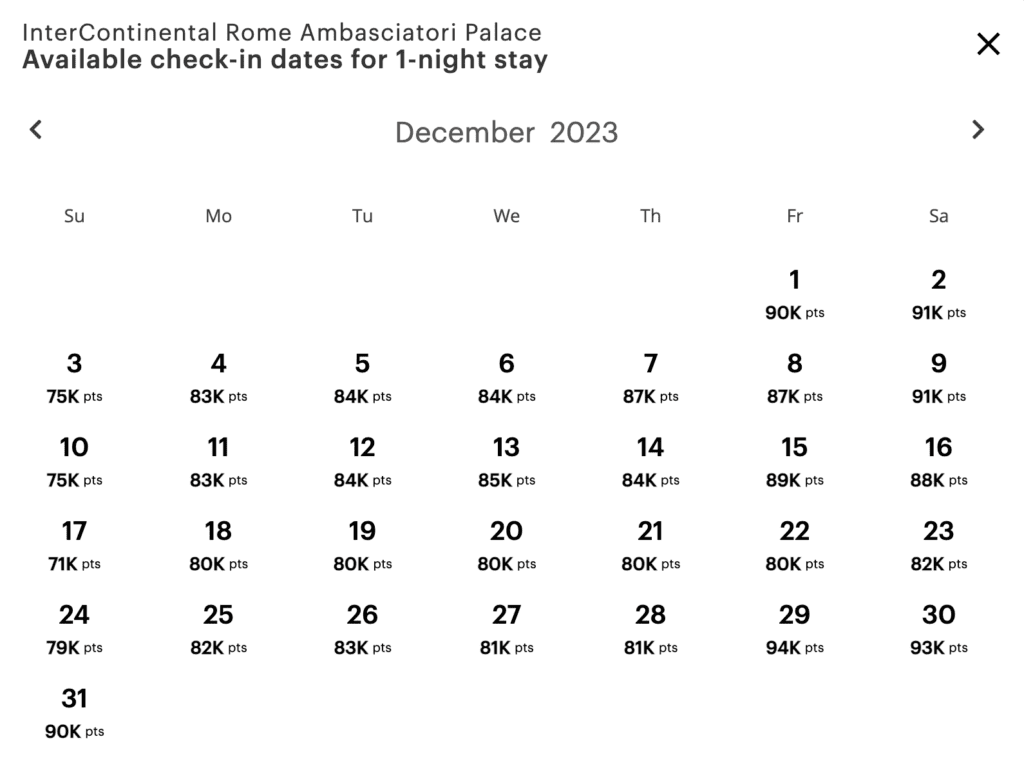 Again, this is where the Bilt award search tool powered by Awayz comes in handy. You won't need to first find a night that isn't available to view the award calendar.
Here's a look at award space at the new InterContinental Rome Ambasciatori Palace. As you can see, it's available to book almost every day, but the Bilt tool allows you to easily see which dates will be the cheapest.
The Bilt tool just allows you to quickly and easily see when you can use your IHG points and how many you'll need to use.
Bottom Line
Bilt's new award search tool powered by Awayz is a great way to find award availability for both IHG and Hyatt through the Bilt Rewards mobile app or desktop site. Simply put, you won't find an easier way to find bookable Hyatt and IHG award nights.
If you aren't yet a Bilt Rewards member, it is free to join – even if you don't pay rent or hold The *bilt rewards card*. And just for being a Bilt member, you'll get 50 free award searches each calendar month. Considering Awayz charges $99.99 per year for its premium subscription, getting access to the service through your free Bilt account is a great deal.