Almost a year to the day since travel started a downward spiral due to the rapidly unfolding pandemic, travel is officially on the upswing again.
The Centers for Disease Control and Prevention (CDC) and public health officials still urge Americans to put off unnecessary travel. But as millions of Americans receive their COVID-19 vaccinations each day and travelers combat cabin fever with a spring break trip, travel is bouncing back anyway.
You can see it in the numbers of travelers moving through U.S. airports each day, which set records over the weekend. But airlines and travel industry groups also say things are looking up – optimism they haven't felt in nearly a year.
TSA Numbers Show a Big Bump
More people are traveling each day than at any point in the pandemic. And you can see that plainly in the numbers from the Transportation Security Administration. 
More than 1.3 million people moved through U.S. airports last Friday, a new record during the pandemic beating the previous record set over the busy New Year travel period. More than 1 million people have moved through airports in seven of the last 10 days – another record.
Check out our graphic comparing travel numbers from 2020 and 2021 against the same point in 2019, and the trajectory is clear. The average is up, and up sharply.

Public health officials have warned against traveling out of concern that it could lead to a spike in COVID-19 cases before the country has received enough vaccines to achieve immunity. And the CDC has not yet changed its guidance to allow Americans to travel freely once they've been vaccinated.
More People Are
Through the worst of the pandemic, people weren't just staying home. By and large, many stopped thinking about or planning trips, period.
The uncertainty about COVID-19 and travel restrictions that seemed to change by the day was just too much. But with a light at the end of the tunnel that's growing faster and brighter thanks to a faster vaccination timeline, that is changing, too.
You can see that clearly through Google Trends, which tracks how frequently people search for terms like "Google Flights" or "cheap flights." Searches for cheap flights are at their highest point since last March – and it's not particularly close.

The travel planning app TripIt found the same in its own survey of 3,200 app users: A whopping 94% said they plan to travel in 2021. And while just 33% of users said they were ready to hop on a domestic flight today, that number grows to 52% by June. The outlook for international travel is up, too: Confidence in taking an international flight goes from 14% of users today to 25% by June.

This pandemic is unpredictable, and a lot could change between now and the summer. But it's clear the mindset of travelers is changing: They're feeling hopeful again.
More Booking Trips, Too
It's not just that more people are dreaming about trips. They're actually booking flights now, too.
For nearly a year, flight bookings have been upside down with most travel on pause. For months, airline refunds outpaced new bookings, leading to multi-billion dollar losses at the major U.S. carriers. The few people who were still booking flights were doing so just weeks (or even days) before departure.
But airline executives say that has changed in the last few weeks. Travelers are booking flights again. And not just for next week or next month, but for a big trip this summer or fall.
"These last three weeks have been the best three weeks since the pandemic hit, and each week has been better than the prior one," American Airlines CEO Doug Parker said at the J.P. Morgan Industrials Conference on Monday. "And that appears to be continuing here, in this fourth week."
Parker and American shared data showing a drastic uptick in bookings.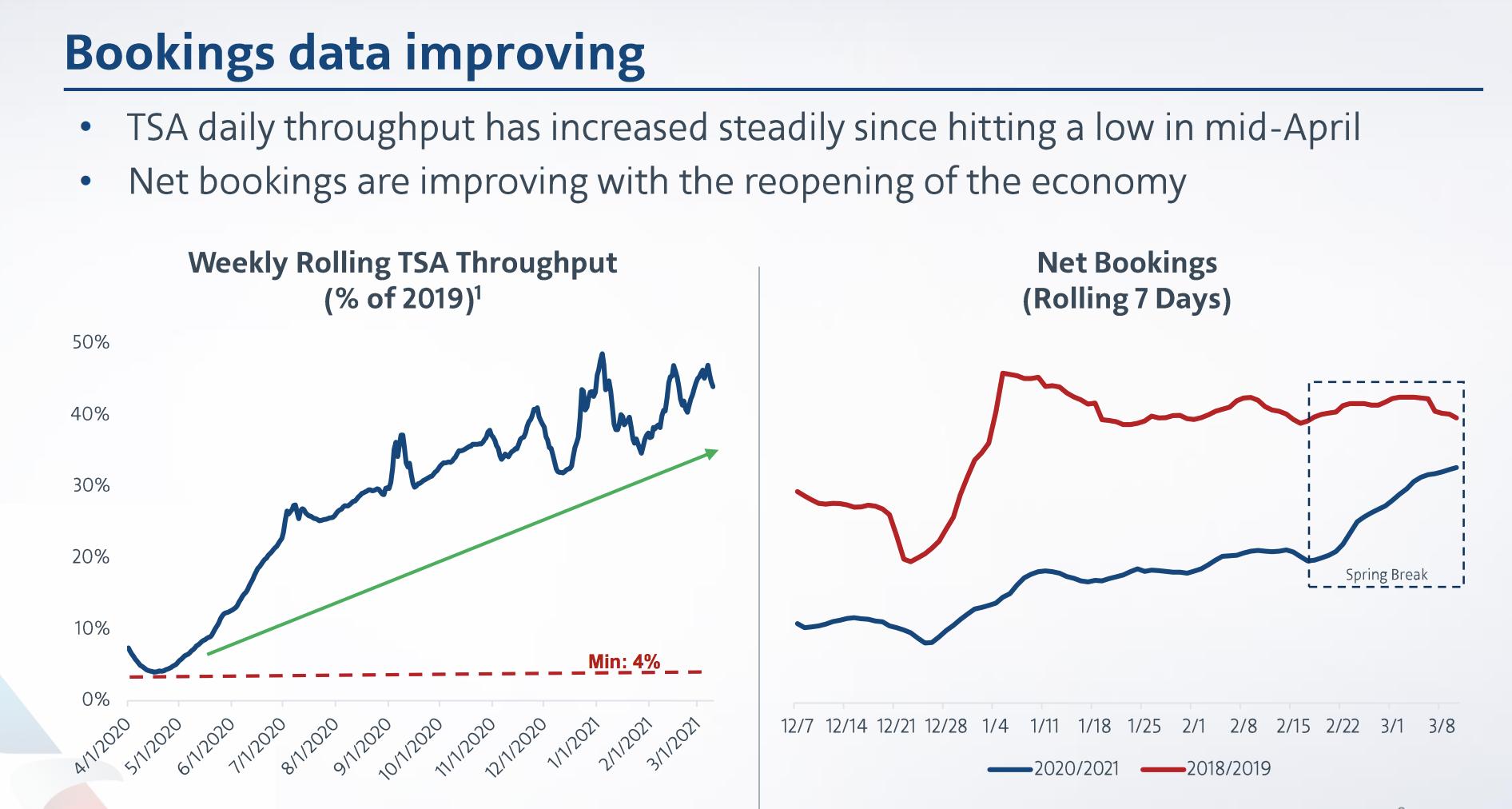 It's not just American Airlines feeling the tailwinds. Executives from Delta, United, and Southwest all shared datapoints to prove the same point: People are finally booking flights again.
"In the past six weeks, we've seen that bookings that are beyond 60 days out are almost flat to 2019 levels, just down a few points," Delta President Glen Hauenstein said at the J.P. Morgan event. "That's a very different situation from where we've been in the last year."
Airlines May Stop Losing Money Soon
For the last year, airlines have been hemorrhaging money. The major U.S. carriers have lost hundreds of millions – if not billions – of dollars each quarter, burning through millions of dollars a day as their costs exceeded how much they pulled in through ticket sales and other revenues.
Read more: Delta Lost $12.4 Billion in 2020 … What's Next?
With the uptick in bookings, the top airlines say they see an end to the staggering losses in sight. Delta and United both said they expect to at least break even in March – though they'll likely still report a bruising quarterly loss for the first stretch of 2021.
Delta had hoped to eliminate its cash burn by the end of 2020, but the pandemic had other plans. The Atlanta-based airline was still burning through $12 million a day at the start of March. But CEO Ed Bastian said Monday the airline should get close to break-even by the end of March – with hopes of turning profits again by the fall.
"We've gotten to the point that we can start a real substantial discussion of the path forward and how we're going to emerge from this as a stronger and a more resilient airline," Bastian said.
Executives from United and Southwest sang the same tune this week, pointing to the pickup in flight bookings as a turning point.
Airlines aren't out of the woods yet. Corporate travel, the lifeblood of major airlines, is nowhere near returning to normal, nor is longhaul international travel to Europe or Asia. And if they make it through, they may have the federal government to thank. Airlines got not one, not two, but three bailouts from Congress to help cover payroll and other expenses, adding up to more than $50 billion in taxpayer subsidies.
Bottom Line
Looking back over the last year, there were plenty of "false starts" in travel. Airlines and travelers tried to get back out into the world, only to be rebuffed by growing travel restrictions and COVID-19 outbreaks.
But in the words of Delta's CEO: "This seems like it's real, it seems substantive." Travel may finally be turning a corner.