Some people fly business class to get pampered. Others just want more space and a lie-flat seat. If you're in the latter camp and couldn't care less about fancy meals and extra frills, low-cost Japanese airline Zipair is as cheap as it gets for a lie-flat seat to Japan … and it's not even close.
While there are plenty of options to fly business class between the West Coast and Japan, most will run you at least $4,000 roundtrip – and sometimes, closer to $10,000. But Zipair – a low-cost offshoot of Japan Airlines – sells business class fares for less than half the price. In other words, you can book Zipair business class for around $1,000 each way, and maybe less.
So what's the catch? Well, you're only paying for the seat: Much like Zipair economy and any other ultra-low-cost carrier, everything else from luggage to meals to even water will cost extra. And there's a possible dealbreaker: Zipair tickets are nonrefundable and no changes are allowed – practically unheard of with business class tickets.
But the price is tough to beat for a lie-flat seat across the Pacific Ocean, so I recently gave it a shot flying Zipair business class from Tokyo-Narita (NRT) back to Los Angeles (LAX) on its Boeing 787 Dreamliner. Here's what it was like.

Where Does Zipair Fly?
Zipair flies from four U.S. gateways to Tokyo-Narita (NRT), including Honolulu (HNL), Los Angeles (LAX), San Francisco (SFO), and San Jose (SJC). From Tokyo, you can also fly to a few other destinations in Asia, including Bangkok (BKK), Manila (MNL), Seoul (SIN), and Singapore (SIN).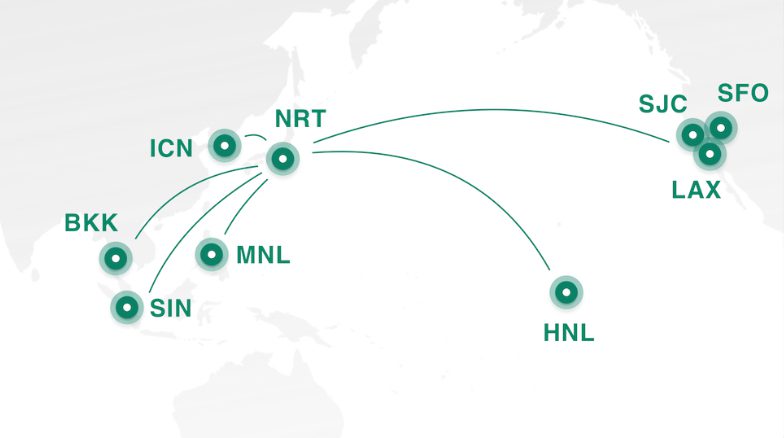 How to Book Zipair Business Class Flights
You'll need to pay attention to some key details when booking Zipair flights, including its business class fares.
The best place to start your search is to open up Google Flights, which allows you to compare prices with other airlines easily and quickly. The price difference between Zipair and other, full-service carriers is undeniable.

But keep in mind: All you get for that fare is a random seat on the plane and a 15-pound carry-on bag – everything else will cost you additional fees. But even after adding extras like picking your seat, baggage, meals, and more, you'll still wind up saving thousands of dollars compared to flying other airlines like ANA business class, Japan Airlines business class, or Singapore Airlines business class.
If you're trying to use points to book a Zipair flight, you're mostly out of luck. You won't find these flights on the Amex or Chase travel portals. But if you buy your flights with your *venture x* or *capital one venture card*, you can use your Capital One Venture Miles to remove the purchase from your statement.
Adding Extras During Booking on ZIPAIR
It's worth repeating: Nothing more than a seat is included in your Zipair fare. Not even in business class.
When choosing flights on Zipair.net, look for what it calls "ZIP Full-Flat." These are Zipair's business class seats. The "Standard" seats are Zipair economy. Zipair business fares may only be just over double the price of economy, which can be a great deal.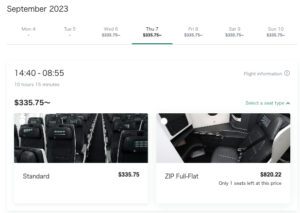 If all you need is a little extra weight for your carry-on or a checked bag, it's cheapest to add it à la carte. You can add an extra 8 kg (17 pounds) for a total of 15 kg (33 pounds) of carry-on weight for around $38 each way – and interestingly, it's a few dollars less when departing from Japan. This should be enough to cover a carry-on bag plus a personal item. Checked baggage fees start at $54 per bag.


But if you want anything else like a seat assignment or in-flight meal, you may want to purchase one of the packaged bundles. Again, these are slightly cheaper on the return flight from Japan than with flights departing from the U.S.

If you want to choose a specific seat, you'll need to pony up some extra cash, too – even in business class. This starts around $15 each way. You won't find a bad seat in the business class cabin, but if you want to sit together with a travel companion or snag one of the more private window seats, it could easily be worth paying that small charge.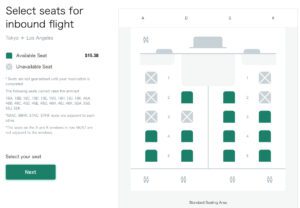 One restriction worth keeping in mind: You won't be able to purchase Zipair's "Full-Flat" business class tickets for children under 6 years old. The airline states this is for safety reasons. This could be welcome news for travelers who don't want to be in the same cabin as children, but it could force families to sit in economy or simply choose another airline.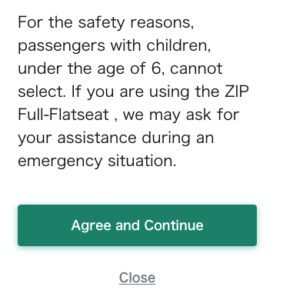 The food won't win any awards, but for a 10-hour flight, you may want something to eat. And you'll have many more options (and likely better tasting food, too) to choose from when departing from Tokyo compared to departing from the U.S. It's best to pre-order a meal if you want one, as there will be limited options if you try to purchase a meal inflight.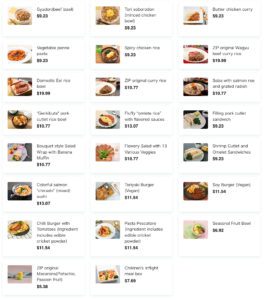 You can also pre-order an amenity kit and special treats like banana-flavored Kit Kats. If you're flying from Tokyo, you can pay around $10 for lounge access at the Narita TraveLounge, including a free alcoholic drink or dessert. I'd recommend paying for this if you want a quiet place to sit before your flight. There are also Priority Pass lounges at Narita if you have access from a premium travel credit card, but these lounges tend to get very busy.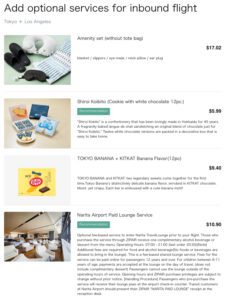 In the end, after adding a meal, Kit-Kats, lounge access, and a bundle for extra carry-on weight allowance and a seat assignment, my one-way Zipair business class flight came out to around $920. Adding in my flight in Zipair economy on the way to Tokyo, it was a total of $1,366 roundtrip.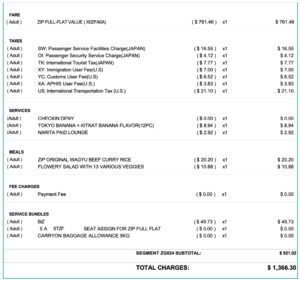 And thanks to an Amex offer earlier this year when I booked these flights, I was able to get a $150 statement credit, bringing the cost down to $1,200 – less than what many travelers pay for roundtrip flights in economy!


At Thrifty Traveler, we don't accept freebies. We use our own points, miles, or cash to pay for every single flight or hotel you see reviewed here – including this one.
All Zipair Tickets are Non-Refundable & Changes Aren't Allowed
This is probably the biggest restriction when flying Zipair: All tickets are use-it-or-lose-it.
No changes or cancellations are allowed after the 24-hour rule, period. Not even for its "Full-Flat" business class fares.
This means if you book a ticket and later decide you need to change plans, you'll simply need to eat the cost and buy a new ticket. That's largely unheard of with pricey business class tickets and could be a dealbreaker for some, especially when shelling out a thousand dollars or more for a flight to Japan.
Still, considering how much you'd save compared to other airlines, you could possibly buy two (or three) flights on Zipair and still pay less than on other airlines.
There's also simply no way to contact customer service other than an email form found on its website. I used this to ask if there was any possible way to pay a fee to change the date on my reservation but was told I would need to cancel and make a new booking.
The fare rules indicate that taxes could be refunded if you cancel your ticket. But you won't be refunded any of the actual airfare.
Checking in for Zipair & Lounge Access in Tokyo
When you fly business class on other airlines, you'll almost always have a dedicated priority check-in line. When flying Zipair, you're stuck in the same line as everyone else.
Zipair operates out of the north wing of Terminal 1 at Tokyo's Narita airport. If you're arriving by train, expect to take several escalators up to the departure level in order to check-in. When I arrived around three hours prior to departure, I found all of the kiosks were out of service. Luckily, there wasn't much of a line.

As expected, my carry-on bag was weighed during check-in and tagged as approved for carry-on. Since I had prepaid for lounge access, I was given a voucher for one alcoholic beverage or a free dessert at the Narita TraveLounge along with my boarding pass.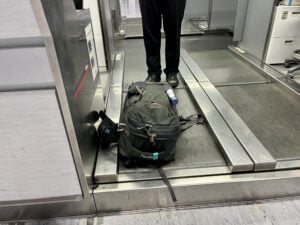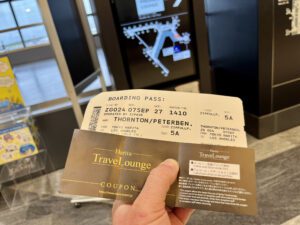 While there are a couple of Priority Pass lounges at Narita, The Narita TraveLounge is not part of this network. This meant that the lounge was pretty empty and quiet. At around $10 to enter, including a free alcoholic drink or dessert, this is a pretty good deal if you'd like a quiet place to sit before your flight.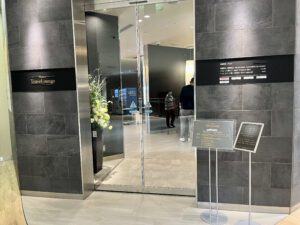 There was plenty of comfortable seating available throughout the lounge and it was never crowded during my short visit. You'll likely be able to sit wherever you'd like in this lounge.

The floor-to-ceiling windows with a view of the tarmac helped to get a bit of natural light before the long flight. As you can tell, this lounge was truly empty, which was a nice break from the busy terminal.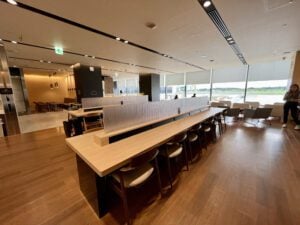 You won't find any free meals at the Narita TraveLounge but you can order from the menu for an additional fee. This included curries, soups, udon, and spaghetti carbonara.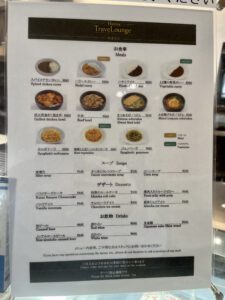 Soft drinks, coffee, tea, and small snacks are free. I enjoyed a ginger ale and used my voucher to get a matcha roll cake, which was very tasty.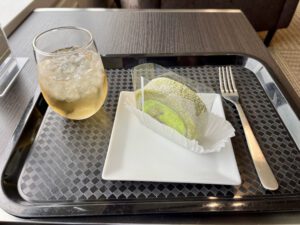 Since there were no meals included in this lounge, I also visited the Priority Pass lounge next door for a quick meal before the long flight. It was much busier and smaller than the Narita TraveLounge. No matter where you decide to go, I'd highly recommend eating a good meal before the long flight on Zipair.
At the gate, there wasn't much seating available so I was glad I was able to pass the time in the lounge. Boarding started exactly 30 minutes prior to departure. Even though there wasn't a dedicated line for business class passengers at check-in, Zipair boarded business class passengers immediately after families with small children.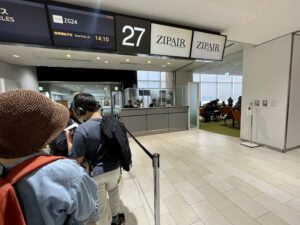 Zipair Business Class Cabin
Stepping into Zipair's business class cabin on its 787 Dreamliner, you may have a hard time believing this is a low-cost carrier. At least at first.
The black and white leather seats still look brand-new, all laid out in a 1-2-1 configuration to give all passengers direct aisle access. There are only five rows of business class with a total of 18 seats. This made the flight feel more intimate with a small business-class cabin.
The seats are much like anything you'll find on full-service carriers – and better than what many airlines fly to Europe, in fact.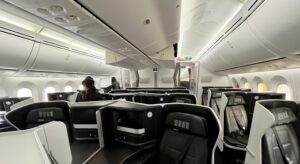 The window seats have the most privacy, as you won't have any passengers sitting next to you – but really, you won't find a bad seat in this cabin. I chose a window seat. At first glance, I could tell this was gonna be a comfortable ride back home.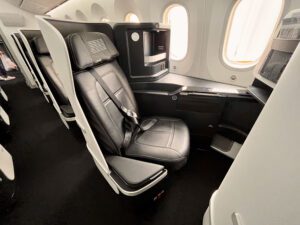 The middle row of seats is great if you're traveling with a companion. There is a privacy divider if you don't know your neighbor.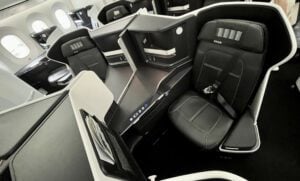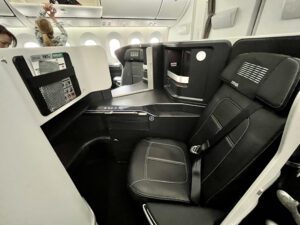 On my flight, they boarded all passengers seated on the right-hand side of the plane through the front boarding door – including economy. This meant if you were seated in a G or K seat, passengers were passing through the aisle next to you during the entire boarding process.
Economy passengers seated on the left-hand side of the plane boarded through the second boarding door, which was behind the business class cabin. This meant business class passengers with A or D seat assignments had a clear aisle during boarding. Luckily, I chose seat 5A and boarding was very relaxed and peaceful: I could get up and prepare for the flight as I pleased.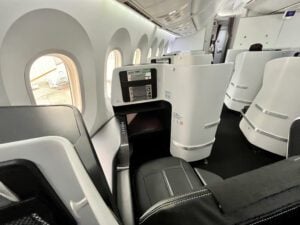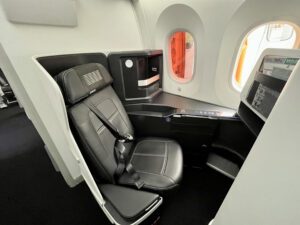 You'll find overhead lights and air vents at each seat – something you won't find on many planes crossing the Pacific. I found the cabin to be a comfortable temperature throughout the flight, a welcome change from the warm cabin in economy on my flight to Tokyo.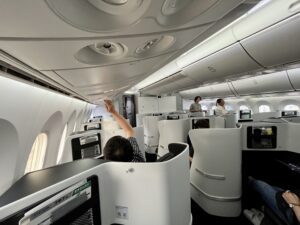 There are a total of seven lavatories onboard Zipair's 787 Dreamliner, most of which are located between the business and economy cabins. Since they don't technically differentiate between business class and economy, all passengers are free to use any bathroom on the plane.
Even though four of the lavatories were directly behind my row, I was not disturbed at any point during the flight. The bathrooms are basic, but clean and well-stocked. In true Japanese fashion, some of them even include a bidet. There also seemed to be a diaper-changing table in every lavatory.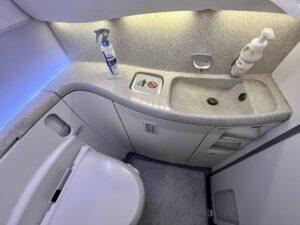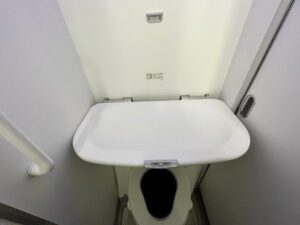 Zipair Business Class Full-Flat Seats
Zipair's full-flat business class seats are just as advertised: spacious and convertible to a 76-inch lie-flat bed. If all you're looking for is a comfortable ride and can skip all the bells and whistles, you won't find a better deal.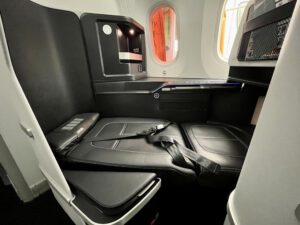 I was really impressed with how roomy these seats were. Being able to lay down and sleep during the overnight flight from Tokyo to Los Angeles made a world of difference compared to being cramped in economy on the way to Tokyo.
Each seat measures at 20 inches wide – not the widest by any means, but it still felt plenty spacious.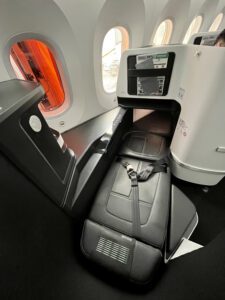 Between the normal seated position and full-flat mode, there's also a pre-set recliner mode if you just want to kick back and relax.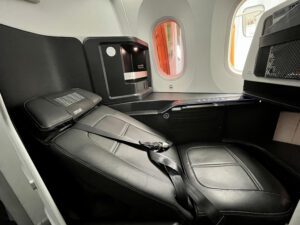 These three pre-set settings can be controlled by the touch of a button near your armrest.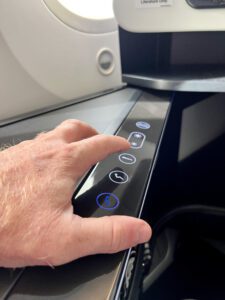 At your side closest to the aisle, you can lower or raise the armrest to your desired height.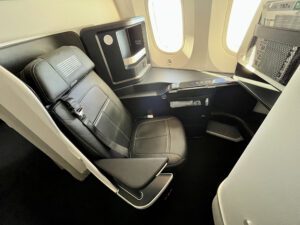 With 20 inches between the armrests and 42 inches of seat pitch, there's a ton of room to get comfortable in these seats.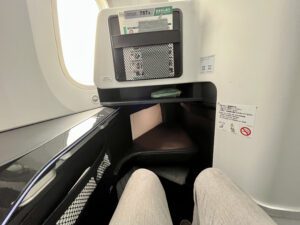 The footwell is quite spacious, which is great when it comes time to sleep. You can fully stretch your legs and still have room to move your feet from side to side without feeling trapped. That's not always the case with these kinds of business class seats.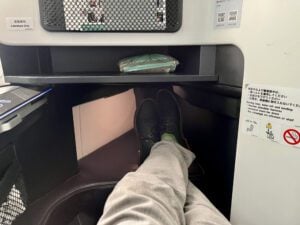 Some people may find the small lip on the floor to be a little annoying when seated in the upright position as it hinders your ability to extend your legs under the footwell. But overall, this is a very comfortable seat.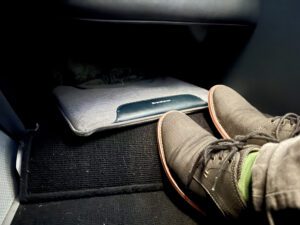 As for storage, there are several small compartments to keep your essentials near you during the flight. In front of you, there's a small area under the seatback pocket and above the footwell.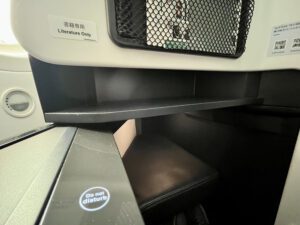 Speaking of the footwell, you can use also use it to store items when you're not lying down to sleep.

You'll also find a nice nook for storage next to the reading light. I mostly used this for my water bottle, blanket, and pillow.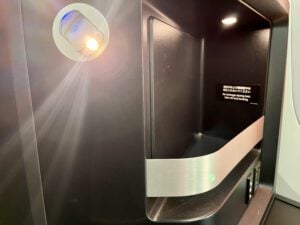 At your side, there is also a mesh pocket underneath where the tray table is stored to hold some essentials.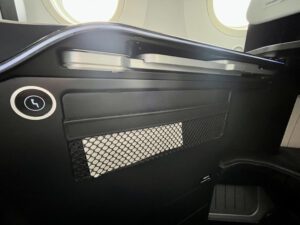 The tray table is large and sturdy. There were no issues holding the weight of my laptop.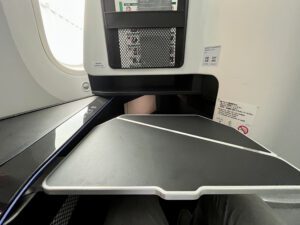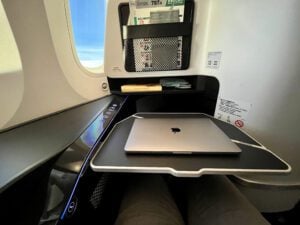 You'll find a universal AC power plug at every seat complete with a USB-A socket as well.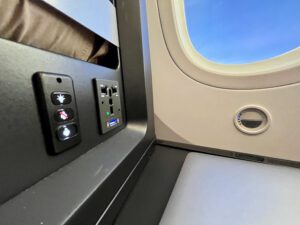 Like most Dreamliners, there aren't any physical window shades on this plane. However, you can dim or brighten your window by using the electronic push button settings beneath the window.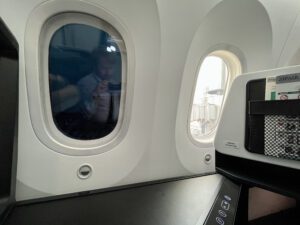 Amenities & Entertainment on Zipair
What you get when you purchase a Zipair full-flat seat is just that, the seat. Amenities are extra and entertainment is limited.
While other airlines typically give you plush bedding and amenity kits when flying up front, Zipair doesn't include any special amenities or entertainment for its business-class passengers. Instead, you have the option to purchase items such as a pillow or blanket.
I had purchased an amenity kit on my previous flight in Zipair economy on my way to Tokyo. That included a blanket, a pair of slippers, earplugs, an eye mask, and an inflatable air pillow.

Unfortunately, I forgot that kit at my hotel in Tokyo but the only thing I really found worthwhile in this amenity kit was the blanket. The inflatable neck pillow was not comfortable. I would definitely recommend bringing your own pillow when flying Zipair business class. The slippers and sleep mask were nice but not really necessary if you're paying extra.
Since I had my own pillow, I chose to just buy a new blanket onboard as soon as the inflight shopping opened when we were airborne. It's a quality fleece blanket and comes with a handy travel bag as well.

Just as in economy, there are no seatback screens in Zipair business class. This means it's a good idea to load up your electronic devices with some music and movies beforehand. If all you want to do is sleep, like I did, Zipair's full-flat seat is plenty comfortable for sleeping. You may not need any entertainment at all.
There is Wi-Fi onboard, which the airline says you can use to connect to the internet for free. But in reality, it only functions as a way to connect to its inflight shopping menu and stream movies from its very limited selection.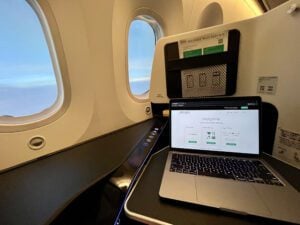 As I did on my economy flight to Tokyo, I tried numerous times to connect to the internet but could never get any website to load. One flight may be a glitch, but two flights without being able to connect to the internet leads me to believe that this is an ongoing problem. You'll still be able to stream movies since that doesn't require a connection to the internet, but you won't have too many options.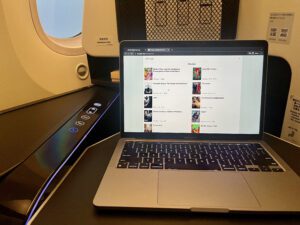 Zipair also says you can stream music inflight through Spotify. However, this feature would require a better internet connection. You'll likely just get a message that it "Can't play the current song" due to buffering issues.

Basically, you're not flying Zipair for its amenities or entertainment. You're flying this airline because it's cheap. Personally, I rarely use the airline's entertainment options when flying business class because I try to sleep as much as possible.
As far as amenities go, the biggest downside to flying Zipair business class is that they don't offer a quality pillow for purchase. This means you'll want to bring your own pillow or use a bulky sweatshirt as a makeshift pillow if you're trying to travel light. And pay the extra $10 for the blanket: It's worth it to get a good night's sleep on this 10-hour, overnight flight.
Zipair Business Class Service
Don't expect special treatment when you fly Zipair business class. Just as you'll find when flying economy, there's no scheduled inflight service at all. Instead, everything from water to inflight meals is purchased à la carte.
Since I had pre-ordered a meal when I booked my flight, it was delivered to my seat shortly after we hit cruising altitude. You'll need to show your boarding pass for verification.
I ordered the ZIP original Wagyu beef curry rice and a "Flowery Salad with 13 Various Veggies." I thought maybe I would have gotten these one at a time throughout the flight, but it all came at once. Thankfully, a bottle of water was included with the meal.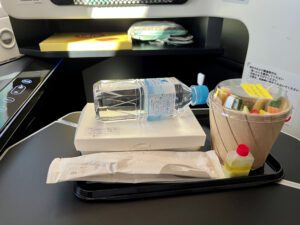 The beef curry dish did not present very well, but the sauce was surprisingly tasty. It was a much different experience than the chicken I had on my flight to Tokyo. While it was slightly more expensive, I'd recommend pre-ordering the beef curry if you're going to have a meal at all.
It's not fine dining by any means, but it was decent for airplane food.

I decided to order sparkling wine from the inflight menu for around $7 to go with my meal. It was way too sweet for my taste, making me instantly regret not choosing a beer instead.
The salad container folded out into a bowl, which was pretty efficient. I used the bottle of yellow dressing on the veggies, which had a little kick to it.
After eating through some of the peas, carrots, peppers, and apparently 13 different types of fresh vegetables, I noticed there was a lot of creamy dressing on the bottom. This made me think the slightly spicy yellow sauce may have been for the beef curry, but I'll never know for sure.

After I finished my meal, the flight attendants cleared everything very quickly. I'm sure the limited number of passengers in business class helps make this as efficient as possible.
For dessert, I had pre-ordered a box of banana-flavored Kit Kats. Japan is known for its novel candy bars. I can't say this sounded like the best combination, but I had to try it out.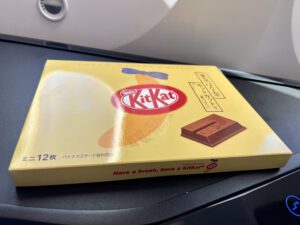 "Interesting" is a good way to describe them. I think I'll be giving most of these away, but it's worth trying something new if you've never tried them.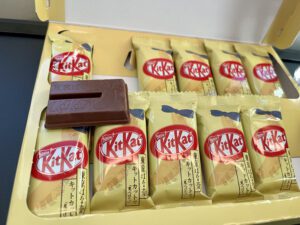 You can use the inflight shopping menu available through the Wi-Fi connection to purchase more drinks or snacks throughout the flight. It took me a while to figure out, but it's fairly straightforward once you get the hang of it.
There are QR codes at every seat to pull up the menu or you can just navigate there once you connect to the WiFi. The prices are surprisingly reasonable, too. If I wasn't so tired for this flight, I may have had to try some of those $3.50 beers.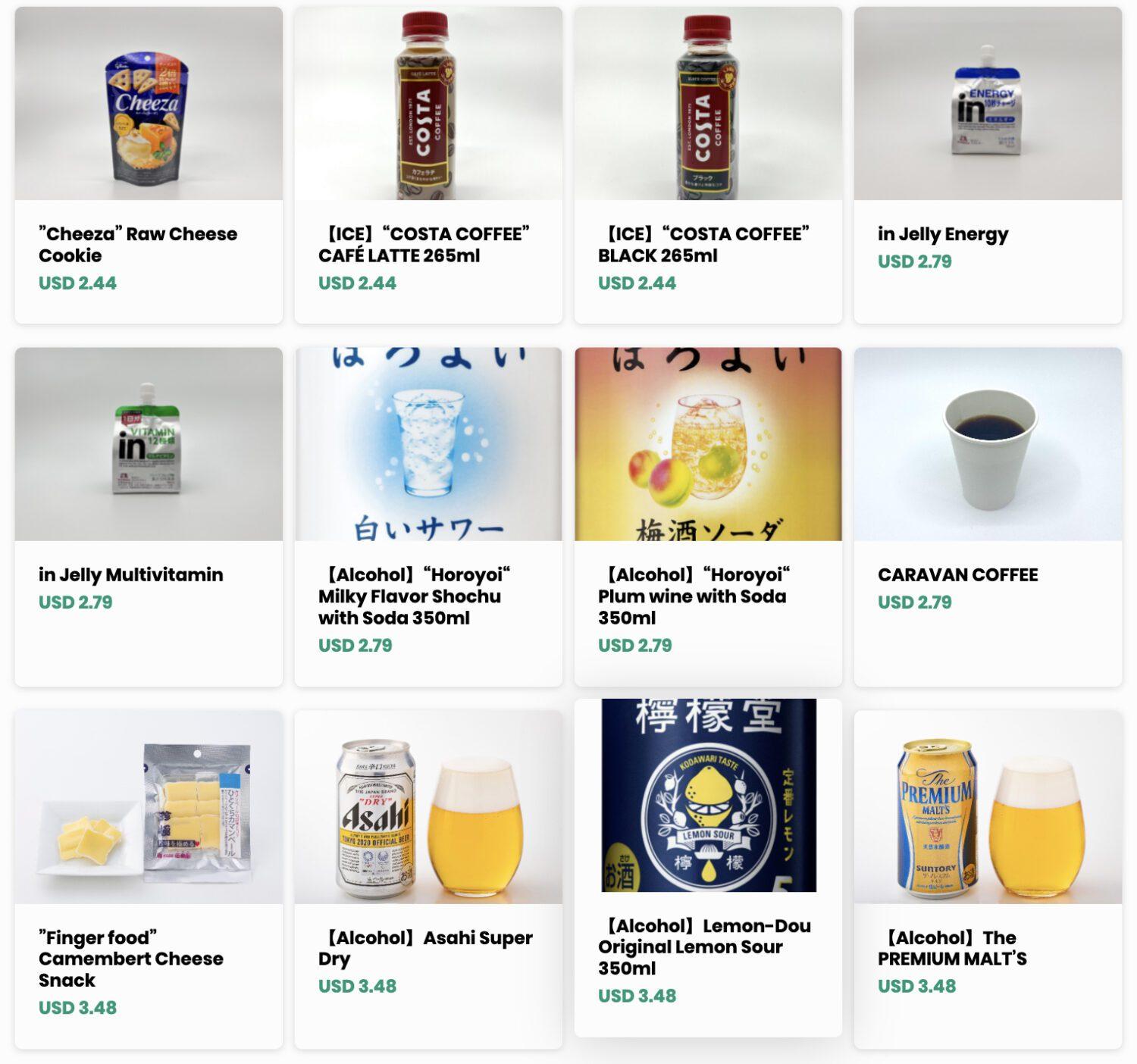 If you just want a light meal, there are a few different noodle soups to order. For a bigger meal, you'll have limited choices to order inflight so it's best to order in advance. For dessert, there's ice cream or cookies. And if you want to try Japan's famous sake, you can order that as well.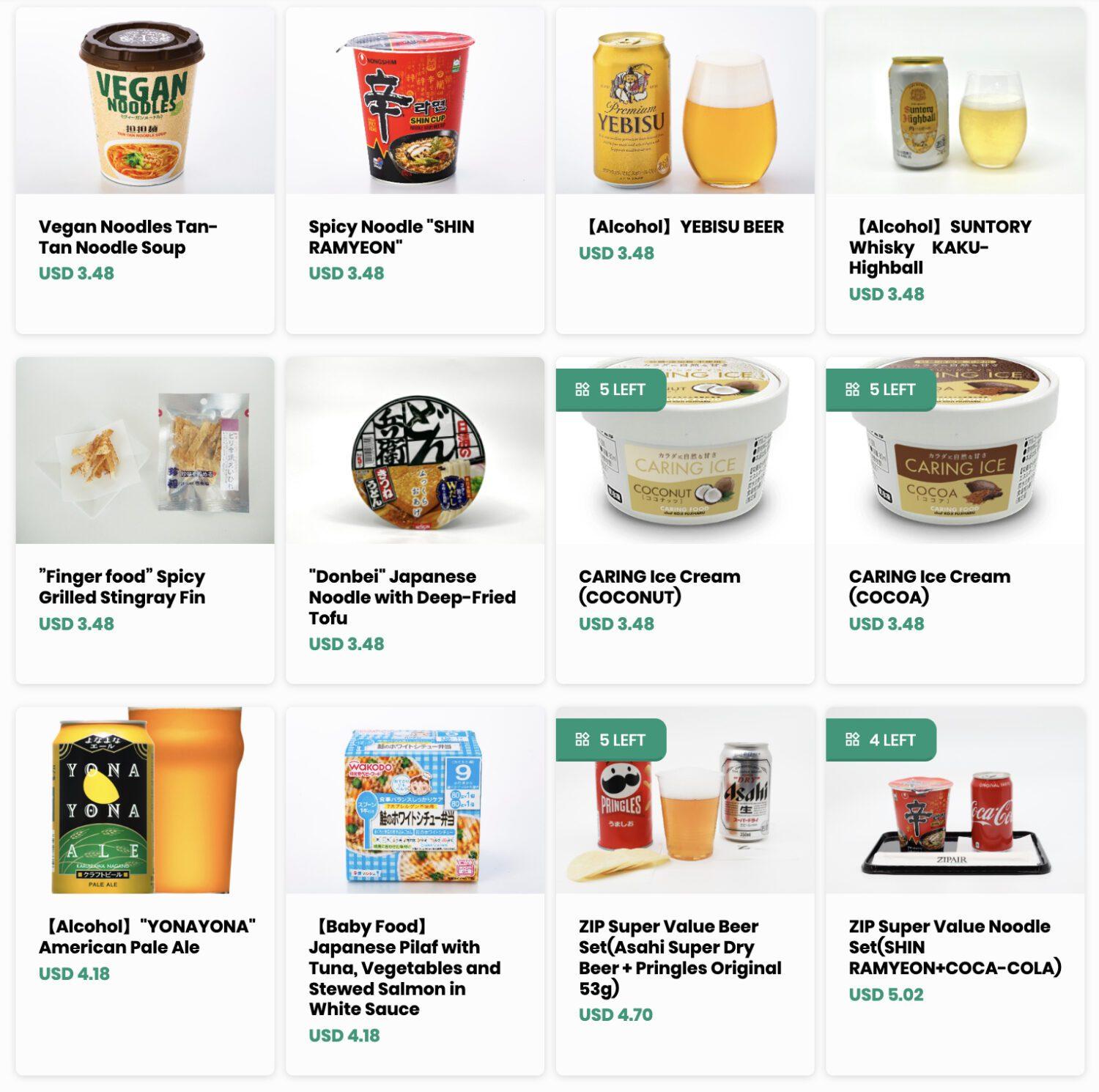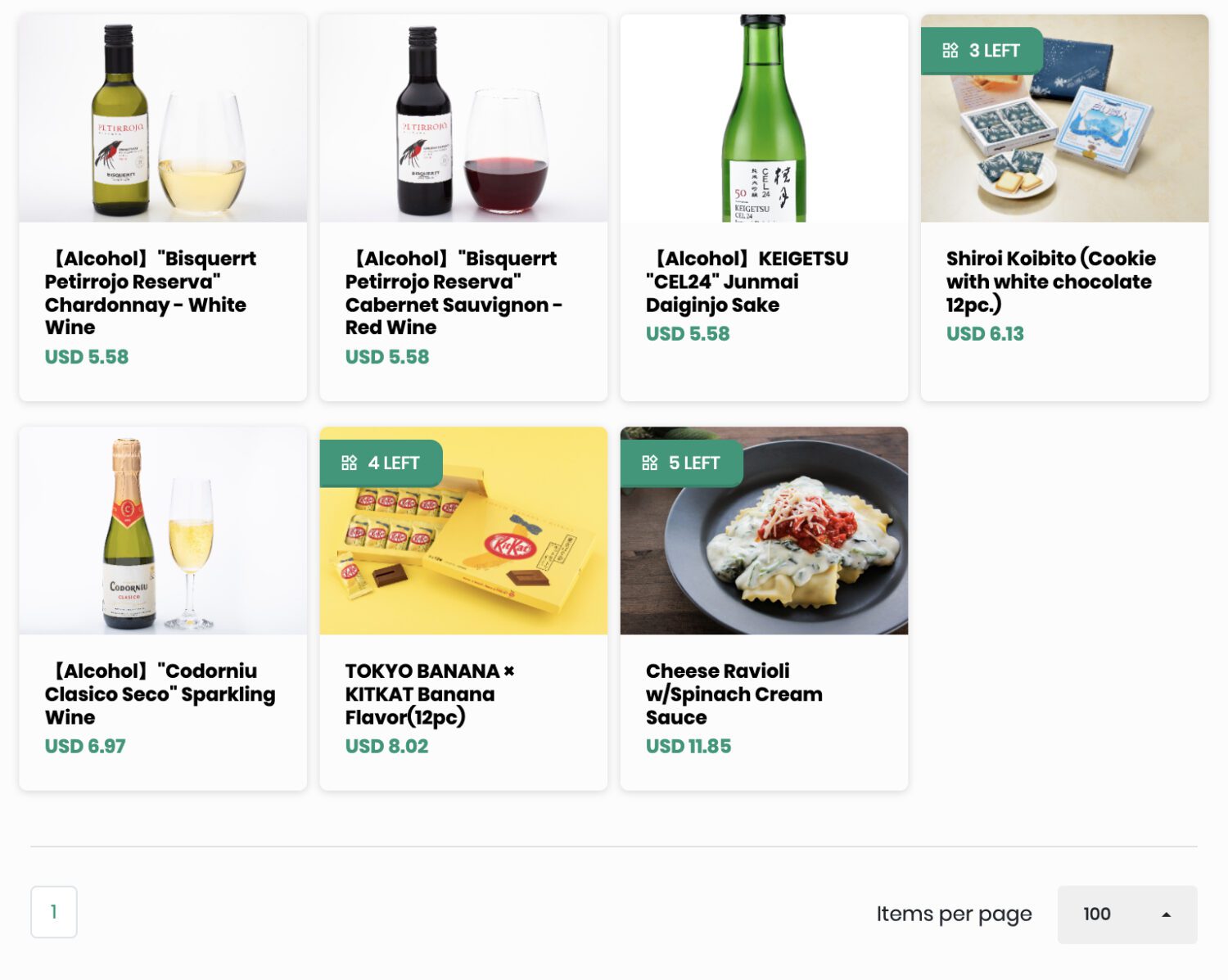 There were several more pages of food and amenities you could order inflight, including charging cables, headphones, and compression socks. Some of these items did run out of stock during the flight so you may want to check early if there's something you want to purchase.

After eating, I didn't order anything else and didn't use the inflight entertainment streaming at all. I simply made my bed and slept like a baby for the rest of the flight. I have to say Zipair's lie-flat bed was a lot more comfortable than I had expected.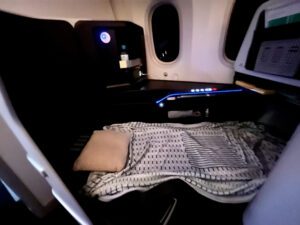 In fact, I'd say it's one of the most comfortable business class seats I've flown. That's saying a lot, considering the low-cost carrier typically charges less than half what other airlines charge.
Of course, you'll get a lot more service and better amenities when flying other airlines. But if all you're after is a chance to lie down for the long flight between Japan and the U.S., you can't beat Zipair's prices.

Bottom Line
Sometimes all you need is a lie-flat seat. Zipair's business class does just that … and nothing else.
I found Zipair business class to be surprisingly comfortable. Really, it could be a game changer for affordable business class fares to Japan. The inability to change or cancel your flights is a huge hangup, but that could be worth it for thousands of dollars in savings.
Just don't expect five-star dining, service, or any entertainment options in your cozy, lie-flat seat. And remember to bring a pillow.