Many popular travel rewards cards offer some level of car rental insurance coverage as a benefit. But what if you're renting through Turo rather than a traditional rental car company like Hertz or National? Are you still covered?
Turo, the Airbnb of rental cars, allows car owners to rent out their vehicles to you for your travels. Turo's carshare platform simply helps you skip the long lines at the airport, save time choosing a car, and avoid the high fees that traditional rental car companies charge. You even get the flexibility of choosing pick-up and drop-off methods.
If you hold a travel rewards card, you might get travel insurance that includes some level of rental car coverage when you use your card to book with the likes of a traditional rental car agency. Since Turo is a car-sharing platform, that means your Turo rental may not be eligible for that benefit.
Read on to find out if your Turo rental is covered by your credit card's car rental insurance – and what to do if it's not.
How Does Turo Work?
Think Airbnb … but for your car rental.
Car owners post their vehicles on the Turo platform which can then be rented by users in need of a car. You can skip the long lines and high fees at the car rental kiosks at the airport. The Turo website and smartphone app allow you to select your car type, dates, features, and amenities.
Best of all, you handle almost everything through the Turo app or site: Messaging with the owner, finalizing pickup and dropoff locations, and more.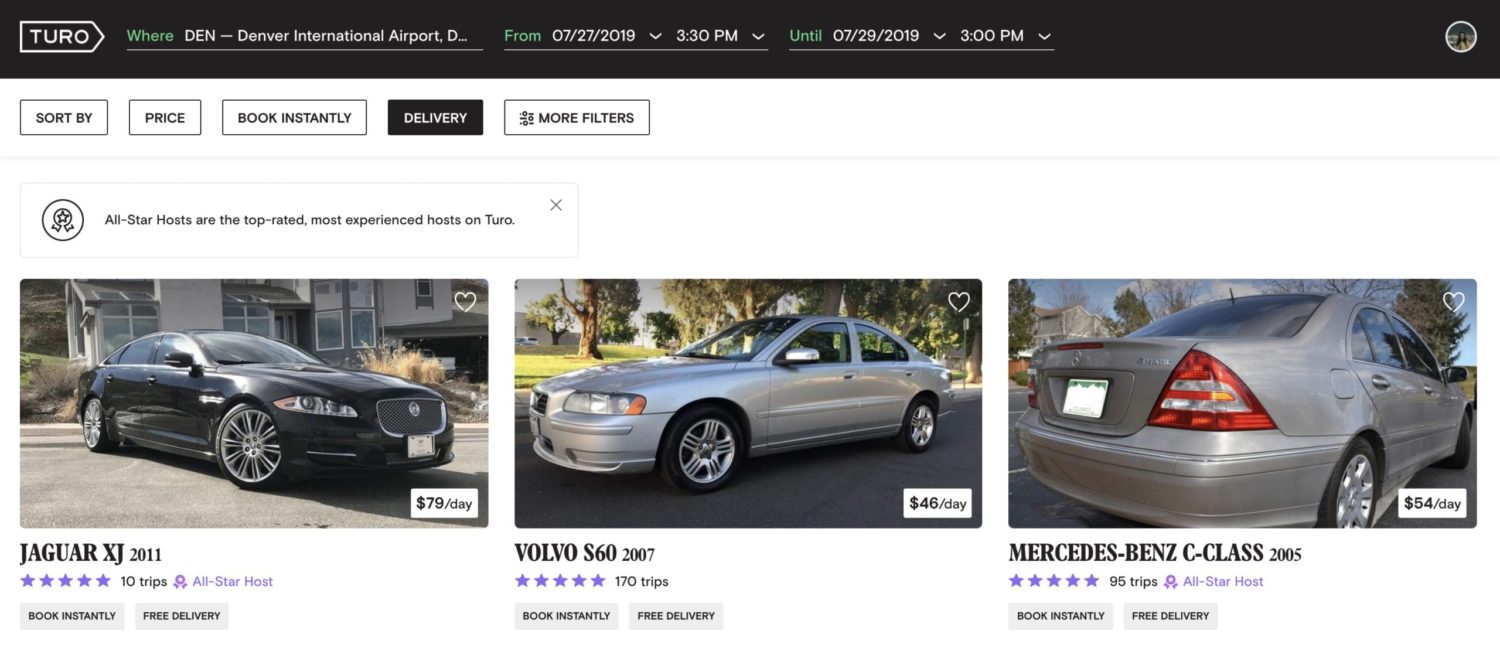 Many rentals will drop off the car for you at the airport where you've arrived, while other owners require a pickup within a set radius. Need the car at the airport? Look for the plane icon and filter your results. Some owners will tack on a delivery fee, which can be hefty. You can filter the results to eliminate any rentals with large delivery fees.
In our experience, this often means your entire rental is contactless. You can get your wheels and drop them back off at the airport without even meeting the owner face-to-face. Turo now even allows you to filter for rentals that offer the ability to unlock your rental from the app itself.
Book a cheap car for a road trip to a national park or rent a Tesla for the night for a luxurious ride on your weekend getaway. The quantity – and quality – of the cars can vary widely based on where you're heading. But from Teslas to Ferraris to Jeep Wranglers and Polaris Slingshots, you'll often find vehicles available that you simply can't find on a major car rental company lot.
Read our full guide on how to rent a car through Turo!
Does Your Credit Card Insure Your Turo Car Rental?
No matter how you're renting a car, you should always have some insurance or coverage. Turo is no different. Unfortunately, most policies that you'll get through popular travel rewards credit cards will not trigger rental car coverage on your Turo car rental. That's typically only an option when renting from established rental car agencies.
Turo even addresses this on its own website, stating that it's unlikely your credit card would cover your Turo rental since Turo is a "peer-to-peer car-sharing platform," and not a rental car company.

Let's dig into the travel insurance benefits of four of the most popular travel credit cards to see if they cover your Turo reservation.
Chase Sapphire Preferred® Card
When it comes to the best credit cards offering travel insurance protection, you won't find a cheaper option than the *chase sapphire preferred* with an annual fee of only $95. By booking your rental car with your Sapphire Preferred Card, you can decline the rental car agency's collision damage waiver (CDW) and receive primary car rental insurance coverage for damage or theft. That means any insurance claims would go directly to the insurance company provided, bypassing having to go through your own.
Generally speaking, you'll be covered for any physical damage or theft, up to the cash value of the vehicle. But not if you rent through Turo.
According to the Sapphire Preferred benefits guide, "vehicles that are not rented from a rental agency" are not covered by this benefit, meaning Chase's primary car rental insurance coverage would not extend to your Turo car rental. 
Read more about the Chase Sapphire rental car insurance benefit!
Learn more about the *csp*.
Chase Sapphire Reserve®
You'll get the same rental car insurance coverage benefit with the *chase sapphire reserve*, albeit for a much higher $550 annual fee than the Sapphire Preferred. 
Regardless, it's the same deal when it comes to covering your Turo rental. You'll be on the hook for any physical damage or theft through your personal insurance since Chase's primary rental car insurance coverage only covers cars booked through a traditional rental car agency and not those rented through a car-sharing app like Turo.
Learn more about the *chase sapphire reserve*.
Capital One Venture X Rewards Credit Card
The *venture x* has quickly built a reputation as one of the best travel rewards credit cards on the market since its launch last November. And for good reason.
With an annual fee of just $395, it is drastically cheaper than its primary competitors, the *chase sapphire reserve* which has an annual fee of $550, and *amex platinum* which has an annual fee of $695 (see rates & fees). And while it might get buried underneath the allure of big points bonuses and travel perks like lounge access, the Venture X travel insurance coverage you get with your card is sneaky good and shouldn't be overlooked.
Like the Chase Sapphire Preferred and Reserve cards, by booking your rental car with your Capital One Venture X Card – or the miles you earn with the card, you can decline the rental car agency's collision damage waiver (CDW) and receive primary car rental insurance coverage for damage or theft. By declining the coverage offered by the rental agency, you can save yourself quite a bit of money. Generally, you'll be covered for any physical damage or theft, up to the cash value of the vehicle – with no cap.
Again, since Turo is not a rental car agency like Hertz or National, any vehicle you book through the platform would likely not be covered by your Capital One Venture X card's car rental insurance benefit, per the terms.
Read More about the Capital One Venture X rental car insurance benefits
Learn more about the *venture x*.
The Platinum Card® from American Express
The *amex platinum*, with an annual fee of $695, it's easily the most expensive card on this list, but comes with the lowest level of rental car insurance coverage.
If you are booking a car rental on your Amex Platinum Card, it's important to understand the Amex Platinum card comes with complimentary secondary car rental coverage – assuming you use your card to cover the cost of the rental. If you get into an accident or your car is damaged, with secondary coverage, you'd have to file a claim with your personal insurance policy before turning to your credit card company for help.
That means you'll have to pay your deductible – and your auto insurance premiums will likely go up, too. With primary car rental coverage, you are able to skip your own policy and file a claim directly with the policy issuer. You simply don't get to do that with the Amex Platinum Card.
Regardless, Amex's terms and conditions explicitly state no coverage is provided for "vehicle sharing or peer-to-peer arrangements which allow individual owners to rent personal vehicles," which means your Turo rental is excluded from this benefit. 
Learn more about *amex platinum*.
Other Insurance Options for Your Turo Rental Car
Even if your travel card doesn't cover your Turo rental, your personal car insurance policy might. But don't assume! Check with your insurance provider to see whether that coverage will apply to your Turo rental.
Otherwise, it may be worth purchasing an insurance policy through Turo for your rental. Turo typically offers three options: minimum, standard, and premier coverage. Here's a quick breakdown of what each plan entails, but be sure to read through them all on Turo's website.
The costs vary based on which plan you choose and the cost of the rental, as it's a percentage of your rental cost. Generally speaking, you should expect to pay at least an additional $10 per day for the cheapest, minimum coverage and closer to $30 a day for a broader premier policy. If you're renting a pricier car, the costs could go up considerably.
For example, a standard policy on a weeklong rental of a fairly cheap Nissan sedan in San Diego this fall costs an additional $12 per day.
Bottom Line
It's important to be in the know about how you are insuring yourself when operating a motor vehicle. Regarding Turo bookings, the company has addressed this issue on its website.
Although travel reward credit cards are some of the best travel tools in the game, they simply do not replace your personal insurance plan in the event of an accident. In the case of Turo bookings, it is likely worth paying a little extra for a Turo insurance plan to protect yourself and avoid personal liability.