It's not always bad news when a bank makes changes to its credit card benefits. One such new benefit just helped my family save $350 after dropping and breaking a cell phone.
Back in April, American Express added cell phone protection insurance to many of their best U.S. consumer and small business travel credit cards, from the top-of-the-line Platinum Card® from American Express to even some co-branded credit cards like the Delta SkyMiles® Platinum American Express Card. Just by paying your wireless phone bill with one of these cards, you'll be covered in the event of damage – including cracked screens or even if your phone is stolen.
American Express will reimburse the cost of repair or replacement for up to two approved claims for a maximum of $800 per claim or $1,600 over a 12-month period. Coverage for a Stolen or damaged Eligible Cellular Wireless Telephone is subject to the terms, conditions, exclusions, and limits of liability of this benefit. Each claim is subject to a $50 deductible. Coverage is limited to two claims per Eligible Card Account per 12-month period.
On paper, this all sounds great. But what is the experience like in practice? Do they make you jump through a crazy amount of hoops to get compensated? When my father-in-law dropped his cell phone and the screen shattered last month, we had a chance to give this new coverage a try since I pay our joint phone bill on my Business Platinum Card® from American Express.
Here's how it worked. Spoiler alert: I was impressed.
Filing A Phone Insurance Claim with American Express
After my father-in-law's phone shattered and broke, I remembered I had switched my phone bill to my Business Platinum Card for just this reason. After reading through the terms of the cell phone insurance coverage, I called the number on the back of my card.
Within a few minutes, the American Express representative confirmed that I should be eligible for insurance coverage and started a claim for me. Within about five minutes, I had an email from AIG Claims – the company that handles this coverage for American Express – with a claim number and all of the instructions on what I needed to do to proceed with my claim.

To move forward, I needed to reply to the email with the following information for AIG:
My Amex billing statement to prove that I used my Business Platinum Card to pay my phone bill in the month prior to the incident (which was October 2021).
My wireless phone bill. I needed to provide my bill for the current month (November), and the prior month (October) to prove that my father-in-law's phone number was associated with my wireless service account.
Receipt of the purchased cellular phone. Since my father-in-law had already purchased a replacement device, I needed to provide a receipt for that transaction.
A Repair Estimate for the damaged phone. Being my father-in-law's phone was damaged and not stolen, AIG required a repair estimate to see if the phone was salvageable.
Claim Forms. There were a few attached forms to the initial email that were mostly just administrative. In total it took about 10 minutes to fill these out.
AIG's Phone Insurance Resolution
After gathering all of these documents, I submitted them in an email reply on Dec. 6. A few weeks passed and I had not heard anything – in fact, I had pretty much forgotten about the whole thing.
Then on Dec. 22, AIG responded to my email claim with the following message: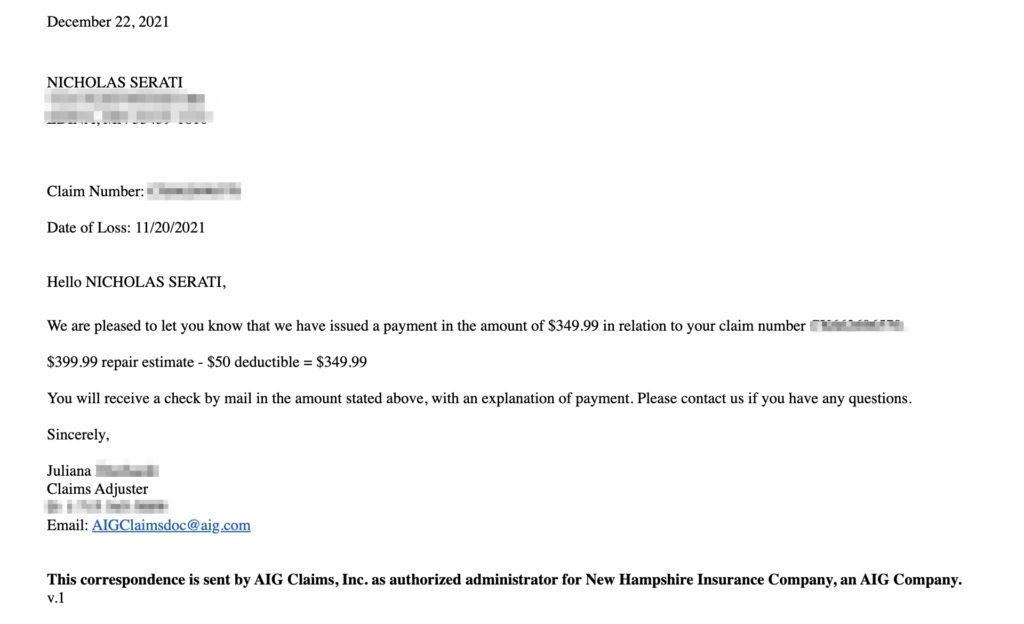 Since the repair estimate for my father-in-law's old phone came in at $399.99, AIG paid out that amount of money after subtracting the $50 deductible. Since his phone was over five years old, it would have made little sense to actually repair the device – a brand new phone only cost him $600.
If it had been determined that the phone was not repairable, it's likely that the claim amount would have covered the entire $600 purchase – again, minus the $50 deductible. Remember, Amex's coverage covers up to $800 per claim.
Either way, the process was much easier than I was expecting. Best of all, my father-in-law got $349.99 back in his pocket after buying a brand new Samsung Galaxy S21 for $600.
Things to Consider
As great as this sounds, there are things you will want to consider before rushing to change your payment method on your wireless phone bill to a credit card that provides insurance protection.
First and foremost, if you are a Verizon wireless customer, you'll get a $10 discount each month if you set up auto-pay and pay with a bank account or debit card. That mean's to pay with a credit card, you'll pay an extra $120 a year for your wireless service bill.
To my knowledge, Verizon is the only major wireless provider that does this. At $10 a month or $120 a year, it may be worth it for phone insurance coverage. Still, it's something to be aware of.
It's not all bad news, though. Thanks to some recent updates to the Business Platinum Card, it now provides a $10 monthly credit ($120 each year) for paying your phone bill with the card. If you have the card, that can easily offset your fee if you are a Verizon customer.
Next, if you already have some sort of insurance protection on your device, whether that's from the wireless service provider or from the phone manufacturer (like AppleCare), this insurance won't be valid. Claims will only be paid out if you don't have pre-existing coverage.
What Credit Cards Offer Cell Phone Insurance Protection?
As mentioned above, American Express added this as a card benefit in April. The following cards from Amex include this benefit.
Centurion Card from American Express (invite only)
Business Centurion Card from American Express (invite only)
But American Express isn't the only bank offering this type of mobile device protection.
The brand new Capital One Venture X Rewards Credit Card offers the exact same insurance protection as the American Express cards mentioned above. You'll get reimbursed the cost of repair or replacement for up to two approved claims for a maximum of $800 per claim or $1,600 over a 12-month period.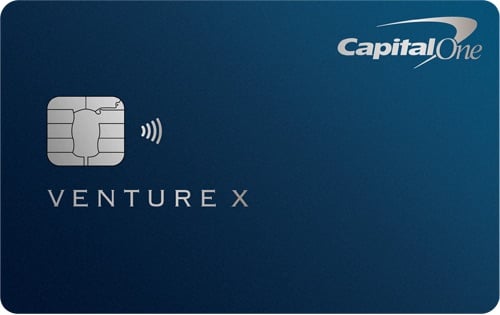 Click Here to learn more about the Capital One Venture X Rewards Credit Card
Chase Bank also has a few cards offering cell phone insurance protection. The Chase Ink Preferred Credit Card will offer $1,000 per claim, with a maximum of three claims in a 12 month period with a $100 deductible per claim.
Then there is the Chase Freedom Flex. A no annual fee card that offers up to $800 per claim and up to $1,000 a year for phone protection coverage. You can make a maximum of two claims in a 12-month period.
Bottom Line
There are a number of credit cards offering cell phone protection insurance. It's a benefit I really hadn't thought about until I had to use it.
And by putting in about 30 minutes worth of work, our family is getting $350 back in our pockets simply by paying our wireless phone bill with my Amex Business Platinum Card.