Need a flight home for Turkey Day? Data shows that time is running out for you to get a good deal on Thanksgiving flights.
Thanksgiving is under two months away, and travelers will certainly be taking to the skies in full force to see friends and family again this year. That means prices are far more likely to go up than down the longer you wait to book a flight home for the holidays.
Look, flight prices are unpredictable – they're constantly changing, minute-by-minute. Just like there's no best day to book flights, there's no ironclad rule on how far in advance you should book no matter when or where you're traveling. But Google Flights has some solid data based on crunching five years of airfare that backs us up here.
That data shows that the lowest prices for Thanksgiving are typically found 36 to 74 days before departure, with prices generally bottoming out about 52 days beforehand.
52 days before Thanksgiving this year is…today! That's right, Oct. 2 is the day Google Flights says is your best bet at getting a Thanksgiving flight this year. If you can't get your flights booked today, the data says you have about three more weeks before your cheap flight window slams shut.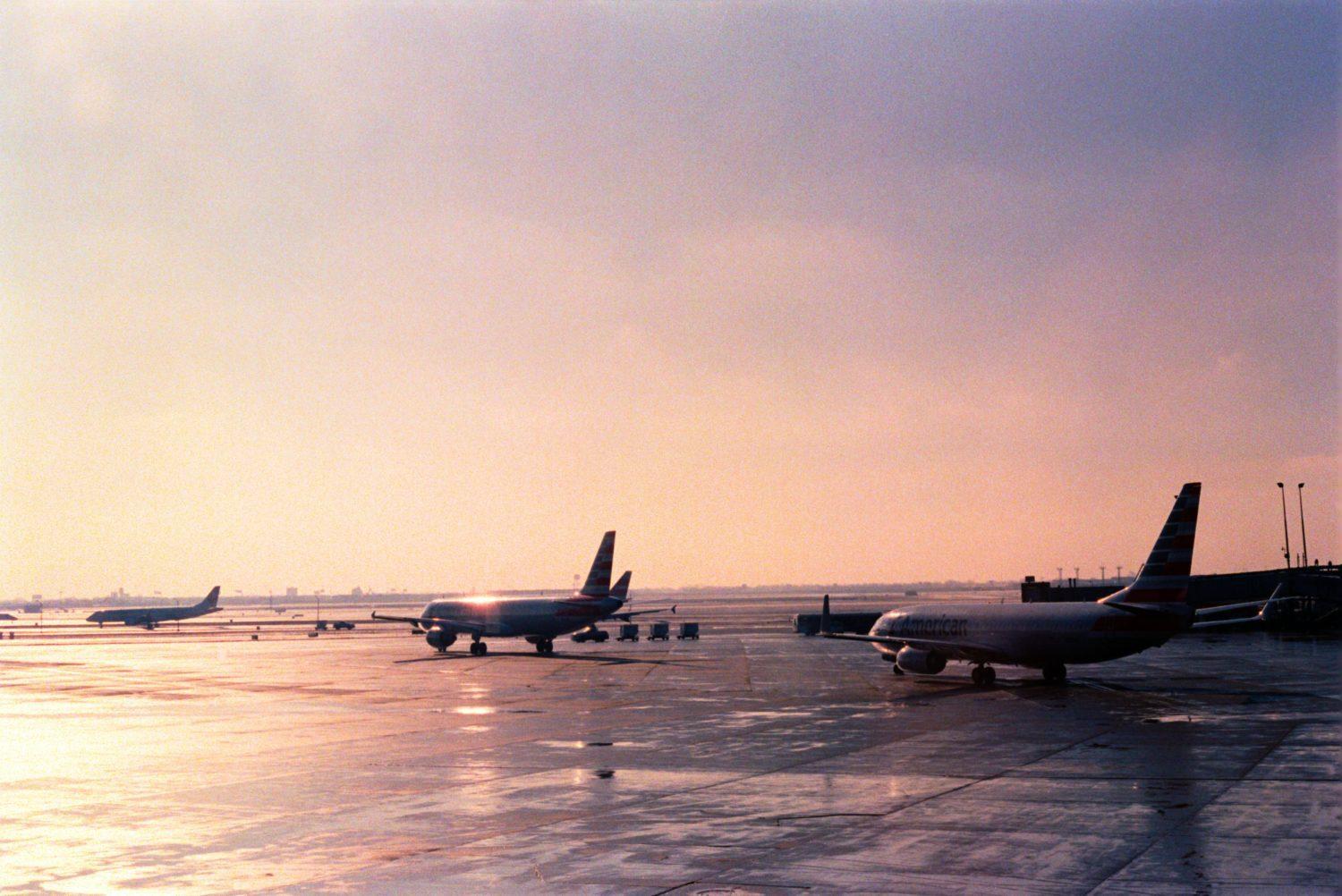 At the very least, we'd urge you to set a Google Flights Price Alert for your Thanksgiving travel plans – and do it right now – so you get an alert when prices drop or increase. That could give you a critical heads up on when it's time to book flights.
Thrifty Tip: Make sure you're booking at least a standard economy ticket – not a stingy basic economy fare. That way, if prices do decrease after your purchase, you can rebook your flights and pocket the difference as an airline voucher.
But there may be even better ways to save on your flights home for Thanksgiving…
Tips to Save on Thanksgiving Flights
If you haven't yet booked airfare for late November, you need to read this quick list of tips. It could save you hundreds on flights.
Shift Your Travel Dates (A Bit)
We have a rule here at Thrifty Traveler to save on airfare. It's called The Flight First Rule.
And it's exactly what it sounds like: Rather than locking in your travel dates at the outset, start by searching for flights, letting the price guide you to the cheapest dates possible. This principle is even more powerful around busy holidays like Thanksgiving.
We know you want to fly out on Wednesday and return on Sunday … but so does everyone else – and the airlines know it. They're some of the busiest travel days of the entire year, so those Wednesday-to-Sunday itineraries are almost always the most expensive fares you'll find over Thanksgiving week.
For example, travelers looking to fly from New York City to Minneapolis-St. Paul (MSP) on Wednesday, Nov. 22 and return Sunday, Nov. 26 are currently seeing roundtrip fares of…*gulp*… $848 roundtrip – or more.
But what if you give yourself a bit of flexibility? Many Americans have more freedom to work remotely these days. So if you leave on the Monday before Thanksgiving and return on Friday instead, you can cut those fares in half.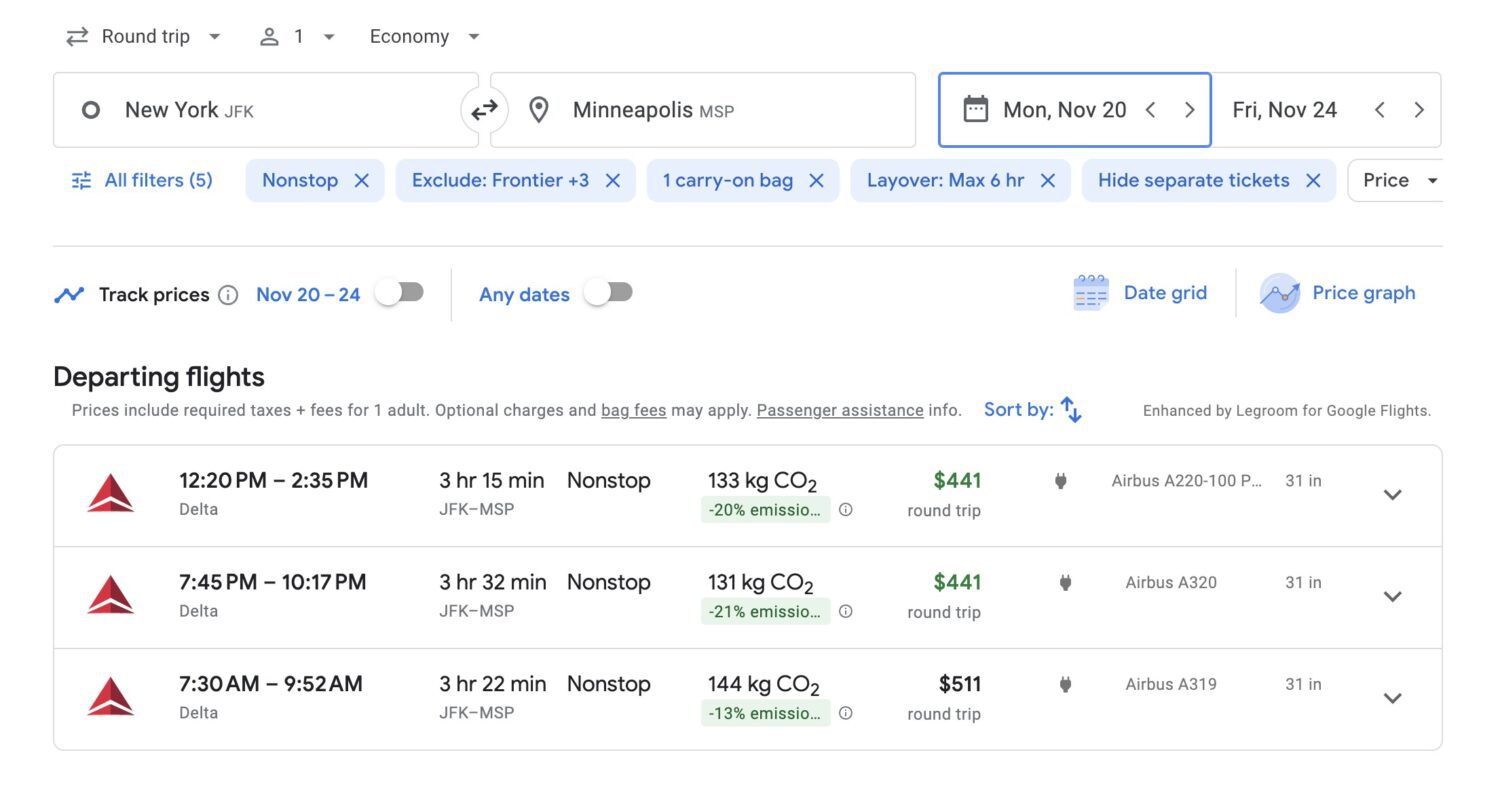 This may well not work for everyone's work and personal schedule, but it showcases the power of flexibility when flying over Thanksgiving. And while this is just one example, the same pattern plays out whether you're flying from New York to Chicago, all the way across the country to rejoin family for Turkey, or in and out of small towns nationwide.
Use Google Flights
Forget Expedia, Kayak, Skyscanner, and Hopper. No matter when or where you're traveling, Google Flights is the best search platform out there. But for expensive holiday travel, its powerful features to help you find the cheapest fare make Google Flights invaluable.
Its easy-to-navigate interface includes a calendar function, showing dates in green that offer the cheapest fares.
Google Flights will even give you a pop-up alert if shifting your dates will save you money.
You can quickly filter by airline, flight times, nonstops or one-stops, and more to see only the flights you want
Google Flights Price Alerts can help you track prices on your route, booking when prices drop.
Google allows you to search to and from up to seven airports at once, casting a wide net to find the best deals
Flying in or out of cities with multiple airports like New York, Washington, D.C., or Chicago? Just type in the city name and Google Flights will display results from all of them.
Read our full guide with everything you need to know about using Google Flights!
Try Google Flights Explore for a Thanksgiving Getaway
Not trying to get home for Thanksgiving? Have your eyes set abroad instead? You're in luck.
While flying within the U.S. tends to get pricey over Thanksgiving week, it's one of our favorite weeks for international travel thanks to a steady stream of cheap fares as other nations skip the turkey. We've sent a slew of amazing deals for a Thanksgiving trip to our Thrifty Traveler Premium members in recent weeks, including flights to Amsterdam and Paris from $480 roundtrip, Switzerland from $508 roundtrip, nonstop to Argentina from $651 roundtrip, nonstop to Tahiti from $575 roundtrip, and more.
Plus, you could escape to Europe in style with this Air France/KLM Flying Blue Premium Economy flight deal we just sent last week.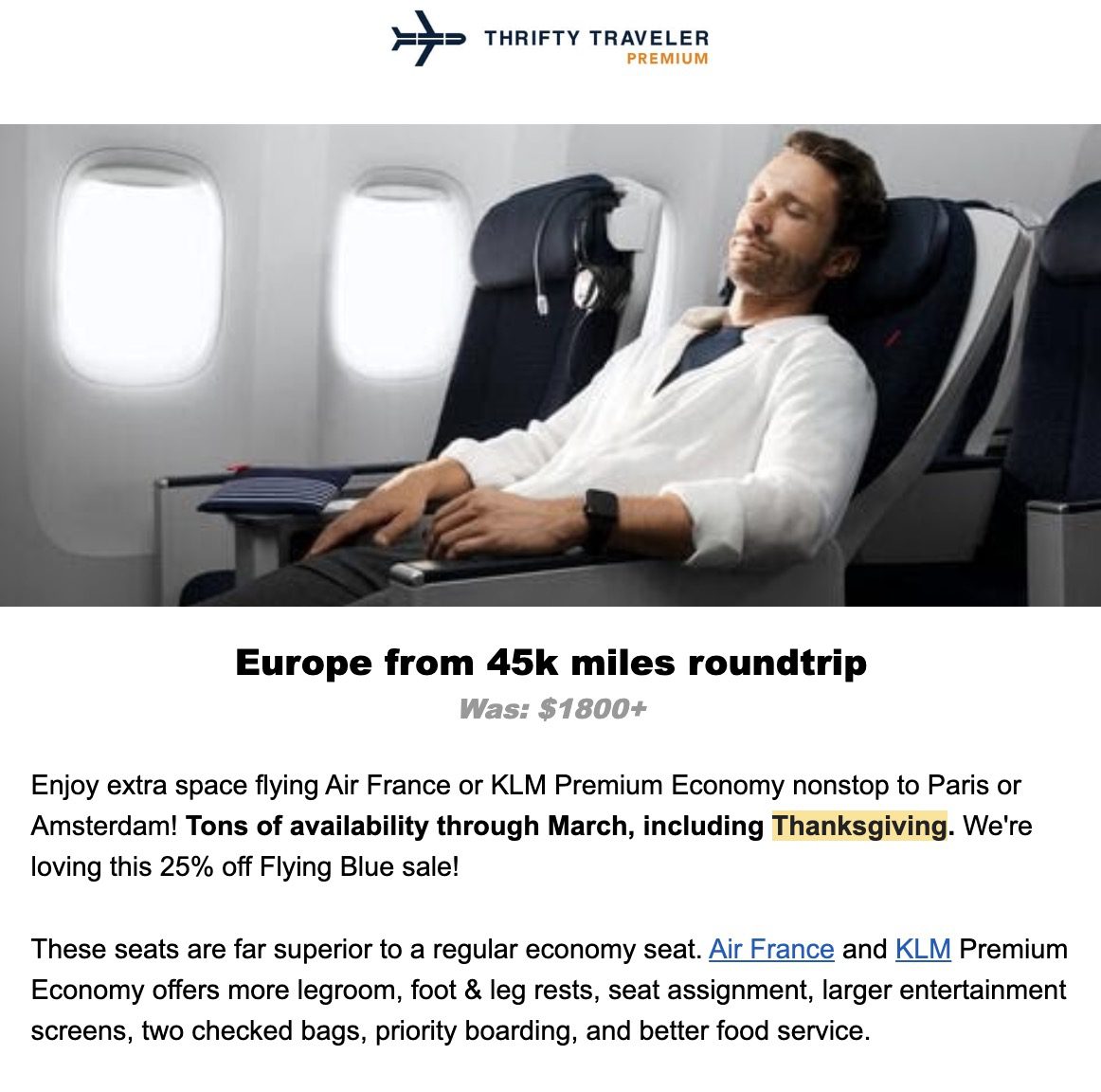 But if you're starting from scratch and just want a late November getaway wherever your dollar will get you farthest, we've got the tool for you. Yes, it's back to Google Flights … kind of.
It's Google Flights Explore, a little-known tool in the web behemoth's repertoire that can help you find the cheapest destinations when you don't care where you're heading.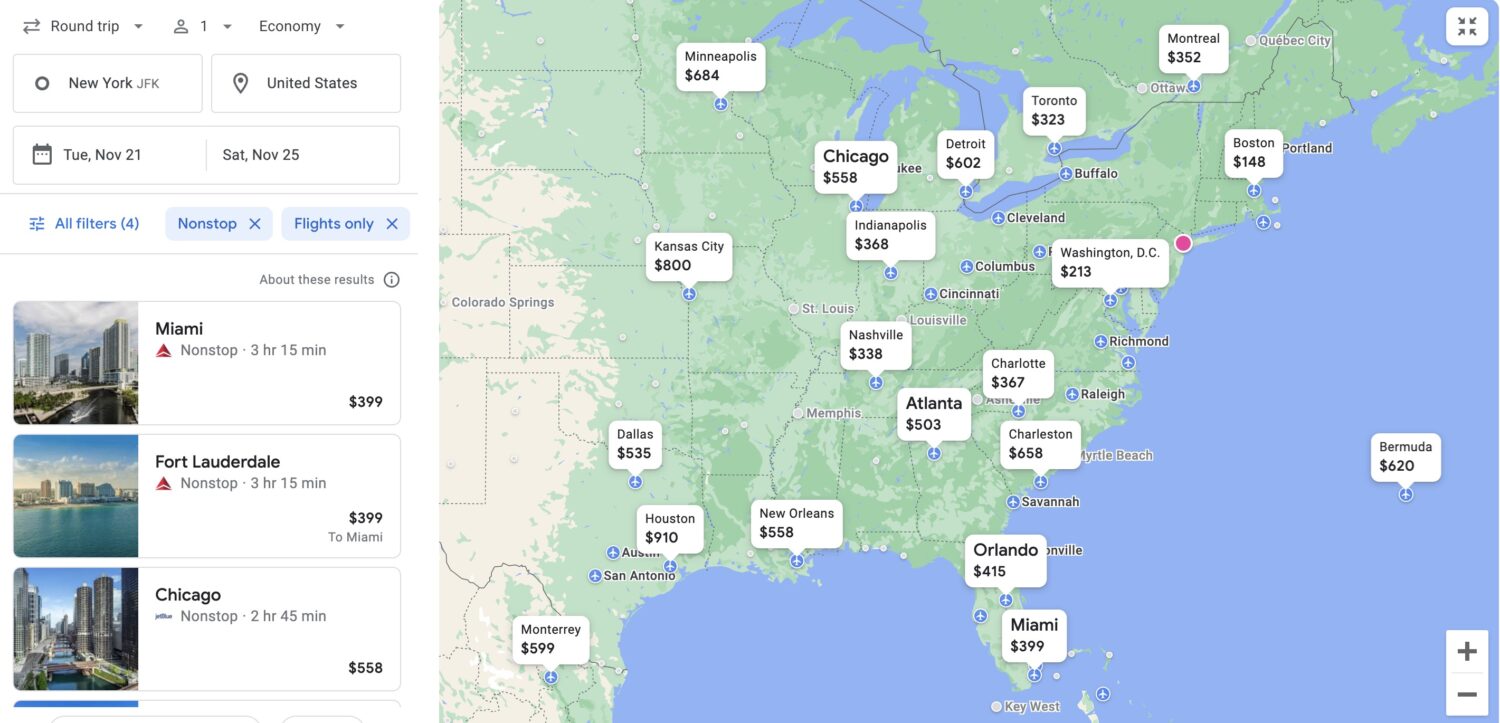 Here are some tips on how to use Google Flights Explore:
Enter your departure city and a destination as specific (or as broad) as you want to check out. California, United States, Europe, South America – they'll all work.
Select the dates you'd like to travel or select flexible date guidelines. Play around with travel dates, as pricing can greatly fluctuate – and keep it broad if you can.
Move the map around to see new destinations and prices.
Once you find a destination that you'd like to explore further, click the name of the city, then "View Flights" and it will populate the search information with flight options and additional details.
If you see a fare in the color green throughout Google Flights, know that this is showing you the lowest airfare for the dates or duration you are seeking.
Read our full guide to using Google Flights Explore!
Bottom Line
Thanksgiving might still be nearly two months away, but the time to book those flights is now – like, right now.
Get ahead of the curve and book your flights before prices go up. Trust us: Those fares aren't likely to drop the longer you wait.