The days of jumping from your Google Flights window to a separate Southwest Airlines search to compare flight prices are a thing of the past – at least for now.
A brand new Google Chrome browser extension called Wanderlog solves that pain point by discretely pulling in Southwest fare data into almost every Google Flights search. Add the free plugin to your Chrome browser, wait a few extra seconds after fares on other airlines have popped up, and voila: Where "price unavailable" once was, you'll now see fares from Southwest, too.

This new and incredibly powerful plugin was created by the same team behind the Wanderlog travel planning app, hoping to simplify the flight search process and solve one of the few drawbacks of using Google Flights to find airfare. But turning Google Flights into even more of a one-stop-shop for flights could ruffle feathers down in Dallas.
By design, Southwest doesn't list its fares from almost any flight search platform – from Google Flights to Expedia and Kayak and even smaller online travel agencies – preferring to force customers to Southwest.com every time. Peter Xu, Wanderlog's co-founder who helped create the tool, admitted in an interview with Thrifty Traveler that they hadn't gotten the all-clear from Southwest, let alone even spoken with the airline.
But he and the Wanderlog team are cautiously optimistic that Southwest will be OK with this tool … and if they're not, the way the extension works will leave Southwest with little recourse to shut it down, he said.
"We love using Southwest. We think they're one of the most consumer friendly airlines out there these days," Xu said. "This is really what people are already doing. The data is just going between Southwest and your browser, just as if you were browsing. It's really technically no different."
How to Use the Wanderlog Extension for Southwest Flights
Wanderlog has made its name for its travel planning app, allowing users to share notes and maps and ultimately, make travel easier.
Xu sees this tool as a natural extension of that goal while solving a major headache … including his own. Google Flights is his go-to site for finding flights and missing Southwest is a pain – particularly in California where he lives.
"Missing Southwest, especially here in the U.S., is probably the biggest annoyance with it," he said.
Enter the Wanderlog browser extension. Built in a matter of just a few weeks, it's now available through the Chrome Store. That means you'll need to use a Google Chrome Browser to make it work.
Just head to the Google Chrome Store and search for "Wanderlog" or just head straight to the Wanderlog extension page. Click "Add to Chrome" and you should be set.

Once it's up and running, open up a Google Flights tab and start searching for flights. For now, you'll need to be sure to enter specific airport codes and not city names, though Wanderlog is working on fixing that in future updates.
Once you hit search, everything should look normal … until you see that red box in the lower right corner from Wanderlog showing that it's working on finding Southwest flight prices.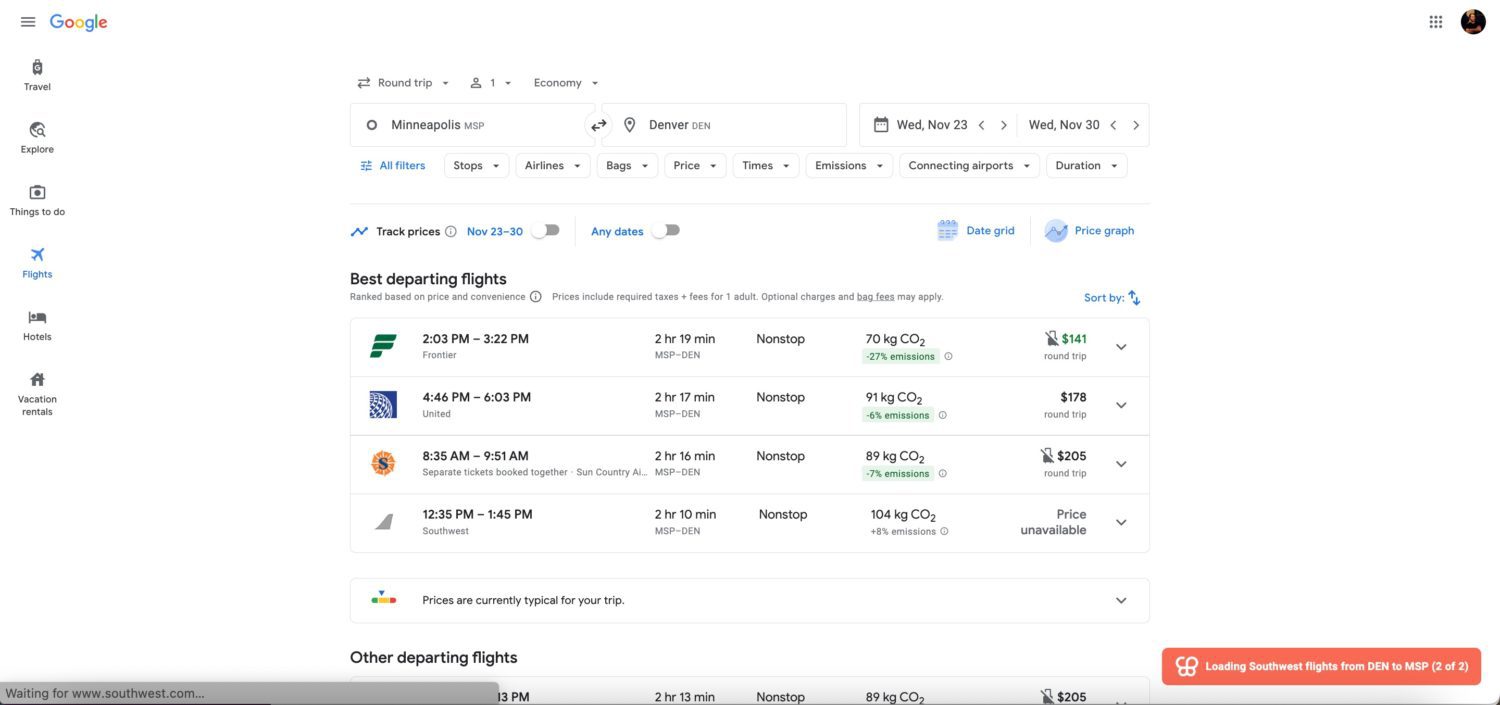 Not working like this even after installing the plug-in? Try refreshing your page or shutting down and restarting your Chrome browser.
Within a few seconds, Wanderlog should pull in the prices for almost every Southwest fare in your results. From there, you can filter by airline or sort by price – just as normal.

Unfortunately, when you click through to try to book an actual Southwest fare, the price disappears. But from there, you can click to open the flights with Southwest. You will, however, need to reselect the departing and returning flight directly with Southwest: Neither Google Flights nor Wanderlog can map those choices over to Southwest.com.


But even being able to see the price on Southwest while searching other airlines on Google Flights is a major advancement. Travelers who might not even consider searching with Southwest can now see whether those flights might be a bargain.
That said, this extension is not perfect just yet – and Xu is the first to admit it.
"There are definitely a couple little areas where it's a little rough around the edges," he said.
A few notable issues to watch for include:
You'll currently need to type in just one airport – not city names. Wanderlog is working on fixing this issue, which will be especially helpful when searching for flights to or from cities with multiple airports like Chicago, Washington, D.C., and New York.
We've seen a few instances where Wanderlog pulls in a price that doesn't reflect what's actually available at Southwest.com, though those are few and far between.
Wanderlog can't display the Southwest price in Google Flight's price calendar, so dates for which Southwest is selling the cheapest fares won't be reflected in Google Flights' signature green highlight.
Wanderlog can currently only be used in English.
How the Wanderlog Extension Works … & What it Means
To hear Xu explain it, Wanderlog isn't doing anything differently than you or I would do launching separate searches on Google Flights and directly with Southwest. It just speeds up that process and puts it all in one place.
Here's how it works:
When you enter a search on Google Flights, the Wanderlog extension fires up and duplicates it in a "browser frame" (think of it as an invisible browser tab) at Southwest.com – though in future versions, Wanderlog plans to physically open a new tab for each flight.
While that secret search is running, Wanderlog is listening in for the results of each Southwest fare.
When they come up, Wanderlog pulls them over and displays them in your Google Flights window.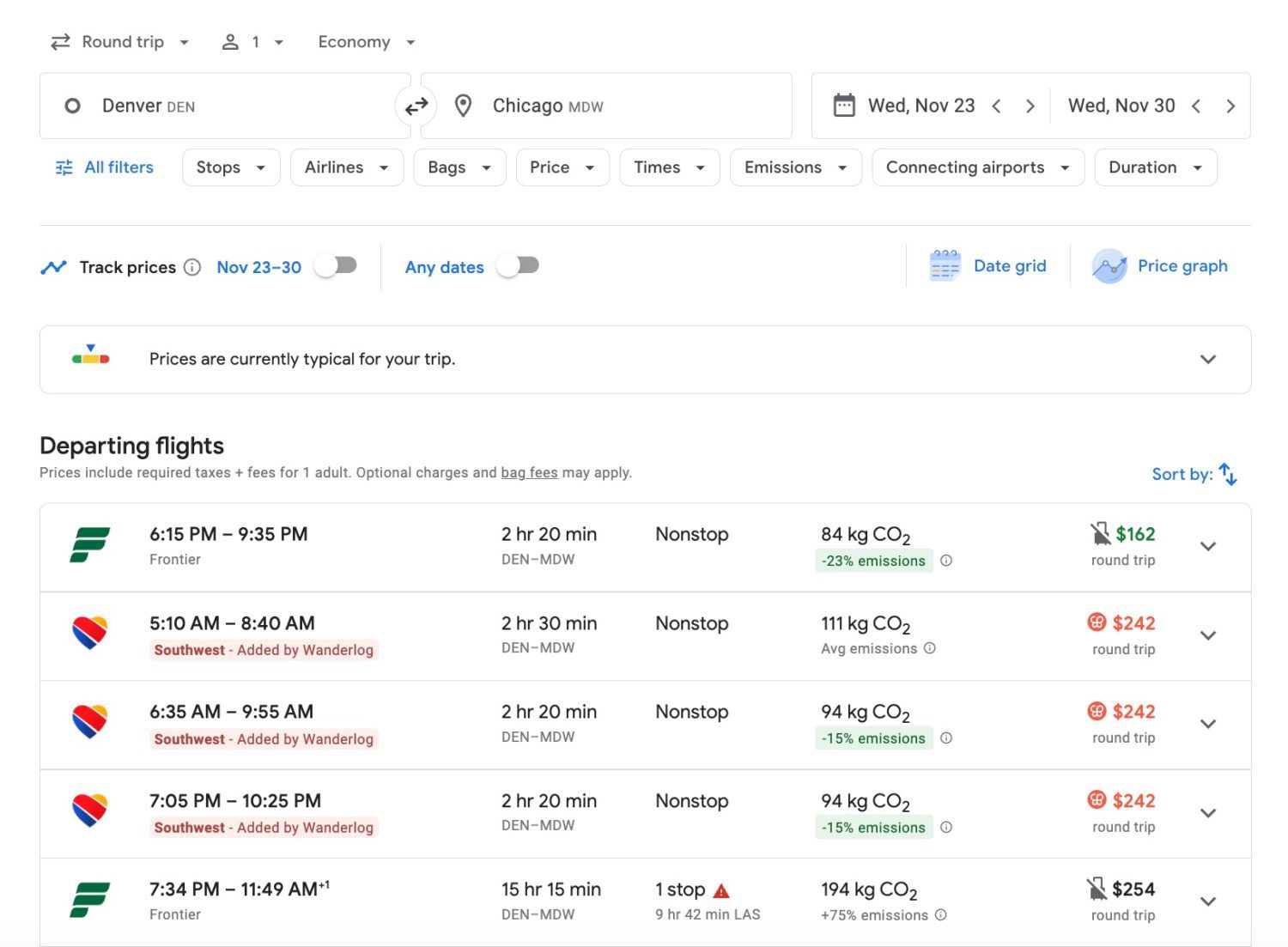 Xu said the extension should never bog down a user's computer or result in any performance issues. Once you close your Google Flights tab, Wanderlog closes up shop, too.
Wanderlog is just doing what you'd do by searching separately with Southwest anyway. That's why Xu says there's little reason to worry that Southwest could intervene or shut it down – "unless Southwest does a major redesign of their website," he added.
"You still have to seek out this Chrome extension. And often, if you seek it out, you probably already know that Southwest is a great airline and something that you want to fly on," Xu said.
But whether Southwest sees it that way is another story.
While other airlines list their fares with sites and search platforms from A to Z (and pay fees to do so), Southwest has skipped it all in hopes of driving travelers directly to search and book at Southwest.com. Part of that is about breeding the diehard customer loyalty Southwest has inspired over its 50-plus years of business … but also a mere matter of pricing.
Despite its reputation for low fares, Southwest often charges more than the major carriers like Delta or United. Of course, that's not exactly an apples-to-apples comparison: Southwest charges fewer fees and still allows two free checked bags per ticket while other carriers make huge money on those "extras."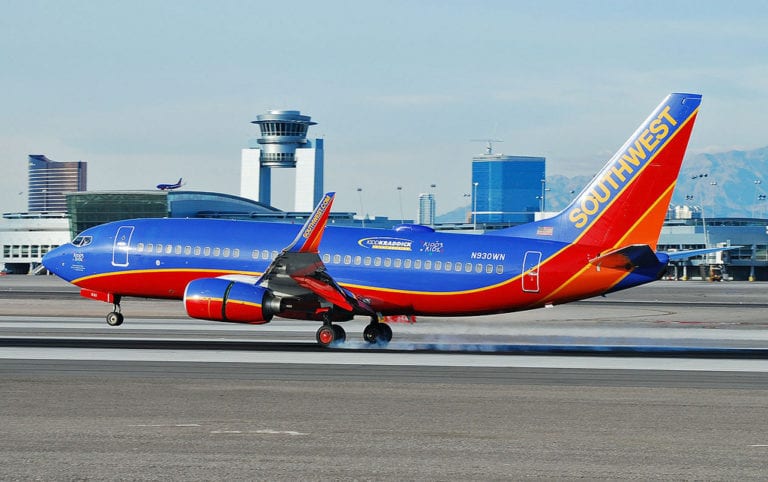 Read more: Why You Should Always Care (And Compare Flight Prices) with Southwest
Still, allowing travelers to compare prices with other airlines via Google Flights could mean Southwest loses some of its once-captive customers.
Will Southwest stand for this backdoor way to see their fares? Will the Global Distribution Systems that power sites like Google Flights (and collect fees from the airlines to do so)?
Southwest did not immediately respond to a request for comment.
Bottom Line
This could be huge. Though far from perfect, this new Wanderlog Chrome extension solves one of the few drawbacks of Google Flights by pulling in Southwest fare data, too – flights we've all had to search separately for many years.
But will Southwest let this fly? We'll have to see.