Turkey dinner and a little time with family may be hard to trade in for some people, but the savviest of travelers go abroad over Thanksgiving.
Here's why: Thanksgiving can be one of the best and cheapest times of the year to travel internationally. In the last month alone, we've found dozens of incredible flight deals to Europe, Asia, and elsewhere over Thanksgiving week 2023 for our Thrifty Traveler Premium members.
The U.S. is one of the few countries that celebrate Thanksgiving, so it's just another November weekend for everyone else. So while domestic flights are typically crazy expensive as Americans head home in record numbers, it creates some great conditions for cheap travel abroad. If you're looking for a flight home to Chicago, you might be paying hundreds more dollars than it would take you to fly to Copenhagen instead.
While traveling over Turkey Day may seem out of the norm to most Americans, you should keep it in mind for three main reasons:
With few crowds and available lodging, it's a great time to travel abroad.
It's the best way to optimize your vacation days.
It's one of the best weeks of the year for cheap flights.
Thanksgiving is a Great Time to Travel Abroad
It's cheaper to travel when fewer people are doing the same. And it can also be more fun.
While late November lands at the tail-end of shoulder season, you can still reap the benefits of fewer crowds, cheaper lodging, and hopefully, decent weather before the brunt of winter settles in.
Remember: Thanksgiving is only celebrated in a few countries including the U.S., which means the last weekend in November is just another November weekend in most countries.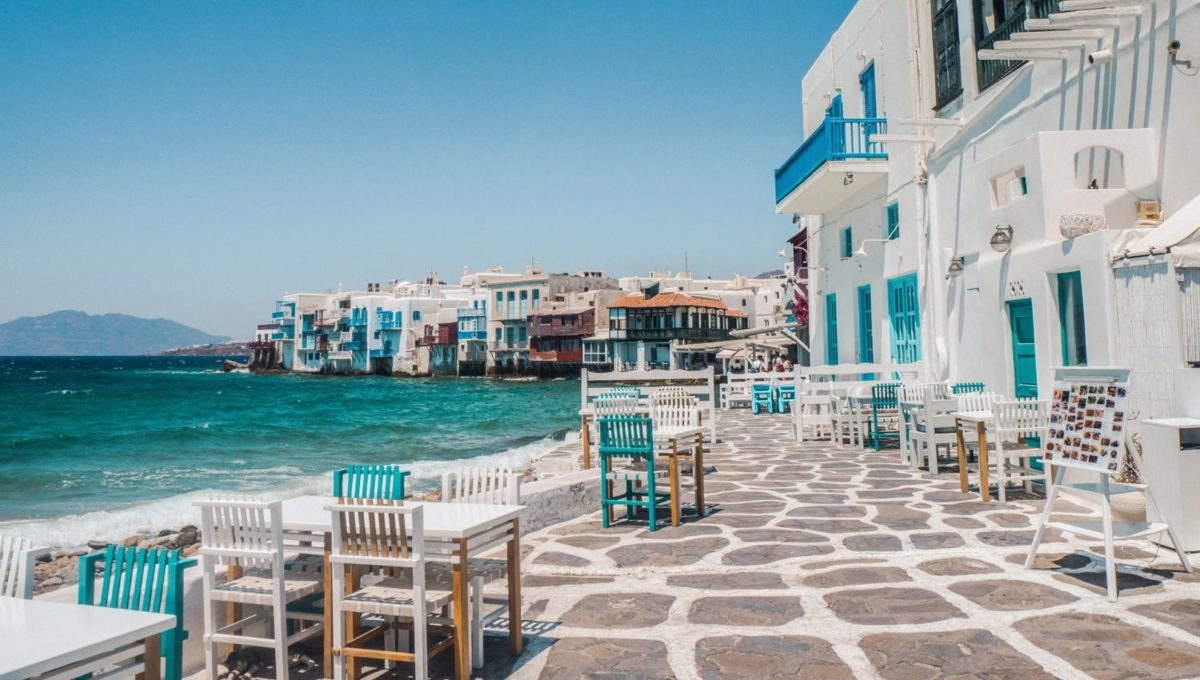 Outside the U.S., hotels and airlines don't price Thanksgiving week travel any differently than any other fall week. They just treat it as an off-peak season travel itinerary, even though that weekend means a lot more to most of us.
Even though it's a holiday weekend for you, it's not for almost any other country on earth, meaning you'll see fewer crowds and off-peak pricing while you're there.
Optimize Your Vacation Days
Most of us have just two to four weeks off each year … if we're lucky. So it takes some flexibility, creativity, and strategic planning to get the most out of them.
Thanksgiving weekend is a sweet spot on the calendar to book a trip without sacrificing too many precious vacation days. Most Americans will have Thanksgiving day off – and maybe Black Friday, too. With the weekend tacked onto it, that's four free days off in a row for a lot of Americans. Tack on one or two days on either end of it, and you're looking at a week-long trip that only requires two or three vacation days!
It's a huge bonus for maximizing paid time off. Here's a quick example.

Let's say you want to go to London this year, but your vacation days are dwindling. We sent a London flight deal to our Thrifty Traveler Premium members recently that included this nonstop fare from Boston (BOS) to London-Heathrow (LHR) for under $600 roundtrip.
This itinerary has you heading to the airport Wednesday after work, and landing in London on Thanksgiving morning ready to explore the city for four days. Then, you burn two vacation days the following Monday and Tuesday – Nov. 27 and 28 – and voila: You pulled off a six-day trip to London burning just two vacation days!
Gobble Up Some Cheap Flights
Remember when we said the cheap flights are plentiful over Thanksgiving week when traveling internationally? You don't have to just take our word for it, we'll let these deals we've sent to our Thrifty Traveler Premium and Premium+ members over the last few weeks do the talking.
Copenhagen, Denmark is one of our favorite global cities. Two members of our Thrifty Traveler team traveled there in winter and in spring, and even in the non-peak travel months, it's still an amazing place to visit. That includes Thanksgiving – especially at these prices!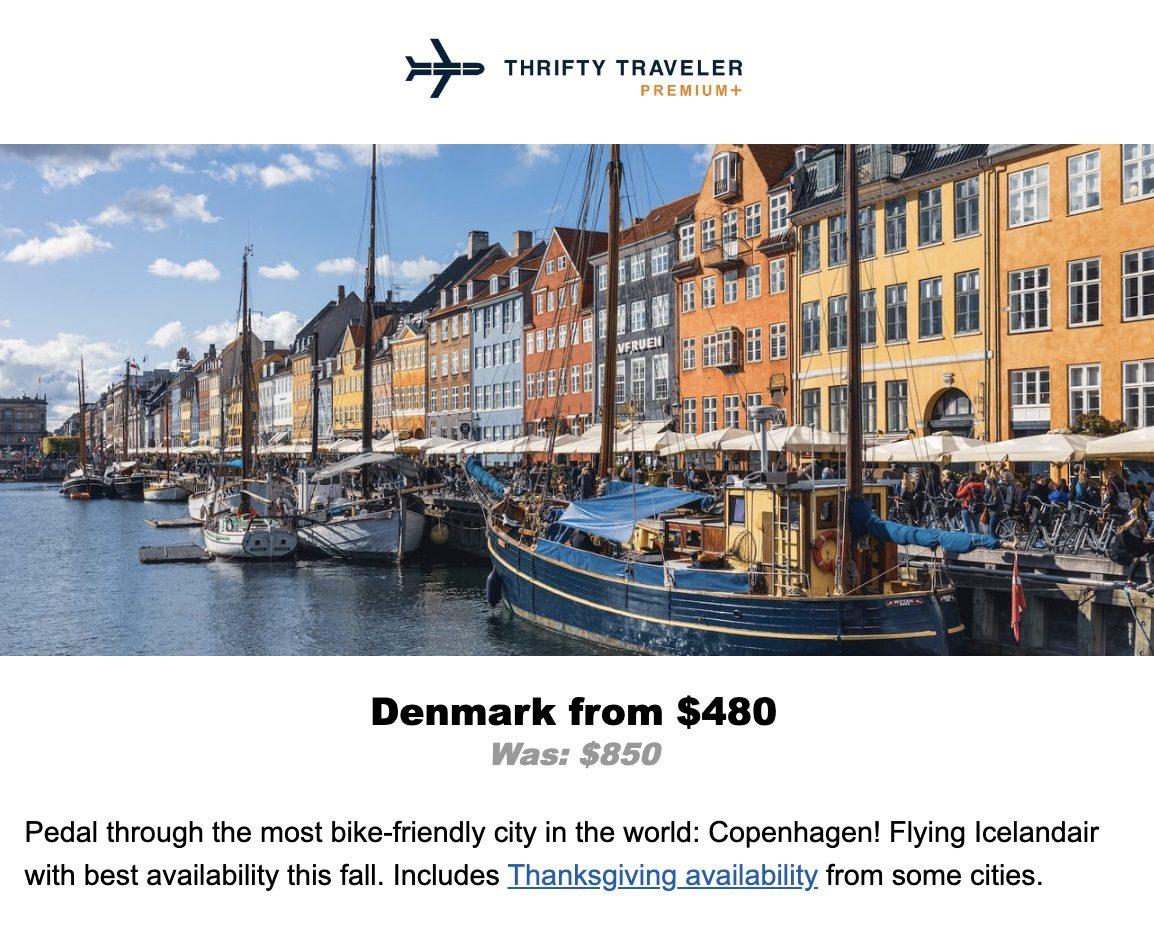 Copenhagen (CPH) is also routinely home to some amazing cheap flights. This flight deal we sent just a few weeks ago flying Icelandair included some amazing fares in the $400s to Denmark this Thanksgiving. You could even tack on an Iceland stopover to your trip, giving you a really great shot at exploring that beautiful country during- and maybe even see the Northern Lights, too!
Malta won't give you a glimpse of Aurora Borealis, but the stunning Mediterranean nation will feel a lot more like summer than it will here in the United States during Thanksgiving week. And with fares under $650 roundtrip, this flight deal to Malta was a boon for Thanksgiving-minded travelers.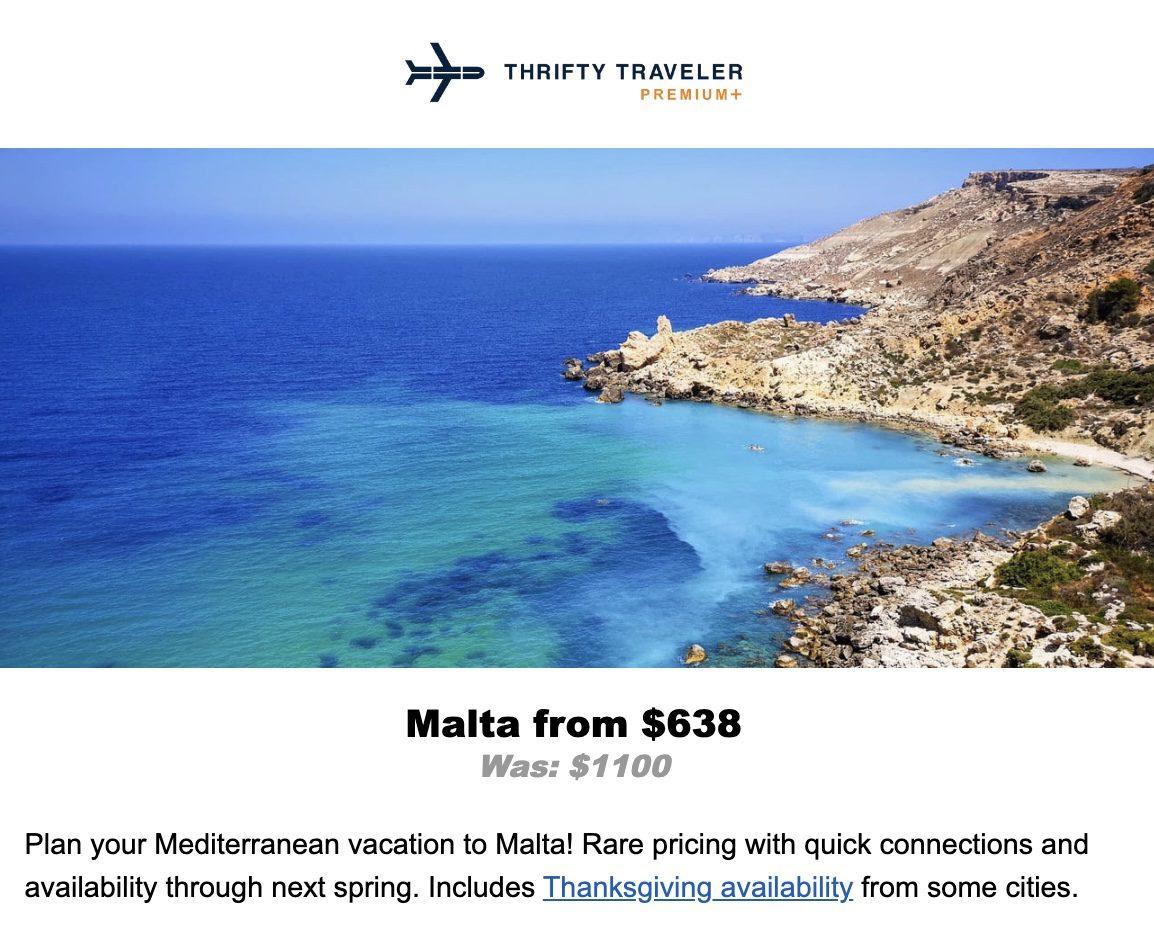 Plus, places like Malta get busy during the summer months with European vacationers, and Europeans don't celebrate Thanksgiving like we do! You'll have the place to yourself.
The same goes for Italy, and a cheap flight to Italy during Thanksgiving week could make for a holiday to remember. From Milan (MXP) to Rome (FCO) and even Venice (VCE), these fares were amazing to see. Nearly all of them included Thanksgiving availability, too.

These Thrifty Traveler Premium deals are no longer available. Make sure you're signed up for Premium+ so you don't miss the next one!
A visit to the Irish countryside sounds pretty great, right? Over Thanksgiving weekend, you'll have the entire Emerald Isle to explore.

These Delta fares flying Delta and its partner airlines to Cork (ORK) keeps you away from the busy hub in Dublin (DUB) and puts you right into the Irish countryside.
Want to burn some miles for a Thanksgiving trip across the pond instead? We got you there, too. How about flights to London as low as just 34,000 SkyMiles … roundtrip!

This was just the latest crazy Delta SkyMiles flash sale we found for our Thrifty Traveler Premium+ members, and it's a doozy. Like every other deal on this list, it could put you in London over Thanksgiving … for a fraction of the SkyMiles that Delta typically charges.
… With A Side of Business Class Deals
Thrifty Traveler Premium+ members receive all our award alerts to use their points and miles as well as deeply discounted business and first class fares. And lately, it's been a Thanksgiving feast of great deals.
Back to London, anyone?

This JetBlue Mint flight deal included availability every weekday over Thanksgiving week, meaning you could fly in on Wednesday night before Thanksgiving and out any day the following week. You could even have a Thanksgiving dinner and then head to the airport and fly out Thursday night, too!
This kind of wide-open availability for business class seats abroad is hard to come by. So we were stunned when Delta Air Lines copied them!

Delta One doesn't go on sale like this very often. These super fancy suites would make for a pretty spectacular holiday weekend, wouldn't they?
Finally, these TAP Air Portugal business class seats flying across the Atlantic are super comfortable – I've flown them myself. And for this price, you'll be sleeping happy on your way to Portugal and onto the Azores Islands or even Madeira this Thanksgiving.

These fares are long gone – get the next uber-cheap business class fare with Thrifty Traveler Premium+!
That's right: Just $1,300 for a business class seat overseas this fall. That's a killer deal.
Be honest: What would you pay to skip Thanksgiving dinner with the family this year?
Bottom Line
Thanksgiving week is one of the best weeks of the year to travel internationally thanks to low crowds, wide-open lodging availability, the ability to maximize your vacation days, and – best of all – some crazy cheap flights.
Whether you want a lie-flat seat or just the cheapest fare possible to Europe, there are plenty of options for your 2023 Thanksgiving break. But you'd better get booking!