TSA PreCheck is the must-have government program that gets you in a short, designated line to clear airport security. CLEAR® is entirely different: It's a privately-run program that verifies your identity (think fingerprints or iris scans) to cut to the front of the line. But, are the two airport programs finally teaming up?
That's sure what it looks like based on a recent analyst report from Needham & Company. As first flagged by The Points Guy, CLEAR is poised to partner with the federal government to help process and finalize PreCheck applications at the airport, making it even easier for travelers to get PreCheck. Spokespeople from both the Transportation Security Administration (TSA) and CLEAR confirmed the news, though it's unclear exactly when the new option to wrap up TSA PreCheck enrollment in CLEAR lanes will go live.
Unlike Global Entry applications which are handled directly by the federal government, the Transportation Security Administration (TSA) farms out the actual PreCheck enrollment process to private companies. Adding CLEAR to that mix could streamline the process of signing up for PreCheck, allowing travelers to finalize their registration at the airport before a flight instead of at an offsite enrollment center.
"CLEAR has been on a mission to make experiences safer and easier since day one, so we're looking forward to becoming an authorized TSA PreCheck enrollment provider to help bring TSA PreCheck enrollment to more people in more places," a CLEAR spokesperson said in a statement. "Once CLEAR successfully meets all TSA requirements to become an enrollment provider and completes a trial period, CLEAR will be approved by TSA to begin offering TSA PreCheck enrollment services to the public at select locations using CLEAR pods."
To be clear, PreCheck and CLEAR aren't merging. You would still have to enroll in – and pay for – each program separately. And, you'll still have the option to finalize your PreCheck application at other locations besides the airport.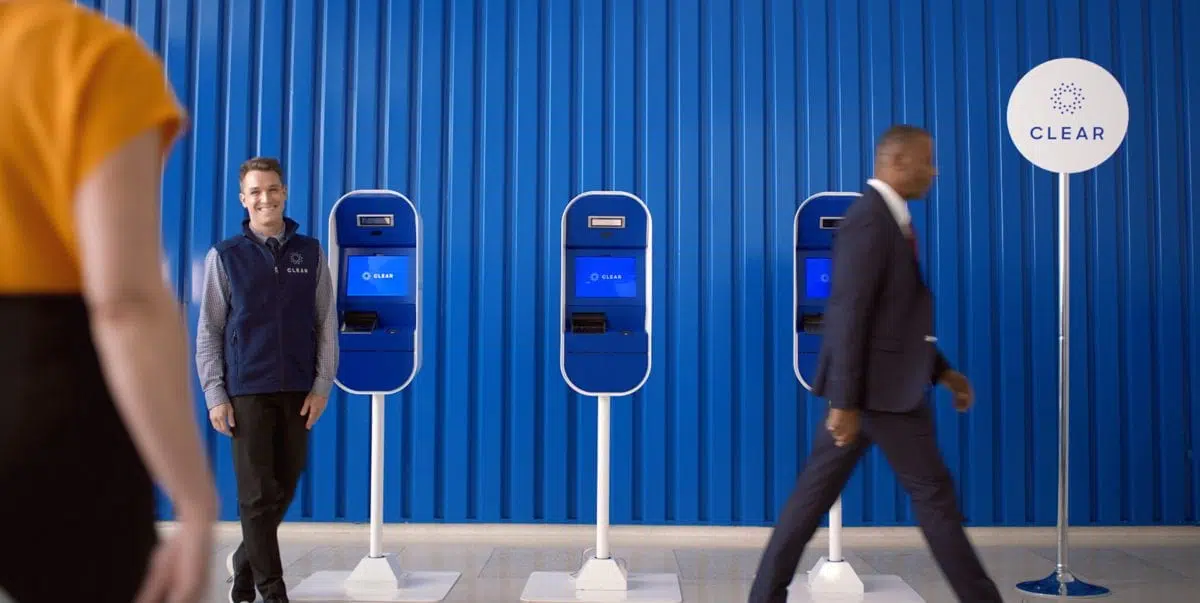 Congress set this new partnership in motion in 2018 when it passed a law requiring the TSA to partner with several more private companies for PreCheck enrollment to ease the signup process. The agency actually gave the nod to both CLEAR and another company, Telos, way back in 2020, in addition to their longtime partner Idemia.
With a streamlined signup process, the investment analyst who wrote this week's report said bringing CLEAR onboard could accelerate PreCheck membership numbers while also giving CLEAR an opening to cross-sell its own service to travelers wrapping up their PreCheck accounts at the airport. TSA PreCheck membership clocked in at 14.3 million at the end of 2022 – a 27% increase from the year prior. Just last month, the agency announced it had crossed over 15 million members.
The ramifications for flyers looking to get through security faster could be huge. But at this point, there are far more questions than answers about how this will play out – and whether the partnership between them could eventually be even bigger.
When will this new option go live? The Needham analyst suggested CLEAR could begin providing TSA PreCheck enrollment assistance in some airports as soon as May, but neither CLEAR nor TSA would confirm a timeline.
Where will it be available? CLEAR is up and running at 50-plus airports nationwide, but it seems doubtful all of them will be open to finalize PreCheck enrollment – at least initially. A CLEAR representative said only that it would be an option "at select locations."
CLEAR lanes can already get backed up today; will this make matters worse? Unless CLEAR sets up designated stations outside the actual security queues to process PreCheck applicants, this could lead to even longer waits for CLEAR.
And then there are the biggest questions of all: What does this mean for pricing? Could CLEAR and TSA PreCheck eventually become a package deal? That would seem to make sense for two airport security programs that can form a powerful tandem to get through the airport faster. But neither the company nor the agency addressed any bigger-picture questions beyond CLEAR's upcoming role in processing PreCheck applications.
For now, it appears the only thing all travelers can count on with this new partnership is having the ability to wrap up your PreCheck application during your next trip to the airport. But down the line? Who knows.
Unfortunately, travelers stuck in Global Entry limbo won't get any help here. The federal government handles all those applications itself, which means the problems that have plagued many travelers – long processing delays and trouble snagging a Global Entry interview slot – are bound to continue.
TSA PreCheck vs CLEAR
CLEAR and TSA PreCheck are often used synonymously. And while they're both great ways to cut down on your time in the security line, they're drastically different.
For starters, CLEAR is a privately run company, while TSA PreCheck is run by the federal government. Even with this new partnership, that isn't changing.
But while they're both billed as time-savers for airport security, these programs actually operate much differently. PreCheck gets you into a dedicated lane, allowing you to keep your shoes, belt, and a light jacket on and keep your liquids and electronics in your bag. CLEAR cuts you to the front of the line – the PreCheck line, if you have TSA PreCheck, or the standard line if you don't.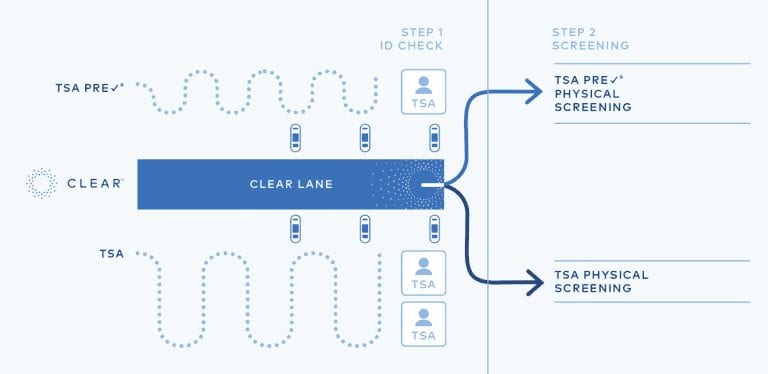 Read more on how TSA PreCheck vs CLEAR compare!
That makes CLEAR and PreCheck a powerful duo to get through security as fast as possible. Just beware you'll have to pay up for it … and the cost is the biggest difference of all.
After a price cut last year, TSA PreCheck now costs just $78 for a five-year membership, and renewing for another five years is just $70. CLEAR, meanwhile, charges a whopping $189 each and every year, though Delta and United flyers can get some discounts – and top-tier Delta Diamond Medallion and United 1K members can get it free.
But with the right travel credit cards, you may not have to pay out of pocket for either program. There's a large – and growing – list of travel credit cards offering statement credits that cover the entire cost of TSA PreCheck (or Global Entry). Meanwhile, The Platinum Card® from American Express as well as the American Express® Green Card now can cover the whole cost (and then some) of CLEAR, too, with $189 annual CLEAR credits on both cards.
Read more: How to Maximize the Amex Platinum Card's CLEAR Credit
Bottom Line
With CLEAR and the federal government finally teaming up, getting signed up for TSA PreCheck should be much quicker.
But when will this new option launch? Where will CLEAR offer the ability to finalize PreCheck enrollment? And what does this mean for the future of signing up for each program? We just don't know yet.