As it turns out, people really don't like waiting in long airport security lines. Who would have thought?
TSA PreCheck, the expedited airport security program in the U.S., now has more than 15 million active members, the Transportation Security Administration announced on Thursday.
The program reached the 15 million-member threshold less than 10 years after it launched in December 2013 thanks, in part, to one crazy day of PreCheck sign-ups. According to the TSA, 19,200 people signed up for TSA PreCheck on Feb. 21, 2023, alone. It was the highest single day of sign-ups in TSA's history. The agency didn't say whether there was a particular reason behind that spike.
Read more: Everything You Need to Know to Get and Use TSA PreCheck
But the tally of travelers using TSA PreCheck is actually much higher. Add in others who have PreCheck benefits through Global Entry and other federal programs, there are now 32 million travelers eligible to use TSA PreCheck lanes for expedited screening in the U.S. and select locations abroad.
Global Entry is a similar but drastically different program that also allows travelers to skip the line for immigration when returning to the United States. It has some overlap with the PreCheck program and comes at a higher cost: Read up on whether Global Entry or PreCheck is best for you.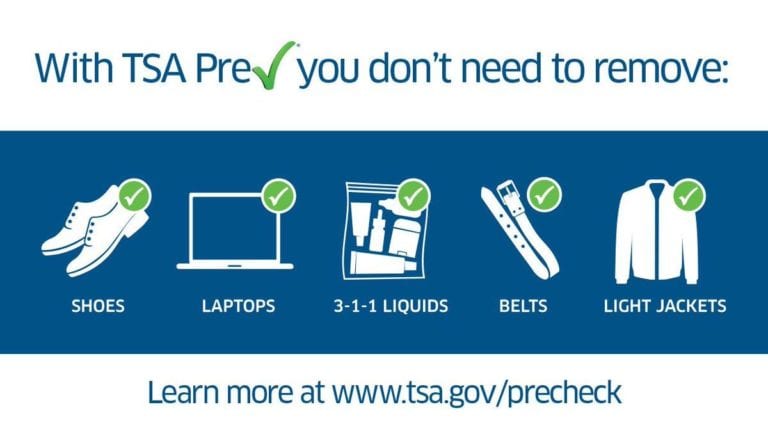 After applying, undergoing a background check, and going through an in-person appointment, PreCheck members can wear their shoes, belts, and light jackets through the security line, as well as keep their electronics and liquids in their carry-on bags. Travelers simply need to attach their Known Traveler Number (KTN) to their reservation with their airline. Currently, more than 80 airlines participate in the program, including all major U.S. carriers.
After a recent price cut, TSA PreCheck costs $78 for a five-year membership and then just $70 per five years to renew after that. But there are several ways you could knock that price down much further.
Check out the full list of credit cards that will cover Global Entry or TSA PreCheck!
The TSA says PreCheck lines are less than five minutes 92% of the time. And if you combine your PreCheck membership with CLEAR, it's by far the fastest way through airport security at nearly every airport.
Read next: PreCheck vs. Clear: Which One is Better?
Bottom Line
The TSA PreCheck program now has more than 15 million members less than 10 years after it launched.
TSA PreCheck's popularity is for a reason: It's one of the best travel tools out there, period. PreCheck can save you valuable time and effort in the airport. Clearly, millions upon millions of travelers can attest to that.