Delta SkyMiles have a mixed reputation … and that's putting it mildly.
There's no award chart that helps you determine how many miles a flight should cost. Award rates are changing constantly along with the cash price. Booking long-haul business class regularly costs 200,000 SkyMiles or more these days. After a series of drastic price increases over the last year, using SkyMiles to book partner airlines like Air France or Virgin Atlantic is no longer a bargain.
What gives? Over the weekend, airline industry news site Skift published a podcast interview with the man running SkyMiles: Prashant Sharma, Delta's vice president of loyalty. And while Sharma spoke mainly in generalities and platitudes, it pulled back the curtain on why Delta does what it does with SkyMiles … much to the chagrin of many frequent Delta flyers.
The entire interview is worth a listen, but we thought we'd highlight some major points.
SkyMiles Are Just a Piece of the Loyalty Puzzle
If there's one statement that sums up SkyMiles, it's this one.
"We look at value … more holistically," Sharma said when asked about the value of SkyMiles compared to other airline programs. "Mileage redemption is a big portion of it, but also just everything else that Delta can provide in terms of the experience and making them come back to us."
That one sentence speaks volumes. Between its operational reliability and better service, Delta has set itself apart enough from its competitors that it can make SkyMiles less valuable  than American AAdvantage miles or United MileagePlus miles … because they know their loyal flyers will probably keep flying Delta anyway.
Delta's main tool to encourage loyalty isn't its loyalty program: It's the airline itself. Earning some SkyMiles is just a bonus. Other airlines don't exactly have that luxury.

That has worked well for years, but Delta could be playing a dangerous game. United is clearly gunning for Delta's crown of America's premium airline with big investments in the flying experience over the coming years. And every airline in the country has struggled with delaying and canceling flights by the thousands as travel has bounced back, even trusty Delta.
But for now, the formula is working well for Delta. And the proof is in the numbers: Sharma said Delta is setting records for both new SkyMiles accounts and travelers signing up for co-branded Delta credit cards.
"Customers are not only joining the program at record levels, but also taking up co-brands at record levels which is further faith that this is a currency they want to earn," Sharma said.
As the old saying goes: If it ain't broke, don't fix it. If travelers are flocking to Delta, why should they give them more for their SkyMiles?
Still, there's a persistent source of criticism…
Bloggers
Plenty of travel writers, bloggers, and so-called experts insist SkyMiles are worthless. That's not correct. Here's what they should say instead: "If flying business class is at the top of your list, earning Delta SkyMiles shouldn't be."
It's undeniable that SkyMiles have become close-to-useless for the premium cabin redemptions that bloggers and social media influencers prize most. Rates like this 375,000-mile one-way flight for a Delta One Suite to Europe have become the norm.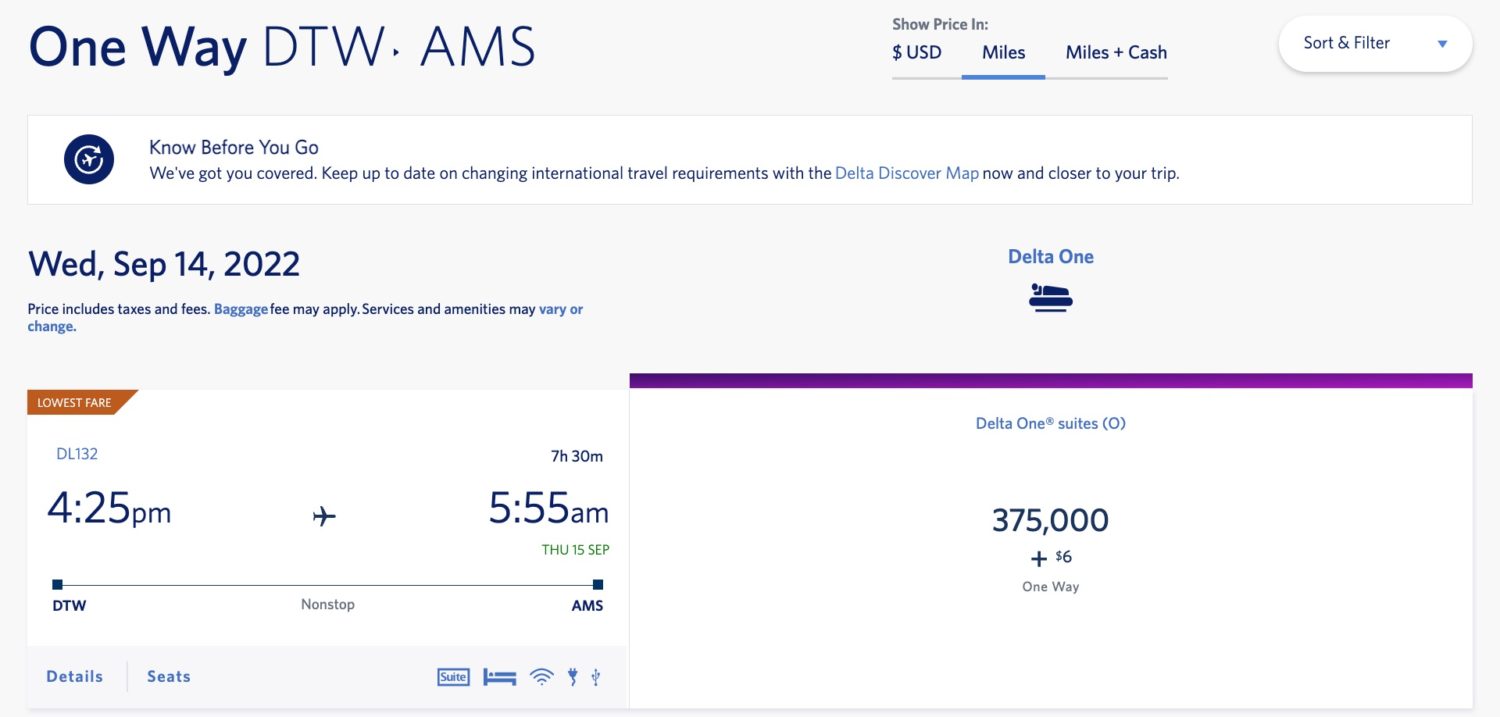 Brian Sumers from Skift channeled that frustration in his interview, pointing out how far the gap with Delta is compared to American and United, which charge as low as 57,500 miles and 60,000 miles, respectively, for a one-way business class award to Europe.
"I go to Delta.com and my eyes, they pop out of my head. It's a good deal if it's 200,000 miles each way," Sumers quipped.
Sharma wouldn't discuss the specifics of award pricing with SkyMiles – Delta never does, after all. But he deflected the criticism that Delta's premium cabin redemptions are out of whack with an interesting response.
"Our focus here is to provide consistent and sustainable value where customers want to use their miles. We are not necessarily trying to play the game with customers or with bloggers," he countered. "We listen to what customers want and we try to offer that."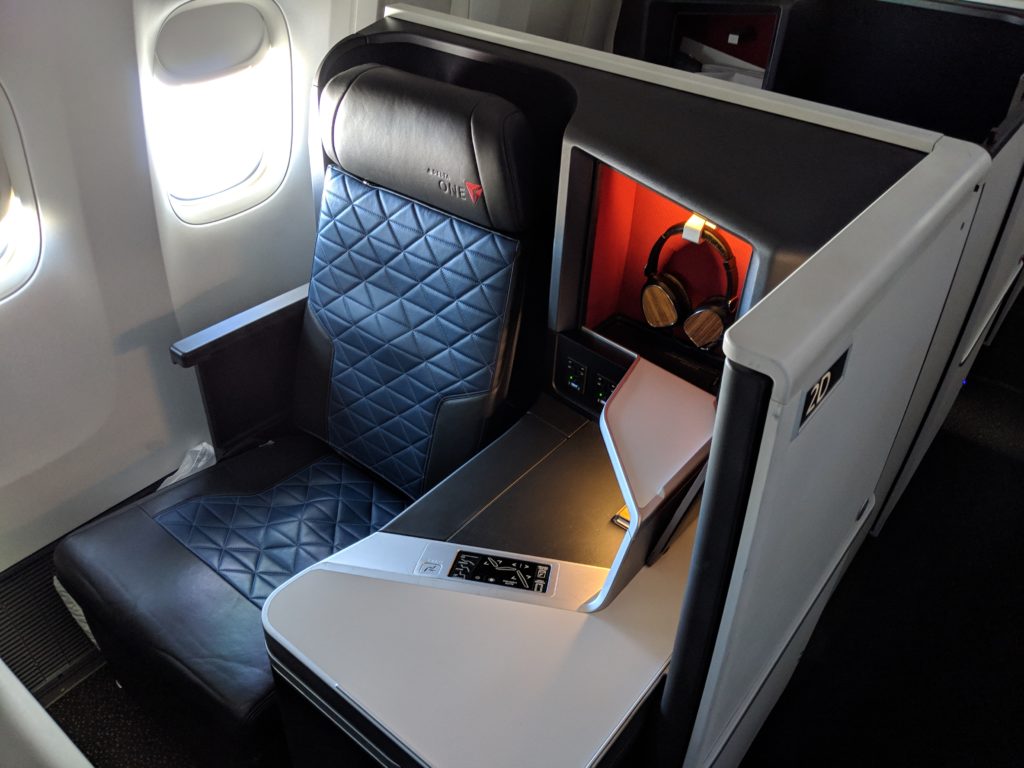 For all the griping about business class devaluations, sites like ours represent a fairly small view of what matters most to travelers collecting SkyMiles. A frequent flyer program designed by bloggers who would love to redeem as few miles as possible for business or first class tickets around the world would not just lose money … it would probably collapse. And fast.
There's a way to do both, of course. Sumers pointed to Air Canada's revamped Aeroplan as an example of how an airline loyalty program can give travelers avenues for outsized value when using their miles. And no doubt there are some Delta customers who would like to redeem their SkyMiles for an international business class ticket to Europe, Asia, or elsewhere.
Delta has gotten a lot of flack recently for a series of devaluations of partner award rates. Whether you're flying economy or business class, heading to Europe, Asia or the Middle East, Delta has hiked award rates by 40% or more across the board. A business class award on Air France or KLM that once cost just 75,000 miles will now run you 120,000 … or as much as 195,000. Most recently, Delta gutted award rates to the Middle East – the last great sweet spot to fly business class with SkyMiles.

But is that, in the words of Sharma, "what customers want"? Clearly not. Delta data from a 2020 regulatory filing showed that 97% of SkyMiles redemptions were on Delta flights.
And I'd wager the vast majority of travelers collecting SkyMiles are focused primarily on flying Delta economy within the U.S. and occasionally abroad. For those redemptions, it's not a stretch to say that SkyMiles are regularly much better than any of their U.S. competitors. And there's one big reason why.
Flash Sales Will Continue
If there's one silver lining with SkyMiles, it's the frequent Delta SkyMiles flash sales offering discounted award rates you won't find on almost any other airline.
Over the years, we've found some truly incredible SkyMiles flash sales like:
Thrifty Traveler Premium members get the heads up on SkyMiles flash sales like this one, plus cheap domestic and international cash fares!
Getting in on these deals require some flexibility, but these are rates that you simply won't find on other carriers, which often charge twice as much as more. While both American and United have moved toward dynamic award pricing, their sales so far haven't been nearly as large or frequent as on Delta.
Sharma signaled that those discounted deals will remain a fixture of SkyMiles down the road.
"We continue to have opportunities for customers, depending on where they want to go and when they want to go," Sharma said. "That will remain important to us."
Sharma described these sales as targeted offers, sent to inboxes of SkyMiles members from specific departure cities to tempt them with a good deal. Delta also regularly publishes some offers on a dedicated page for SkyMiles deals.
But that's just scratching the surface of SkyMiles flash sales: Delta is regularly slashing award rates on flights across the globe, but it only advertises a small fraction of them. At Thrifty Traveler Premium, we're constantly on the hunt for these deals and sending them to our members like this nationwide flash sale to Sydney (SYD) with flights as low as 60,000 SkyMiles roundtrip.


Read our full guide to Delta SkyMiles flash sales and how you can take advantage!
Bottom Line
This isn't a defense of SkyMiles. We've called Delta out plenty over the years for hiking SkyMiles award rates without warning – especially in the midst of a pandemic when travelers were stuck at home with a stash of SkyMiles that suddenly got less valuable.
But this is the reality with SkyMiles, and this interview is a sign that it's unlikely to change anytime soon. Rather than bashing SkyMiles for what they're not, focus on where you can find the value. Trust us, it's there.