Last month, American Express unveiled two new designs on its Platinum Card® from American Express premium credit card. Today, those new designs are now available – for both new and existing cardmembers.
American Express partnered with two acclaimed artists to give its standard, silver Platinum Card design a new look: Julie Mehretu and Kehinde Wiley. The artists took drastically different approaches to give the Platinum Card a bit of (or a lot more) flair.
If you're applying for an Amex Platinum Card today, you'll be able to pick one of these new designs or the standard card art. But Amex has even made it easy for existing cardholders to pick a sharp new replacement card online and get it delivered, too.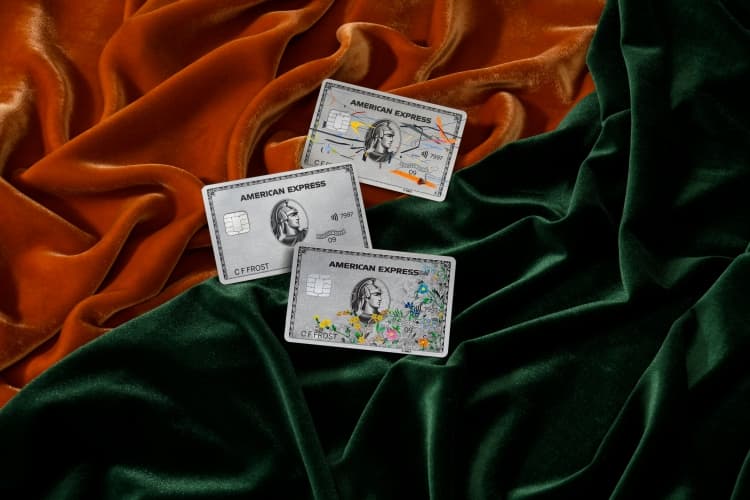 Keep reading for a closer look at the two new designs and how you can get one.
Read more: A Full Review of the Platinum Card from American Express
Kehinde Wiley's Platinum Card Design
American Express called Kehinde Wiley a "visionary portrait painter best known for naturalistic portraits." And that shows in this new Platinum Card art: It's full of flowers and has undeniable energy.
"This was an exciting project and powerful experience for me to translate my artistic approach into one of the reimagined designs for the Platinum Card," said Wiley. "I am proud to help Platinum Card Members enjoy a bit of artistic inspiration every day."

Julie Mehretu's Platinum Card Design
According to American Express, Julie Mehretu is one of the most renowned abstract artists today. And her take on the Platinum Card art is nothing if not abstract. It's got bits, bobs, and splashes of color all over. It's chaos on a Platinum Card.
"For me, making art comes from expanding the imagination and possibility, the incredible feeling of inventiveness and vitality that one can experience with a painting," Mehretu said of her design. "Art is all around us and I am delighted that a part of my work can now be found on the smallest of canvases in Platinum Card Members' wallets."

How to Request A New Card From American Express
If you already hold the Platinum Card from American Express and would like to request one of these new card designs, simply log in to your online account with American Express.
From there, select "Account Services."


Next, select the "Replace a Card" option.

Once on the "Replace" a Card menu, you'll be able to select a reason for replacement. Select the "I want to change my Card's design" option and hit continue.

From this screen, you'll be able to select the Platinum Card design you want.

Once I selected my new card, I was given an arrival date of Jan. 28, 2022.
Our Analysis
These new card designs will no doubt be conversation starters when Platinum cardholders pull them out of their wallets – and that's precisely what American Express was looking for as a part of this project.
But there's just one problem with that: The Platinum Card isn't competitive for everyday spending categories. Unless you're about to walk into an Amex Centurion Lounge, there's not much reason to pull out your Platinum Card at the store, supermarket, or restaurant when other cards will earn you more points.
Other than booking airfare – which gets you 5x points for every dollar you spend directly with the airline or through Amex Travel – there are simply much better options for your everyday spending.
That list includes the American Express® Gold Card which offers 4x points per dollar spent at restaurants and 4x points per dollar spent at U.S. supermarkets (up to $25,000 each year and then 1x). It also includes the new Capital One Venture X Rewards Credit Card which, among many other benefits, offers 2x Capital One Venture Miles for every dollar you spend on the card.
As for the new card designs themselves, I am not nearly artistic or cultured enough to have a strong opinion on the artistic style of either design. That said, I like the looks of the floral design from Kehinde Wiley … so I requested one earlier today as a replacement for my existing Platinum Card.
Bottom Line
American Express has rolled out two new card designs for Platinum cardholders. These new designs are available for both new and existing cardholders starting today, Jan. 20, 2022.
Simply log into your American Express online account to request one of these new designs.

Click Here to learn more about the Platinum Card® from American Express