Capital One is launching its own suite of top-rated, luxury hotels with benefits like on-property dining credits, complimentary upgrades, and free daily breakfast for cardholders with the Capital One Venture X Rewards Credit Card.
The bank is calling it The Premier Collection. When it goes live sometime later this year (there's no firm launch date yet) the credit card company says "hundreds" of hotels around the world will be bookable through the Capital One travel portal – with plans to keep adding more and more properties after launch. Beyond the elite status-like perks, Venture X Cardholders will also earn 10x miles per dollar on these hotel bookings – and since you're booking through Capital One's travel portal, the card's $300 annual travel credit should work for these top-tier properties.
But it's those premium benefits that will draw in most cardholders to this new collection of hotels. Capital One says every booking will get free breakfast for two every morning; a $100 credit for dining, the spa, or other experiences on the property; and free Wi-Fi during a stay. Prized benefits like early check-in, late check-out, and complimentary room upgrades are possible, but aren't guaranteed.
Still, the perks could easily offset the slightly higher cost that these VIP programs often charge over rack hotel rates. And only Venture X cardholders will get access – sorry, all you travelers with the standard Capital One Venture Rewards Credit Card.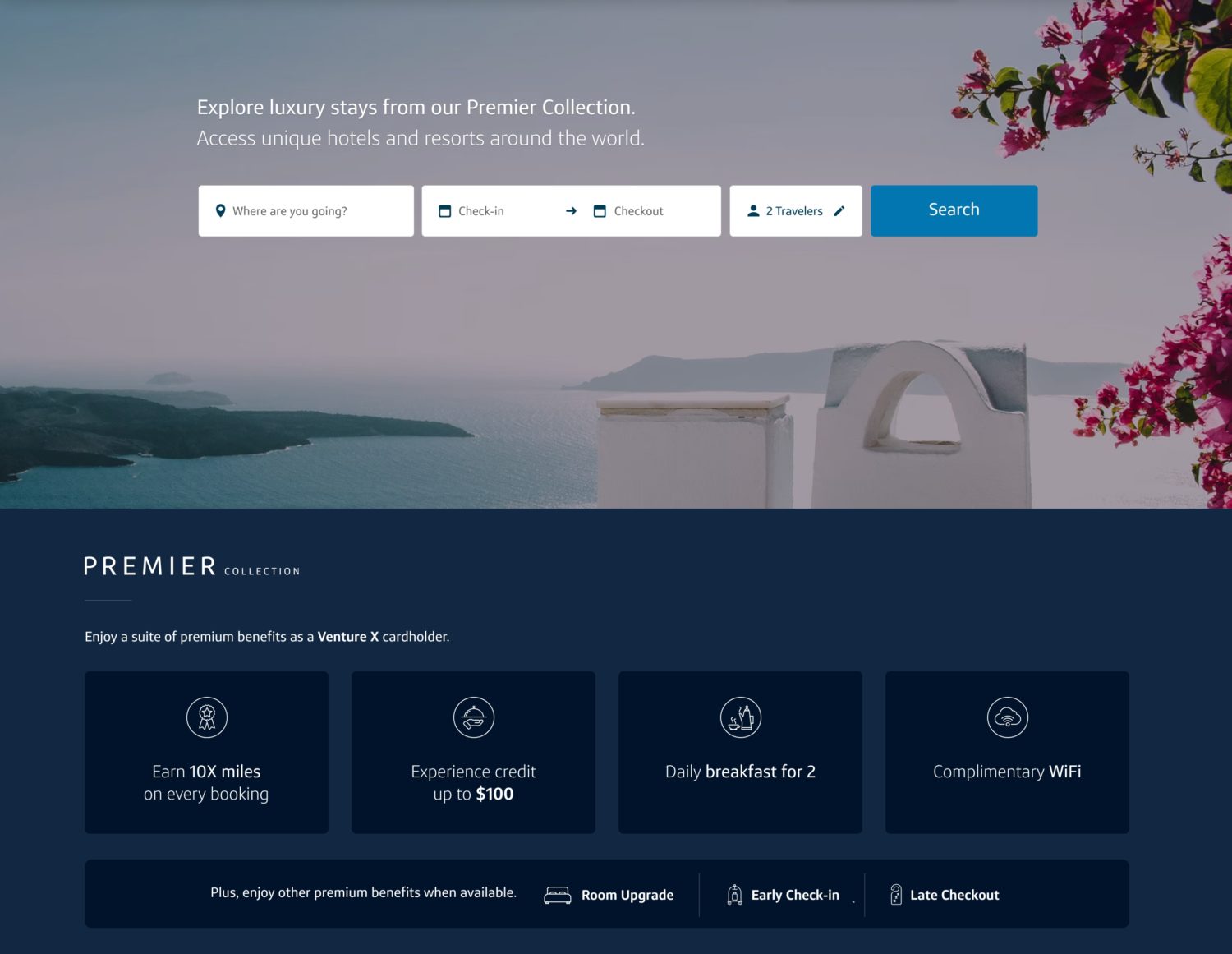 The properties bookable through the Premier Collection come from hotel portfolios like Small Luxury Hotels, Leading Hotels of the World, Six Senses, and more – including some boutique properties and resorts across the globe. There's no minimum-length stay requirements for Premier Collection properties. Room rates will certainly vary wildly.
If all that sounds familiar, it certainly is. It's a near-carbon copy of American Express's Fine Hotels + Resorts Program, giving travelers with The Platinum Card® from American Express elite-like perks on hotel bookings. Chase also has something similar called the Luxury Hotels & Resort Collection, though it isn't nearly as well known.
But Amex's longtime, go-to hotel program has the upper-hand in at least one regard: Guests are guaranteed 4 p.m. late checkout, whereas that won't always be available via Capital One's Premier Collection. And so far, there's no word on whether Capital One will give Venture X cardholders an annual credit toward hotel stays like the $200 Platinum cardholders get each year after a 2021 revamp.
On the plus side, Capital One says it requires each Premier Collection property to offer the $100 choice of a food and beverage credit, while other similar programs may simply allow spa or experience credits. Capital One officials also insist travelers with elite hotel status will be able to "double-dip" benefits at Premier Collection properties that are part of major loyalty chains, which is hit or miss with the likes of Amex or Chase.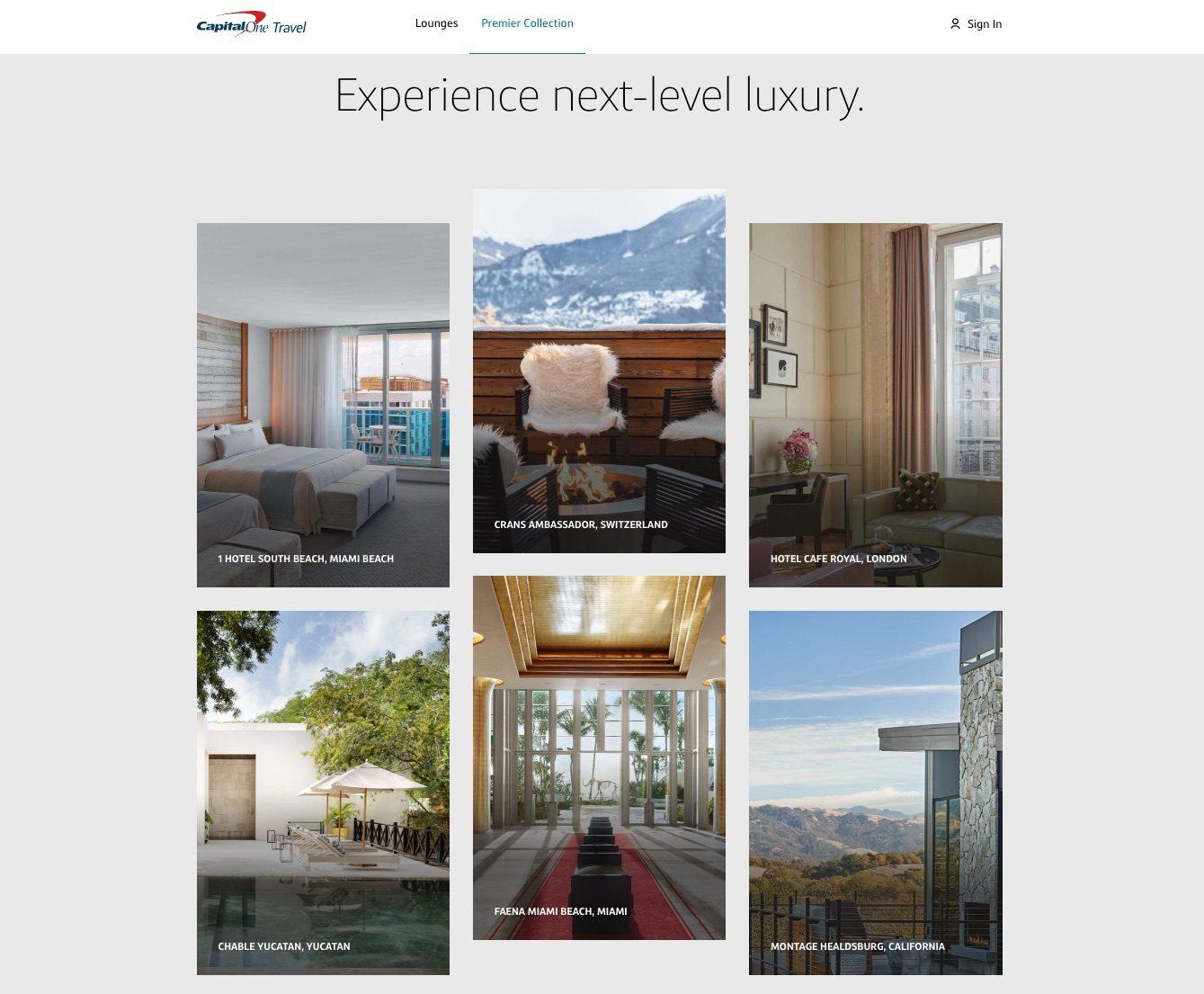 This new premium hotel portfolio comes almost a year to the day since Capital One made its first foray into the premium travel card market with the introduction of the Capital One Venture X Rewards Credit Card. Opening the door to luxury hotel stays is practically a must to keep up in the increasingly competitive travel card landscape. And from credit card companies to airlines and hotel chains themselves, the entire industry is leaning hard into premium travel experiences and benefits as travel inches back to a new normal.
"People were undoubtedly going to come back to travel. There was an opportunity to do things differently," Jenn Scheurich, vice president of Capital One Travel & Lounge. "When we entered the premium market with the Venture X Card last year, it was a great opportunity for us to tap into a new customer group for Capital One. We continue to add benefits that make it better and better."
For Capital One and this new hotel program, they're putting the emphasis on travel buzzwords like a "thoughtfully curated collection" of "authentic" and "original" properties, offering "personalized" and "local" experiences on the ground. Scheurich and the Capital One team painted a pretty picture of a luxurious stay at the Six Senses Douro Valley, complete with a complimentary suite upgrade and a guided tour through Portuguese vineyards.

Whether the Premier Collection delivers on those lofty goals will hinge entirely on each and every property.
Bottom Line
Capital One is getting into the luxury hotel game with this upcoming introduction of the Premier Collection.
Later this year, cardholders with the Capital One Venture X Rewards Credit Card can access this portfolio of hundreds of luxury hotels and resorts, getting elite-like benefits such as daily breakfast and a $100 property credit as well as the occasional upgrade or late checkout. While Capital One isn't reinventing the wheel here, it's great to see continued emphasis on top-tier travel experiences a year after Capital One first entered the premium travel card landscape.
Lead photo courtesy of Capital One