American Express has announced plans to open another of its beautiful Centurion Lounges, this time at Newark-Liberty International Airport (EWR), but don't expect to use the lounge this year, next year, or even in 2025.
The lounge is expected to open sometime in 2026, according to a news release from American Express – meaning this space won't be open to eligible Amex cardholders for at least two more years.
With the addition of the Newark Centurion Lounge, there will be a Centurion Lounge in each of New York City's airports. Amex's JFK and La Guardia Centurion Lounges have been open for years and are already popular among cardholders.
Like all Centurion clubs, the Newark location will feature some local New Jersey touches including a jazz bar and piano lounge, a terrace with views of the airfield and NYC, and an archival collection of New Jersey artifacts, antiques, culture, and history.
We already knew about American Express's intention to open an 17,000-square-foot space at EWR, initially pegging its opening for summer 2023. Now, the lounge is official, but won't open for another two years or more.
Read our ultimate guide to Amex Centurion Lounges: Locations, access, and more! 
What Are American Express Centurion Lounges Like?
American Express's signature collection of airport lounges scattered across the U.S. (with a growing collection abroad) have long been regarded as the best in the business thanks to comfortable seating, higher caliber food, and top-notch beer, wine, and cocktails – all of it free once you're in the lounge. American Express doubled down on these lounges through the pandemic, opening brand new locations and expanding several others.
But they've become popular to a fault, with long lines to get in forcing Amex to begin charging cardholders for guests starting in February 2023. Meanwhile, Chase and Capital One are gunning for Amex's crown by building out lounge networks of their own.
All Centurion Lounges offer complimentary drinks and food, Wi-Fi, private workspaces, and comfortable furniture to unwind before your flight. And in nearly every regard, it's all a step above what you'll get in standard airport lounges – at least in the U.S.
Much of the cuisine comes from James Beard award-winning chefs with a local connection to the city you're in. Food is served buffet-style, with different selections during breakfast, lunchtime, and dinner. Some locations like the Centurion Lounge in Philadelphia (PHL) are known for their top-notch food. But in general, you can usually count on a tasty meal – not just finger food or cold snacks.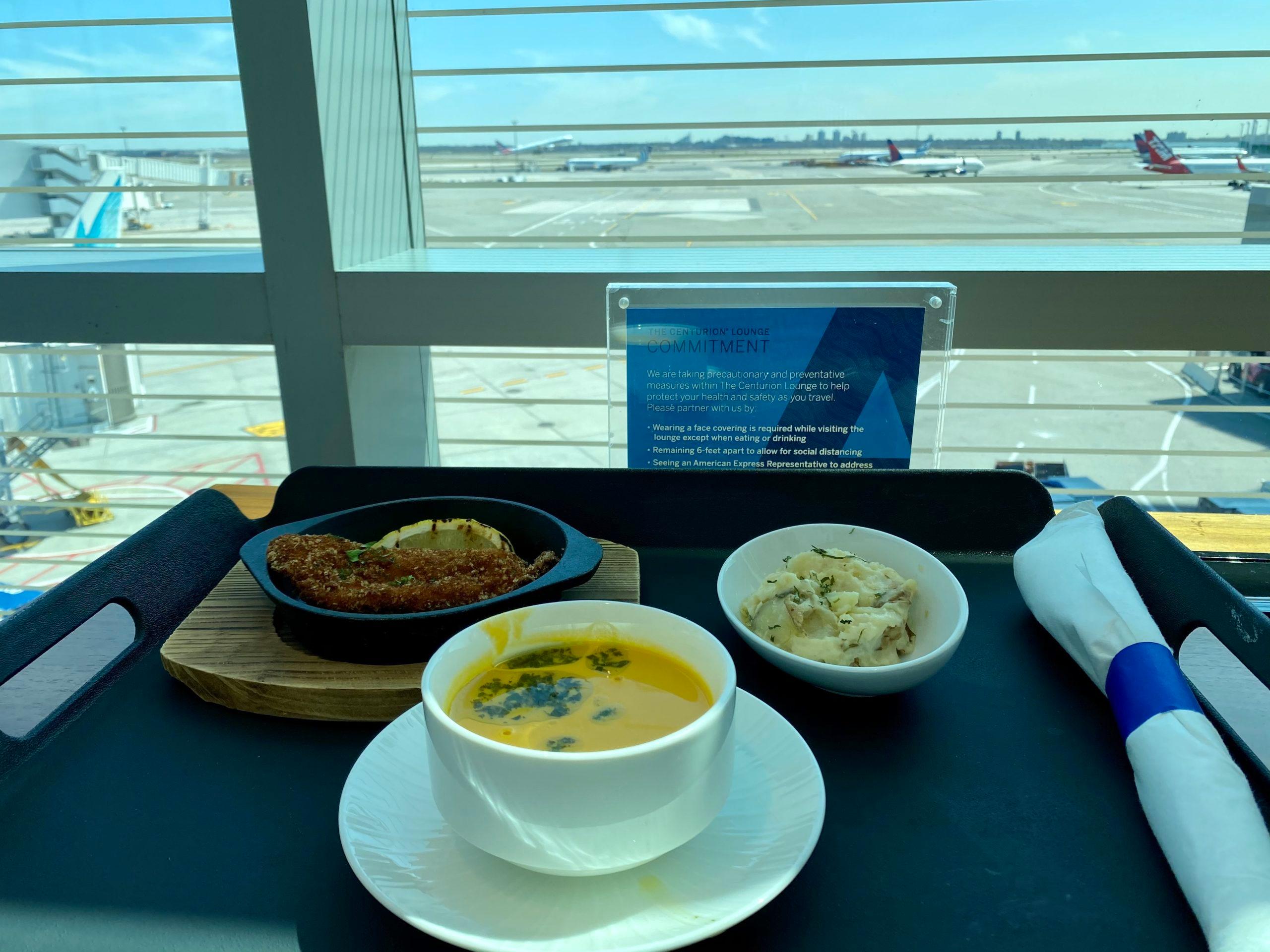 The same is true for cocktail lists, as Amex works with some of the nation's top mixologists to curate the selections. For example, check out this outstanding cocktail list from the Las Vegas (LAS) Centurion Lounge.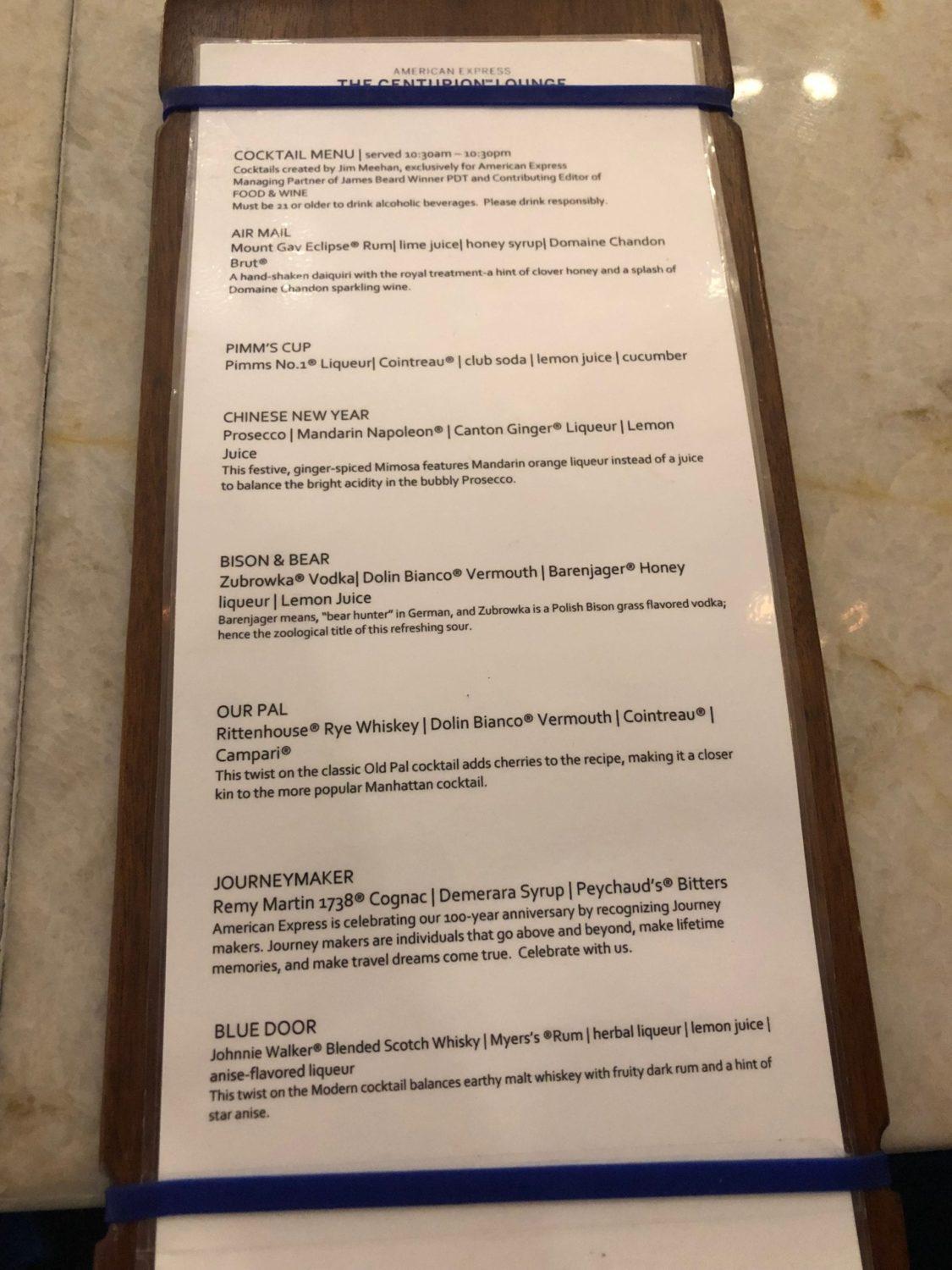 In most (but not all) lounges, you can find shower suites. Newer locations have other amenities. The Dallas-Fort Worth (DFW) lounge has a spa, where you can take advantage of a complimentary spa. In New York City (JFK), you'll find an Equinox Body Lab, where you can pick from a handful of therapies, treatments, exercises, and massages – all free.
How to Access American Express Centurion Lounges
These are premium airport lounges. To get in, you'll need a premium travel credit card in your wallet.
In order to access an Amex Centurion Lounge, you need to hold *amex platinum card* or *biz platinum*.
Learn more about *amex platinum*.
Learn more about *biz platinum*
You can also get in with the *delta reserve card* – Delta's top-tier card. But there's a hitch: You have to be flying Delta that day, and you must have paid for your ticket with your Reserve card.
Learn more about the *delta reserve card*
Finally, you can get in with the American Express Centurion Card, which is an invite-only credit card reserved for Amex's top spenders.
Head to the lounge and simply present your Platinum, Reserve, or Centurion card along with a same-day boarding pass on any airline. There is no requirement that you purchase the flight with your Amex Platinum card. You can also now "check-in" ahead of time using the Amex app and simply show your ID and boarding pass upon arrival.
With all these cards that get you into Centurion Lounges and more and more travelers adding them to their wallets, crowding has become a serious problem. Amex has repeatedly tightened up on when you can get into Centurion lounges to combat crowding.
As of early 2019, you can only get into a Centurion Lounge within three hours of your originally scheduled flight departure. Luckily, this policy doesn't apply if you're at the airport during a layover. You can no longer get into the lounge upon arrival unless you have a layover – only departing flights will qualify for a visit.
And recently, the bank has made even more drastic changes that will make it expensive to bring a travel buddy with you into the lounge. For years, Amex Platinum cardholders could bring two guests into the lounge with them for free. But those days are over: As of Feb. 1, 2023 guests cost $50 apiece (or $30 for minors) unless you charged a whopping $75,000 to your Platinum Card in the last year. Children under two will be admitted free of charge.
Delta Reserve cardholders do not receive any complimentary guests, either – but they never have.
Bottom Line
American Express has formally announced plans to open a Centurion Lounge at Newark-Liberty International Airport (EWR), but travelers will have to wait until 2026 to visit the club.
Featured image courtesy of American Express