The day has come: The new nonstop Aer Lingus flight from Minneapolis-St. Paul (MSP) to Dublin (DUB) is set to take off Monday afternoon.
Ireland's flag carrier announced the new route back in September of 2018, along with a new nonstop to Dublin out of Montreal (YUL).
The nonstop flights from MSP will initially fly five times a week (Sundays, Tuesdays, Wednesdays, Thursdays, Saturdays) through July before flying daily through the rest of the summer and fall. It will revert to a four-times-weekly flight in December.
Aer Lingus is using a Boeing 757 initially for the route, but don't be surprised to see the airline eventually swap in a more fuel-efficient Airbus A321LR.
The new route was driven largely by Medtronic, a massive Minnesota-based medical device manufacturer whose corporate headquarters is in Dublin.
"We learned that there is significant demand among Minnesota's business community for direct air service to Ireland," Brian Ryks, CEO of MSP airport, said at the time. "That information demonstrated to Aer Lingus officials that non-stop service between the two cities would be profitable for the airline."
But that's good news for travelers, too. Aer Lingus has stepped up its game lately, offering dozens of cheap fares out of MSP and other U.S. gateways across the Atlantic that we've sent to Thrifty Traveler Premium subscribers. Better yet, the airline offers a free stopover program, allowing flyers to stop in Dublin for up to seven days on their way to (or back from) somewhere else in Europe.
This newest route is part of a massive expansion for the Irish airline after being acquired by IAG – the parent company behind British Airways and Iberia, among other carriers – in 2015. It's also launched service to Los Angeles (LAX), Newark (EWR), Hartford (BDL), Miami (MIA), Philadelphia (PHL), and Seattle (SEA) in that span.
Our Analysis
Minneapolis-St. Paul (MSP) is our home airport, so we're a tad biased. But it's great to see another new international flight from the Midwest – and one that gives Delta some competition at its hub.
In 2019 alone, Delta has launched new nonstops from MSP to Seoul-Incheon (ICN) and Mexico City (MEX). The airline is also angling to begin flights to Shanghai (PVG) in 2020.
And Aer Lingus is a great airline to give Delta some competition – helping reduce fares to Europe for all Midwestern travelers.
Delta already flies direct from MSP to London-Heathrow (LHR), Amsterdam (AMS), Reykjavik (KEF), and Paris-Charles de Gaulle (CDG). Icelandair also flies nonstop to Reykjavik (KEF), and Condor operates a seasonal flight to Frankfurt (FRA).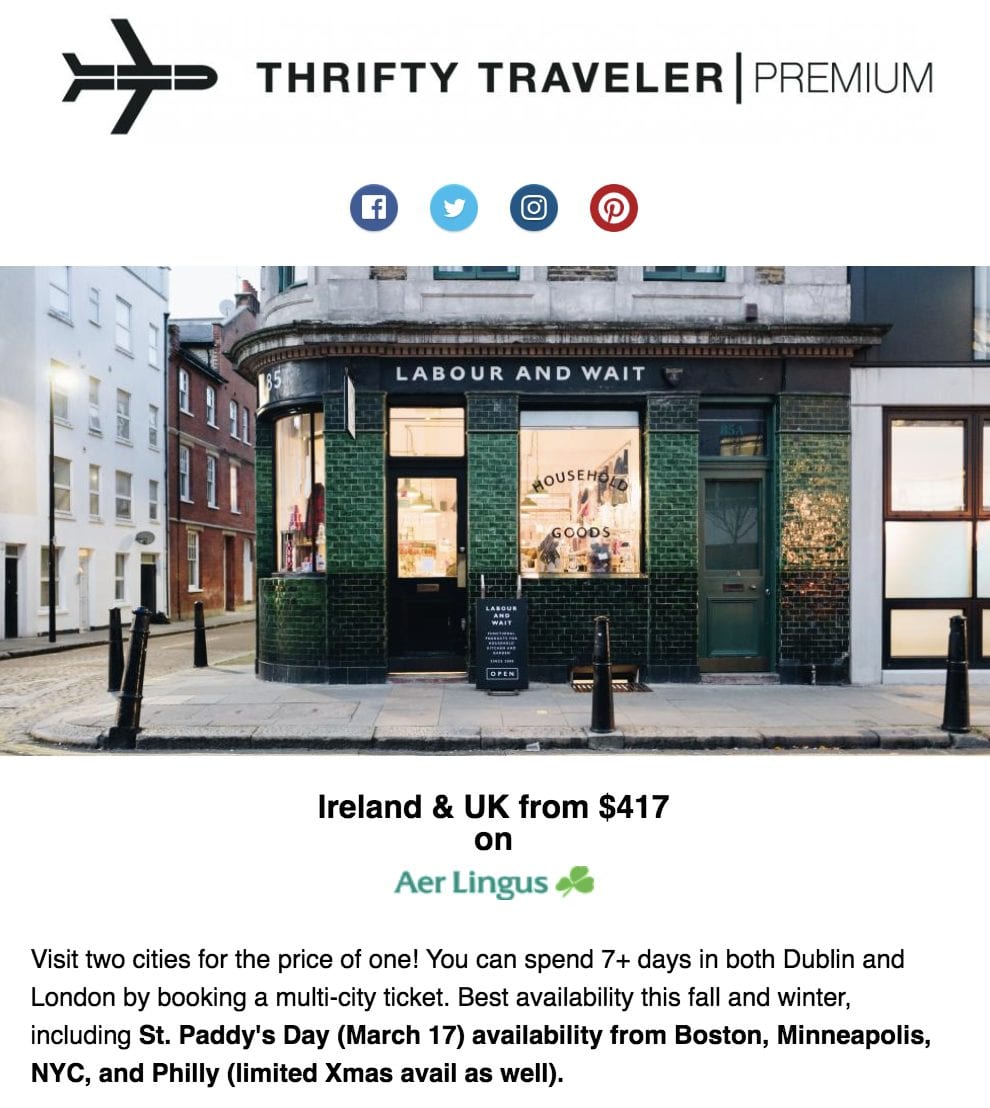 For starters, its free stopover program is a great way to see two places for the price of one. Even if Dublin isn't on your travel wish list, why not stop for a few days on your way to see London, Rome, Paris, Madrid, or any European hotspot?
Aer Lingus tries to woo travelers with cheap fares and this stopover program. This new Minneapolis route puts pressure on both Delta and Icelandair, whose entire business is staked on that two-for-one model.
Dublin is also one of a handful of international destinations that has a U.S. customs preclearance facility. That means you can clear customs and immigration before boarding the flight home.
Bottom Line
New routes are always exciting. But the start of flights from Minneapolis-St. Paul (MSP) to Dublin (DUB) could open a new world of flight deals to Midwestern travelers, and a chance to visit the incredible Irish capital to boot.