Landlocked in Eastern Europe in the shadow of Russia, the small country of Belarus isn't just overlooked. It's often forgotten. And that's a shame.
This crowd-free country is ready and willing to accept visitors looking for a taste of the cheap charm that makes Eastern Europe so great. It's almost a blast from the past, as this nation was a longtime Soviet Republic and has been dubbed "the last dictatorship" of Europe
Here's why budget-conscious travelers should Belarus on their bucket list.
Getting In and Out of Belarus
Years ago, entering Belarus required a painstaking visa for specific dates.
But since 2017, that's been relaxed thanks to a visa-free scheme for many citizens, including Americans. And that means you can now visit Belarus visa-free for up to 30 days!

The main hitch for these 30-day visits is that you must fly in and out of Minsk (MSQ) – and your flights can't be to or from Russia. That means your best bet for visiting Belarus is by tacking it onto another destination in Europe. And you have plenty of options.
You could head for Berlin, Kyiv, or Stockholm before hopping on a flight to Minsk on Belavia, the country's national carrier. Air Baltic also has cheap, short flights from Riga, Latvia (RIX) or Vilnius, Lithuania (VNO) into Minsk. If you're visiting Poland, why not add a trip to Belarus? LOT Polish operates direct flights to Minsk from Warsaw (WAW).

One other quirky requirement for visiting Belarus visa-free is that you must have valid travel insurance during your stay. That's a good practice no matter where you're traveling, so make sure to have a printed copy of your policy. Travelers are also advised to have proof that they've got at least 25 euro per day in funds, but that is rarely enforced. Still, it's not a bad idea to have a copy of a bank statement, just in case.
When you enter Belarus, you'll get a white slip of paper. Hang onto it! You'll need it when you leave the country.
You'll Have the Country (Almost) to Yourself
Despite opening up visa-free travel options, Belarus still sees just a fraction of the tourists that visit other parts of Eastern Europe.
That comes with a tradeoff. That means there is far less infrastructure for tourism in Belarus than you'll find elsewhere in Europe. But it also means you get to explore the country unhindered by crowds – you may even find yourself alone at some attractions.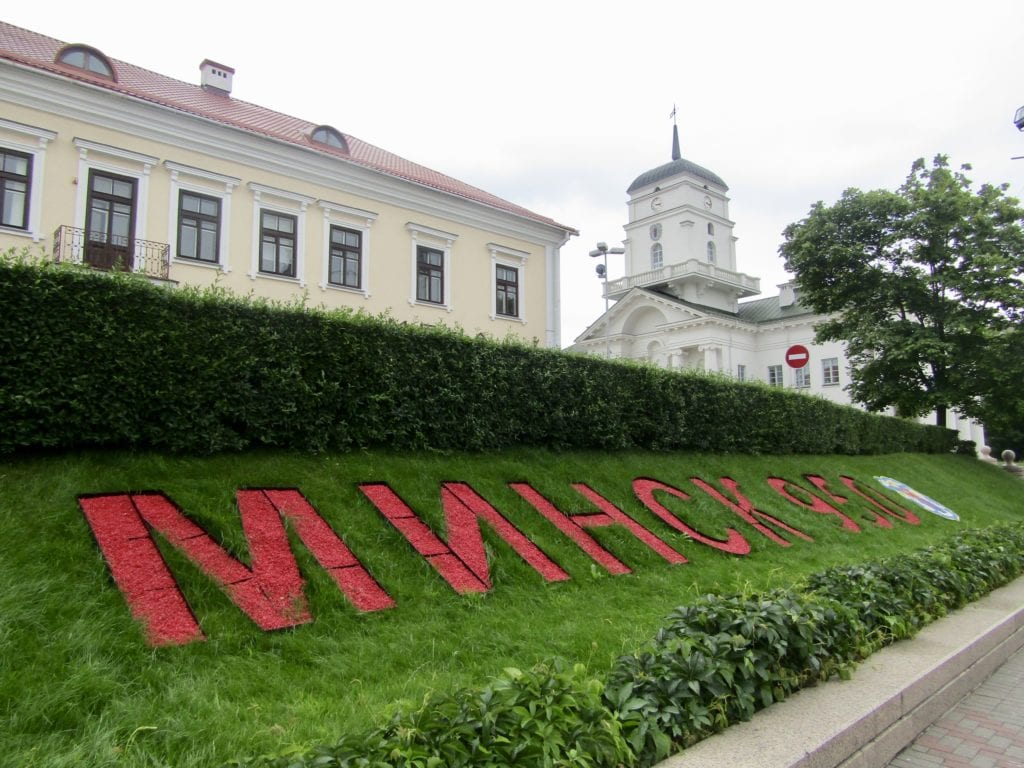 Thrifty Tip #1: Tourism isn't quite mainstream here yet, and not everyone you encounter will speak English. Having an app like Google Translate will be a lifesaver! Knowing basic Russian phrases like hello and thank you will go a long way. Learning bits of the Cyrillic alphabet will also be a huge help in Belarus.

It Doesn't Get Cheaper
Even in notoriously cheap Eastern Europe, Belarus stands out. And the exchange rate with the Belarussian Ruble is on your side.
A ride on the metro costs just about .65 rubles – 30 cents. Entrance to the Great Patriotic War Museum, one of the capital's top attractions, is 9 rubles (just $4.20). Cocktails at a nice bar cost 12 to 15 rubles on average – $5.50 to $7.
There are still plenty of ways to cut your costs even farther in Belarus. 
Plenty to See, Do, and Drink
Most trips to Belarus rightly start with the capital, Minsk.
There's plenty to do and see here, especially the Great Patriotic War Museum, the view from the top of the National Library, fun cocktail bars, and a smattering of classic Soviet architecture spread throughout the city. It's the only city I've found with a massive Soviet sculpture on top of a KFC!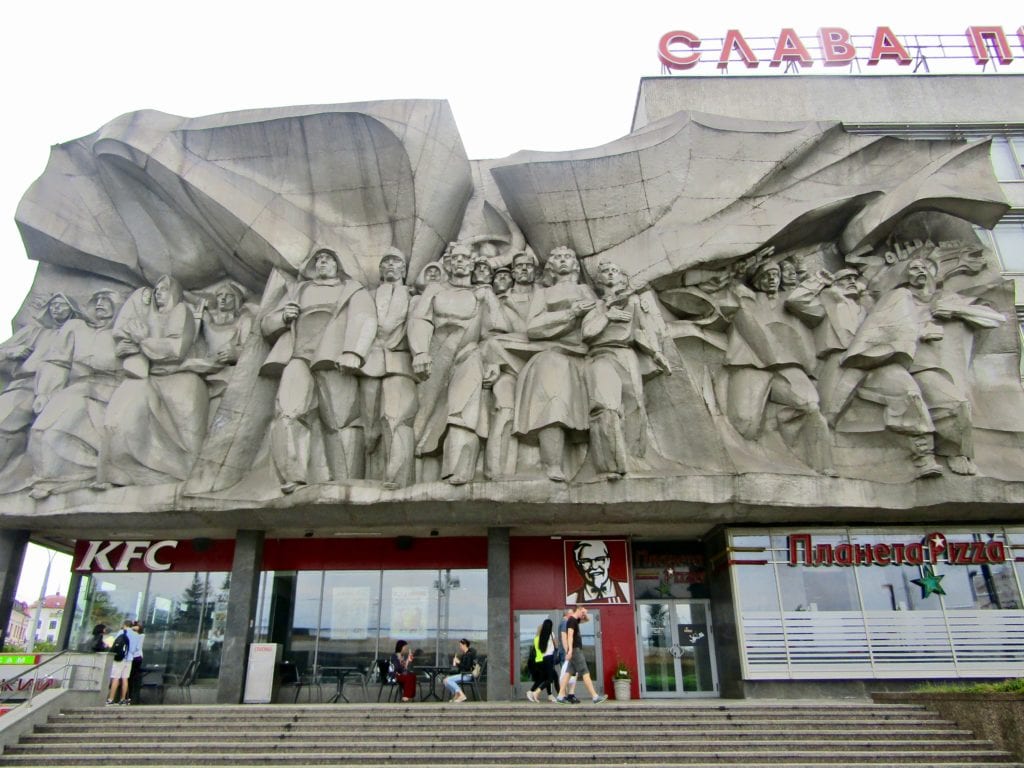 Minsk has a surprisingly cool cocktail bar scene, too. Some of the best are El Pushka, Embargo, and BarDuck.
Mir Castle is another must-see destination in Belarus – it's been a UNESCO World Heritage Site since 2000. Make sure to give yourself time to walk around the lake and enjoy the views over the castle grounds. It can be tricky to visit with public transportation, but it's doable as a day trip from Minsk if you get an early start.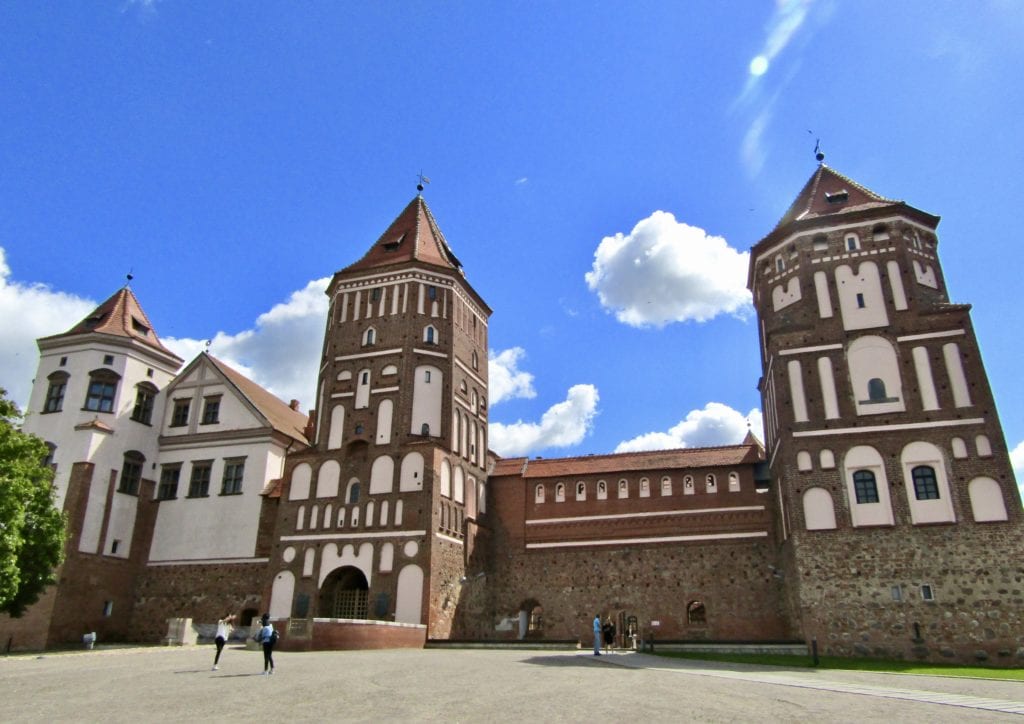 Brest is probably the second most popular city for travelers outside of Minsk. Having changed hands between Poland, Lithuania, and the Soviets over the last thousand years, it has a long, fraught history. The Brest Fortress commemorates the World War II siege of Brest and is a must-see for visitors.
Not far from Brest is Belovezhskaya Pushcha National Park, another of Belarus's UNESCO World Heritage Sites. The national park is home to over 55 different species of mammals. But it's best known as the home of the zubr – a type of wild bison, slightly smaller than bison in the U.S. You can book onto a day tour of the park, or look at renting a bike to explore some of the bike trails.
Thrifty Tip #2: A marshrutka, or shared minibus, is the cheapest way to get to different destinations in Belarus. Marshrutkas don't necessarily run on a schedule, and sometimes only leave when they're full. Ask at your accommodation for more information on a marshrutka from Point A to Point B — locals will always know best.
Go Back in Time
Belarus was once part of the Soviet Union, and change has come fairly slowly here.
You'll still find a giant statue of Soviet leader Lenin outside the Parliament in Minsk. In a rare holdover from the Soviet state, secret police here are still called the KGB – you can even walk past their office in the city center, but don't take photos!
If you want a glimpse into the past of Soviet life, Belarus can bring you pretty close.

Bottom Line
Belarus is a funky destination on the rise. Visa-free travel makes it simpler than ever to check out this unusual destination.
It may never be a top destination even within off-the-radar Eastern Europe, but a visit to Belarus is definitely rewarding.