The mere mention of the name "Monaco" can scare budget-conscious travelers away.
The tiny city-state-principality is synonymous with wealth, and for good reason: It's the richest country in the world, requiring a $4 million bank deposit to become a resident. Older travelers will remember actress Grace Kelly's marriage to then-Prince Rainier Grimaldi. The younger crowd may have admired the Casino Monte-Carlo Casino in James Bond's Casino Royale. And the spectacle of the Monaco Grand Prix spans all generations.
But take it from me: In Monaco, opulence doesn't equal expensive. After several visits to this principality tucked in the French Riviera, I've walked away with both a healthy wallet and an enriched mindset.
The Monaco of Yesterday and Today
Enveloped by France, but just a few miles from the Italian border, Monaco has a long and dramatic history for such a small country.
Its modern roots go back to the 1200s, when the Italian Grimaldi family moved west and literally took over the 1 1/2-square mile land that today comprises Monaco. Over the centuries, it changed hands as a protectorate and figured into World War II.
Today, Monaco is firmly and proudly independent from its neighboring countries. You'll hear the local language Monegasque, there, but mostly French (the country's official language), some Italian, and even English. Thanks to its emergence as a hub of wealth and banking, Monaco today feels quite "international."
And that's reflected in its ruler, Prince Albert, the son of Prince Rainier and Princess Grace. In many ways, he's as American as he is Monegasque, even speaking English with an American accent.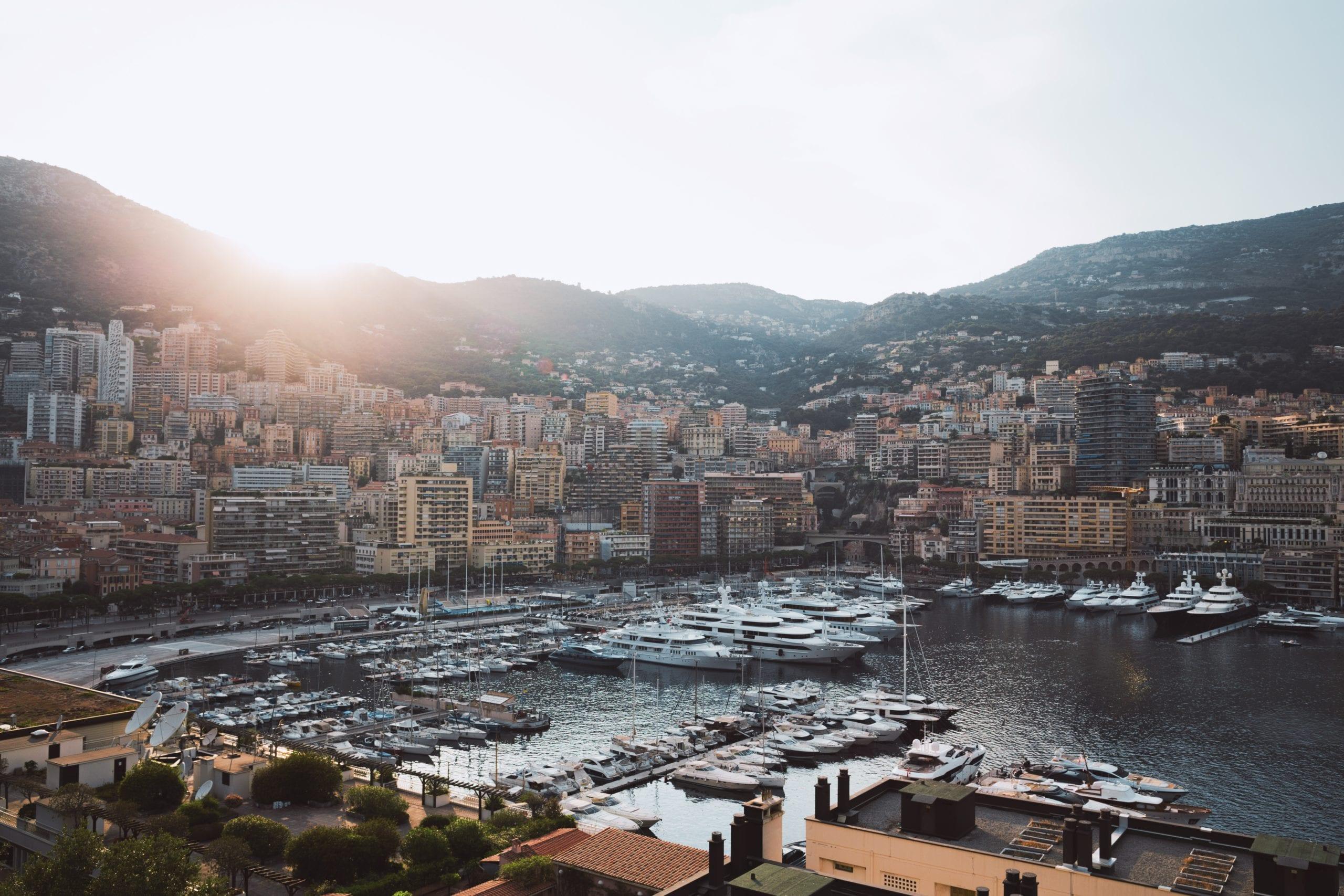 As the second-smallest country in the world – behind only Vatican City – there's not much to Monaco, land-wise. There are five wards in all. The wards start with the famous Monte Carlo, which is home to the world's most famous casino as well as the justifiably renowned Hotel de Paris. But if you ask the locals, the southernmost ward called Fontvieille is its most important – it's where you'll find the Princes Palace of Monaco.
But before you dive headlong into exploring, you'll first need to get there.
Getting to Monaco
Tiny Monaco doesn't have its own commercial airport.
Instead, fly into Nice, France (NCE). Monaco is just a half-hour's drive east via an excellent high-speed highway. Renting a car in Nice is easy, as you'll find all the major rental car companies at the airport. Just be sure to book your rental well before you leave U.S. soil.
All the major European airlines fly to Nice from their respective hubs, so finding a one-stop flight shouldn't be a chore. But look for nonstop flights during the spring and summer months on Delta from New York City (JFK) and a brand new seasonal flight on United from Newark (EWR).
You might expect high airfare no matter how you get there, but that's not always the case. Thrifty Traveler Premium members have gotten fares under $500 round-trip to Nice.
Why You'll Love Monaco
If you ask me, just setting foot in Monaco is worth the airfare. You don't need to spend another dime to enjoy it.
Being in Monaco is like being in a real-life fairy tale. You're surrounded – no, engulfed – by perfection. Opulent and historic buildings like the Monte Carlo, Hotel de Paris, Jacques Cousteau's Oceanographic Institute and Museum and the Cathedral dominate the cityscape. It's flanked by the yacht-filled port and cliffs and hills.
And within 20 to 30 minutes drive, there are plenty of other beautiful spots to visit during a trip through this corner of Europe – but more on that later.
What to See and Do in Monaco
A trip to Monaco could easily start and end with a visit to the Casino Monte-Carlo.
The world's most famous casino lives up to its accolades. Situated across the street from the equally famous Hotel de Paris, the Monte Carlo has exuded class and wealth since it opened in 1863. From the entrance to each and every gambling room, it's built for high rollers. And if you want to join them, you'll need to dress the part: Men should pack a suit and tie, while women should have a fashionable dress.
But perhaps no place sumps up the pure luxury and extravagance of Monaco quite like the Hotel de Paris Monte-Carlo. While a night's stay may cost a small fortune, visitors of all stripes can soak in the immaculate beauty or dine at one of the world's finest restaurants (keep reading!) Just having your picture taken in the lobby will provide a memory for a lifetime.
While the wealth of Monaco can be intimidating, its Royal Palace, Le Palais des Princes de Monaco, is not. It's one of the most beautiful palaces in the world, welcoming to both visitors and photos.
Walk just a short way and find the Cathedrale Notre-Dame-Immaculee. This stunning cathedral is where Princess Grace and Prince Rainier were married – and where Princess Grace was buried after a fatal car accident. Prince Rainier placed flowers at her tomb every day until he was buried next to her in 2005 – and now Prince Albert carries on the tradition. It's so powerful to stand in front of their flat tombs and admire this place with so much emotional weight.
Close by you'll find The Jacques Cousteau Oceanographic Institute and Museum, named for the famed explorer and its former director, Jacques-Yves Cousteau. From aquariums to its shark lagoon, passing through Turtle Island located on the panoramic terrace, it offers a unique opportunity to know, love and protect the oceans.
Eating in Monaco … Without Breaking the Bank
For such a small city-state-principality (the Monegasque license plates identify Monaco as Principaute de Monaco), there are plenty of restaurants to pick and choose from. Add in nearby villages and cities in France and Italy, and you may feel spoiled. Here are some favorites:
Le Pinocchio is one of Monaco's best, no lie (couldn't resist writing that). It's Prince Albert's favorite spot in the city, within walking distance and also vegan-friendly. But it's also wallet-friendly, with dishes from 5 euros up to 35 euros. The house specialty and top-priced dish is a beef filet drowned in Maitre d' Hotel butter. But don't miss my favorite choice, a roast cockerel (young rooster) marinated with sweet paprika and herbs for under 20 euro.
Adjacent to the Monaco harbor, stop at Quai des Artistes to gaze at the massive yachts and enjoy some of the best escargot and frog legs you'll find – two of their specialties that won't cost an arm and a leg (or even a frog's leg). It's a delightful place to dine with speedy service and relatively inexpensive prices.
But don't miss it on the fourth Wednesday of each month, when Quai des Artistes cooks up my all-time favorite dish: choucroute garnie. This French and Alsatian dish (pronounced shoo-CROOT) is considered a peasant dish, with sausage, ham, boiled potatoes and French-made sauerkraut. I was introduced to this dish in Paris in the '70s, and Quai de Artistes' rendition delivers top-dollar flavor at a mere 17 euros.
Need something a bit more straightforward? Beefbar Monaco and Son of a Bun are both slinging high-quality and flavorful burgers and hot dogs you won't find stateside. Expect to pay 7 euro or less.
Don't let Buddha-Bar's name fool you. There's nothing basic or mediocre about this dining experience. It's high-styled Chinese cuisine that's reasonably priced in a captivating setting. Their basic chow mein, at 14 euros, is outstanding.
For thrifty travelers, the $250 to $452 dollar meals at the Hotel de Paris's primary restaurant, Louis XV-Alain Ducasse a l'Hotel de Paris, are out of the question. Instead, head for the top floor and Le Grill, for a top-notch meal at much less than half the price.
Getting Outside Monaco
While there's plenty to love inside Monaco's tiny limits, there's plenty else around to see and explore.
Just a 20 minutes drive west of Monaco is the village of Èze (pronounced Ehzz), and it's worthy of a few hours or even a few days.
In Èze, you'll find one of my can't-miss spots: the former home of a Swedish Prince, a mini-castle overlooking the Mediterranean. Today, it's known as Chateau Eze, boasting a hotel and a world-class restaurant with an unbeatable view. A meal isn't cheap, but just being there is an experience you won't forget.
Just off the highway between Èze and Monaco, head for the Fragonard perfume manufacturing facility. You can watch them make perfumes and colognes you'll find at their primary perfumery in Grasse, France. Or buy them from the factory showroom and save some money from the normal retail prices.
Bottom Line
For me, there is no bottom line when it comes to visiting and experiencing Monaco. Very few places in the world can leave you speechless or unable to capture with words. But Monaco fits that bill.