Vienna, the capital city of Austria, is known for its regal palaces and high-class culture. But don't let the fancy buildings scare you away: Vienna's top sights can be seen for cheap – and without a pricey tour.
Here's our guide to seeing Austria by visiting 17 of the best spots in the city.
The Top Things to Do in Vienna
Explore Vienna Architecture
One of my favorite views of Vienna was from the top of an unlikely rooftop platform.
Visit St. Stephen's Cathedral, which is free to enter and look around inside. It's a beautiful cathedral, but an even more spectacular view awaits you above. Purchase the ticket (roughly $14 USD) to tour the catacombs below and go up the tower to do the rooftop view. Head up the elevator to the tower first for this epic view!
After your panoramic view of Vienna from up high, go all the way down with a guided tour (typically on the hour) of the catacombs that lie beneath the cathedral. Prepare yourself to see skeletons!
While in Vienna, don't skip the tour of the Vienna Opera House (Wiener Straatstoper). Adult guided tour tickets are 9 euro, but my brother and I both brought our ISIC student cards and got tickets for 4 euro each. The guide will take you through the gorgeous hallways, rooms, and staircases of the Opera House. Take some time to sit and take in the main hall, the last stop on the tour.
Thrifty Tip: Interested in seeing an opera during your stay in Vienna? Stop by the Opera House and ask what the going rate is for their day-of shows. Opera houses will often discount day-of tickets to fill seats. Or opt for standing room only for even cheaper tickets!
For more gorgeous views, walk around the Museum Quarter (Museumsquartier) in Vienna. If you've got the time, pick a museum or two to explore!
Two must-see palaces to visit in Vienna are the Hofburg Palace and the Schonbrunn Palace. Schloss Hofburg is located in the city center, while Schloss Schonbrunn is a bit further out of the city center. We decided to do both, but you could pick one for an interior tour and skip the other – both have similar information about the Hapsburg family and similar baroque interiors.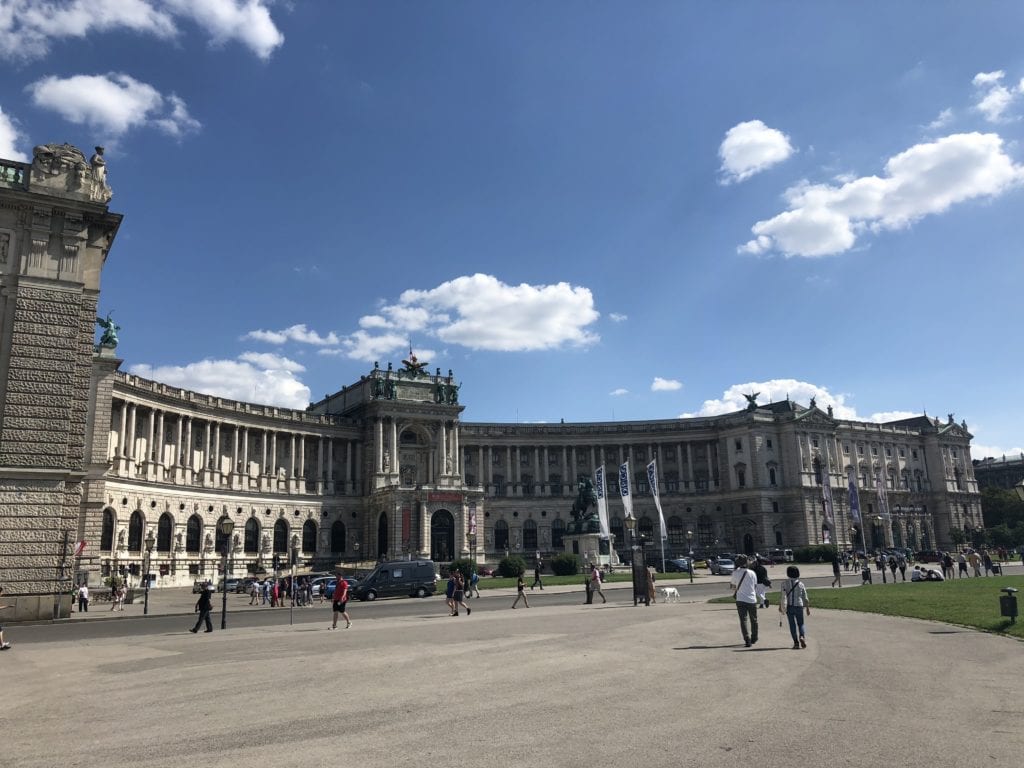 Again, carrying an ISIC card if you are a student of any age is a great way to save on ticket costs. We spent a little extra to upgrade our tickets at the Hofburg Palace to tour the Sisi Museum, which I highly recommend. The Sisi Museum tells the fascinating story of Empress Elizabeth's strange and tragic life. It was probably my favorite part of our audioguide tour of the Hofburg.
If you have the time to get out of the city center, Schonbrunn Palace (Schloss Schonbrunn) is a must. Rent the audio guide, because the stories of the Hapsburgs are fascinating. In addition to the palace itself, there is also a massive garden, grounds, and the gloriette – a building erected high on a hill above a garden to provide spectacular views. After touring the palace, hike up the hill in the palace grounds for a view of the palace and city.
I'd recommend purchasing the Classic Pass at 24 euros. While a little steep for a ticket, it includes access to the Privy Garden, Orangery Garden, mazes, and gloriette. If you have kids with you on your trip to Vienna, keep them entertained with the zoo, maze, and playground area on the palace grounds.
If you're not palace-d out yet, check out the Belvedere Palace. This is yet another gorgeous baroque-style palace, home to art dating back to the Middle Ages. If you're a fan of Gustav Klimt's work, you'll love it here.
In the heart of the city center is the Austrian National Library. If you're a Beauty and the Beast fan, this is a must-see! The castle in that famous Disney movie was based on this gorgeous library.
Vienna Cafes & Austrian Eats
Sipping an espresso and enjoying a sweet treat at a local cafe should be at the top of your list when in Vienna.
My favorite was Cafe Central. There can be a wait to get a table at this world famous cafe, but I promise it's well worth the wait. Cafe Central has a stunningly gorgeous interior, made even sweeter by its desserts.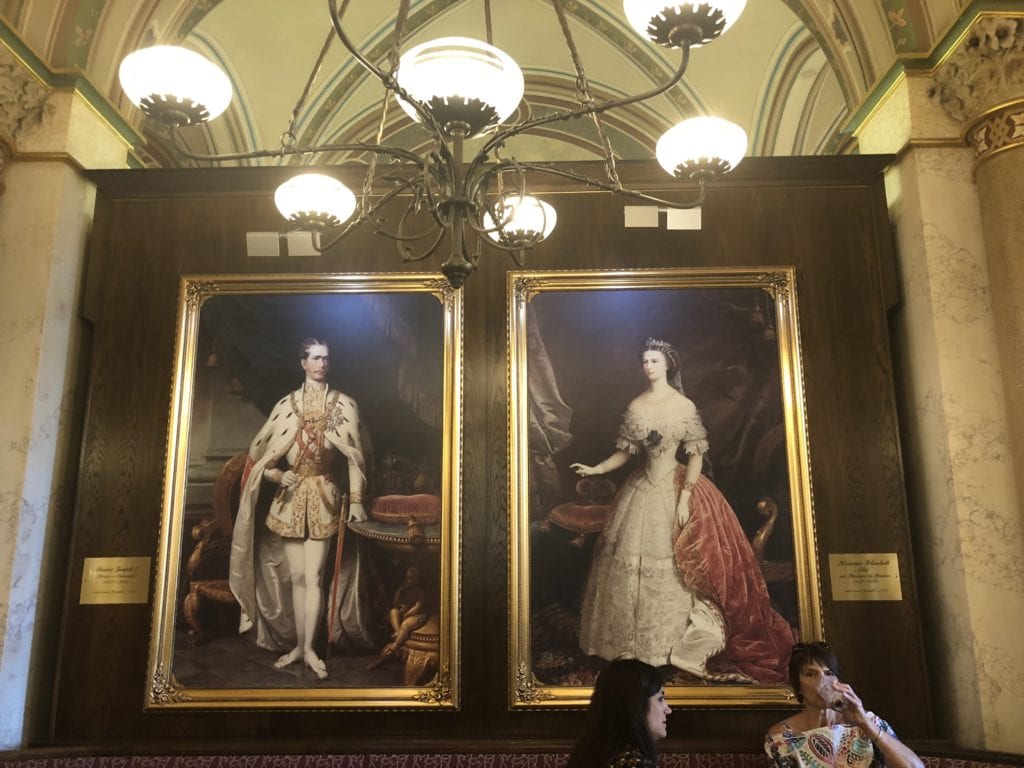 Order an espresso or a glass of champagne to accompany your food. Do some window shopping at the bakery cases at the front of the cafe and make your selection. We picked the apple strudel and chocolate peanut butter mousse  for our mid-afternoon pick-me-up.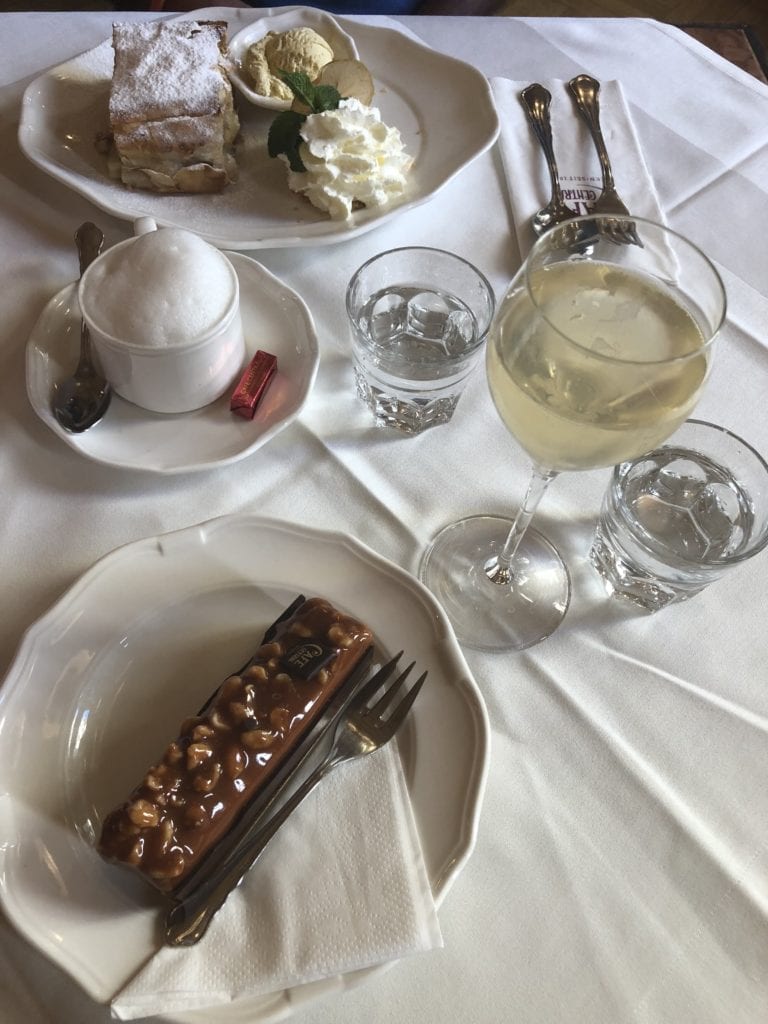 Another must-visit cafe is Cafe Sperl. This one tends to be a little less busy than Cafe Central, but with a similar charm and interior decor.
For many of our meals, we shopped at the local grocery store and made our meals in our Airbnb. Vienna dining isn't cheap, so this can be a great option if you don't want to eat out for every meal during your stay. We bought groceries to make all breakfasts and some dinners at our Airbnb during our three-day stay, and our grocery bill came in under $20 for two people. Book an Airbnb with a kitchen and you're set to save.
But there are some great restaurants in Vienna. Here are my some favorites:
Get dinner at Zwolf Apostelkeller. Order the Kaiserschmarrn for dessert.
Get the world famous schnitzel at Figlmueler. You'll need reservations for this spot, and it's fancy. But wow, is it worth it!
Grab a hotdog at Bitzinger. Delicious!
Quirky Vienna Attractions
We explored Vienna with a bike tour during one of our days in Vienna via GetYourGuide, led by a knowledgeable local. She showed us some of the coolest, off the beaten path pockets of the city.
My favorite stop by far was the Hundertwasser apartments. This funky apartment building was constructed by the famous Austrian-born artist and architect Friedensreich Hundertwasser, who has quite a flair for unique design. Right next to this famous apartment building is a Hundertwasser-style mini-mall, with handicraft boutiques and a cafe.
Looking for a fun spot to chill off the beaten tourist path? Head to Tel Aviv Beach, a line-up of bars on the river that has brought in real sand and beach chairs to simulate a beach day in the middle of the city! A great "beach bar" on the river is Strandbar.
Looking for another cool place to grab a drink? Check out The Sign. Their cocktails aren't cheap, but they're fun.
And no trip to Vienna would be complete without a stop at Prater Park. Prater is a world-famous amusement park that is home to the oldest Ferris wheel in the world: the Wiener Riesenrad. This park is absolutely massive but totally free to walk (or bike) through. You just pay per ride, so definitely walk through to check it out.
Instead of riding the Ferris wheel, we bought a 5 euro ticket to ride the high swings and got a much better view of the city. This is a great place to stop if you've got kids in tow that are ready for something other than palaces and museums.
How to Get Around Vienna
When exploring Vienna attractions, your best option will likely be to walk to nearby sites and use the metro train system for further distances.
The public transportation system in Vienna (like in many European countries) operates on the honor system. But you'll definitely want to validate your ticket (typically by punching the ticket at the metro entrance) and hold on to it, just in case a transit officer asks to see your ticket at the end of your ride.
Bikes are available for rent at self-service stations throughout Vienna. Biking around the Ringstrasse (a loop around the heart of the city) can be a fun way to explore Vienna.
How to Get the Vienna PASS
If you're planning to do a ton of sightseeing and cramming your days with activity, the Vienna PASS may be a good option for you. Starting at 79 euro a day (price discounts for 2- and 3-day passes), this pass covers many of the top Vienna attractions mentioned above.
However, we took our time with our sightseeing and preferred to just use our ISIC student cards to get a discount on individual attraction tickets. If you're considering getting a Vienna PASS, I'd recommend first planning out your daily itinerary and adding up the ticket prices to see if buying the Vienna PASS saves you money or will cost more.
Bottom Line
Vienna is a gorgeous city with so much to see and do. Put these must-sees on your Vienna sightseeing list and enjoy the baroque buildings, classy cafes, and quirky attractions that Vienna has to offer.