The Wizarding World of Harry Potter in Orlando, Florida is a must-see for any Harry Potter fan. But is it thrifty? Not so much.
We recently traveled to Orlando with four Thrifty Traveler team members. And while we're all about keeping things cheap, that's a tall task in this magical setting where a ticket starts at $160 per person. So set a strategy to save money before you hit the ground in Orlando: Grab a cheap flight deal or use miles and points to minimize expenses. We opted for an Airbnb to keep lodging costs low and we utilized Delta SkyMiles to fly on the cheap.
Here are our tips and tricks to get the most out of The Wizarding World of Harry Potter. 
Go on Off-Peak Season & Get there Early
Harry Potter World is incredibly detailed and there is so much to see that overcrowding could really take away from the experience. That's why we recommend going during off-peak times of the year. Our visit in early January seemed perfect to skip the worst of the crowds. 
There are some obvious times to stay away from Universal Studios which includes spring break, but there are other times where special events in the park can make it overcrowded. There are some helpful "Crowd Calendars" done by locals that include all of the events and give you an idea of the best times to go. Make sure to review these calendars before booking your tickets. 
If you can't avoid a visit during peak season, consider the pricey Express Pass for the rides. It's not cheap at $100 per person, but it gets you to the front of almost every line. 
Peak season or not,  plan to get to the parks early in the morning to get in right away and experience the park before it fills up.
Thrifty Tip: Do the Harry Potter rides first. There are only four, plus the Hogwarts Express,  in the Wizarding World of Harry Potter. Of course, you'll have access to the less busy non-Harry Potter parts of Universal as well, but lines are generally shorter for those. 
Buy the Park-to-Park Ticket & Buy Online
Harry Potter World is located in two different Universal Parks so to get the full experience you have to buy a Park-to-Park Pass. They do sweeten the deal with a Hogwarts Express train between Hogwarts and Hogsmeade at Islands of Adventure and Diagon Alley at Universal Studios. Skip the lines to buy tickets and buy them in advance online, sending them to your smartphone. Go straight to the entrance and head in! 

Plan to Spend Most of your time at Diagon Alley
Hogwarts and Hogsmeade are fun and it's definitely worth stopping in at Honeyduke's for a Chocolate Frog or Fizzing Whizbees, or stopping in at the Owl Post to send a postcard.
But this part of the park is much smaller and a little bit older, having opened in 2010. Diagon Alley, which opened in 2014, is bigger and will take you more time to explore. If the line isn't too long, or you splurged for an Express Pass, definitely do the ride in Hogwarts, "Harry Potter and the Forbidden Journey."
But absolutely do not miss the "Harry Potter and the Escape from Gringotts" ride in Diagon Alley.
You get to take the Hogwarts Express to and from Hogwarts and Diagon Alley. Each way is a different experience, so if you have time, take the train twice!
You will stop at Kings Cross Station in London when you get off the train from Hogwarts. Before you enter Diagon Alley make sure to stop and chat with Dre Head at the Knightbus (he really talks to you) and get a photo. Make a phone call in a classic London Telephone booth to the Ministry of Magic (62442, MAGIC), and watch for Kreacher to peek his head out of the window of Number 12 Grimmauld Place.
Then walk on into Diagon Alley and explore! The creators of the Wizarding World of Harry Potter nailed every single detail from the books and movies you love. They have impeccably recreated everything from Knockturn Alley to Weasleys' Wizard Wheezes.
The only way to go into Gringotts is to go on the ride, which we highly recommend. You can see a smaller version of Gringotts with a lifelike goblin at the Gringotts Exchange Bank where you can exchange 'muggle money' for galleons to use around the park. Although it might seem fun, we don't recommend this because if you have any left you'll have to go back and get it changed back.
Thrifty Tip: Leave the large backpacks and bags at home. You are required to put all of your things that don't fit in your pocket in a locker before going on rides. The small lockers are free and will fit a small purse or two. But the larger lockers cost money and there are only a few available. It was difficult enough to find an open small locker – I can imagine the larger ones are more difficult. 
Get an Interactive Wand – or Don't
You can buy a wand at Ollivander's and even watch or participate in a wand selection ceremony (separate entrance for the show) and at carts around the park. A basic souvenir wand will cost you around $30 or you can get an interactive wand for around $50. Each shop window has special effects that are triggered by the wands along with fountains and water features around Diagon Alley. We borrowed an interactive wand from a friend, but I forgot it at home!
I thought I was going to be super disappointed at not having it, but we enjoyed watching people use the wands maybe just as much. I was also happy not to have to carry it around all day. If you're a super fan, definitely buy one of these wands. It does add to the magic of the experience. Here's an in-depth guide to the wands if you want to get super nerdy.
Eat at the Three Broomsticks
Taking a break for a beer – or Butterbeer, if you have a sweet tooth – and a plate of fish and chips or a Guinness stew at the Three Broomsticks is a must. You could save money by bringing your own snacks but sitting down at the Three Broomsticks adds to the whole experience. It's easy, quick, and the food is pretty good.
The line to order may seem daunting, but that's the longest part and if you eat lunch a little later in the day the wait isn't too bad. Once you order, you get your drinks and a number and then a friendly staff member seats you in the big hall.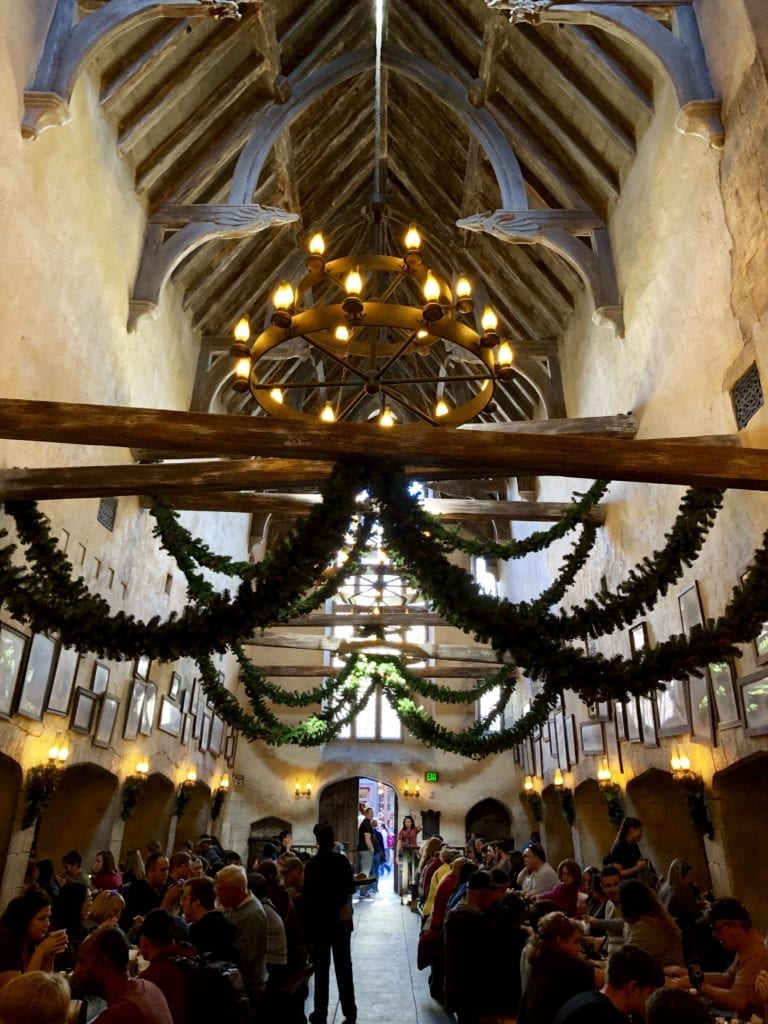 Wear Harry Potter Gear
People really get into the spirit of Harry Potter. You will see robes, scarfs, full on costumes, and Harry Potter shirts everywhere. We found cheap shirts on Amazon and were happy we wore them. It's a bit like cheering on your favorite team.
Because of all the incredible details and attention paid to every little part of the Harry Potter books, we know we missed a few things and will definitely be back. Especially considering we saw there is a new addition to the park currently under construction!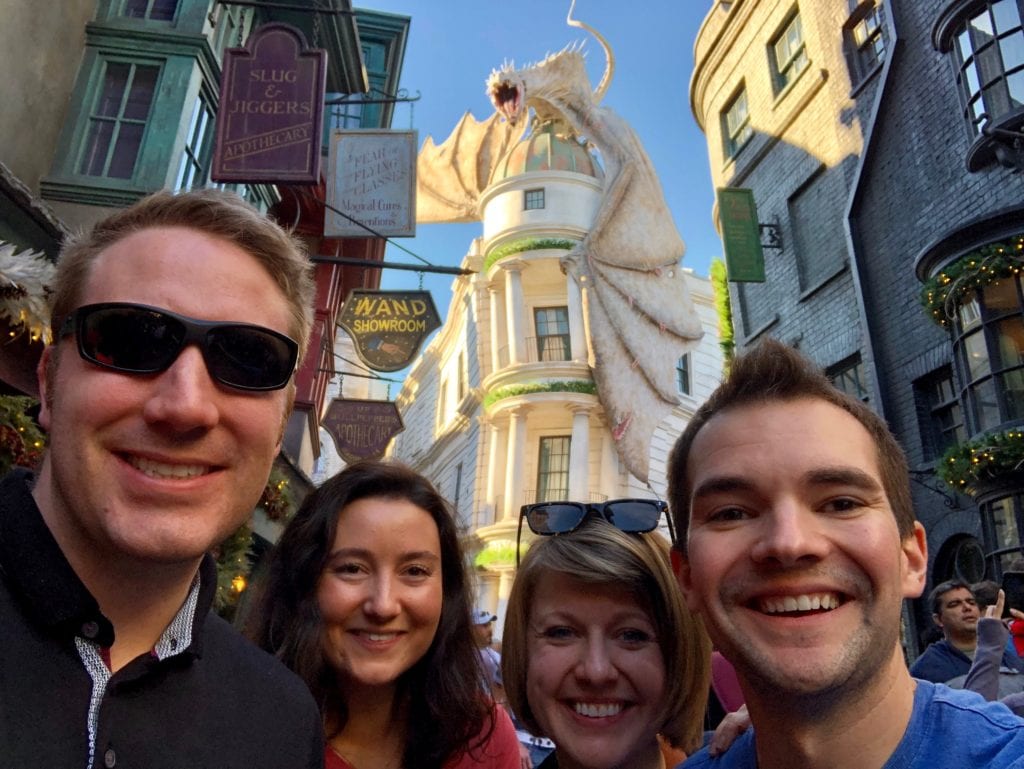 Bottom Line
A day at the Wizarding World of Harry Potter isn't going to be cheap, but it's well worth the cost. Minimize your costs on getting to and staying in Orlando, and save that money for the park itself. 
Our team visited in January when the crowds were light and the lines for most of the rides were relatively short. Visiting in the off-season is a must if you want to see most of the attractions.
Want more Orlando tips? Check out our Thrifty Traveler's Guide to Orlando for Adults.