Don't fret: Summer's not over just yet – especially in Alaska.
Sure, the calendar will turn to August in just a few days time. But that also brings some of the warmest temperatures you'll find in Alaska, whether you're heading straight for Anchorage, exploring Juneau or Fairbanks, or trekking up to Denali National Park.
Best of all, we're still seeing cheap flights for a late summer trip to Alaska no matter where you're heading. That includes nonstop summer fares to Anchorage (ANC) for $300 or less, sub-$200 tickets to Fairbanks (FAI), and even some record-low flights into Juneau (JNU) from just $158 roundtrip.
If a late summer trip is in the cards for you this year, you have a few options. But with these prices and options, I think your best bet might be Alaska. Here's why.

Why Visit Alaska this August or September?
The guiding light of this trip idea should be cheap flights, and we'll get there soon enough. But there are other great reasons to get to our nation's wildest state in August or September.
In late summer, even in a northern environment like Alaska, the weather is still awesome. August is the second warmest month of the year in the city of Anchorage, Alaska for instance, where residents and visitors can expect an average high of 61 degrees and an average low of 53. The tradeoff is that it's also Alaska's wettest season, so pack a raincoat.
But when it comes to Alaska, the later you go in summer, the better conditions in the National Parks and on hiking trails will be.

Let me put it this way: Aleyska Resort just outside of Anchorage recorded 848 inches of snowfall last winter – 848! It was the snowiest ski area on the continent last season, delighting snow enthusiasts all winter and spring long. But that snow doesn't disappear overnight. In fact, it usually takes most of June for all of it to melt off, meaning the hiking and biking trails in the mountains of Alaska might be snow-covered until the Fourth of July.
That also goes for the Fairbanks and Denali National Park regions of the state, as well as areas further south like Juneau, Alaska.
Another reason to visit at the end of summer is the lack of crowds. 

Measuring 665,000 square miles and holding a population of 737,000 people, Alaska still isn't that crowded even during peak July. But aiming your trip for the end of summer is a surefire way to have the trail to yourself.
During the pandemic, Alaska solidified itself as one of the hottest travel destinations for Americans who were looking for a socially distant, exotic, but still domestic travel spot. And that hasn't changed.
Back-to-school, falls sports, and the end of summer hours at work keep people closer to home in late August and September, though. So if you can swing it, visiting Alaska during those times is the best way to avoid other travelers.
Cheap Flights to Alaska
This is the best reason to visit Alaska in late summer.
If you're a subscriber to Thrifty Traveler Premium, you've already seen it. The last two weeks of August and September are a sweet spot for cheap Alaska fares.
Let's take a look at some of these deals and the destinations and why I think you need to go there.
Anchorage
Anchorage (ANC) is the biggest airport in Alaska and a major magnet for cheap flights to the state. It's not just a fantastic jumping off point for seeing Alaska, but also a great city in and of itself.
We were there in 2020 and put together a list of all of the best things to do in Anchorage. But let's step back and focus on the way there with this flight deal.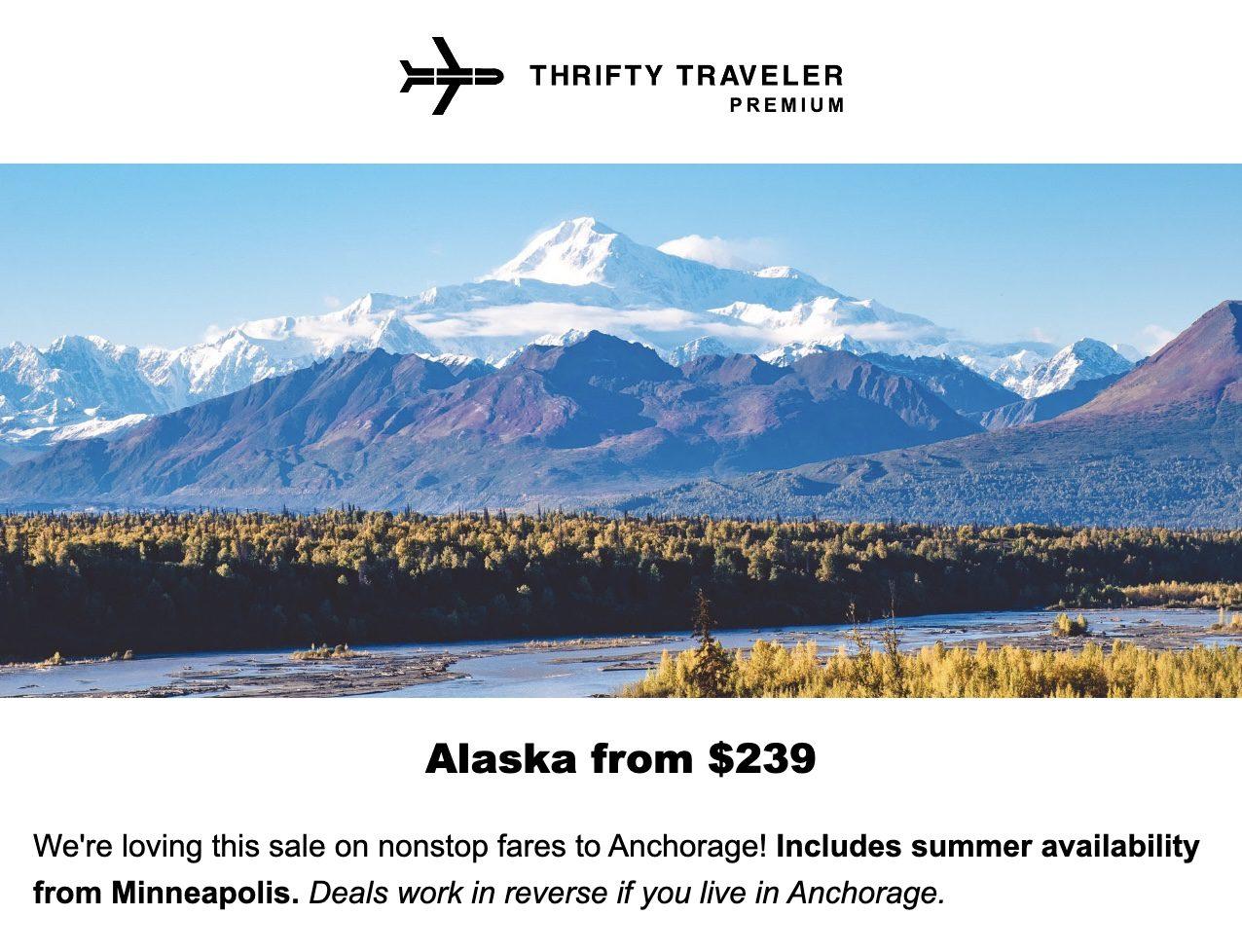 We were crazy about this nonstop deal, featuring nine different U.S. cities. Some of these cities included August availability and nearly all of them had September fares in the $300s, too.

Get flight deals like this one sent straight to your inbox with Thrifty Traveler Premium!
The Minneapolis-St. Paul (MSP) August fares were on Alaska Airlines, a lovely carrier to take on the long flight to Anchorage.

Have a few thousand Delta SkyMiles? We also unearthed an amazing Delta SkyMiles flash sale with roundtrip fares starting at just 12,000 SkyMiles this summer and fall.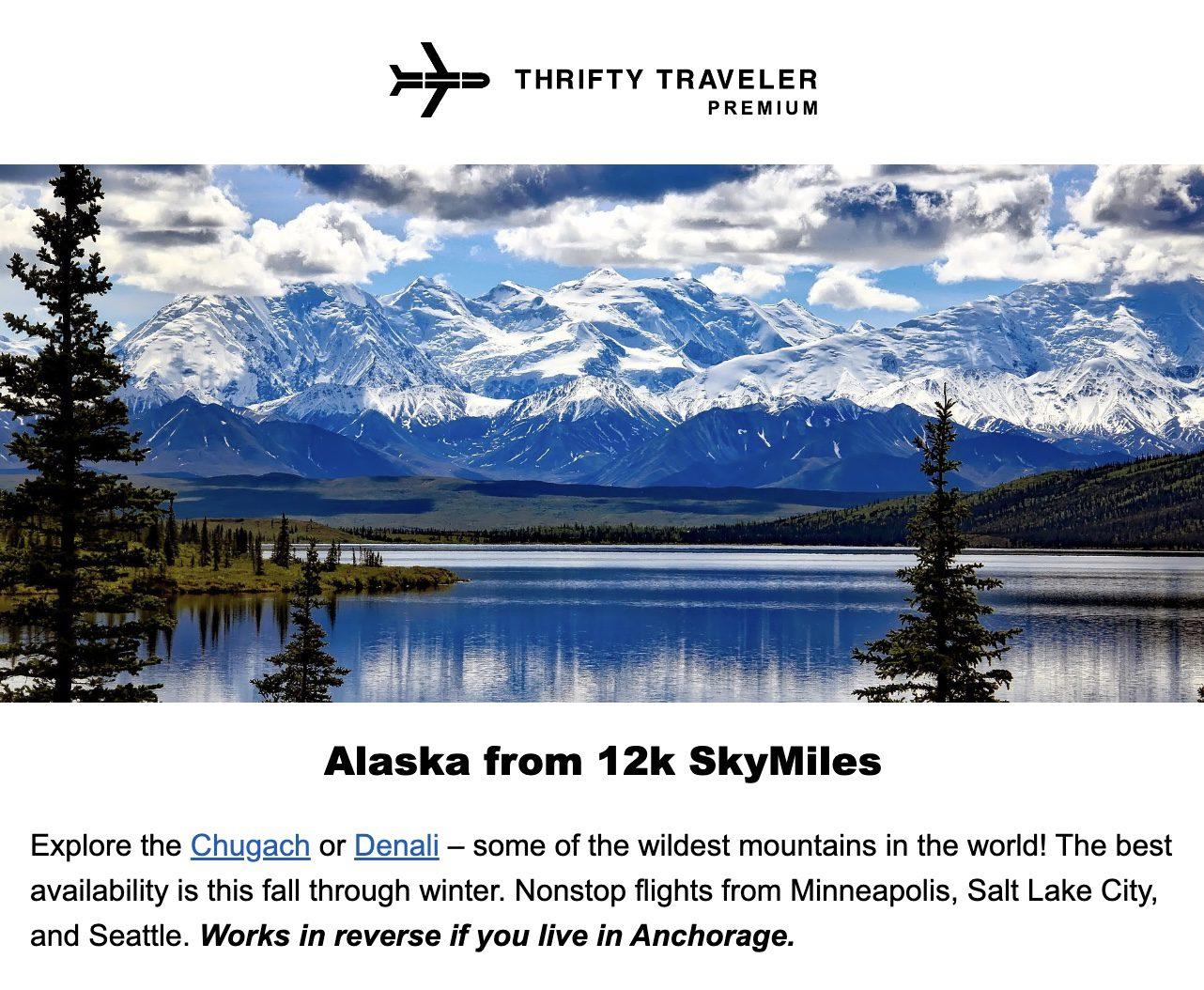 And yes, that includes the nonstop flights from Minneapolis, Salt Lake City (SLC), and Seattle (SEA).
And that's not all. A ton of U.S. cities were included on this deal. From Augusta, Georgia (AGS) to Des Moines, Iowa (DSM), there was a little something for every SkyMiles member to get you to Anchorage for under 30,000 SkyMiles … or much less.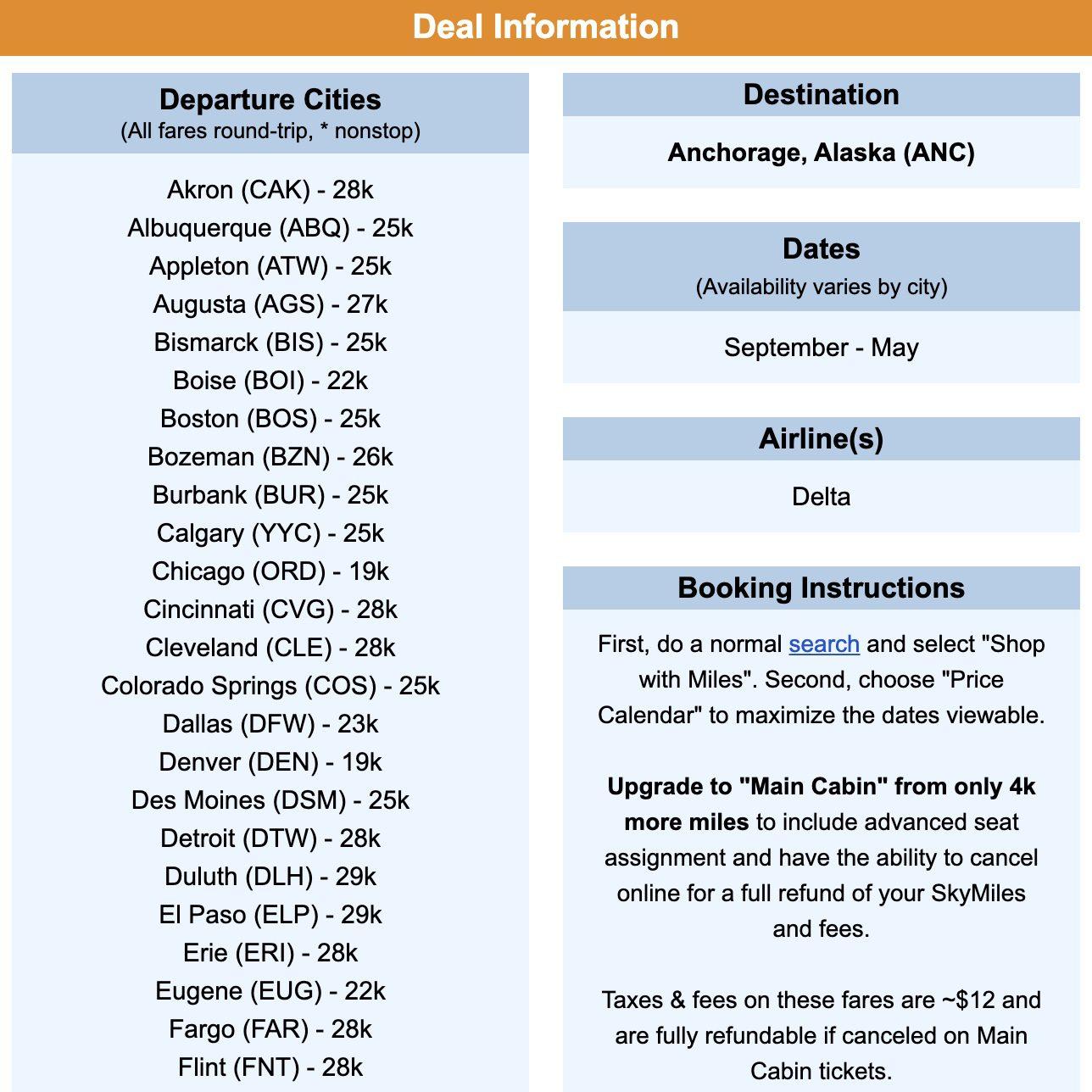 The Trip I'd Plan to Anchorage
Here's what I'd do after I booked this flight for this August or September.
From Anchorage, I'd book a roundtrip train ticket to the coastal town of Seward, Alaska on the Alaska Railroad. Leaving early in the morning, the trip takes about six hours one-way, winding through the Chugach Mountains, and making one stop in Girdwood. In Seward, I'm booking a boat cruise tour of Kenai Fjords National Park, a whale-watching expedition, or a glacier tour, and then spending a night or two in the town of Seward.

On the train ride back to Anchorage, I'm stopping in Girdwood, the gateway to Alyeska Resort, and doing a big hike up to the top of the ski resort. The way down will be much more luxurious as I'm taking the aerial tram down to the bottom.
Juneau
Anchorage and Fairbanks get all the love when it comes to cheap flights to Alaska, but don't sleep on some of the other cities our largest state has to offer. Juneau, for instance, deserves a spot on your list.
Located much further south of Anchorage, Juneau is an incredibly scenic coastal and mountain town. And thanks to airlines like Delta and Alaska, Juneau (JNU) is home to the occasional flight deal, too.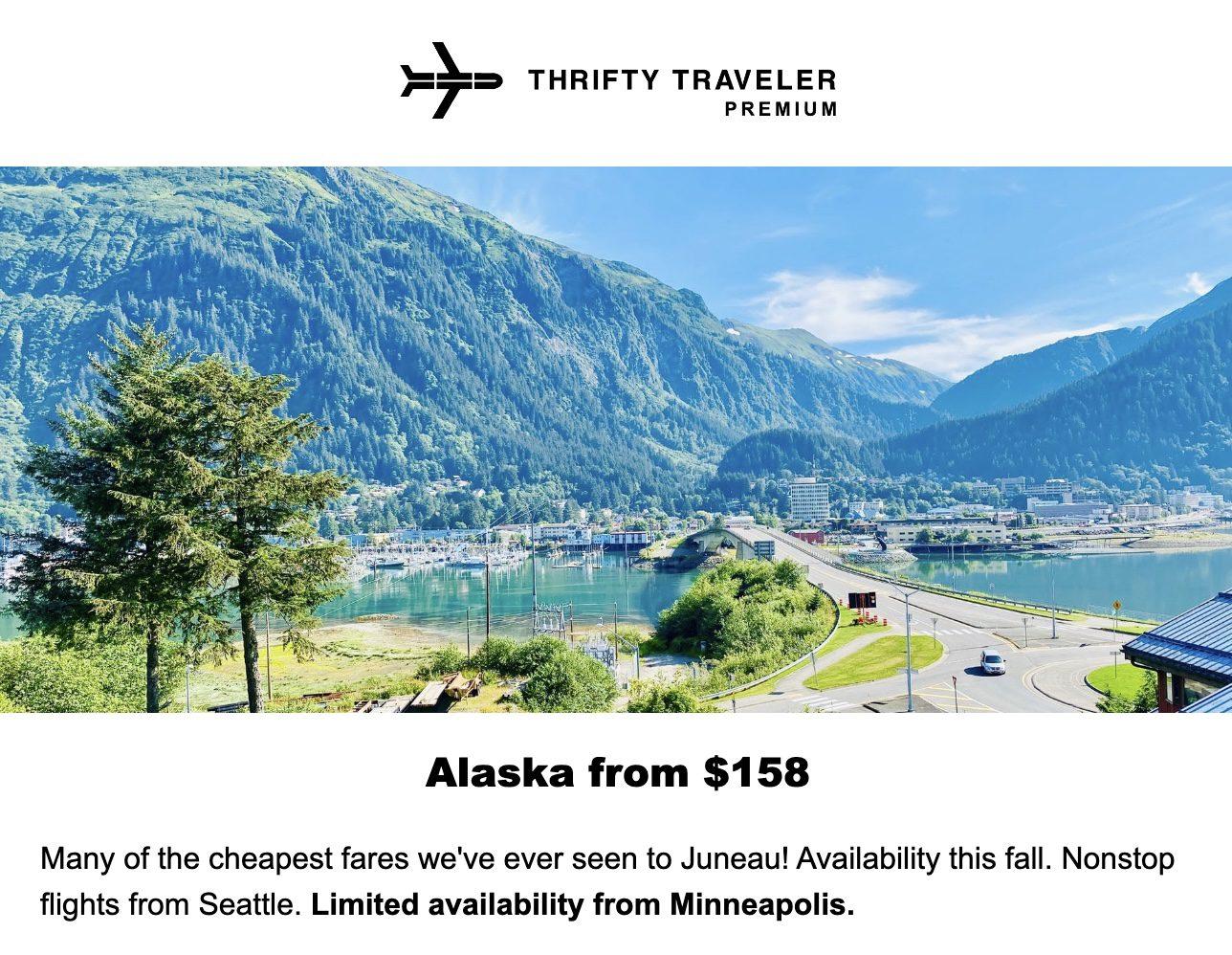 This flight deal we dug up recently includes some September availability and might be the end-of-summer getaway for the outdoor enthusiast. And just look at all the cities that got in on this deal! This isn't just the mega-hubs: We're talking Eugene (EUG), Pasco (PSC), and San Jose (SJC) getting in on the action with sub-$300 roundtrip fares all the way to Juneau.

The Trip I'd Plan to Juneau
Juneau might be small, but it's mighty.
The first thing I'd do in Juneau is venture up to the Mendenhall Glacier for a day's worth of action. The hikes to views of the southeast Alaskan beauty are a must-see, but there are hundreds of miles of hiking trails in the Mendenhall Lake area, too.

With the rest of your time, you're still getting your steps in. The Mt. Roberts trail and the Mt. Juneau trail are both super rewarding voyages with stunning views at the top. Use AllTrails to find the best trail for you. According to the hiking app, there are 59 different trails to conquer from Juneau. From excessively difficult mountain treks to easy walks, Alaskan terrain has something for you to enjoy.
Don't forget to head across the bridge to Douglas Island, where even more miles of hiking and sweeping views await, too.
Fairbanks
Last but certainly not least is the far-north locale of Fairbanks, Alaska.
The Fairbanks airport (FAI) is best known as a gateway to Denali National Park, which is a two-hour drive away from the city. Fairbanks is home to the occasional flight deal, which makes the impossibly remote American city feel a little closer to home … and incredibly cheap, to boot.

When Alaska Airlines gets in on the action, flight prices to Fairbanks can drop into the $300s pretty routinely. But Denali is a hot destination, so those fares don't always last long!

As is the case with most Alaska deals, the fares from the northwest hub of Seattle (SEA) tend to be the cheapest, but don't sleep on your home airport, either. As you can see, Cincinnati (CVG) and Kalispell (FCA) both entered the chat on this deal we sent to Thrifty Traveler Premium members.

The Trip I'd Plan to Fairbanks
I'm renting a car and pointing it south: We're heading straight to Denali National Park.
I'm making the meandering drive down the Parks Highway into Denali country and finding an Airbnb, a campsite, or a lodge to call home. I'm also getting to bed early, because you can't be groggy or hungover in Denali.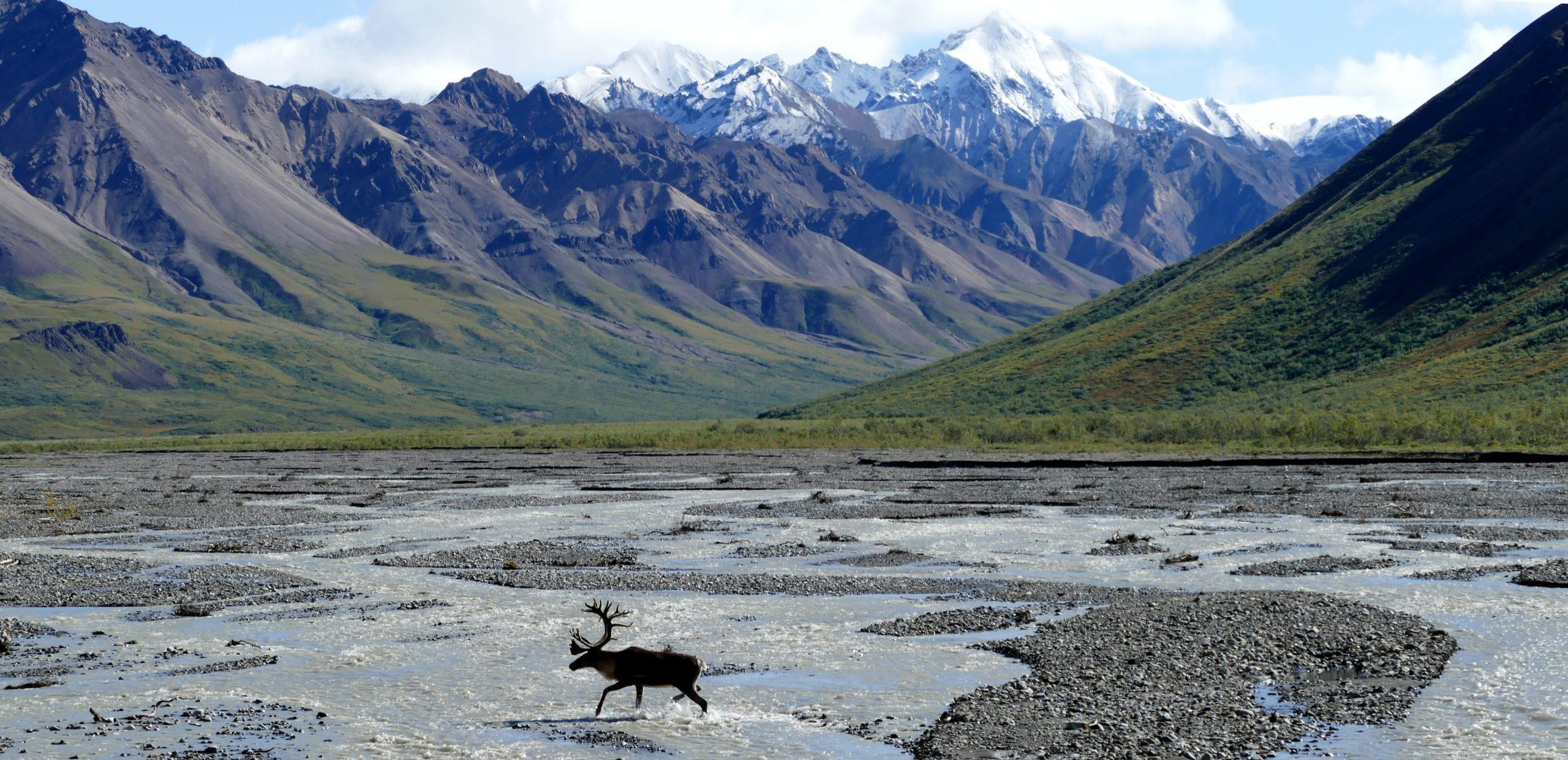 I want to be ready to tackle the mountains by foot, on horseback, or by helicopter – yes, heli-hiking is a thing. There are truly endless ways to experience the park, but I implore you, please go talk to a National Park Ranger before you head into the wilderness. Denali is no joke and the rangers want to help!
Once my feet are good and tired, I'm seeing Alaska from its legendary waterways with a rafting excursion the next day. And while I'm not the most gifted angler, there is no shortage of fishing guides in the Denali region who would love to show you some of the most prolific waterways on the continent.
Bottom Line
If you're looking for one last hurrah this summer, we think an August or September excursion to Alaska is the perfect trip.
Right now, Alaska is perfect because it's a great mix of the best weather, low crowds, and tons of cheap flights. Thrifty Traveler Premium members saw all of these deals first, so you might just run into a few members on the trails in our biggest, wildest state this August or September.