Embarking on a trip to Southeast Asia is daunting – especially for first-timers.
Most travelers budget at least two weeks for a trip, and the possibilities are endless once you arrive. You could be eating street food in Bangkok's famous Chinatown, dodging motorbikes in Hanoi, or getting a taste of the high life in Singapore.
Southeast Asia is your oyster. So we wanted to answer the most common questions to help you prepare for your trip.
When is the best time of year to visit?
Much of Southeast Asia has two seasons: Dry and wet. 
Go further north to Japan, Korea, and China, and you'll find much cooler winter temperatures. But for many countries in Southeast Asia, it's hot and humid year-round. 

So the question isn't how to make sure you find the warm temperatures you're after. It's how to avoid the crowds – and the rain.

The best time to visit is generally November through February or March, when temperatures are (somewhat) lower and the climate is dry. But as you move farther south, the rainy season moves back. For example, Bali in Indonesia is best between June and September – you should expect heavy rains from October through February.
Read our guide to scoping out the best times to travel to any destination based on the weather.
But other travelers will follow that advice too, so the remainder of the year is a great time to visit as well. So long as you can stomach the rainy days, higher temperatures, and occasional typhoon.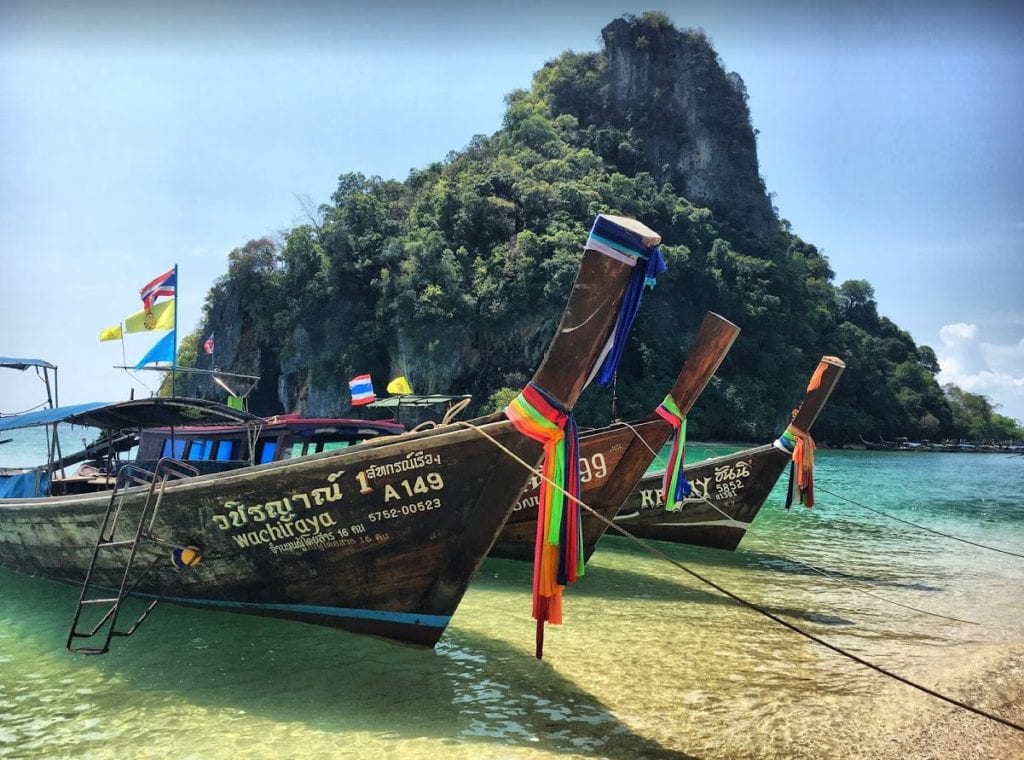 Do I need vaccines?
The short answer? It's up to you. 
Throughout most of Asia, there are no vaccinations required for entry. If you are entering via a country with Yellow Fever, special conditions may apply. You can find out exactly what is recommended for your countries of travel by visiting the CDC website. Consider meeting with a travel nurse at your local clinic to discuss risk levels for certain diseases based on your planned activities.
If you skip vaccines altogether, at a minimum ask for a Z-Pack (azithromycin) to make sure you're covered if traveler's diarrhea strikes.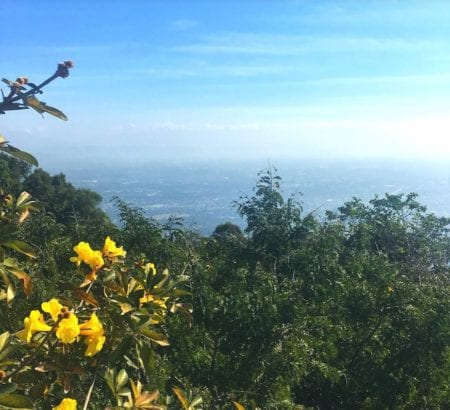 Thrifty Tip #1: Walgreens carries most travel vaccines. If you feel comfortable with your medical history and choosing which vaccines you want, this is a great way to get them without a doctor's appointment.
Will I need a visa?
It depends on where you're heading.
A number of Asian countries require visas or e-visas upon entry. China has a stringent visa requirement for U.S. citizens, Vietnam has recently implemented an easier e-visa system, but destinations like Thailand and Indonesia are generally visa-free for U.S. tourists.
The State Department website details all the necessary visa requirements for U.S. Citizens, country by country. But read carefully! Even if you don't need a visa, countries have different requirements for the length of remaining passport validity, blank passport pages needed, or length of stay allowed.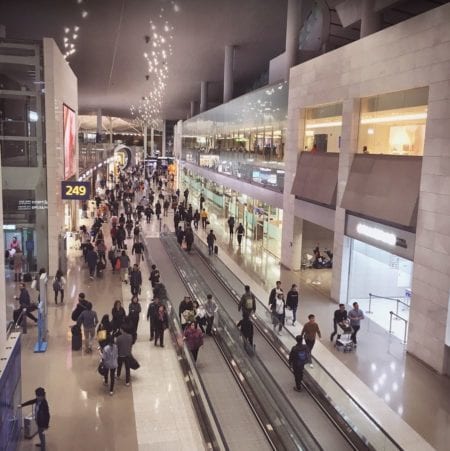 What should I pack?
Packing for a long trip can mean your suitcase space is precious.
While it's tempting to overpack, you can easily and cheaply send some clothes off to a laundry service during your trip. That makes packing in a carry-on possible even for a long trip to Southeast Asia.
Here are some must-have extras for your bag:
Bug repellent and sunscreen: Both are typically extremely expensive once you get there
A light cover-up: Shoulders and knees need to be covered when visiting temples
Wet wipes: Let's just say toilet paper is a luxury when you're out and about
Universal power converter: I found the hotels often have a mixture of different types of outlets, including U.S. and European.
Electrolyte tablets: These are easy to pop in a bottle of water to help you stay hydrated walking around in the extreme heat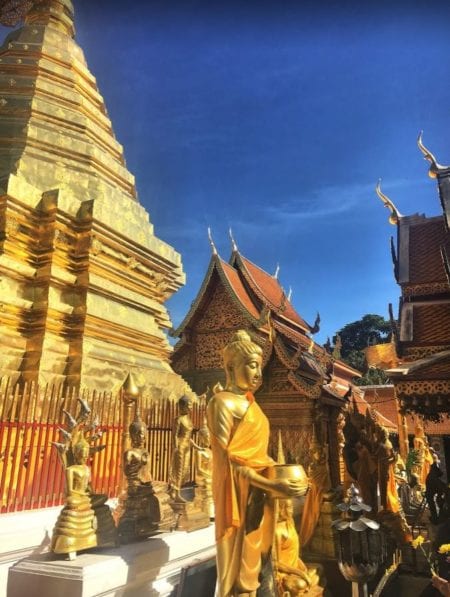 How many places should I visit?
After the long flight across the Pacific Ocean, it's tempting to hop around and see everything you can. Especially when budget airlines like AirAsia and Jetstar Pacific make it so cheap to get around.
But from Thailand down to Malaysia and beyond, Southeast Asia is best spent digging into an individual country, city, or even village. If you've got two weeks, choose three locations to visit – four tops. This allows you to do more than simply scratch the surface in a few cities or countries, giving you a real taste of different cultures.
If you're really want to dive deeper, target two cities and spend a week in each. But at the end of the day, it's your itinerary and you should choose as many or few places as you want to visit!
How much should I budget?
Of the many things to love about Asia, its affordability is at the top of the list. 
From food to drinks to hotel bills, everything is significantly cheaper in almost every Asian country.
Generally, $50 a day will likely cover a very comfortable trip. 
I spent just over $50 a day between food, drinks, shopping, and entertainment and didn't give up anything I wanted during a recent trip through Asia.
No matter where you go, most places in Asia are still very cash-based. While I occasionally used my card at convenience stores or larger shopping centers, cash is king. Plan to pull out the amount of cash you think you will need at an ATM upon arrival. Store the excess in your room safe if you have one.
Thrifty Tip #2: Never pay an international ATM fee again with the Charles Schwab debit card.
Can I eat the street food?
Yes, and you should!
Street food is the lifeblood of culture in Asia – and 99% of the time it's better than any food you'll find in a restaurant. Not to mention the fact that street food is affordable!
A good rule of thumb is to observe how busy the stall you are ordering from is. Busier stalls turn over more food, and therefore your food is likely to be fresher. If you notice locals eating at the food stall, that's a good sign as well. Lastly, remember that it's okay to ask for your food to be re-heated on the grill if you aren't sure how long it's been sitting out.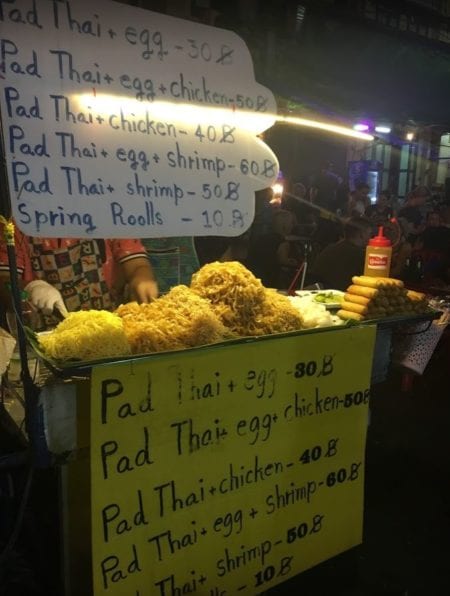 What is the language barrier like?
If you're used to traveling in regions like Europe where many people speak English, be prepared. 
Many people in countries throughout Asia know just enough English to know what you are trying to say. But the lack of Roman letters adds another layer of complexity to communication. I found this most challenging when using taxis, where the driver had little to no knowledge of English and couldn't read my map. Using rideshare apps like Uber or Grab can help mitigate transportation mishaps since these apps will automatically translate directions into the driver's language.
And when all else fails, pointing, smiling, and nodding always works. No matter where you go, you'll find people are always eager to help – even if they can't tell you that. 
What's the best way to travel between cities and countries?
There's no bad way to travel throughout Southeast Asia. Buses and slow boats between cities and countries can be a great experience, but also leave you feeling short on time if you don't have more than two weeks. When sticking to a two-week itinerary the most efficient way to travel is on budget airlines. And there are plenty of great budget carriers throughout Southeast Asia like AirAsia, Jetstar, Scoot, and many more. 
These fares are affordable (in many cases, $20 or less for a one-way fare) and will minimize your travel time so you can spend more time enjoying your trip. Use airport Wikipedia pages to figure out what your options are to hop around Southeast Asia. 
Thrifty Tip #3: Not all budget airlines are created equal. Check out our tips for booking international budget airlines.
Bottom Line
Southeast Asia is exciting but daunting. Knowing what you're in for – and how to prepare – can help you get settled and feeling comfortable enough to get out and see all that Southeast Asia has to offer. 
Subscribe to our Newsletter, like us on Facebook, and follow us on Twitter & Instagram

Editorial Note: Any opinions, analyses, reviews, or recommendations expressed in this article are those of the author's alone, and have not been reviewed, approved, or otherwise endorsed by any card issuer.