After an initial travel free-for-all, Croatia is adding some strict entry requirements for foreign visitors that could complicate a trip to one of the few European countries welcoming Americans.
Croatia reopened its borders and lifted all quarantine restrictions for travelers starting July 1, with no testing requirements or other entry restrictions. That lasted just a few weeks.
But Croatia has backtracked on that liberal policy. The country now requires a negative COVID-19 test within 48 hours of arrival – one of the strictest timeframes we've seen worldwide – or a mandatory self-quarantine period. 
While much of the rest of Europe has decided to completely shut out U.S. travelers, Croatia depends heavily on tourism and is attempting to allow more people entry while keeping locals safe. But while Croatia is still welcoming travelers on paper, these new restrictions will make it much more difficult to actually get in.

Requirements to Travel to Croatia
The biggest hurdle to entering Croatia is the new requirement for a negative COVID-19 test dated within 48 hours of arrival. That's a significantly shorter timeframe than the 72-hour window most countries require. And given the ongoing difficulties with testing in the U.S., it could be a dealbreaker for many.
Without a recent negative test result, all visitors from outside the European Union will be required to self-quarantine for 14 days.
You'll also need to fill out a form online that includes your travel dates as well as a COVID-19 health declaration. Upon arrival in Croatia, you'll need proof of your accommodations and any other booked activities to show that you are visiting for tourism purposes.
When you're in the country, the government is asking people to adhere to social distancing and follow published health and safety protocols.

What is Open?
Most hotels, campsites, and private rentals such as Airbnb are open. Restaurants are open and providing outdoor seating.
National parks, beaches, and recreational areas have all re-opened with new guidelines for social distancing in place.
Read More: Plitvice Lakes: The National Park in Croatia You Need to See, 3 Days in Dubrovnik, Croatia: What to Eat, See, and Do
Is it Safe?
Just because you can doesn't mean you should.
Safety and stopping the spread of coronavirus is a big question on everyone's mind. In the end, it's a personal question that you can only answer for yourself. Do all the research you can to make an informed decision.
Croatia's tourism website is a really great resource to help answer many of your questions about traveling there during this time.
Read More: Questions to Ask Yourself for Your Next International Trip, Planning a Future Trip? 3 Tips to Book Safe and Smart Amid the Uncertainty
Can You Even Get There?
If you can get access to COVID testing that will give you results within 48 hours, you'll still have to get there. Flying to Croatia has gotten much harder.
Transatlantic flights have been cut drastically during the crisis, so all flights to Europe are limited. Whether you head for Zagreb (ZAG) or Dubrovnik (DBV), you'd likely need to make one (if not two) stops in Europe to get there. Passengers are now allowed to transit through the European Union to countries that are allowing entry, which means you could connect in Amsterdam (AMS) or Paris-Charles de Gaulle (CDG) on your way to Croatia.
Cheap flights to Croatia can be rare, but we've got our fingers crossed for more deals. Back in November 2018, we sent a crazy cheap mistake fare to our Thrifty Traveler Premium members: Flights from 50 U.S. airports to Zagreb starting at just $228 round-trip!


If you're itching to fly to Croatia in the near future your best options are flying LOT from either New York (JFK), Newark (EWR), or Chicago-O'Hare (ORD). We are seeing some flights around $500 this fall into next spring. LOT has a decent rebooking policy if you aren't able to take the trip.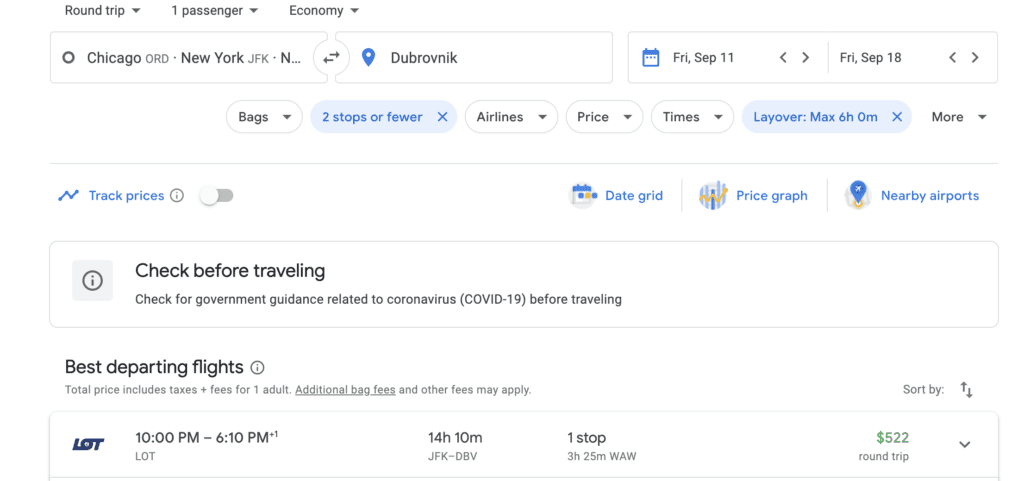 Have SkyMiles to burn? Use those SkyMiles to fly partner airlines to Croatia, and you can do it for just 50,000 SkyMiles round-trip. Other options become much more spotty, with long connections and expensive flights if you're looking at flying U.S. legacy carriers.

Thrifty Tip: Don't miss out on amazing flight deals that will save you hundreds of dollars! Join Thrifty Traveler Premium for all of the best international and domestic flight deals.
Bottom Line
It may seem strange, but while most of Europe isn't welcoming U.S. travelers, Croatia is open. That doesn't mean it will be easy to meet the entry requirements or to get there, or that you should head for Croatia tomorrow. But at this point, it's one of the few options if you're looking to scratch the travel itch.