Orlando is synonymous with Walt Disney World. But it's not just for kids.
The rides and costumed characters will always put this Disney mecca on the top of kids' wish list. But whether you've got children in tow or are heading to Orlando on your own or with friends, there's plenty for adults to enjoy in the town best known as "The Most Magical Place on Earth."
Here's a taste of how adults can get the most out of a visit to Orlando, Walt Disney World, and Universal Studios.
When to Go
The Thrifty Traveler team recently went on a retreat to Orlando, thanks to the rock-bottom prices Delta had recently from Minneapolis-St. Paul (MSP) to Orlando (MCO) – just $126 nonstop and roundtrip! We headed south the week after New Years (Jan. 5-8), once the hectic holiday season had settled. We needed a warm escape from Minnesota winter.
And it was the perfect time to go to Disney. We'd heard from Disney fanatics that the first two weeks of January are the best time to visit the parks. The holiday Disney-goers have headed home, kids are back in schools, and park attendance is at a low point. If you want to visit Disney but are anxious to avoid the lines, early January is a great time.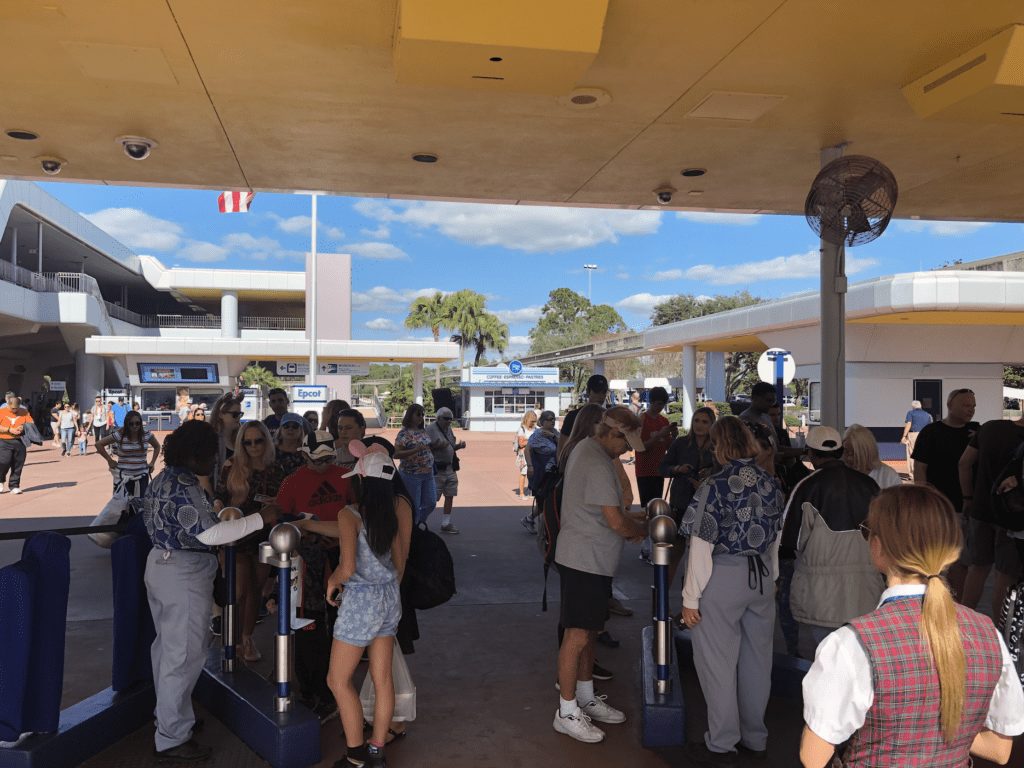 Pick Your Park
If you've never been to Disney World – or haven't been since you were a child – you need a game plan.
Think about what kind of experience you're looking for as an adult. There's a lot to see in each of Disney's many parks, and tickets aren't cheap. Map out what kind of attractions you're interested in and pick accordingly.
If you're looking to relive your childhood and while donning some big Mickey Mouse ears for photo ops, Magic Kingdom might be the best fit for you.
Want to feel like you're jet-setting without leaving the ground? Drink and eat around the world at Epcot.
Want to ride some crazy rides and walk through the new Pandora – The World of Avatar area? Put Animal Kingdom at the top of your Disney for adults list.
Relive scenes from your favorite childhood movies, or check out the brand new Star Wars area to open (coming this fall) in Hollywood Studios.
Are you a Harry Potter, Transformers, Marvel, or Jurassic Park nerd like us? It's not a Disney park, but definitely get yourself a ticket to Universal Studios.
The Thrifty Traveler team has some self-proclaimed Harry Potter nerds, so getting the dual ticket to Universal Studios and Islands of Adventure were a must. And since we're in the business of travel, we felt that Epcot would be a fun park to explore.
Park Tickets
We bought our park tickets on the Disney website, which is the easiest and most secure way to purchase tickets. Disney parks are generally $109 per person, per day. Prices may vary for peak season and weekends. For $55 more, you can purchase a "park hopper" pass. In our experience, there was more than enough to do in each park for a full day, so we passed on the park hopper.
If you plan to visit more than one Disney park during your stay – though this does not include Universal Studios – you can get a discount on your tickets. See the table below for pricing discounts based on how many days you visit the parks.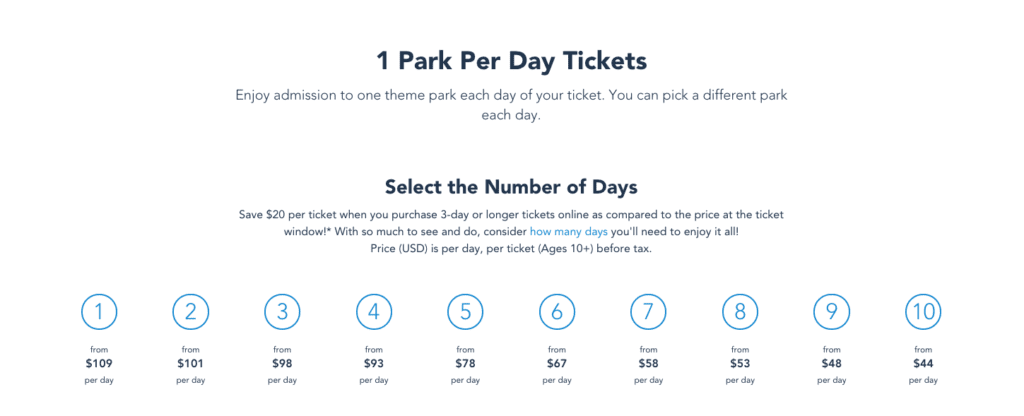 Universal Studios is its own place, and tickets are generally around $114. If you're a Harry Potter fan and want to ride the Hogwarts Express from Hogwarts and Hogsmeade in the Islands of Adventure to Diagon Alley in Universal Studios and back, you'll need the two-park ticket for $169.
We also had the option of purchasing an Express pass at Universal for $99. This is your ticket to cut to the front of any line for a ride. But since rides weren't our top priority and we were visiting during one of the slowest weeks of the year, we passed on the Express pass. But if you've got kids or a long list to tackle each day, there's definitely some value there.
We decided to spend our two full days in Orlando at Universal and Epcot. These might be the two best spots within the Disney universe for adults looking to enjoy their time in Orlando.
The Wizarding World of Harry Potter
If you were part of the Harry Potter generation (let's be honest, who wasn't?), you're going to love The Wizarding World of Harry Potter as an adult. When we visited the park, the number of adult HP nerds far outweighed young kids, which made for a great – but different – atmosphere.
There's so much to do and see at Harry Potter world. But there are some essentials.
There are actually two parks: Hogwarts/Hogsmeade and Diagon Alley. In order to see both, you'll need to buy the two park pass to both Universal Studios and Islands of Adventure. This two-park pass also gets you a roundtrip ride on the Hogwarts Express, which is a ton of fun.
There are two main rides: one in Hogwarts, and the other in Gringotts Bank. Both are definitely worth the wait – or splurging for the express pass.
There's plenty to do and see at both parks, but Diagon Alley is definitely the newer and more impressive of the two parks. Start at Hogwarts/Hogsmeade and take the train over. You'll be blown away by the grandeur and intricacy of Diagon Alley.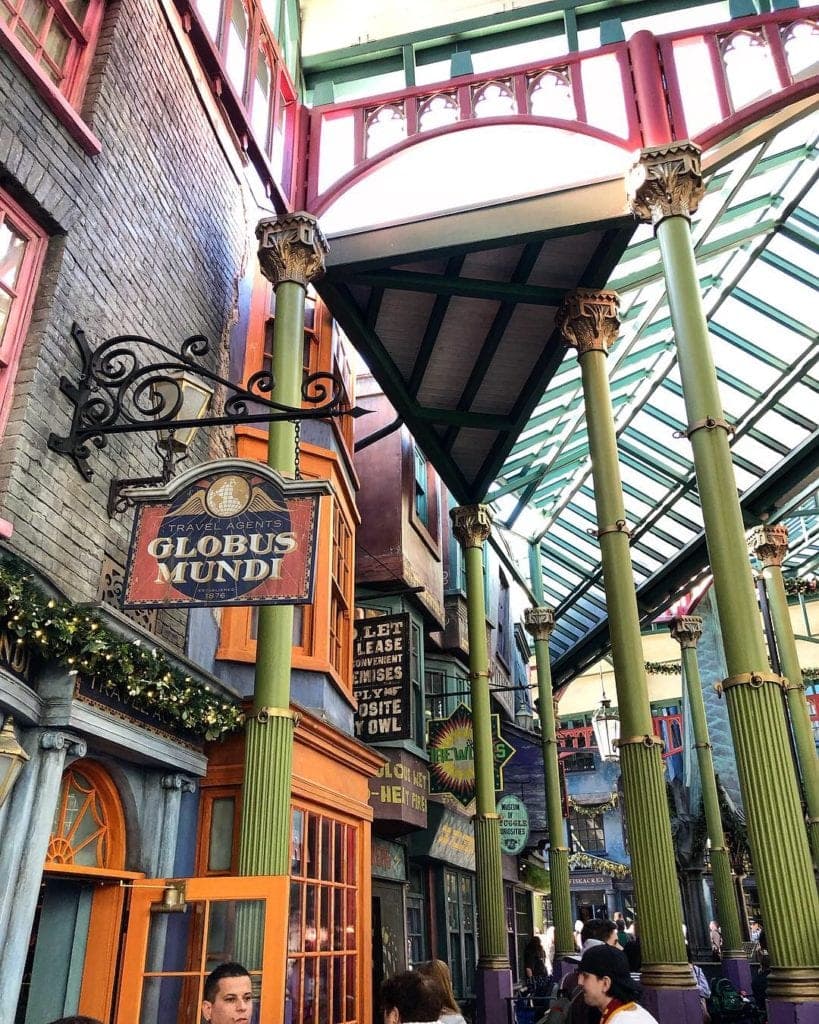 Like Epcot, much of these parks are shops – but these aren't standard Disney souvenir stores. Each one is based off an actual store from Diagon Alley in the books. The creators of the park spared no detail in making these shops exactly as they were in the books and movies.
For me and fellow Harry Potter nerds, this park is an absolute childhood dream come true. But there's so much to see and explore, even muggles will enjoy the trip.
CityWalk
When you've concluded your day at Universal Studios, stop for a drink and dinner on the CityWalk. This is the massive conglomeration of restaurants and bars that line the walk before the entrance to Universal Studios. Prices aren't cheap, but there's plenty of great options and it's right on the way out of the park. We dined at Antojitos and had some great margaritas and entrees.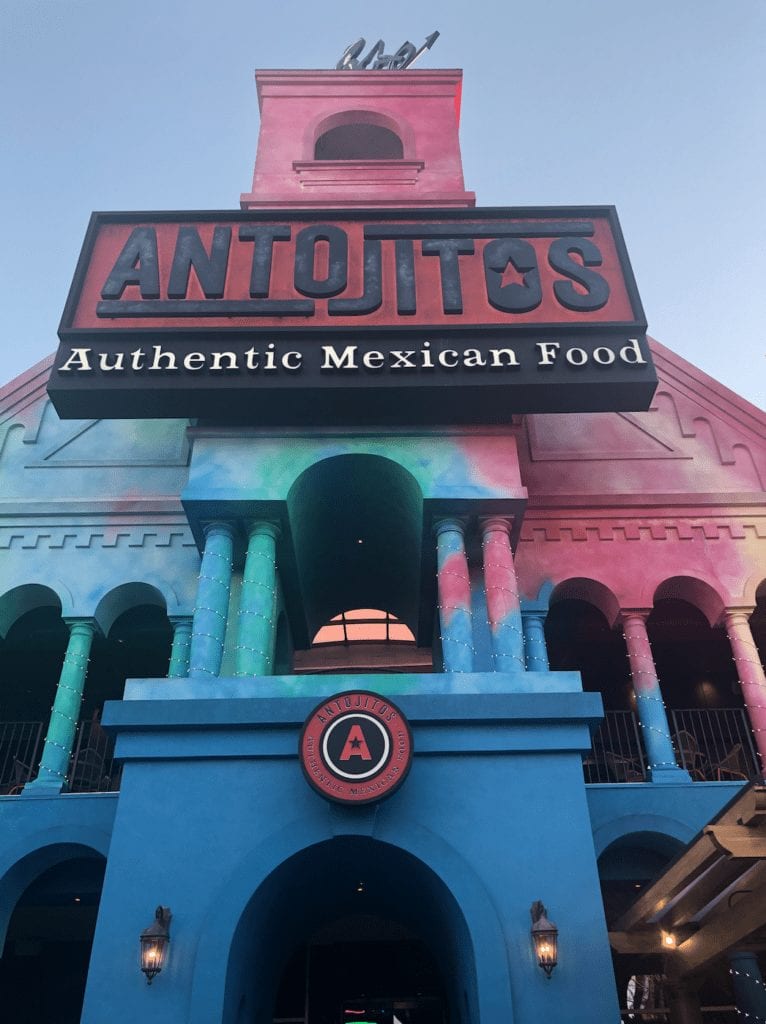 Epcot
Epcot is a great option at Disney World for adults. There aren't many rides and the main focus is on experiencing the different "countries" as you walk around the park. One of the biggest attractions for adults is the "drink and eat around the world" challenge.
While we didn't partake in food and beverage at all 11 countries, we enjoyed a frozen margarita in Mexico, a beer in Germany, and limoncello in Italy. The Epcot countries are pretty commercial, with stores in each part selling traditional goods. But it's still fun to walk between the many buildings, grab a bite to eat, and check out the shows in each country. I personally enjoyed the 360 degrees show in China, the drum performance in Japan, and the mime in Italy.
If you're looking for a relaxed day spent strolling the country showcase and sipping on a beverage with friends, Epcot is a great choice.
Downtown Disney and a Hot Air Balloon Ride
We stumbled upon Downtown Disney thanks to a recommendation to dine at Boathouse. We were floored to see the number of restaurants, bars, and shops that make up Downtown Disney, and were so glad we came.
While there are plenty of young families dining in Downtown Disney, this is definitely the hotspot for Disney's older crowd. Besides bars and restaurants as far as the eye can see, there are also some live shows and concerts keeping the energy high. We ate at Boathouse and had a delicious meal. The area isn't rife with budget options, but there are plenty of restaurants to choose from with a great atmosphere.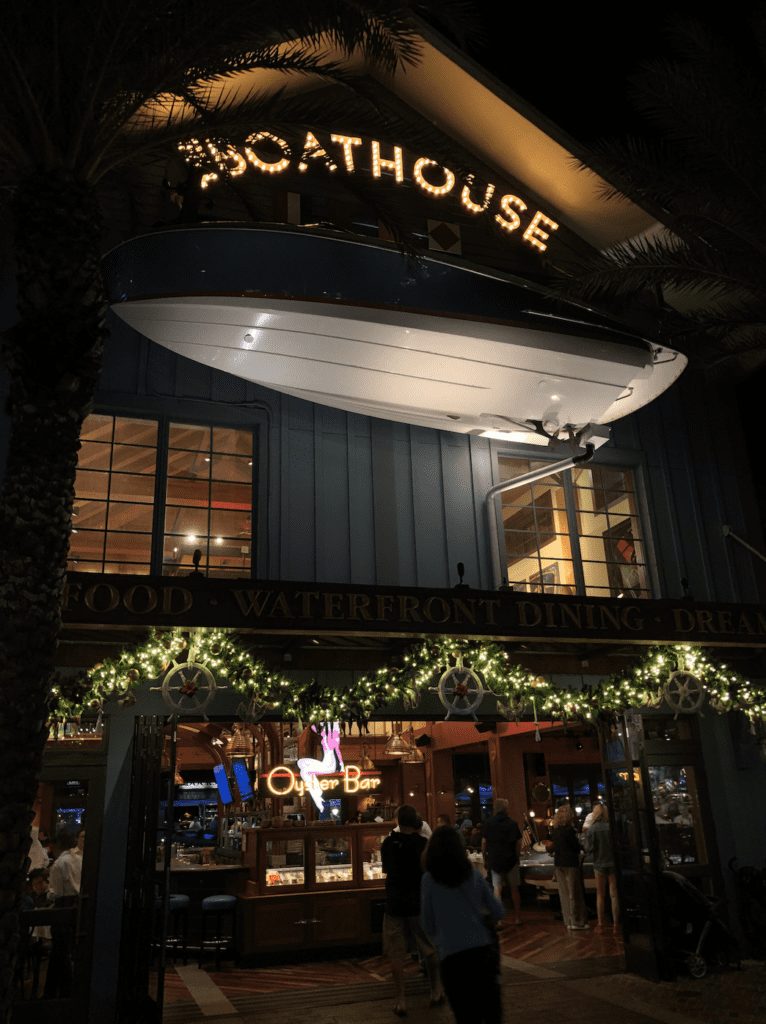 When eating on the dock at Boathouse, we noticed a hot air balloon not far from the restaurant. We assumed a hot air balloon ride would be upwards of $100 a person – this is Disney, after all. But our waiter told us it couldn't be more than $20 each. In disbelief, we double-checked and sure enough: You can hop on a hot air ballo0n ride above downtown Disney for just $20 per person!
Thrifty Tip: A hot air balloon ride for $20 is thrifty anywhere. But in Downtown Disney? What a steal.
We gladly spent $20 for 10-15 minutes of pure bliss and a bird's eye view of Downtown Disney at night. This was was definitely a highlight of our trip.
How to Dine at Disney for Cheap
Disney World is many things, but cheap isn't one of them. But you can still find ways to save on food during your stay.
I recommend making a pit stop at a local grocery store and picking up some options for breakfast and lunch at the parks. You can bring food into the parks, so pack yourself some fruit, bars, or sandwiches and you'll save tons on the pricey in-park dining options.
If you're looking for a delicious and inexpensive hearty breakfast before starting your day, grab a bite at a local Waffle House. This chain of cheap restaurants is all over the place in the South, but virtually unknown throughout much of the country. We had some great service and cheap but filling breakfast dishes.
How to Get Around at Disney World
We debated between taking Uber everywhere and renting a car before settling on using Uber. And that was the right choice.
Parking at each Disney park can be as much as $25 a day. Not only did we save money on separate Uber trips from our Airbnb in Kissimmee, but we didn't have to wait in line for the seemingly endless parking rides. Our Uber driver simply dropped us off at each park entrance!
Bottom Line
If you think Disney is just for kids, think again! Do it right, and Walt Disney World and the rest of Orlando has plenty to offer for adults of any age.
For any and all adults looking to experience Disney – or experience it again – I highly recommend checking out Harry Potter World, CityWalk, and the hot air balloon ride in Downtown Disney. You'll enjoy it more than you think.