The Desert Botanical Garden was definitely a highlight of my trip to Phoenix this year. I loved seeing all the different plants that grow in the spectacular Arizona climate and walking through the massive cacti. However, it was the Electric Desert that really blew me away. This magical nighttime light and music experience is a must for your next trip to Phoenix.
Thrifty Tip: If you're visiting Phoenix soon, check out my full guide to a fun and budget-friendly stay in Phoenix.
Tickets & Hours
Adult tickets to only the Desert Botanical Garden during the day are $24.95. Additionally, adult tickets to only the Electric Desert evening experience are $24.95.
However, I recommend doing both on the same day to save. Be sure to purchase the All Day Pass for $34.95 that includes both the day pass and night Electric Desert pass. I highly recommend visiting the Desert Botanical Garden in the morning or afternoon and then coming back in the evening to see the Electric Desert.
Note that the Electric Desert is not open during peak summer months. The Electric Desert is only open through May 12, 2019. It will again reopen after peak summer, in October 2019.
The Desert Botanical Garden opens at 8:00 A.M. daily. After 6:00 P.M., you are required to have an Electric Desert ticket if you wish to stay in the gardens. The Electric Desert begins at 6:00 P.M. each day. It closes at 10:00 P.M. Sunday through Wednesday, and 11:00 P.M. Thursday through Saturday.
Plan ahead and visit on the second Tuesday of the month, and get FREE admission! Entrance is free from 8:00 A.M. to 8:00 P.M. every second Tuesday of the month according to a local source.
Desert Botanical Garden
The Desert Botanical Garden of Phoenix is massive! Plan to give yourself at least a few hours to explore during the daytime. There are 5 different trails within the botanical garden, each with a different focus.
The Sonoran Desert Nature Loop Trail provides spectacular views of the mountains that surround Desert Botanical Garden and Phoenix.

The Center for Desert Living Trail gives ideas and strategies for efficient and sustainable ways to grow plants and crops in a desert environment.

The Desert Discovery Loop Trail is a gorgeous walk through the heart of the garden.

The Wildflower Loop Trail boasts unique desert wildflowers and cacti during blooming season. This is also a great area in the garden to spot hummingbirds!

And finally, the Plants and People of the Sonoran Desert Loop Trail highlights how Sonoran Desert plants have been used by native people for food, medicine, and shelter. This trail features examples of the Tohono O'odham, Western Apache, and Hispanic households.
Each of these 5 trail loops is less than 1/3 of a mile, but give yourself plenty of time to look around, read the signage, and take photos of the spectacular plants growing here. Check out this map of the Desert Botanical Garden.
Electric Desert
Now, for the main attraction! The Electric Desert is the nighttime spectacle that comes to life after dark in the Desert Botanical Garden. It's definitely worth sticking around or coming back in the evening to see this light and sound show. Cactus and plants all over the garden come alive with moving lights synced to rhythmic music.
The Electric Desert experience includes seven site-specific locations, with each experience inspired by and related to the Garden. You'll receive a map of the main attractions at Electric Desert. Cacti and plants are lit throughout the garden, but the seven main attraction locations are not to be missed.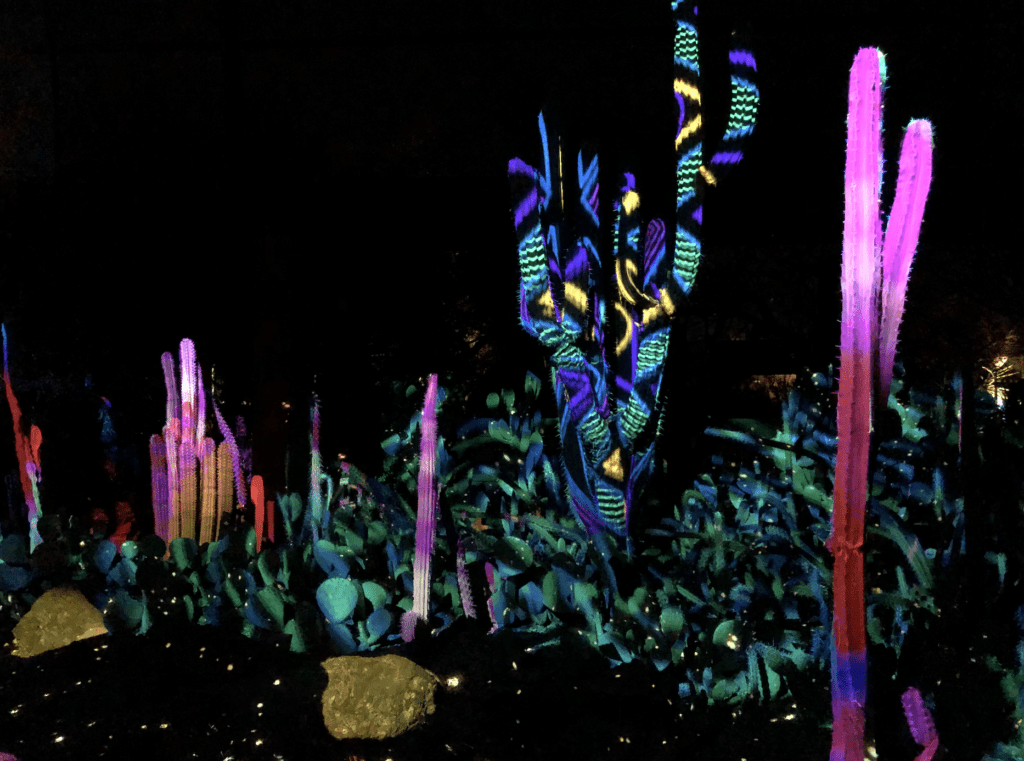 I won't give any of the surprises away, but I do want to highlight a few of my favorite attractions in Electric Desert. On the Desert Discovery Loop Trail, sit down at the Ullman Terrace and enjoy the impressive light and sound show projected onto the mountain. Photos simply couldn't do it justice: you'll have to see it for yourself!
My other favorite part of Electric Garden is where I snapped these photos of some psychedelic-looking cacti. Head to the Cactus and Succulent Galleries on the Desert Discovery Loop Trail for a light and sound show that will surely wow you! The moving lights were synced up perfectly to the music and carefully coordinated to project onto each and every cacti. It was truly mesmerizing!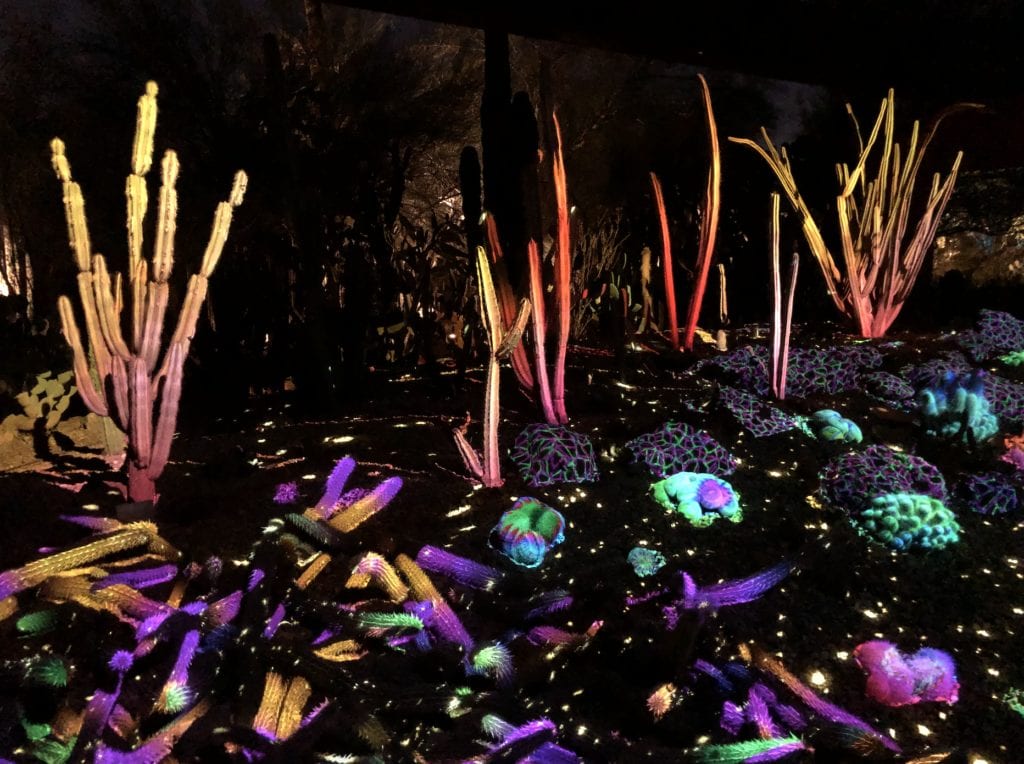 Bottom Line
Trust me, you're not going to want to miss out on the Electric Desert during your next visit to Phoenix! Plan to spend one of your desert evenings in Phoenix surrounded by an impressive light and sound display. I promise you'll won't see cacti like this anywhere else.
Subscribe to our Newsletter, like us on Facebook, and follow us on Twitter & Instagram

Editorial Note: Any opinions, analyses, reviews, or recommendations expressed in this article are those of the author's alone, and have not been reviewed, approved, or otherwise endorsed by any card issuer.