This past year, competitors Hopper and Priceline have created Hopper Secret Fares and Priceline Express Deals. It was only a matter of time until Kayak introduced an approach to getting cheaper airfare. Kayak now offers Kayak Hacker Fares: a new tool that uses one-way flights to cut costs.
Kayak has joined the battle for the cheapest flights, but with a slightly different approach. It's not a new concept, but it utilizes one-way airfare to offer cheaper price tags on your next flight.
Increased Interest in One-Way Pricing and Hidden City Ticketing
It's no secret that sometimes, especially on domestic fares, you can save on airfare if you book two one-way flights rather than a roundtrip flight. But another way that travelers looking to save a buck have tried to hack airfare pricing is by using hidden city ticketing.
The concept behind hidden city ticketing is this: You need to get from Newark (EWR) to San Francisco (SFO), but tickets are expensive. Yet flights from EWR to Los Angeles (LAX) are much cheaper if you take a layover in SFO. But rather than boarding that second plane to LAX, you just leave the airport at SFO and skip the second segment altogether. As you can guess, there are quite a few risks to booking using this method, and there are better, safer ways to get a good flight deal than hidden city ticketing.
In light of the Lufthansa passenger getting sued for utilizing hidden city ticketing to save on airfare, interest in one-way fares and services like Skiplagged are at an all-time high. Kayak's Hacker Fares aren't risky and are a much better option than Skiplagged and hidden city ticketing.
What Are Kayak Hacker Fares?
The concept here is that rather than booking a roundtrip fare on one airline, you can save money by booking two one-way flights, each way flying with a different airline. This isn't a groundbreaking concept; anyone can search one-way fares to see if it's cheaper to book two one-way flights rather than one roundtrip. Kayak is simply offering to do that work for you.
In Kayak's press release on this new tool, they explain: "We do the work for you, showing you one-way flight combos right in your search results, only when and where it can actually save you time or money… Instead of making you book one round-trip ticket from a single airline, KAYAK plays airfare matchmaker by finding two one-way tickets that together make a round-trip flight."
If you're looking for a creative way to save on flights? Looking into one-way flights with Kayak Hacker Fares might be worth checking out. However, the tool does have some limitations.
Limitations of Kayak Hacker Fares
Kayak addresses the limitations of one-way fares in their press release, and they're important to note if you're going to use Hacker Fares.
For destinations that have more than one major airport, like Toronto, Dallas, or London for example, some Hacker Fares may have you coming into one airport and flying out of another. Be sure to double-check the airport code you're flying into and out of so you don't try to catch a flight home at the wrong airport.
Another thing to keep an eye out for with Hacker Fares is baggage fees. Perhaps you're flying one airline to your destination that includes a free carry-on bag, but the airline you're flying back home does not. Make sure to note this when considering a Hacker Fare and see what both of the one-way tickets include.
For example, this Hacker Fare below includes a carry on bag on the outbound flight but not the return flight. Don't get stuck with a bag you can't carry on and end up paying to bring home.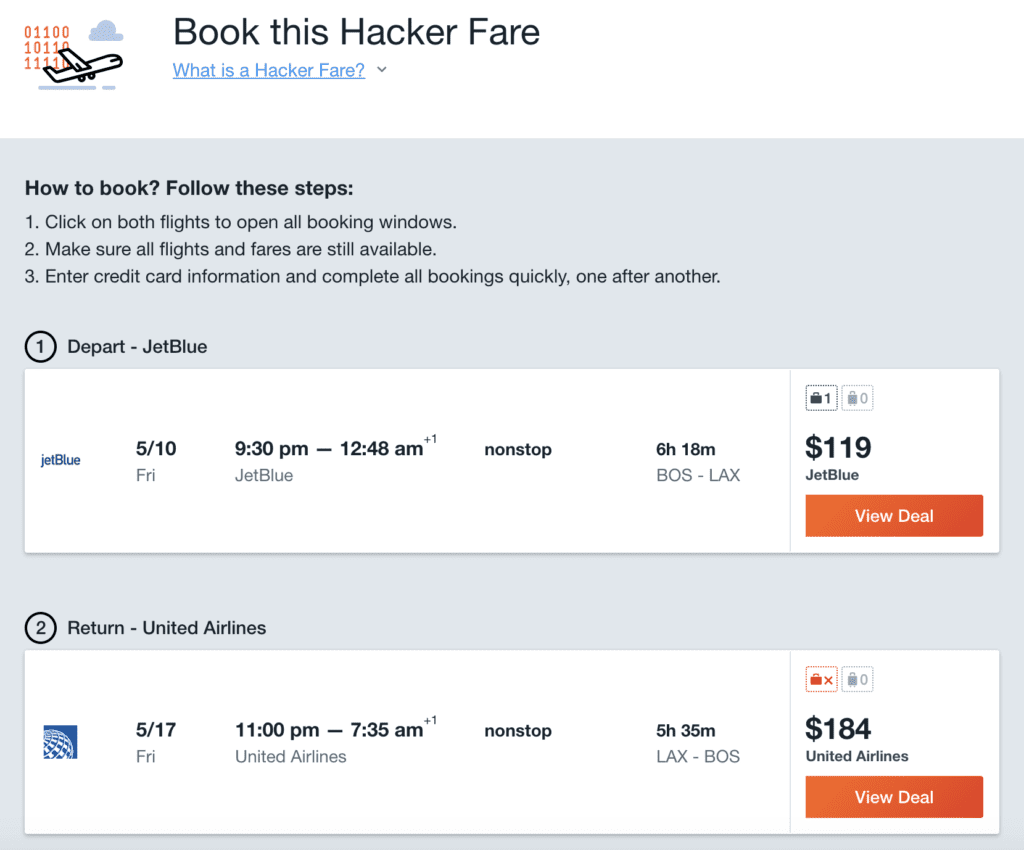 If you're traveling for an extended time with a multi-city reservation, you may want to keep all your one-way flight itineraries on hand. Some countries' border control will want to see that you have a flight home booked and aren't skirting around visa fees.
It's important to keep in mind that one-way fares aren't always cheaper than roundtrip tickets. In fact, if you're looking for an international flight, roundtrip is oftentimes much cheaper than two one-way flights. Generally speaking, using one-way flights through Kayak Hacker Fares will work best on domestic flights within the U.S. and intra-Europe flights. Hacker Fares may also work with budget carriers like Norwegian and LEVEL.
You're likely not going to see the three legacy carriers — American, Delta, and United — with cheap international one-way flights. Roundtrip international flights out of the U.S. are generally still cheaper than booking two one-way flights.
How Do I Book Hacker Fares on Kayak?
After searching normally on Kayak, if there's a cheaper option utilizing two one-way tickets to create an itinerary for the dates you've chosen, a Hacker Fare will show up. You'll see "Hacker Fare" listed under the price. If non-Hacker Fares are even cheaper, this option won't populate at the top of your search results.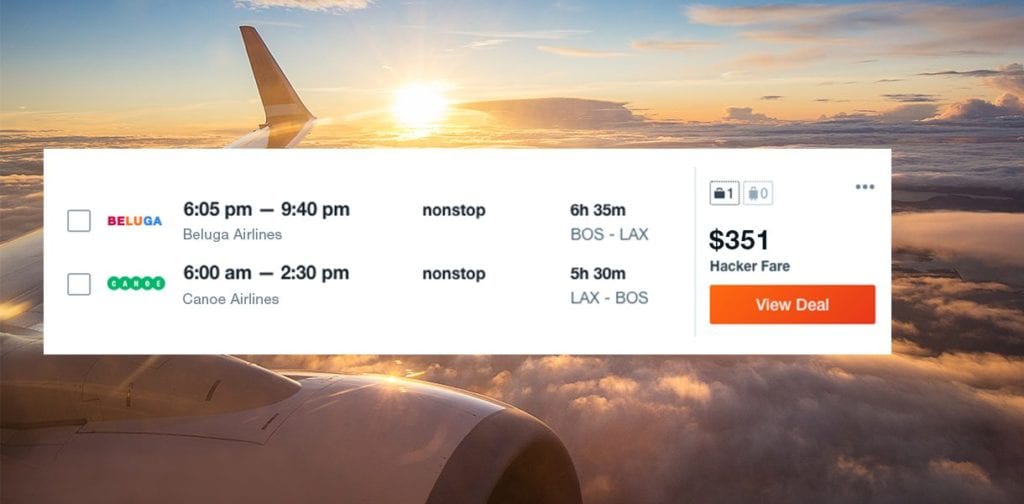 If you're not seeing any Hacker Fares in your Kayak search results, open the "Flight Quality" filter on the lefthand side of the screen and make sure you've selected to "Show Hacker Fares". If no Hacker Fares populate, that means there are no cheap Hacker Fare options for that route.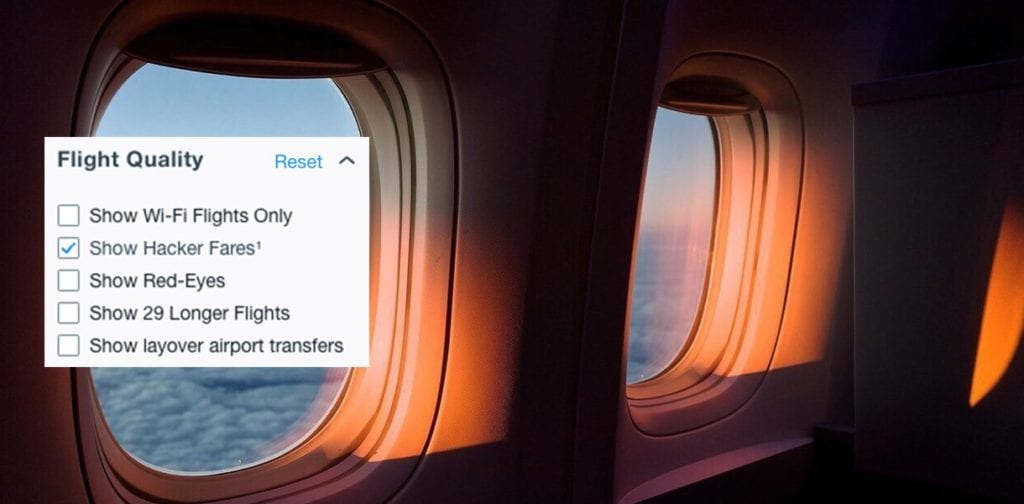 Because you are booking two one-way tickets rather than one roundtrip ticket, you'll want to double-check that both one-way tickets are available at the price Kayak quoted you. Before booking either of the one-way flights, open each booking page for the two one-way flights in a new tab and be sure the flights are both still available at the quoted price. Then, proceed to book both the one-way flights.
When Do Hacker Fares Work Best?
Kayak Hacker Fares are likely most useful when you're looking for a cheap domestic flight for your next trip within the US. However, one-way flights won't always yield the cheapest results, even for domestic flights. In the example below, the Hacker Fare isn't any cheaper than the roundtrip flight on the same airline. Whenever possible, keep your airfare bookings together rather than booking with separate airlines.


Generally, one-way flights and Kayak Hacker Fares likely won't get you any cheaper international flights than a roundtrip fare. If you're looking for the absolute cheapest flights to Europe, the Caribbean, Asia, and beyond, sign up for Thrifty Traveler Premium, our international flight deal alerts service.
Check Before You Book a Hacker Fare
Make sure you do your research before assuming two one-way flights are cheaper than a roundtrip flight. We recommend checking Google Flights first to see what roundtrip flights cost for those same dates, and comparing your options.
Booking a roundtrip flight directly with the airline is generally easier and more stress-free than booking two one-way flights with an OTA like Kayak, and might be just as cheap.
Bottom Line
You should approach Kayak's new Hacker Fares like you do Hopper's Secret Fares and Priceline's Express Deals. Treat this as one tool in your toolbox to find cheap flights. Diversify your cheap flight toolkit beyond just the Kayak Hacker Fares by adding Google Flights and Thrifty Traveler Premium to your arsenal.
Kayak Hacker Fares (and one-way flights in general) won't always offer the cheapest prices available. However, for domestic travel, you may be able to save. The next time you're searching for cheap flights, search Kayak.com and see if a Hacker Fare can save you some cash.