It sounds ridiculous because it is.
The German airline Lufthansa is suing a man who skipped the final leg of a round-trip ticket. He paid for flights from Oslo (OSL) to Seattle (SEA) with a stop in Frankfurt (FRA) each way, but skipped the final flight from FRA back to OSL. According to CNN, the airline is suing for $2,385, arguing the man violated its terms and conditions.
One German court has already dismissed the lawsuit, but Lufthansa told CNN it has already appealed that decision.
So what's going on here? Why would an airline sue a passenger for not using its services?
Welcome to the controversial world of hidden city ticketing. Popularized by sites like Skiplagged, here's how it works.
Let's say you want to get from San Francisco (SFO) to Boston (BOS), but fares are looking expensive. Yet SFO to New York City-JFK (JFK) is much cheaper – if you're willing to take a layover in BOS. So you simply buy that fare, make it to BOS and leave the airport, skipping your final segment.
Hidden city ticketing capitalizes on the seemingly senseless factors behind airline factors that sometimes results in lower fares, even when it involves more travel. But in the airlines' mind, passengers who skip a segment to save some money are breaking their rules.
Namely, they say it violates the "contract of carriage," the legal document behind every single fare you fly.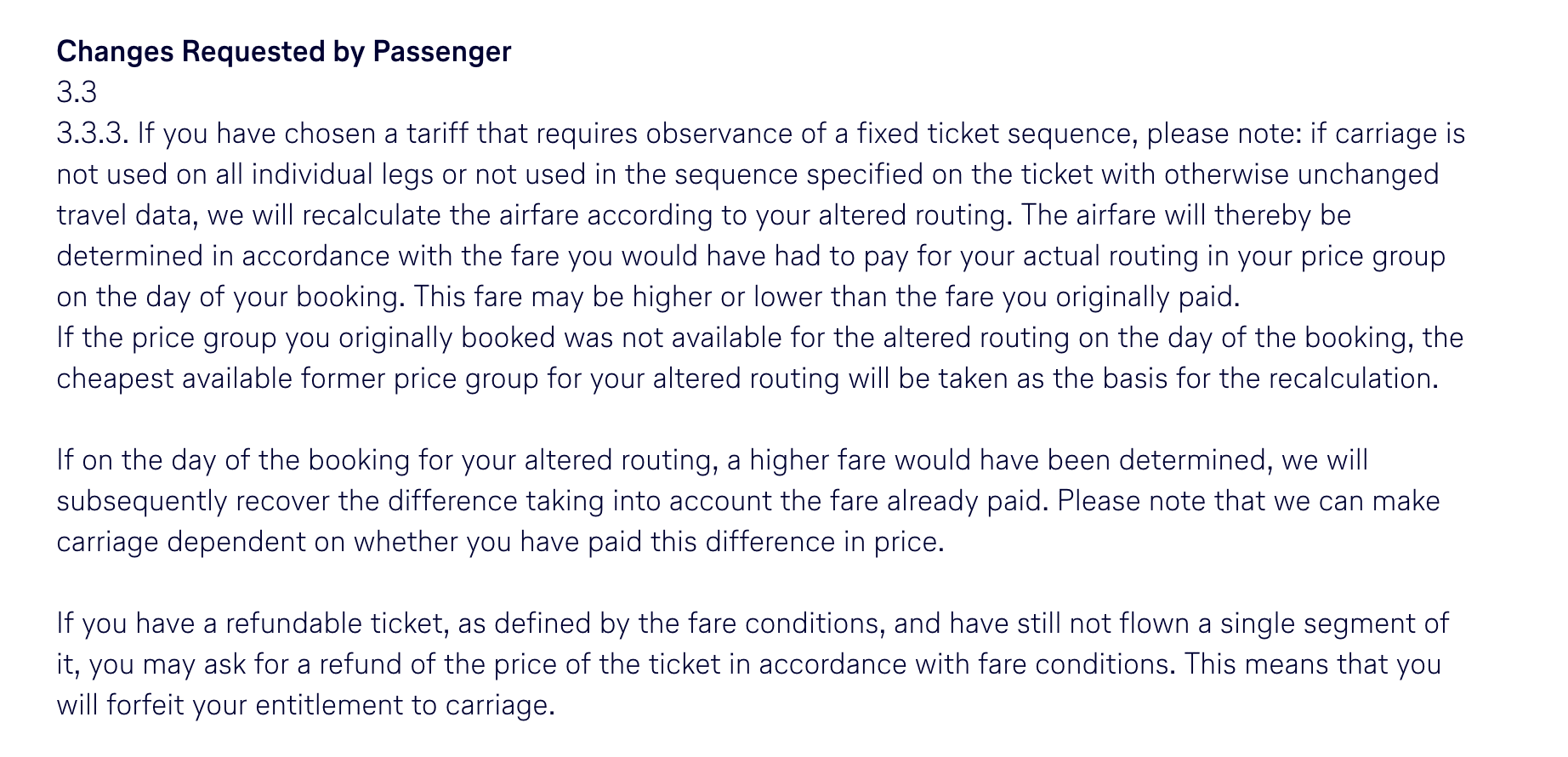 Suing a sole passenger is an extreme response, certainly designed to send a message to all travelers that abusing this throwaway ticketing ploy won't be tolerated. More often than not, repeat offenders more often get slapped with flying bans or blocking a frequent flyer account.
Safe to say, airlines are certainly watchful of this practice.
In 2014, United and Orbitz sued the founder of Skiplagged.com, arguing the website was promoting unfair and unlawful fares. But a court eventually dismissed that case, too.
Our Analysis
Lufthansa went straight to an 11 with its response in this case.
But whether you get slapped with a lawsuit or not, hidden city ticketing is risky. Airlines have gotten wise to this maneuver and have employed ways to track repeat offenders. Simply put: There are better, safer ways to get a good flight deal than hidden city ticketing.
Thrifty Tip: Read our guide to booking the cheapest flight possible.
And hidden city ticketing bears some warnings.
In almost every country, if you skip a segment of your flight, the rest of that itinerary is automatically canceled. And it should go without saying that you shouldn't check a bag if you plan to take one of these flights. After all, you'll get off the plane at what was supposed to be a layover while your bag will continue on.
But there are some signs of change in how airlines approach this.
The Spanish Supreme Court ruled against flag carrier Iberia late last year, striking down its policy of canceling the rest of a passenger's itinerary in the event of a no-show, according to No Mas Coach. The court ruled that a passenger not showing up does not increase the airline's cost.
Bottom Line
Lufthansa is trying to make an example out of this passenger. But given the way most courts have leaned on these punitive measures, we're guessing that passenger won't have to fork over $2,000 for skipping a two-hour flight.