Even in the best of times, getting through airport security checkpoints can be a bit of a nightmare. Between the backups, long lines, and putting everything you own into a plastic bin, it sets the tone for a bad experience.
But when things go wrong, it can turn into a downright nightmare. The federal government shutdown over the winter caused long delays at airports nationwide. And Minnesota travelers are bracing for the worst this week, as a remodeling project at one of the Minneapolis-St. Paul (MSP) airport's two security checkpoints will mean most travelers will have to funnel through just one checkpoint starting Monday, Aug. 19. 
So what can you do to survive when you think you're expecting things to go wrong? We've got some ideas.
Download the MyTSA App
The airport security guessing game can be a drag. You just never know how long – or short – it may take to get through.
Cut out the guesswork by downloading the MyTSA app on either the App Store or via Google Play. This app is run by, you guessed it, the TSA. By combining historical information and user-submitted data, the app will give you the best guess it can as to how long it may take to get through security at your airport.
Once you've downloaded the app, go to the "My Airports" tab and click on the magnifying glass in the upper right corner to search for and add any airports you'd like to follow. Click on the airport for additional details, and here's what you'll see.
While this won't give you up-to-the-minute data on wait times, it can give a good estimate of how much time you may need to get through security – and warn you of major backups. It's important to note that these wait times are submitted by fellow smartphone users, so take them with a grain of salt. 
But how can you actually cut down on that time and get through faster? We're so glad you asked.
Get TSA PreCheck
If you've got airport security anxiety, TSA PreCheck will be your saving grace. This is the fast-pass through security that you've been looking for.
When lines are backed up, a PreCheck membership can get you through security in a fraction of the time of travelers in standard security. But that's not all PreCheck does.
You also get to leave your shoes, a belt and a light jacket on. Your laptop and the carry-on approved liquids in your bag can also stay put as you put them through the baggage screeners. Your first time using the benefits of TSA PreCheck, you'll wonder why you didn't join the program sooner.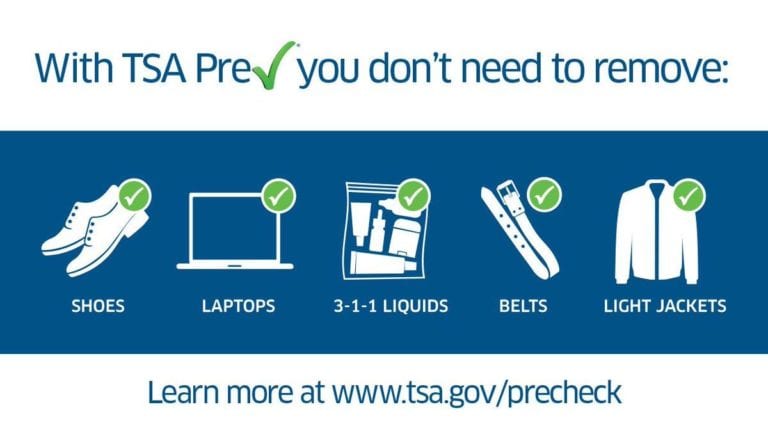 It's important to keep in mind that just because you have PreCheck doesn't mean you'll get it every single time you fly. For starters, the airline you're flying has to participate in the program. Luckily, all the major domestic airlines – plus most of the small ones –  and a growing number of international carriers have joined up. All told, 73 airlines currently participate in PreCheck. 
So how do you get PreCheck? There are a few ways to do it – and a few ways to get it for free!
Signing up for TSA PreCheck itself is pretty straightforward. You'll fill out a quick application and pay the fee. From there, you will head to a certified enrollment center for a short interview (bring your passport!), fingerprinting and a photo. If everything checks out, the whole process should take about two weeks from application to approval.
But there's another way to get PreCheck: Sign up for Global Entry. Global Entry is the trusted traveler program that helps you get through immigration and customs faster when returning to the U.S. from abroad. But Global Entry includes PreCheck, too. That makes it the easy choice to save even more time at airports. Learn more about the differences between these programs with our guide.
PreCheck typically costs $85 for a five-year membership, while Global Entry is $100 for the same time period. But you don't actually have to spend that money to get these programs.
A growing number of top travel rewards credit cards come with up to $100 in credits that will cover your PreCheck or Global Entry application. That means you can sign up, pay with one of these credit cards, and get automatically reimbursed.
… Or Get CLEAR
It can be confusing, but CLEAR is different from PreCheck. Very different.
PreCheck gets you into a dedicated lane at airport security, where there's no need to take off your jacket or shoes or remove your electronics.
So what does CLEAR do? Think of it like a free pass to cut to the front of the line. If you don't have PreCheck, you get to the front of the standard security line. If you do have PreCheck, you get to the front of that line – and get through security even faster.
This is a privately run security program, and it doesn't come cheap. The sticker price of $179 annually can be hard to swallow. Luckily, there's a way to cut that cost drastically.
CLEAR recently raised the price for new Delta SkyMiles members, but there are still significant savings. All Delta SkyMiles members can sign up for $119 a year. If you've got a Delta co-branded credit card, that drops to $109 per year. Delta flyers with Medallion Status of Silver, Gold, or Platinum can also sign up for $109 a year. And finally, top-tier Delta Diamond status holders can get a membership for free. After forming a recent partnership, United elite flyers and cardholders also get similar discounts.
CLEAR isn't available everywhere, though it's slowly spreading to more airports across the country.
| Airport | Terminal(s) |
| --- | --- |
| Atlanta (ATL) | North & South Domestic Terminals |
| Austin (AUS) | Checkpoints 1 & 2 |
| Baltimore (BWI) | Checkpoints A,B,C, D & E |
| Birmingham (BHM) | Main Terminal |
| Boise (BOI) | Main Terminal |
| Boston (BOS) | Terminal A |
| Chicago-Midway (MDW) | Main Terminal |
| Chicago-O'Hare (ORD) | Terminal 1 & 2 |
| Cincinnati (CVG) | Main Terminal |
| Cleveland (CLE) | Center & South Checkpoints |
| Columbus (CMH) | Main Terminal |
| Dallas-Fort Worth (DFW) | Terminal E |
| Dallas-Love Field (DAL) | Terminal 1 |
| Denver (DEN) | North & South Entrances |
| Detroit (DTW) | North & McNamara Terminals |
| Fort Lauderdale (FLL) | Terminals 1 & 2 |
| Greenville-Spartanburg (GSP) | Main Terminal |
| Houston-Intercontinental (IAH) | Terminals A, B, C and E |
| Houston-Hobby (HOU) | Main Terminal |
| Kansas City (MCI) | Main Terminal |
| Las Vegas (LAS) | Terminals 1 & 3 |
| Long Beach (LGB) | Main Terminal |
| Los Angeles (LAX) | Terminals 1 - 7 |
| Miami (MIA) | Checkpoints E & H |
| Milwaukee (MKE) | Main Terminal |
| Minneapolis−Saint Paul (MSP) | Terminal 1 |
| Nashville (BNA) | Central Checkpoint |
| New Orleans (MSY) | Concourse D |
| New York City-John F. Kennedy (JFK) | Terminals 2 & 4 |
| New York-LaGuardia (LGA) | Terminals C & D |
| Newark (EWR) | Terminal C |
| Oakland (OAK) | Terminal 2 |
| Oklahoma City (OKC) | Main Terminal |
| Ontario (ONT) | Terminal 2 & 4 |
| Orlando (MCO) | East & West Security |
| Palm Beach (PBI) | Terminal A/B & C |
| Palm Springs (PSP) | Main Terminal |
| Phoenix (PHX) | Terminals 3 & 4 |
| Raleigh-Durham (RDU) | Terminals 1 & 2 |
| Sacramento (SMF) | Terminal A & B |
| Salt Lake City (SLC) | Terminals 1 & 2 |
| San Antonio (SAT) | Terminals A & B |
| San Diego (SAN) | Terminal 2 |
| San Francisco (SFO) | Terminals 1-3, International Terminals A & G |
| San Jose (SJC) | Terminal A & B |
| San Juan (SJU(+) | Terminals A, B & C |
| Seattle-Tacoma (SEA) | Checkpoints 1-5 |
| St. Louis (STL) | Terminal 2 |
| Tulsa (TUL) | Main Terminal |
| Washington, D.C.-Dulles (IAD) | Main Terminal & East Security Checkpoint |
| Washington, D.C.-Reagan (DCA) | Terminals A, B & C |
| Westchester County (HPN) | Main Terminal |
On the bright side, applying for CLEAR is both easy and fast. You simply apply at home, and wrap up your application in the CLEAR line at the airport with some fingerprints and eye scans. Read our guide to applying for and using CLEAR for the first time.
Bottom Line
A long trip through airport security can quickly throw a wrench in any trip. But with these tools and services, at least you'll know what's in store when you head to the airport – or, if you're lucky, get through faster.
Lead photo courtesy of John Hallett via Flickr