Editor's note: We are tracking the latest updates to travel restrictions in countries across the globe. While some travel is resuming, you should consider your health, your community's health, and public health recommendations before flying somewhere near or far. As the pandemic drags on, we consider it our jobs to help you make informed travel choices – now or far in the future.
Travel is changing before our eyes thanks to coronavirus. And for at least the near future, international travel could be much trickier than it once was.
Just as countries across the globe have responded to the coronavirus pandemic differently, they've also implemented their own plans and restrictions for restarting travel. Many are blocking travelers from the U.S. and other countries struggling with outbreaks. Airlines have cut or consolidated many of their international routes, making it harder to even get around in the first place.
It might be easier to pull off a domestic trip (or even a road trip) this year, but that doesn't mean international travel is out of the cards. Slowly but surely, countries around the world are resuming international travel.
We've compiled a list of some of the best bets if you're looking to explore a new country this year and next, based on their entry requirements and restrictions. All of these destinations are currently welcoming U.S. travelers – and we aren't counting destinations that require long quarantines upon arrival.
Don't see a country you want to visit on this list? Check out our country-by-country guide for a full breakdown.
Thrifty Tip: Looking for the cheapest international flight deals to these destinations and beyond? We're finding the cheapest flights around the world for travel through August 2021 and instantly notifying our Thrifty Traveler Premium members. Join today and plan your future travels!
Caribbean Vibes
There may be no safer bet than heading to the Caribbean. Flights haven't been affected as much as other destinations, and it's a short trip. And many islands scattered throughout the region are ready to welcome U.S. travelers – or will be soon.
Aruba
Yes, Aruba is already open to American travelers. But just what it will take to get in will depend on where you're coming from.
People coming from states that are deemed high risk must provide a COVID-19 result from a test taken no more than 72 hours of your flight to Aruba – and then take another test upon arrival. Those coming from other, lower-risk states can either present results from a COVID-19 test taken within 72 hours of your flight or take a test upon arrival at your cost ($75 USD). Check here to see the requirements for your state.
While the requirements are onerous, there's a silver lining: cheap fares to get to Aruba. We've found fares to Aruba for as low as $177 roundtrip in recent weeks.
Antigua
Antigua's borders reopened way back on June 1.  Passengers must present a negative COVID-19 PCR test taken within seven days of their flight to Antigua. All travelers visiting Antigua must wear a mask in public at all times during their stay. Travelers must also complete a Health Declaration Form and will be subjected to health screenings upon arrival. 
Dominican Republic
The Dominican Republic is open to U.S. travelers, and there are no COVID-19 testing requirements. Instead, authorities will administer random quick breath tests to 3% to 10% of arriving passengers.
Tourists visiting a hotel will be granted a temporary, free travel assistance plan that will include coverage for emergencies, COVID-19 testing, lodging for prolonged stays, and the cost to change flights in case of an infection. It's free to all visitors through Dec. 31, 2020.
St. Lucia
St. Lucia is open to U.S. travelers, who must present a negative COVID-19 test taken no more than five days before arriving to the island. Travelers from the U.S. must also complete a travel registration form seven days before arrival.
Turks and Caicos
Turks and Caicos is ready to welcome you. Passengers must present a negative COVID-19 test taken within five days of arrival and have insurance that covers all costs related to COVID-19.
We've seen flights to Turks and Caicos drop drastically in price! Check out this insane fare war sent to our Premium members recently: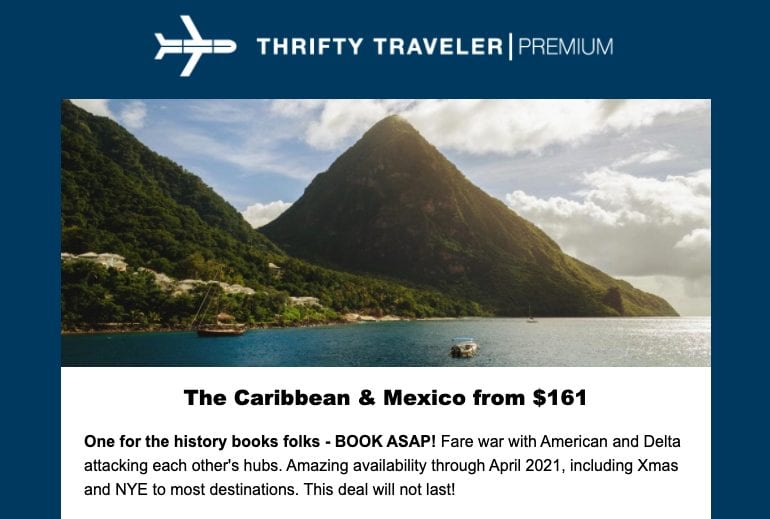 Check Off a Bucket List Island
If you've got a bigger trip in mind, just a handful of destinations throughout the South Pacific and Asia are getting ready to open up for travelers.
French Polynesia
Have somewhere beyond the Caribbean in mind? How about Bora Bora or Tahiti?
Travelers are allowed to enter French Polynesia, but they must obtain a negative COVID-19 test 72 hours before departure. Four days after arrival, travelers will be tested again. Social distancing measures remain in place and wearing a mask is mandatory throughout your stay.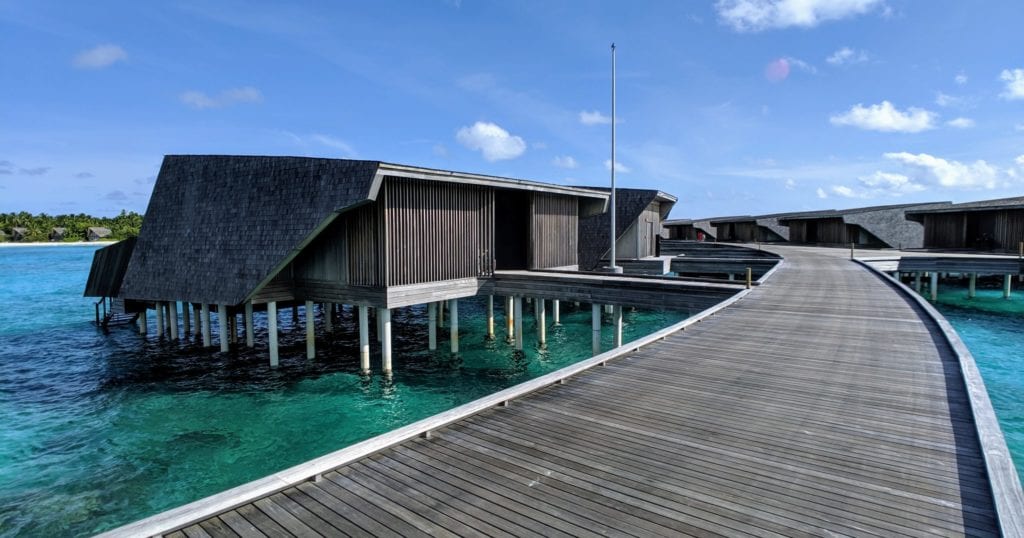 The Maldives
The Maldives are open but you must present a negative COVID-19 result upon arrival, from a test taken no more than 72 hours before departure. Children under 1 are exempt.
Read More: Hotel Review: The St. Regis Maldives Vommuli + Beach Villa
European Escapades
Europe is largely shut down to American travelers – and by the looks of it, it will remain that way for a while. But there are still a few places you can go.
Croatia
Croatia is open to American travelers. Upon arrival, you must present a negative COVID-19 test taken no more than 48 hours before you arrive.
Do you have any Delta SkyMiles gathering dust? We sent out a nationwide SkyMiles flash sale to Premium members, 50,000 SkyMiles roundtrip to Zagreb!
Montenegro
You can head to Montenegro if you provide a negative COVID-19 test taken within 72 hours of your arrival.
Middle Eastern Adventures
Turkey
Turkey is one of the few places Americans can travel that has no restrictions. Unlike most countries, there's not even a COVID-19 testing requirement for entry.
Thrifty Traveler Premium members just recently got two deals to Istanbul right to their inbox. A nationwide flash sale for 50,000 SkyMiles round-trip to Istanbul or this cash fare starting at just $544 – down from the norm of nearly $1,000!
United Arab Emirates
The sparkling Middle Eastern metropolis of Dubai is open to American travelers. All you have to do is present a negative COVID-19 test upon boarding your flight to Dubai, taken within 96 hours.
This deal (half off!) on Emirates, one of our favorite airlines, recently landed in Premium members' inboxes: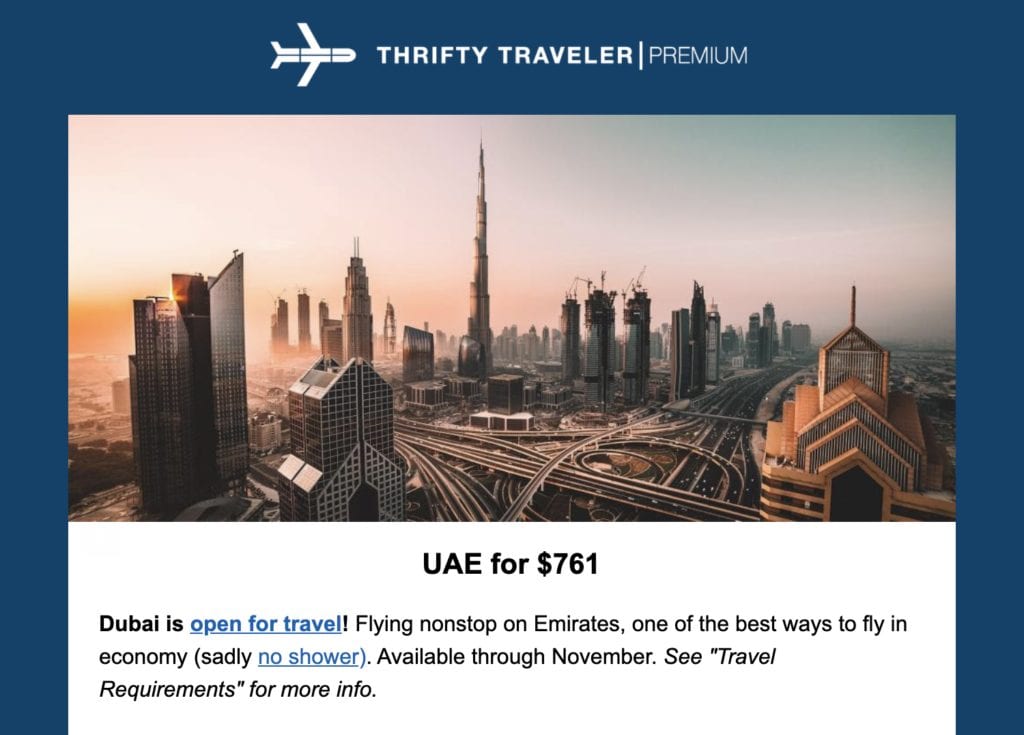 Winter Getaway to Mexico
Mexico is wide-open to American travelers: There are no testing requirements, though flyers might be subjected to health screenings upon arrival. So set your sights on some warm beaches.
And your winter 2021 getaway could be much cheaper, as we've found some record-low flights to Mexico for next year. Thrifty Traveler Premium members were sent some great deals recently, including this one to Cancun (CUN) starting at just $155 (down from $600!):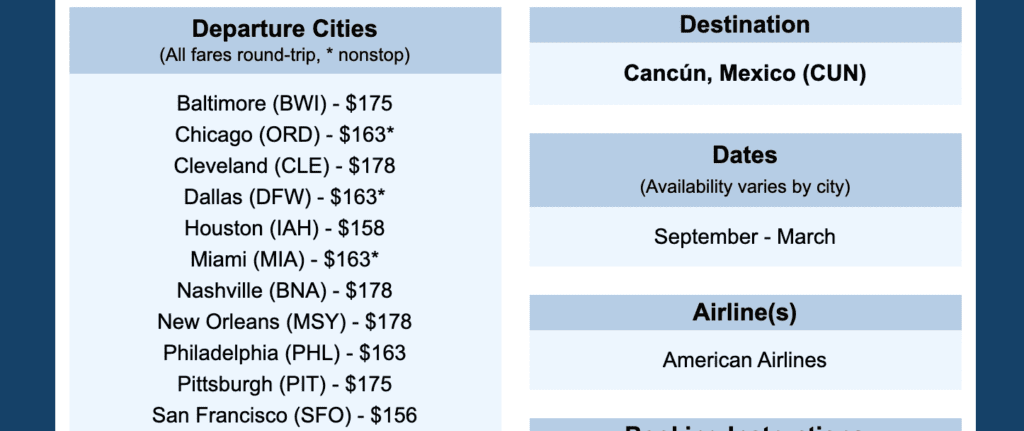 Bottom Line
If you're dreaming of traveling to far-flung places in 2020 or even 2021, there's no doubt it will be more complicated. Many countries remain closed to foreign travelers, and even those welcoming tourists have new restrictions, testing, and limits.
If you're set on getting out of the U.S. this year, these countries may be your best bets. Use our country-by-country guide to be sure you know the regulations for the destinations on your wishlist.