The secret about Global Entry is out.  It's the most powerful tool to get through the airport faster both on domestic flights and international flights.
It sounds almost perfect, so what's the problem? Well, Global Entry is not always so easy to get. Backlogs in processing applications and long delays in scheduling an in-person interview mean that it can sometimes take many months to actually get your membership.
But don't give up hope. We've got some hints to get Global Entry faster.
What is Global Entry?
Global Entry is a trusted traveler program that allows you to get through U.S. immigration and customs quickly. It also includes a TSA PreCheck benefit that gets you into a designated lane for security.
Because this program lets you get through high levels of security quickly, the process for getting approved is more rigorous. It's also more expensive costing $100 versus TSA Precheck which costs $85, both for 5 years.
To get Global Entry (GE), you need to fill out an application online that is fairly extensive. You will answer questions about current and previous employment, residences, and more. This application will be submitted for a thorough background check.
Thrifty Tip: Read our guide on how to apply for Global Entry. If you're not sure whether to get TSA Precheck or GE, we break down the differences for you.
After submitting your application, you need conditional approval. And that can be a process in itself.
Waiting on Approval 
On paper, applying for and getting Global Entry is fast and simple. It can take just a week or so.
But in practice, it's not so simple or fast to get conditionally approved for Global Entry (the first step in the process) or secure an in-person interview – the final step. And it's gotten worse.
It started with the federal government shutdown in December of 2018 and continues as agents are shifted to tend to the humanitarian crisis at the southern border with Mexico. Those issues have combined to create a shortage of Customs and Border Protection agents to process applications and conduct interviews, leading to a backlog of applications. Customs and Border Protection (CBP) specifically warns that Global Entry applicants "should expect significant delays in application processing times."
But that's not always the case. While there are horror stories about applications sitting in limbo for 100-plus days, some applicants are still getting conditionally approved in just a few days. It's seemingly random.
Thrifty Tip: Pay for your $100 Global Entry application with one of these credit cards, and the entire purchase will get reimbursed!
And unfortunately, there's not a whole lot you can do to speed up this conditional approval process. You can try calling the Global Entry information line at (877) 227-5511 to escalate your approval process, but there's no guarantee.
Once you've been approved, it's time to schedule an interview. And depending on where you live, that can be a challenge. Many times in-person interview times are months out. So how can you get in and get GE faster?  We've got some advice.
Monitor the Schedule Like a Hawk
It's not unusual to pull up the schedule of available interviews and see … well, nothing.
Getting an in-person interview on the books is typically the hardest part of signing up for Global Entry. But keep in mind: Just because there are no interviews available today doesn't mean there won't be any tomorrow. Or even later tonight.

The schedule of available interviews is constantly in flux, as enrollment centers add and subtract slots and other applicants cancel or reschedule. And that's truer than ever before amid this recent slowdown.
It pays to be vigilant and keep checking back. If you schedule an interview weeks or even months out, don't resign yourself to waiting that long. Keep checking back to the calendar. You may – and often will – be able to slide in even earlier.
Take a Road Trip
Most of the major Global Entry enrollment centers are at major international airports. But they aren't alone.
There are roughly 100 enrollment centers nationwide – and even one in Guam! You can find them in towns big and small, in the center of the country and along the borders with Canada and Mexico, and in Hawaii and Alaska.
So depending on where you live, it could make sense to hop in the car to knock out your Global Entry – and turn it into a weekend road trip, if you can!
For example, you currently can't schedule an interview at our hometown Minneapolis-St. Paul (MSP) until March of 2020. But you could head up Minnesota's beautiful North Shore, spend the weekend hiking, and pop in for an interview in Grand Portage where the schedule is usually more open.
At five hours, this example is a fairly long drive. But by turning it into a weekend trip, you can get a two-for-one: a short vacation and your Global Entry interview. And there are other similar opportunities like this around the country.
… Or Work it into a Domestic Trip
Pssst … You don't have to do your interview at your home airport.
If you've got some domestic trips coming up, check out the list of enrollment centers nationwide and see what might fit into your travels. Head down to your interview after you land or schedule it well ahead of your departing flight to return home. Or even sneak in during a layover!
Let's say your nearest enrollment center doesn't have interviews available for months, but you're making a trip to Miami. You never know, the interview schedule at Miami (MIA) airport might be wide open.
Check out your travel calendar, go through the list of enrollment centers and see what you could make work.
Use Enrollment on Arrival
As enrollment centers are getting hammered, Customs and Border Protection (CPB) is touting one of its newest features: Enrollment on Arrival. 
Rather than scheduling an interview, you can simply wrap up your enrollment process when returning from an international trip. It's available at roughly 50 airports, including a few international airports that have U.S. customs pre-clearance like Dublin or a dozen airports in Canada. There is typically a designated lane to finish your enrollment with CPB officers while also clearing immigration. Read our full guide to enrolling in Global Entry on Arrival.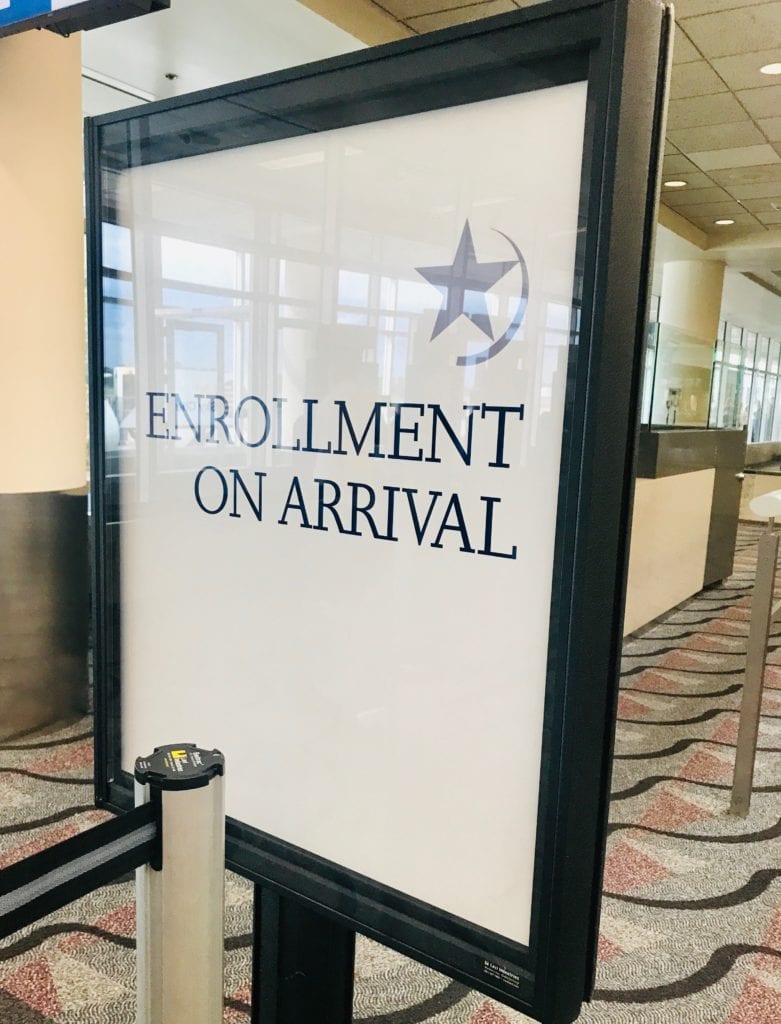 The one drawback about this process is that you won't be able to use the TSA PreCheck benefit until after you've completed your enrollment – so you're out of luck when departing on your international trip. But it's an easy way to knock out your interview when getting one on the schedule proves difficult.
Try a Walk-In
If you're desperate, try just showing up at your Enrollment Center. They might be able to squeeze you in for a quick interview.
Walk-ins were once a mainstay in for travelers trying to get Global Entry. These days, Customs and Border Protection is warning that it may not work. It's anybody's guess whether agents will give you an interview or send you away empty-handed.
Bottom Line
It's gotten more and more difficult to get Global Entry in just the last year. But trust us – good things come to those who wait. And if you employ some of these strategies, hopefully, the wait won't be long at all.
Want the best flight deals and travel tips delivered to your inbox?
Sign up for Thrifty Traveler, and like us on Facebook or follow us on Twitter & Instagram

Editorial Note: Any opinions, analyses, reviews, or recommendations expressed in this article are those of the author's alone, and have not been reviewed, approved, or otherwise endorsed by any card issuer.