From booking flights to getting on the plane to moving around a new, foreign place, travel can be daunting.
Don't let it scare you away. We're here to help.
We've assembled the best tips and advice to save you money, get through the airport quickly, and make your trip go as smooth as possible. After all, travel should be all about fun – it's called vacation for a reason!
Carry On Only!
Not only will traveling with just a carry on save you from bag fees, but you can also save yourself from some of the pitfalls and anxiety of travel that comes along with checked luggage.
For starters, save yourself a ton of time before and after your flight. Nothing is worse than getting to the airport only to stand in line to check your bag. Or arriving at your destination and having to wait again at baggage claim.
But there's another perk: your luggage will never get lost. You can step off the plane ready to go and easily get around on trains, metros, buses, and taxis when you're not lugging around a giant bag. If you need some help picking out the right one, here are some of our favorite carry-on bags!
Stay at an Airbnb
You're sold on sticking with a carry-on bag, but now you're thinking: "How will I have enough clothes for my two-week trip?" Stay at an Airbnb, and make sure it has a washer and dryer.
You can find great Airbnb's everywhere in the world that are much cheaper than hotels. Check out our top 5 tips for finding a great Airbnb and how to get the most out of your stay.
Haven't stayed in an Airbnb before? Sign up using our link and you will receive $40 towards your first stay (we will get $20 as well).
Get TSA PreCheck or Global Entry
You're no longer waiting in line to check your bag, but that security line seems to keep getting longer.
TSA PreCheck and Global Entry are your tickets to get through the airport fast. Besides the dedicated line, TSA PreCheck also allows you to leave your shoes on your feet, a jacket on your back, and all those electronics and liquids inside your bags. It makes traveling much more enjoyable when you don't have to awkwardly fumble around inside your bag – or stand in line behind dozens of people doing the same.
When you return to the U.S. from international travel, Global Entry allows you to breeze through customs. No waiting in hour-long lines when you just want to be home or you're worried you're going to miss your next connection.
Here's an in-depth look at both of these options and how to sign up now! But here's the secret: Global Entry includes PreCheck. So if you're torn, Global Entry is the easy choice. 
Use Google Flights
You're all set to get through the airport quickly and with ease, now you just need to find some cheap flights!
Stop using Kayak,  Expedia, or any other flight search engine. Google Flights is the best way to find the best deals out there. It's a powerful search engine that zeroes in on the best prices from all of the airlines to any destination. Plus, it is super easy to use.
Not sure where you want to go? Check out Google Flights Explore, which can help you find dirt-cheap deals by searching specifically within a certain state or country, or as broad as a whole region like Europe or South America!
Travel on the Cheap Days and Off-Season
Google Flights will help you find the best deal, but there are some ground rules to keep in mind to help you get the most bang for your buck.
Flights tend to be less expensive on Tuesdays, Wednesdays, and Saturdays. Flight prices generally skyrocket within the last 30 days before departure. And avoid traveling in peak summer (June through mid-September) and around the holidays. Here are more tips for the cheapest times to travel.
Sign Up for Thrifty Traveler Premium
We're going to toot our own horn for this tip. We find the BEST international flight deals, and send them straight to you!
If you think you can't afford to fly to amazing destinations around the world, think again. We not only find deals from major cities like Los Angeles (LAX), Chicago-O'Hare (ORD) and New York City-JFK (JFK) but from smaller airports around the country like Fargo (FAR), Wausau (CWA), Columbus (CMH), and more!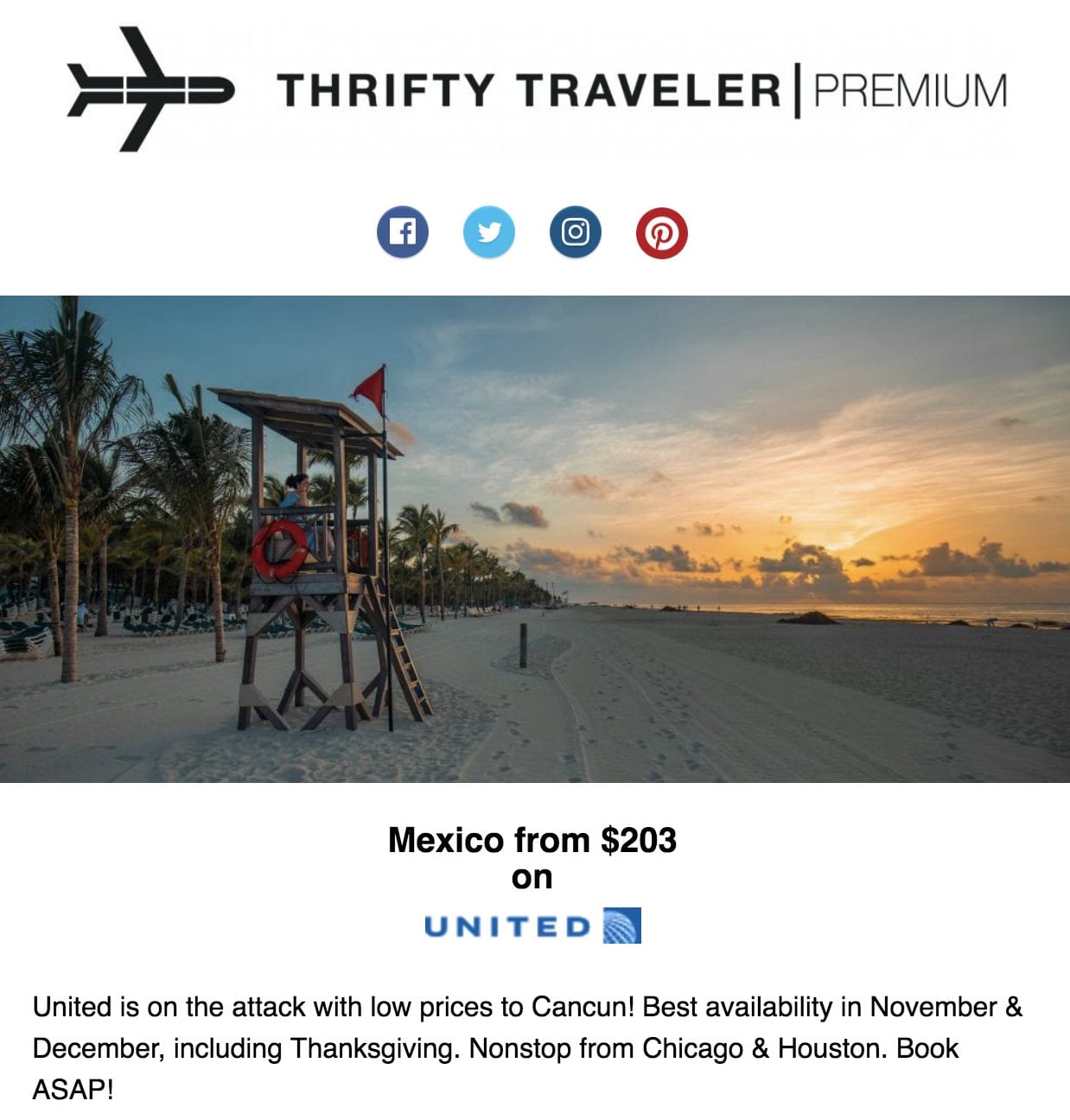 Try out Premium today to see how you can save $250 to $800  or even more on international flights!
Use Points and Miles
Using points and miles to travel can save you thousands of dollars! If you are financially responsible and feel comfortable with credit cards, you can unlock some free travel and serious travel perks. If you're skeptical, we've debunked some of the biggest myths about how your credit score may be affected.
You can book your flight deals with points or fly in a $5,000 business class suite for some miles and just $5.60. You could stay, eat, and drink for free at an all-inclusive resort or use Marriott points to stay at the Le Meridian Munich during Oktoberfest, and so much more. Check our beginner's guide to get started!
Find the Best Seat on the Plane 
Whether you're flying for 50 minutes or 15 hours, you want the best seat on the plane. And just because you're in economy doesn't mean there aren't winners and losers.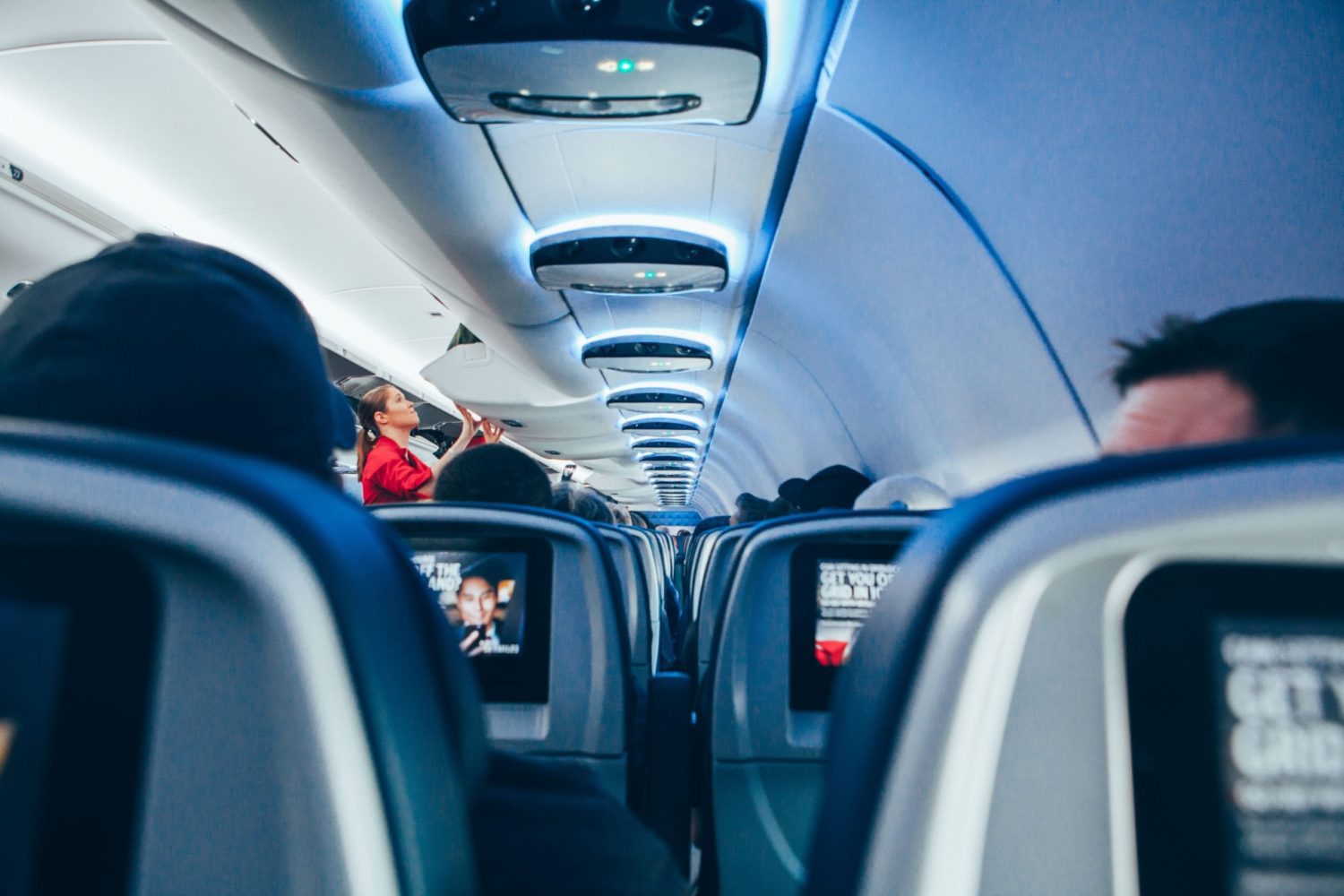 Make sure that window seat really has a window, and never end up next to the bathroom again! One of our favorite tools, SeatGuru, recently updated their seat maps to help you find the best seat on the plane.
Hold Your Mail
You're getting ready to go on an amazing vacation, and you realize your mailbox will be stuffed when you get home. Did you know that the U.S. Postal Service will hold your mail?
You can go to their website and select the dates you'll be gone, they will keep your mail, and then deliver it when you return. No more asking your neighbor to get your mail or worrying about it piling up.
Get Google Fi
Do you want to stay connected while traveling? Whether you need to put in a few hours of work or keep your Instagram stories rolling, Google Fi is the best option to get online anywhere in the world. At only $10 per gigabyte of data, it's also one of the cheapest options out there. Learn how to get Google Fi for your next trip.
Bottom Line
These are just a few of our favorite tips to make travel easier and even more enjoyable. For even more insight and Thrifty Traveler insider knowledge, sign up now for our daily emails!