Oktoberfest is one of my favorite festivals. Even if you're not into beer, the festive atmosphere at Oktoberfest is entertaining. There are plenty of other things to do, and more importantly, eat. Many people are surprised to learn that Oktoberfest in Munich actually starts on the third Saturday in September and ends in the first week of October.
Mrs. TT and I attended Oktoberfest in 2013, and again in 2016. In honor of Oktoberfest kicking off this past Saturday, check out our Oktoberfest Guide for the Thrifty Traveler and learn how to plan your next trip and save some cash.
Where and When is Oktoberfest?
Oktoberfest takes place in Munich, Germany for two weeks from the end of September through the beginning of October.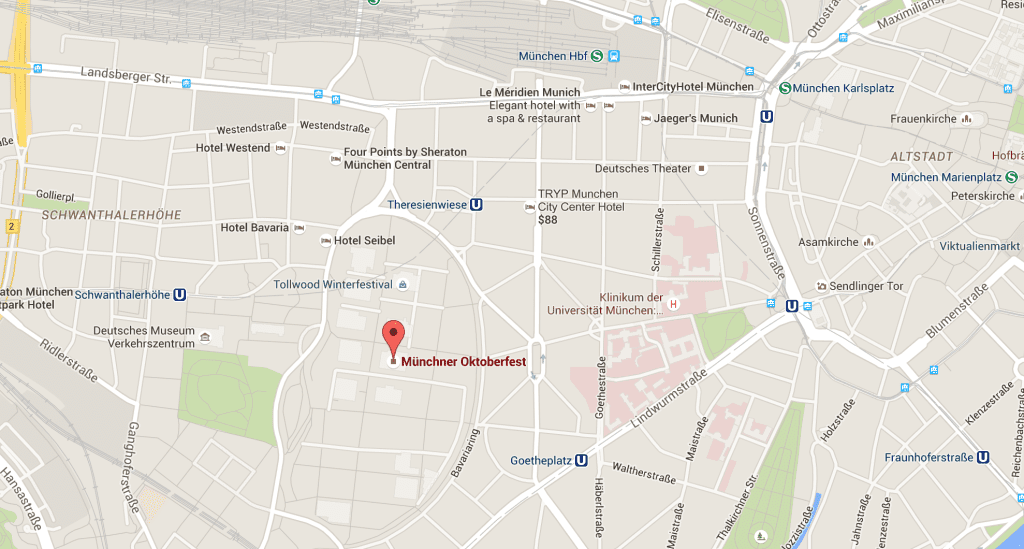 Oktoberfest is located in a large area known as the Theresienwiese located directly south of the main train station (10-15 minute walk) and just west of the city center (Marienplatz). Don't forget to visit the classic Hofbrauhaus beer hall near the city center.
Getting to Oktoberfest
Flights to Munich
Your best bet for flights is to book early, especially if you are trying to book with points & miles. If you're looking for international flight deals, including flight deals to Munich for Oktoberfest, subscribe to Thrifty Traveler Premium to get 50-70% off flights with our instant flash sale notifications.
You can even combine your Thrifty Traveler Premium subscription with the ability to book flight deals with Chase Ultimate Rewards points. One of our favorite ways to use them.
Thrifty Tip: Want to learn more about Thrifty Traveler Premium? See our guide on How Thrifty Traveler Premium Works.
Trains to Munich
Oktoberfest is less than a 20 minutes walk away from the central train station in Munich and many people commute to the festival each day without staying in the city. If you only wanted to spend the day at Oktoberfest you can easily reach it from many surrounding cities via rail including Augsburg, Salzburg, Fussen, and Nuremberg. We always book with RailEurope.
Lodging or Oktoberfest in Munich
Munich has hotels that represent every major hotel chain, although Marriott really has a monopoly on the city center. All three Marriott properties in Munich's city center are solid choices. I'd recommend staying in the city center by the train station or right next to the Oktoberfest grounds.
Another great way to save money is to book a room or apartment through Airbnb. You can find relatively inexpensive rooms right next to the Oktoberfest grounds and experience what it's like to live in the city versus a hotel. If you're new to Airbnb, you can easily earn $40 off your first stay.
Another option is to book a bed or a room in a hostel. This can be an awesome way to meet new people and find a group from around the world to join at Oktoberfest. Read more about why you should stay in hostels, and how to book with Hostelworld.
How do you get a seat at Oktoberfest?
Admission to Oktoberfest and entrance to the tents, if they have room, is free. When I went with Mrs. TT, we arrived at the Schottenhamel tent at 9 am and we were able to find a couple seats, although it was still very busy. If you are going with a group larger than six then I'd definitely recommend reserving a table. Some tents are bigger than others and busier than others. We spent the most time in Schottenhamel but I recommend going early and checking the others out. While they all serve beer, each has its own vibe. Go early; you won't be judged for drinking before noon.
If you want to visit Oktoberfest on opening day it will be next to impossible to get a table. The keg is tapped by the Mayor of Munich in the Schottenhamel tent. You will have to be there very early before the doors open and hope some company who has reserved a table does not show up. This worked for our group of 10 people when we visited. Opening day is incredibly exciting.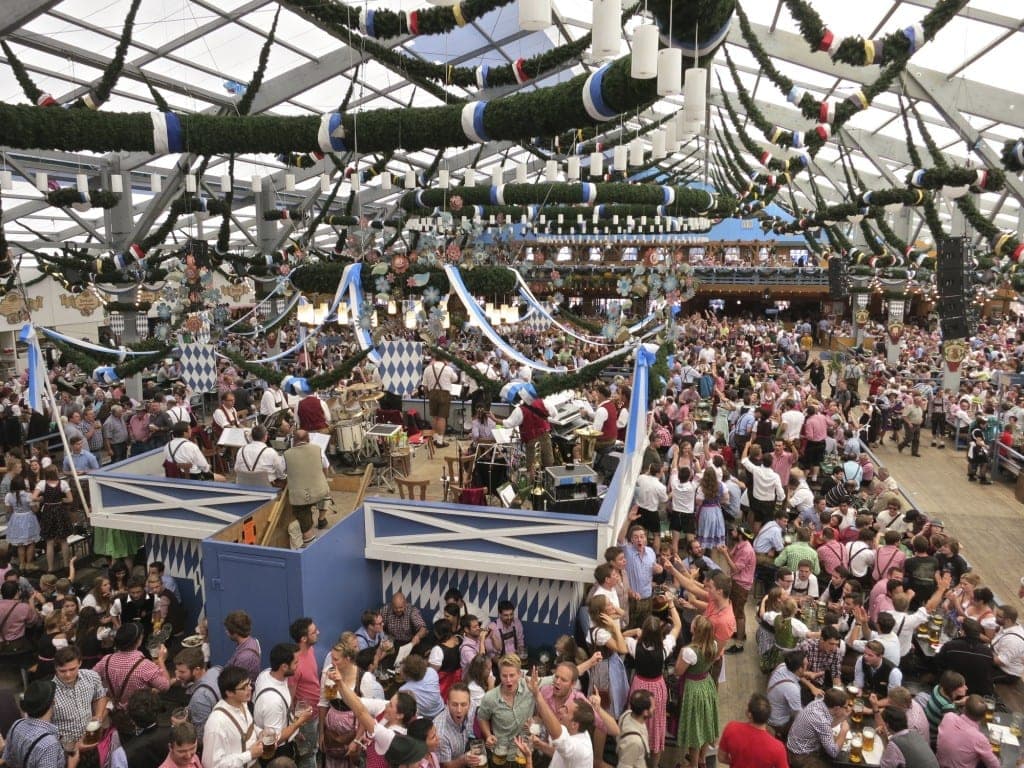 Munich has 6 different main breweries that have tents at Oktoberfest: Lowenbrau, Spaten, Paulaner, Hofbrau, Hacker-Schorr, and Augustiner. Augustiner is most popular with local Muenchners.
Thrifty Tip #1: You do not need a reservation for a table but the later in the day you go, the less likely you are to find a spot. Ask nicely if you see people have space at a table. Companies reserve tables but do not show up, this is the best way to snag a table for four hours or so.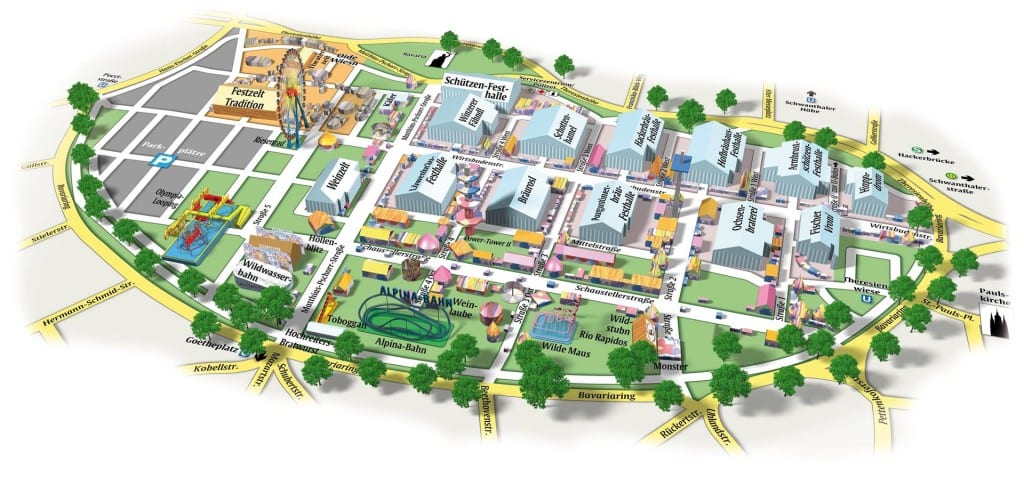 Oktoberfest annual attendance is more than six million and most of them are Germans. Don't let that hold you back though. Most of the Germans we met spoke English as well as we did. Oktoberfest is all about meeting new people, and the beer does most of the work for you.
Making Reservations for Okotberfest
If you are going with a group larger than six people, you should reserve a table in advance. This is slightly more complicated. Usually, the beer tents gather all requests during January and February; and allocate the beer tent tables in March. You can book directly at each tent's website.
You don't pay for the reservation, but for what you'll be eating and drinking. With each seat, you have to buy a minimum of 2 beers and 1/2 chicken, which costs about 30 euro (35 USD) per person. So to reserve a table for 10 is 300 euro (350 USD).
Thrifty Tip #2: Beers are about 10 euro, but it's for a full liter so actually not too expensive.
The prepaid beer and food vouchers will be sent to you once you confirm and pay for your reservation. The vouchers are valid during the whole Oktoberfest period. Although I really doubt you'll have any leftover.
Should you dress up?
Absolutely! If you're going to travel all the way to Munich, you better pick up some Lederhosen if you're a guy or a Dirndl if you're a lady. You will feel out of place if you are not dressed up.
I recommend finding one at least three months before Oktoberfest on eBay when they're the cheapest. I was able to get a classy leather Lederhosen, button-up shirt, socks, and shoes for less than $100. The same goes for Mrs. TT's dirndl.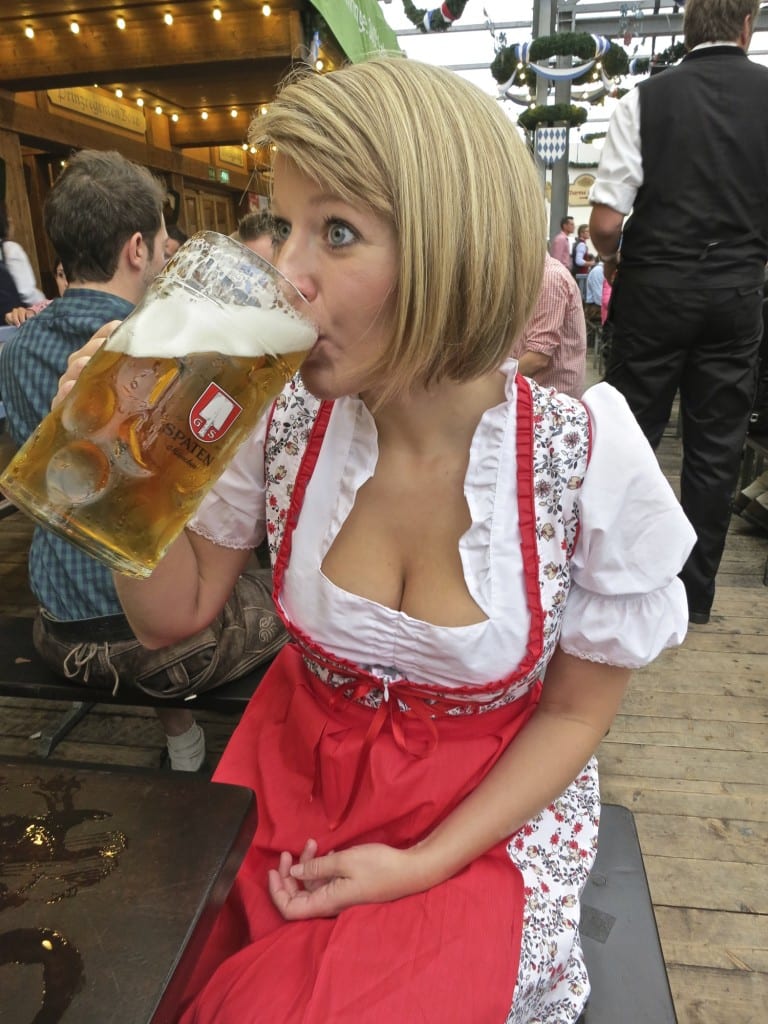 Bottom Line
By booking your flights and hotels with points or a flight deal, you can save a significant amount and enjoy Oktoberfest without breaking the bank. I highly recommend crossing Oktoberfest off your bucket list and also exploring the areas outside of Munich in Bavaria. Germany is a beautiful country and attending Oktoberfest is the perfect excuse to visit!