Avianca LifeMiles is the quirky – but highly useful – mileage program run by the Colombian airline Avianca. Starting today, LifeMiles will give you a 10% bonus when transferring credit card points to the airline … but you'll have to hurry: This transfer bonus ends in just 10 days on April 22!
This new bonus means you'll get 10% more miles when transferring points from cards like the American Express® Gold Card, Capital One Venture X Rewards Card, or the Citi Premier® Card to LifeMiles – so 50,000 points with any of those banks nets you 55,000 LifeMiles. There's an identical 10% bonus even with lesser-known programs like Brex or HSBC points. One Mile at a Time first spotted this new promo.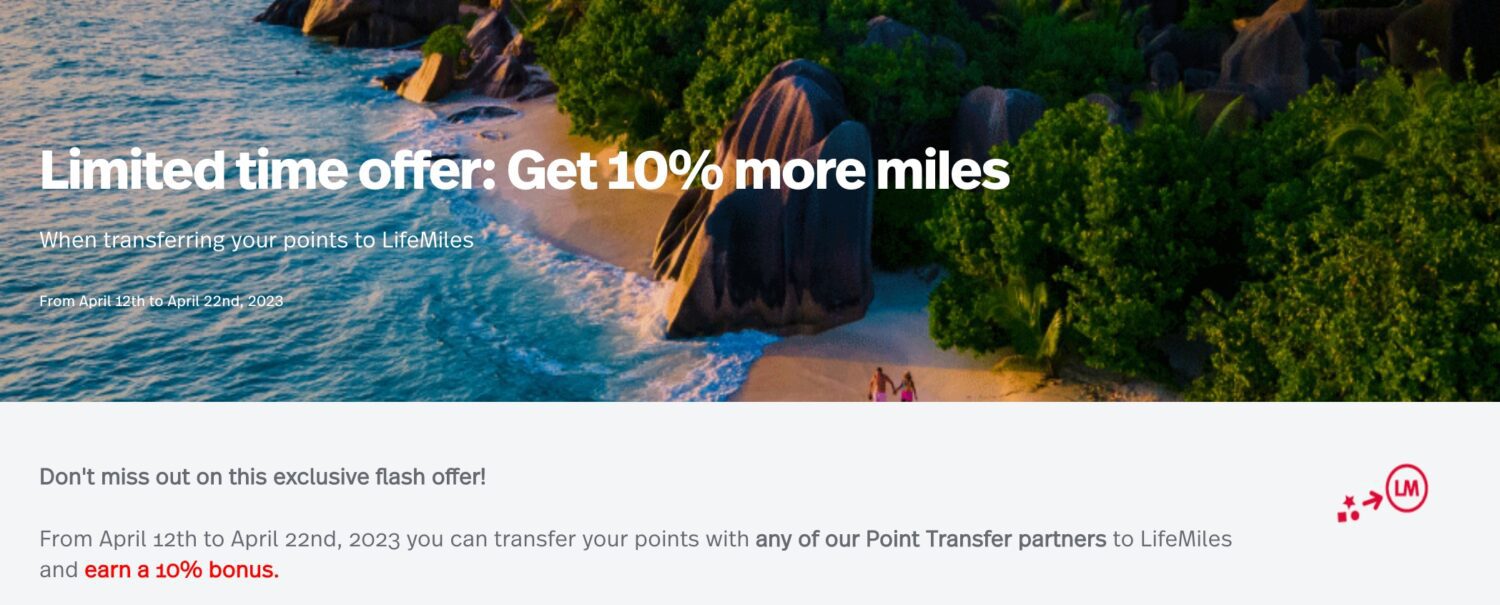 Read our guides on how to transfer Amex points, Capital One Venture miles, and Citi ThankYou points!
Sending your points to airline partners is one of the best ways to maximize their value, and these transfer bonuses make it even better – think of it as a way to get some free airline miles. Just keep in mind: These points transfers are a one-way street. Once you send points from Amex, Capital One or Citi to LifeMiles, you can't get them back.
Transfer bonuses to LifeMiles seem to crop up at few times a year. But this one is different.
For starters, these transfer bonuses are typically a one-to-one promo, like a 15% bonus only from Amex to LifeMiles late last year. But more importantly, you won't see this 10% bonus when you log into your Amex, Capital One, or Citi accounts: LifeMiles is handling it on the backend after you've started a transfer. So once you send over 50,000 points from your credit card account, LifeMiles will separately kick in the 5,000-mile bonus – the airline says it will post bonus miles within 24 hours.
A 10% bonus isn't the biggest we've seen, but even a few thousands LifeMiles can take you far. Take a look.
Best Ways to Use This LifeMiles Transfer Bonus
Even if you'll never fly Avianca and have no plans to visit Colombia, you should know about LifeMiles.
It's far from perfect, but LifeMiles can be one of the best mileage programs in the world for booking Star Alliance airlines like Lufthansa and SWISS to Europe, EVA Air to Asia, or United and Turkish Airlines all over the world. It combines low mileage rates with just $50 to $100 in award taxes and fees. That makes it a go-to for travelers looking to book business or first class seats with their points and miles.
Heading to Europe? You'll never pay more than 63,000 miles one-way for a business class award to Europe with Avianca LifeMiles. That's true whether you're flying to or from the East Coast – like this SWISS business class flight from Geneva (GVA) to New York City (JFK) – or even booking a connecting flight all the way from the West Coast to Europe.
With a 10% bonus, 58,000 points is all you need to make it a reality. Since Capital One allows you to transfer miles in increments of 100, you can fine-tune your transfer to 57,300 Venture Miles to get the 63,000 LifeMiles you need!

63,000 LifeMiles for a one-way business class ticket to Europe is tough to beat, but thanks to the quirky nature of the LifeMiles program, Avianca actually one-ups themselves by offering flights on TAP Air Portugal business class from New York City (JFK) to Lisbon (LIS) for just 35,000 miles one-way. This is one of the cheapest ways to fly international business class, period. This 10% bonus makes it even cheaper.

Maybe Africa is more your style. While it may not win awards for the fanciest business class seats, Ethiopian Airlines is often the quickest way to fly to almost anywhere in Africa. For instance, you could fly from Toronto (YYZ) to Cape Town (CPT) with a stop in Addis Ababa (ADD) for 78,000 miles one-way in lie-flat business class.


If you're not concerned with flying at the front of the plane and just want to get to your destination in the most economical way possible, LifeMiles has something for you too. When flying from the Northeast U.S. to Northwestern Europe, economy awards start at 20,000 LifeMiles for a one-way economy ticket. All other economy awards are supposed to price at 30,000 one-way from the U.S. to Europe, but you'll find that's not always the case.
Take this Denver (DEN) to Brussels (BRU) one-way economy flight, for example. This flight should price out at 30,000 miles one-way, but in reality it only costs 23,000 LifeMiles one-way plus ~$75 in taxes and fees.


Need more info on putting your LifeMiles to use? Read our complete guide to booking the best LifeMiles Sweet Spots!
A Word of Caution
The LifeMiles program is full of sweet spots … but that comes at a cost. Have I mentioned the quirky nature of the program?
With LifeMiles, you need to know what you're getting into. And there are plenty of pitfalls to be aware of when using this otherwise valuable mileage program.
A buggy website & IT issues: You may encounter several errors while searching for flights. The website will often "time out," forcing you to reload or sign out completely and sign back in. You'll need to pack your patience when booking with LifeMiles.
LifeMiles may not see all award availability: It can be the best program for booking Star Alliance flights … but only if those awards are available. Avianca LifeMiles doesn't always get access to the same award space as other Star Alliance programs, so be sure to confirm the flights you want are bookable through LifeMiles itself before transferring any points.
Poor customer service: If things go wrong or you want to make any changes to your trip, there is no way to do this online … and trying to work with an Avianca agent over the phone can be a painful experience.
Hefty change and cancellation fees: All the big U.S. airlines and many foreign airlines have waived cancellation fees to scrap a ticket and get your miles back, but not Avianca. The airline charges as much as $150 for a date change on award tickets and $200 to cancel.
Miles expire: One of the most important things to keep in mind is that your Avianca LifeMiles have an expiration date. You'll need to accrue some miles at least once every 12 months to keep those miles active.
Bottom Line
Got a trip in mind where LifeMiles could come in handy? Use this 10% bonus from Capital One, Amex, and Citi (plus a few other programs) to Avianca LifeMiles to book flights for even fewer points.
These transfers are a one-way street, so it's probably not worth taking advantage of this transfer bonus unless you've got a specific redemption in mind. But if you can make use of it, you'll want to act fast: These LifeMiles transfer bonuses are only available through next Saturday, April 22!