If the cheap flights we've seen so far in January are any indication of what's to come this year, then travelers are in for a treat in 2019.
From South America to Australia and beyond, there are plenty of cheap flight deals out there. The prices you'll see below are real flight deals we've found just in the last few weeks. And we know more great deals are coming.
Many of these deals are already gone, but if you want to get in on the next insane fare, sign up for Thrifty Traveler Premium. Subscribers of our international flight deal service get the heads up immediately on these amazing flight deals.
Which of these destinations are on your 2019 bucket list?
1. Brazil
Flights to  Brazil have been more than $1,000 daily ever since Rio hosted the Olympics in 2016. And it's been a long time since we've seen low prices to South America in general.
But cheap flights to Brazil are back and better than ever. You'll likely find the best prices flying out of Miami (MIA), but we've already seen a few flights over 50-70% off typical prices from 10+ U.S. cities.
Just this week, we found roundtrip flights from Miami to Rio de Janeiro for only $310 from February through June. These fares typically cost over $850 out of Miami, so that's savings of $500.
2. The Caribbean
If you're in need of a tropical vacation, 2019 could be your year.
We've been seeing loads of cheap flights to the various Caribbean islands already in 2019. We highlighted several of these gorgeous Caribbean islands as cheap tropical vacation spots that won't break the bank. You'll see that the cheapest departure cities to these islands are from Florida, but we found flights over 50% off typical prices from more than 60 U.S. cities.
Flights to the Caribbean for as cheap as $156 nonstop and roundtrip? Sign me up! Because Puerto Rico is a U.S. territory, you don't need a passport to visit. Fares from most of the United States to San Juan have been incredibly cheap this winter. Now is the time to book!
Turks & Caicos island is an awesome choice for a tropical beach destination this year. And at this price, it's hard to pass up!
The Bahamas are a colorful delight, and with half off airfare, this is the perfect excuse to go. Check out Arawak Cay and indulge in a fish fry stand.
3. Reykjavik, Iceland
Do you know what's better than a trip to Iceland? A trip to Iceland and onward to another spot in Europe for the price of one. In fact, at the prices we're finding, it's half the price of what you'd normally pay to get to just one city! We recently found flights from Chicago to London that included up to a seven-day stopover in Iceland for just $325 total. That's a crazy cheap 2-in-1 trip!
Read more about how stopovers work, how to spend a stopover in Iceland, and our tip for saving money in Iceland.
4. Europe
We can already tell 2019 is going to be great for flight deals to Europe. We've seen fares as low as $238 nonstop from NYC to Rome!
If you've had a backpacking trip or tour de Europe in mind for this year, these airfare prices will make your jaw drop. Western Europe, Eastern, Europe, Scandinavia, you name it: we've seen tons of sub $300 fares roundtrip. You can barely fly to the U. S. coasts for that price!
Just a few weeks ago, we uncovered a fare war between the three major U.S. airlines (Delta, American, and United). These airlines and their European partners were waging war over the cheapest flights to Eastern Europe. The result? Crazy cheap flights to countries that usually cost $800 or more. Flights from over 50 U.S. cities were available to cities like Athens, Berlin, Budapest, Prague, Krakow, and Vienna.
The list doesn't stop there: these are the other Europe deals we've found for as low as $238 roundtrip:
Chicago & NYC to Dubrovnik, Croatia from $549 (Star Alliance – Was: $850)
18 cities to Poland from $461 (inc'l nonstop – Was: $800+)
25 cities to Prague, Czechia from $494 (SkyTeam – Was: $1000)
20 cities to Athens, Greece from $496 (SkyTeam – Was: $1000)
NYC to Barcelona & Rome from $287 (Delta / Nonstop – Was: $750)
15 cities to 

Europe

 from $287 (ALL NONSTOP – Was: $800+)
If you're looking for a cheap flight to Europe this year, things are looking good!
5. China
We're shocked to see flights to Asia so cheap lately. Have you had walking the Great Wall of China on your bucket list forever? It's time to make that dream a reality. With flights from as little as $368 roundtrip already this year, getting to China is more budget-friendly than ever.
Would you rather make a cheap flight free? We find tons of unadvertised Delta SkyMiles flash sales, including this crazy cheap one to China. You could get to China for just 30,000 SkyMiles roundtrip from much of the United States. This flight would normally cost you 75,000 SkyMiles! 2019 is definitely your year to see China.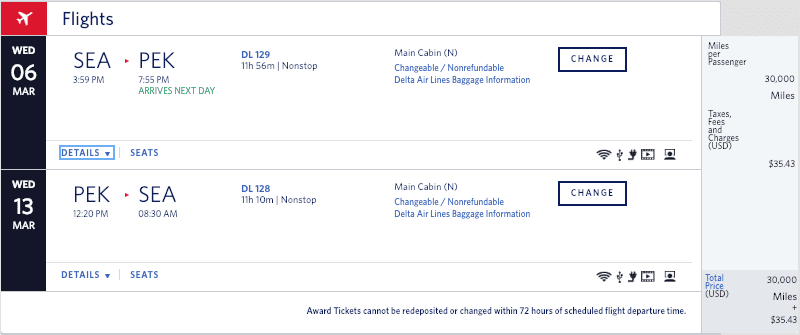 6. Australia
We saved the best for last.
We don't know what's going on, but we've found flights to Australia more than 50% off regular prices these first few weeks of 2019. A week ago, you could fly from Los Angeles to Australia for as low as $481 – nonstop and roundtrip. That's just wild!
These half-off fares to Australia aren't just from LA. We found flights from 20 U.S. cities for less than $600. If you've ever looked for a deal on flights to Australia, you know this is an absolute steal. Most of these fares are usually $1250!
Bottom Line
If any of these spots are on your travel checklist for 2019, it's going to be a great year of travel for you!
The year is still young, but it's a promising start for lovers of cheap travel. All of these deals were discovered by our team and sent out to Thrifty Traveler Premium subscribers. If you're looking for half-off flights to these cities and more, subscribe to Thrifty Traveler Premium and get instant notification of the international flight deals we find.