The days of record-high airfare to every destination around the globe appear to be numbered. Flights are getting cheaper again, but that depends a lot on where you're looking to travel.
We've talked a lot recently about how airfare is decreasing just in time for summer and how we're finding some of the cheapest flights we've ever seen. If you've searched for airfare lately, though, you might be wondering: Where the heck are these fares? That's not what I'm seeing for the flights I'm searching for. 
In some places, airfare is still high, or even rising. If you want to fly to South Africa, for instance, it might cost you. Gone are the days of the $591 roundtrip fare to Cape Town (CPT), sadly. The same goes for parts of Europe, Asia, and Australia and New Zealand.
But not all hope is lost! This is exactly what we do: We sift through the sky-high airfare to find some hidden gems for our Thrifty Traveler Premium subscribers.
Let's look at some of the places you should maybe avoid if you're looking to book cheap flights in the next couple of weeks. And, of course, we'll point you toward some places where airfare is still cheap, too.
Where Flights Are Expensive Right Now
Africa
It's a tale of two years in Africa. In 2022, with travel demand still slowly recovering, flights to Africa dropped to unthinkable lows.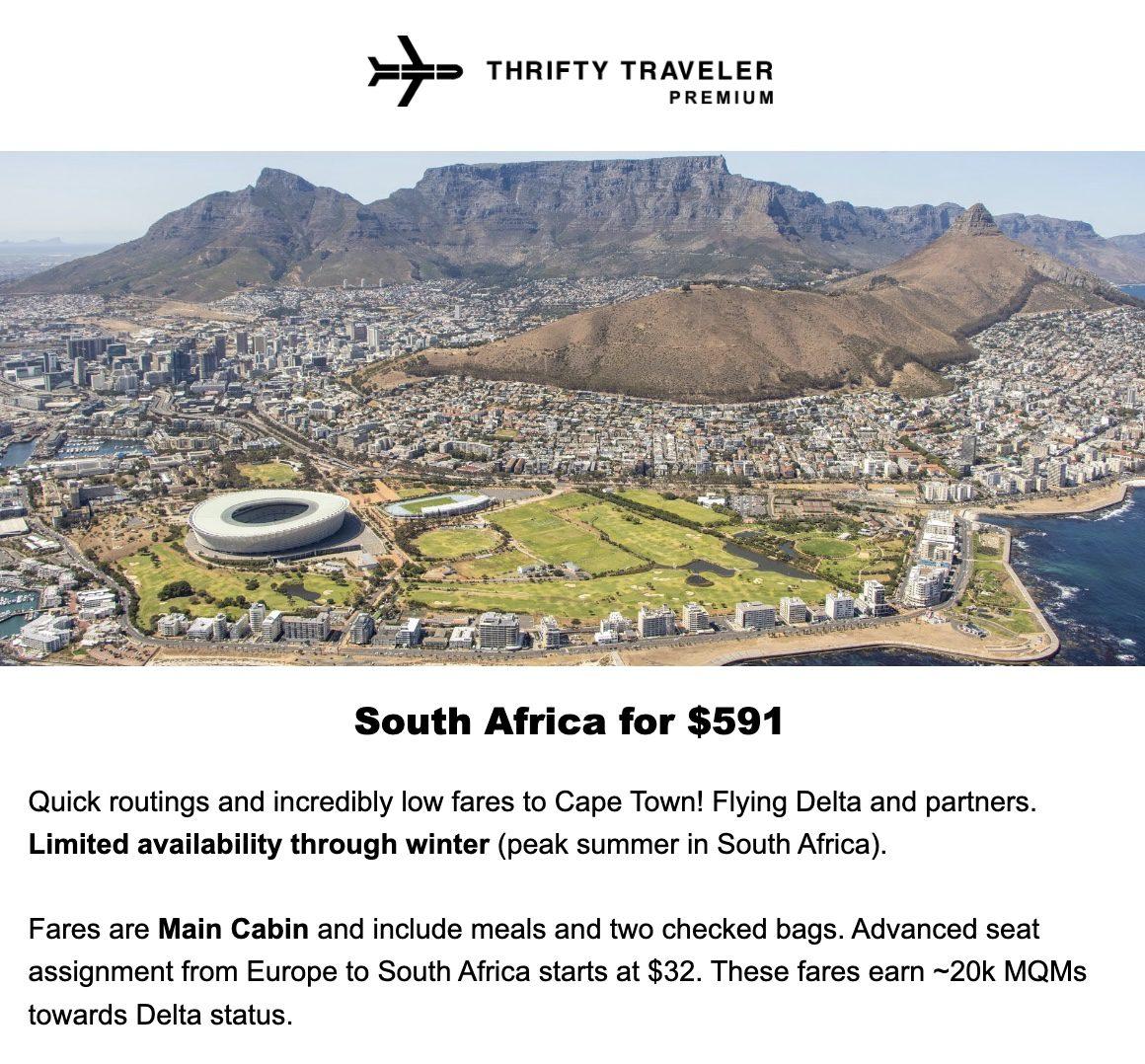 This flight deal from Minneapolis (MSP) and Detroit (DTW) comes to mind. These one-stop itineraries could get you to Cape Town, South Africa (CPT) for just $591.
If you're holding your breath for those fares to return, I have some bad news…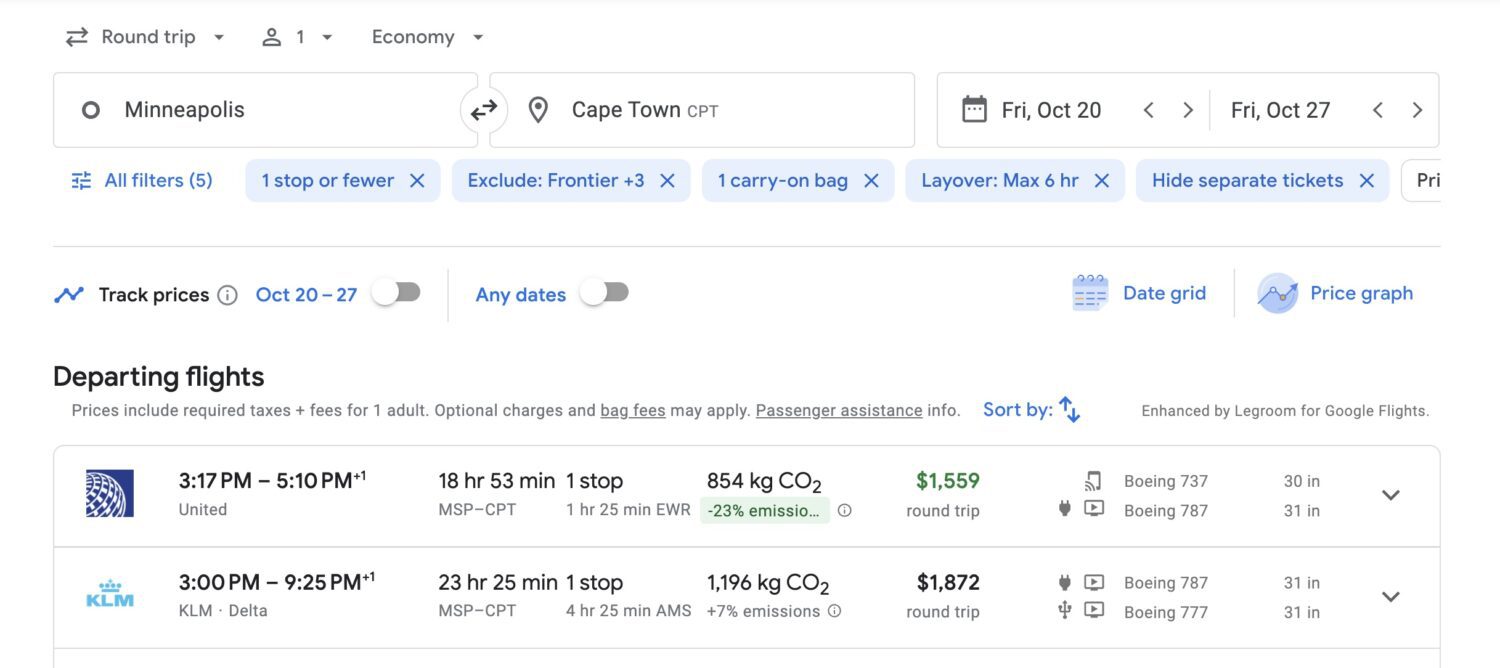 That's what the same search for airfare yields today. The cheapest flight I could find on the calendar between MSP and CPT is $1,558 roundtrip. Hardly a bargain.
I've noticed a similar trend in flights to Nairobi, Kenya (NBO). A year or two ago, you could book a cheap flight to the Masai Mara safari gateway for under $700 in many cases.
But a similar search this week showed that the Chicago (ORD) to NBO fare has essentially doubled.
Asia
With much of Asia closed to travelers for the past several years, travelers had to postpone and re-postpone those bucket list trips. Nobody flying across the Pacific meant flight prices dropped to unthinkable lows.
Thrifty Traveler Premium members will remember this doozy connecting the Rust Belt (and some of the Pacific Northwest, too) to Tokyo for under $575 roundtrip.
Sadly, that's not the case anymore.
One of the easiest places to find a cheap flight to Tokyo has almost always been from Los Angeles (LAX), and during the pandemic, we were seeing crazy cheap fares like this.
Now, fares have doubled, meaning the same flights are closer to $900 than $400.
Thailand is another sought-after destination in Asia, and this Bangkok, Thailand (BKK) flight deal from 2022 connected thousand of Thrifty Traveler Premium members with Thailand for cheap.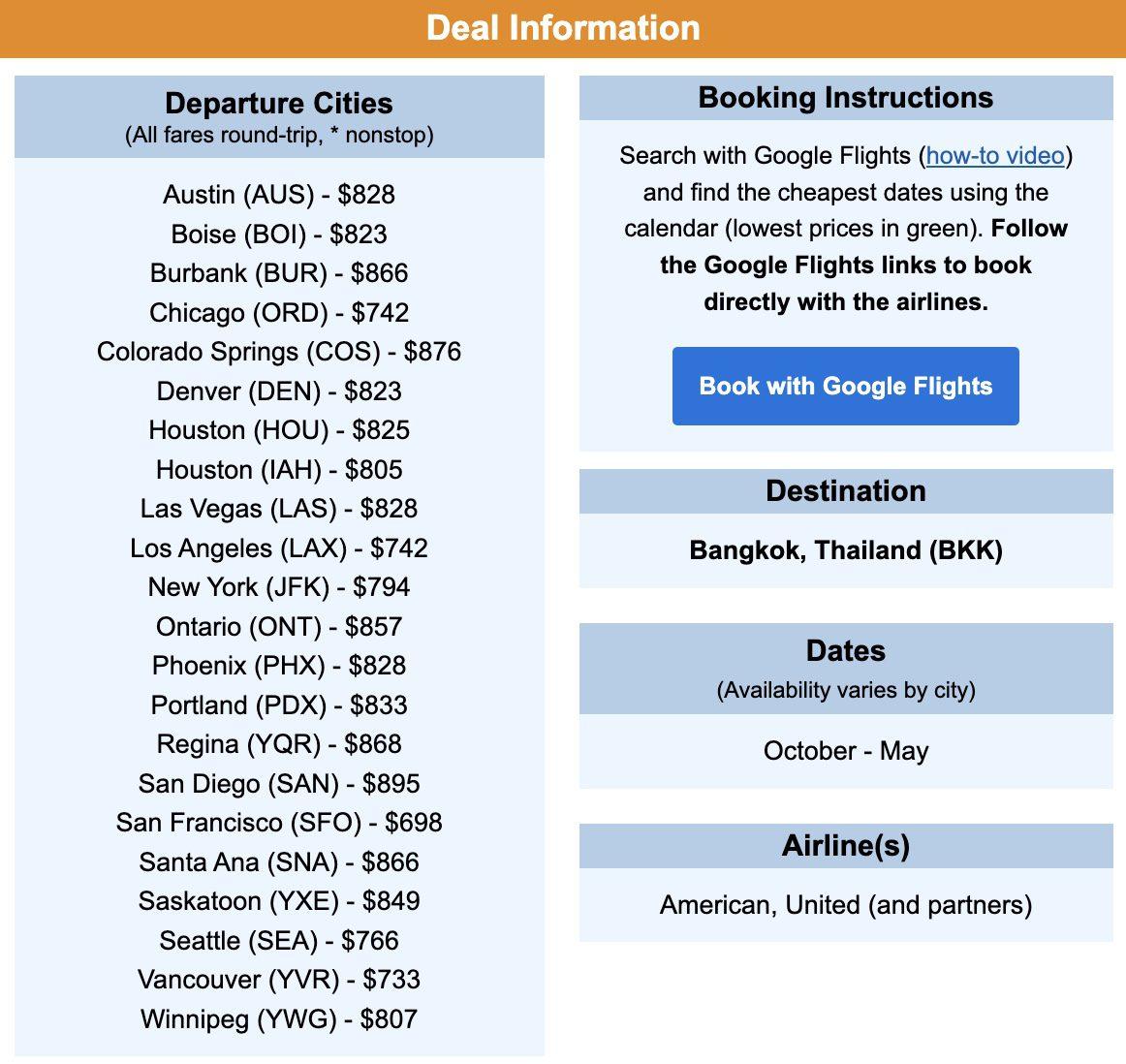 Are you catching on to the trend? The Denver (DEN) to Bangkok (BKK) fare, once $823 roundtrip, now sits at over $1,000 or more.
Australia & New Zealand
If you've been searching for cheap flights down under lately, you probably aren't seeing many rates like these.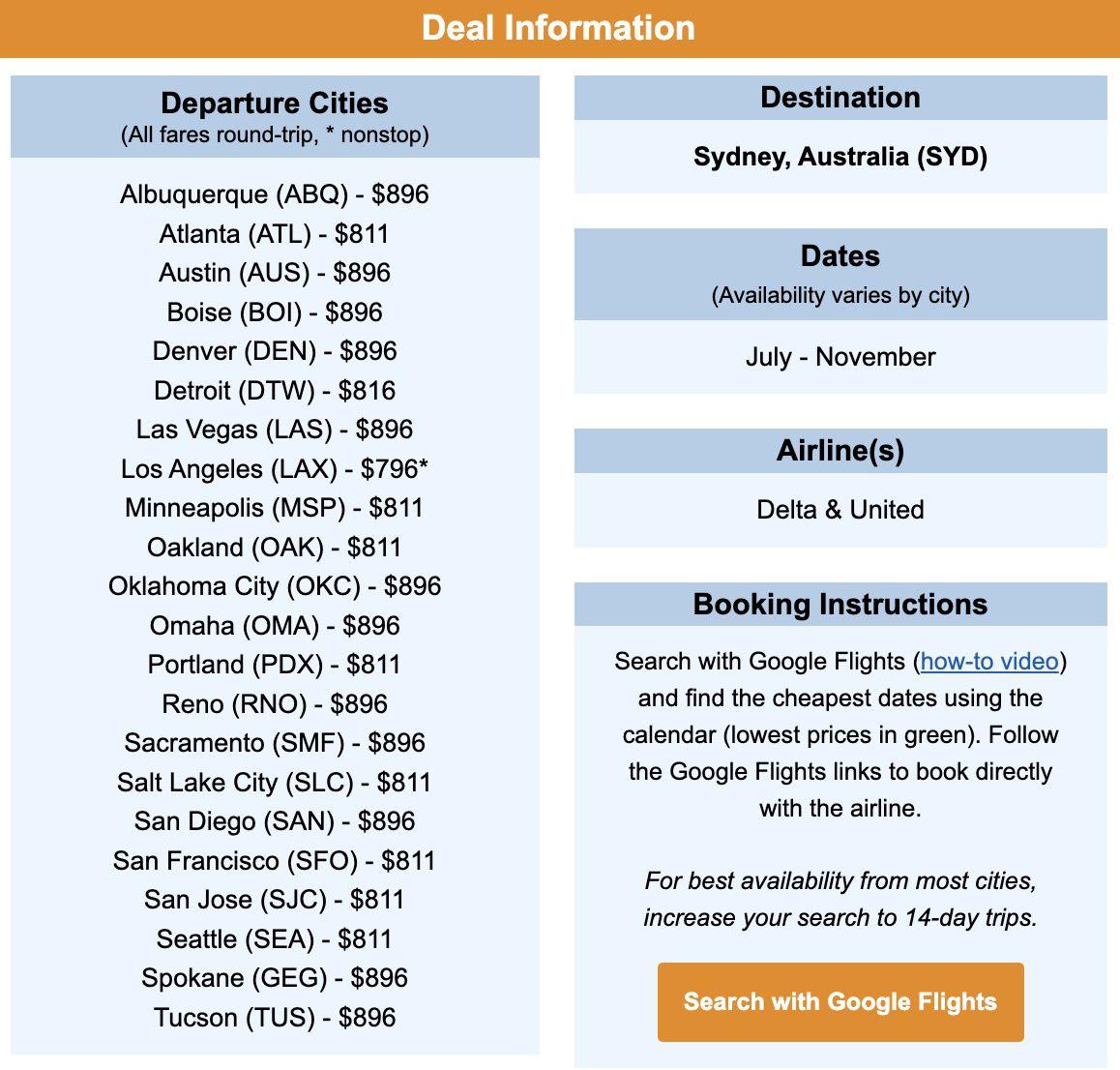 This flight deal is long, long gone. Fares in the $800s to get to Australia are getting harder and harder to find, with four-digit fares becoming more the norm.
And the same goes for New Zealand. Where we used to find sub-$900 fares like these to New Zealand all the time, they're becoming rarer.
Like Australia, now you're likely to see four-digit fares if you're searching for flights to New Zealand this year or next.
Europe
While we're always finding cracks in the flight pricing dam, Europe has been tricky of late. Roundtrip airfare like this is getting harder and harder to dig up.
Instead, that $385 roundtrip fare from Miami (MIA) to Athens (ATH) on Delta seems like a figment of our imagination at this point…
Ouch! Sometimes we can find reprieve on nonstop flights instead of connecting ones. Just a few weeks ago, we managed to find these relatively cheap nonstop flights to Europe.
But even the nonstops are rising in price once again, sadly. Here's what you might see if you looked today.
Where to Go Instead
Enough of the doom and gloom! Where is it still cheap to fly?
Domestic
Flights starting and ending in the United States are as cheap as ever right now. And we're not talking about a few tricky dates during the shoulder season, either. We're talking about wide open availability for low fares to places like Denver, Colorado (DEN) in peak summer.
This deal is gone now – get the next one with Thrifty Traveler Premium!
We also found a rare flight deal to Burlington, Vermont (BTV) just a few weeks ago, including a record-low fare on the new Delta route from Minneapolis (MSP) for under $198 roundtrip.
Look a little closer to home this year to find where the cheapest flights still exist.
The Caribbean
You can also snag a cheap fare to some of the most sought-after travel spots in the Caribbean.
You've heard of the Cayman Islands for sure, and this flight deal would have taken you straight to Grand Cayman (GCM) for less than $399 roundtrip this year or next.
This flight deal to the Dominican Republic had a similar scope.
That's only about half of the fares we found on that deal, too!
Atlantic Islands
The islands of the Atlantic Ocean are varied. No two are alike. The only thing they have in common is cheap flights.
Get alerts for cheap flights like these when you sign up for Thrifty Traveler Premium!
Iceland is arguably the most famous Atlantic island, and cheap flights to Reykjavik (KEF) are not hard to find, even in peak summer!
Bermuda and Iceland are a long way apart – physically and culturally – but Bermuda has also been home to some sweet fares like these ones for our members in Canada, New York, and Boston.
Finally, the Portuguese island of Madeira also deserves your attention if you're an adventurer. And we found nonstop flights from the U.S. to Madeira (FNC) for just $593 roundtrip.
Pacific Islands
Flight deals aren't limited to just islands in the Atlantic Ocean, though; there are cheap flights to be found to destinations in the Pacific too. Check out this flight deal to Tahiti (PPT).

The nonstop Delta flight from Los Angeles (LAX) was put on sale…big time.
Fiji is an equally exotic Pacific destination, and flights to Fiji have been as cheap as ever this year, too.
What's amazing about both of these deals is that our winter is their summer in Fiji and Tahiti, making the dead of our winter a perfect time for a visit down to either of these islands.
There's one destination where the weather is always perfect no matter when you visit: Hawaii.
This flight deal to the Hawaiian Islands could make your beach dreams a reality in 2023 or 2024.
Bottom Line
In some places, airfare is still high, or even rising. But there are great destinations where we're still seeing low airfare, meaning that trip you're dying to take is still in the cards for this year or next.