You can go to the Caribbean without leaving the U.S. And you absolutely should.
Puerto Rico and the U.S. Virgin Islands, two U.S. territories, have surged in popularity through the pandemic. They've got picturesque beaches and warm weather closer to home. They'll be more than ready to welcome tourists after some recent brushes with hurricanes and tropical storms. And you don't need a passport to get there, either.
But there's one underlying factor behind the rise in tourism to these islands: Some astonishingly cheap flights to Puerto Rico and the U.S. Virgin Islands. Over the last year and change, we've sent our Thrifty Traveler Premium members some jaw-droppingly cheap fares to both islands, with roundtrip fares occasionally dropping below $99 at times. From short hops from the East Coast to longer flights from the Midwest, we've never seen fares this low.
They're drastically different islands once you get there, but they're both just a cheap flight away. So if either of these destinations is on your radar – or even if they aren't yet – it might be time to think about booking.
We don't always find insane fares like this one, but we keep finding some unbelievable value to both of these spots for this fall, winter, and spring.

Get flight deals like this one straight to your inbox with Thrifty Traveler Premium!
Cheap Flights to Puerto Rico
No matter where you are in North America, getting to San Juan, Puerto Rico (SJU) is as cheap as ever – at least if you know where to look.
Thrifty Traveler Premium members have been getting alerts for cheap flights like this one almost every month with low, low fares to this increasingly popular destination.

Fares as low as $247 roundtrip – from tons of U.S. cities? You can't beat those prices.

Flying from Baltimore (BWI) down to San Juan and back for $253? That's cheaper than most quick domestic hops within the mainland.

And the deals don't stop there, either – they get even better. Flying from all the way in Pittsburgh (PIT) down to Puerto Rico for less than $200 roundtrip?!

Or maybe you're based near us in the Upper Midwest…


These deals are gone now, but the next cheap flight to Puerto Rico is never far away with Thrifty Traveler Premium!
Puerto Rico is one of our most consistent destinations for cheap flights. And every time the prices drop, we send them to you. Easy as that.

We've found cheap flights to Puerto Rico in the $300s, the $200s, and even in the $100s or below. Or maybe you hardly have to use any cash at all…
Take a look at this Delta SkyMiles flash sale we unearthed last year, with deals starting at just 10,000 SkyMiles roundtrip to Puerto Rico!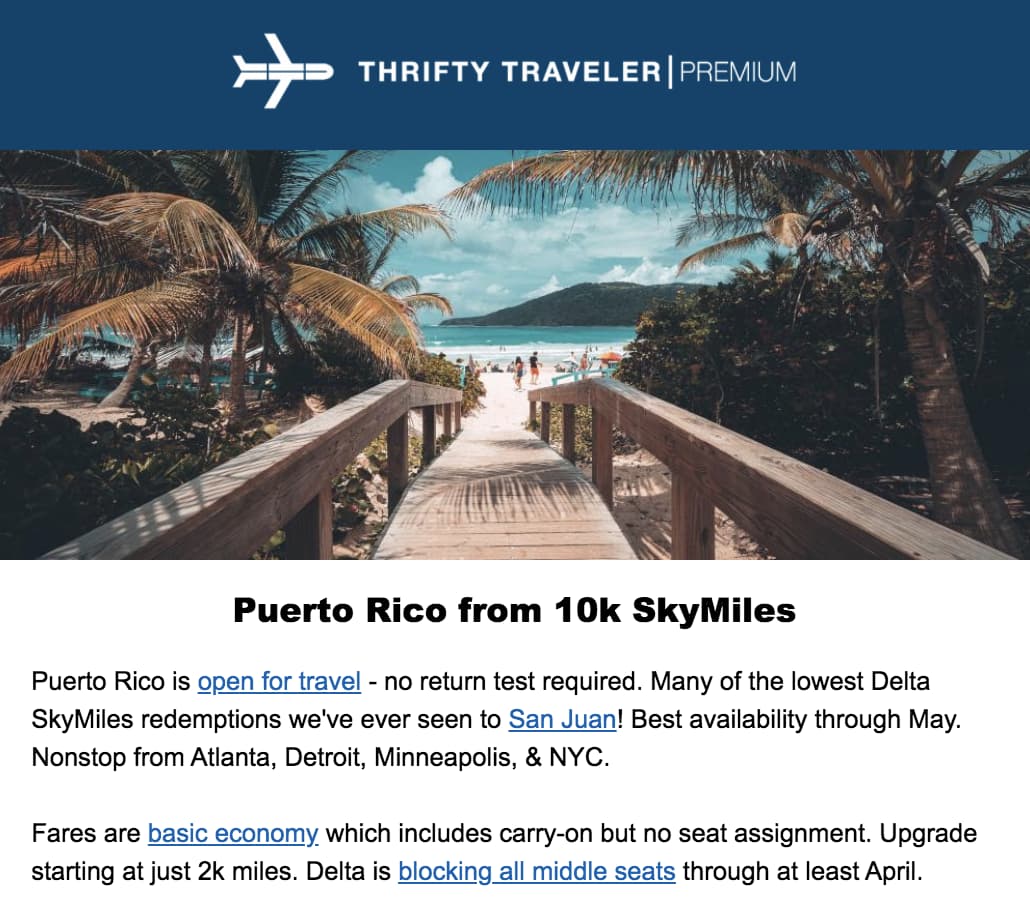 Many travelers had a stockpile of SkyMiles coming out of the pandemic, and these deals would barely put a dent in them! Check out this fare from New York City (JFK) to San Juan (SJU) for just 10,000 SkyMiles roundtrip!


Whether you're hoping to unload some points or book a bargain cash fare on one of the major U.S. airlines, there are tons of ways to get to Puerto Rico for cheap this year.
Why Puerto Rico?
In normal times, Puerto Rico has all the ingredients for the perfect vacation cocktail.
Old San Juan is dripping in culture with artsy murals, tasty restaurants, and decades of history. The island is also home to some world-class beaches and resorts, too, if a slow-paced sunny escape is more your vibe. Adventurers won't be bored in Puerto Rico, either: It's home to the stunning El Yunque National Forest of the National Park Service. El Yunque is one of the U.S. National Parks that require reservations this year.

For all of those reasons, Puerto Rico's appeal has grown for many Americans on the mainland over the last few years. But ironically, the pandemic might have made that case even stronger because of lax entry and return requirements. But even now that that's over, you still don't need a passport to visit Puerto Rico. No customs, no immigration, just a quick flight to paradise and back.

There are a million reasons to visit Puerto Rico, so it was never a surprise that its popularity has grown over the last few years.
Cheap Flights to the U.S. Virgin Islands
The Virgin Islands are an outlier in the Caribbean as it relates to cheap flights. Over the past few months, we've sent Thrifty Traveler Premium subscribers a ton of great deals to both St. Thomas (STT) and St. Croix (STX).
We've seen deals as cheap as this one, which we just can't stop thinking about…

Those double-digit Virgin Islands fares were a product of the pandemic, so we haven't seen anything like them in a while. But really great value still exists to both St. Thomas and St. Croix, including for travel this fall, winter, and spring!

Our latest Virgin Islands deal featured both St. Thomas and St. Croix flights from a number of U.S. cities.

No matter where you live, U.S. Virgin Islands deals are well within reach, especially for Thrifty Traveler Premium members. Just look at some of these fares!

Sub-$300. Nonstop. No passport. It doesn't get a lot easier than that. But with even just one quick stop in Miami (MIA) or Charlotte (CLT), the Midwest can be just a sub-$200 flight away from the beach.

Same goes for Minneapolis for a trip just before Christmas. Ho ho ho!


I know we can't feel too bad for the people of South Florida when it comes to weather, but even Miami residents can love the Virgin Islands at these prices!

Why the U.S. Virgin Islands?
Let's be honest, the U.S. Virgin Islands' reputation doesn't need my assistance, here. Dreamy beaches, perfect weather … all with no passport required. St. Thomas, St. John, and St. Croix are probably already on your list.
If they're not, you probably don't know about the snorkeling at Trunk Bay on St. John. It's known as one of the best beaches in the Caribbean. The color of the water, the surrounding vistas, and that picture perfect blue sky are nearly unbeatable.

It's just a ferry ride away from St. Thomas, too, so you don't have to plan a St. John-only trip to take advantage. Plus, the Island Time Pub waits for you when you return to the island.
If you want to stay on the island of St. Thomas and are looking for something other than just a beach day, take a hike up to Drake's Seat for some sublime views of the surrounding area. Over in St. Croix, there's so much more you can see. We have a full guide to St. Croix, so you can choose which city (Christiansted or Frederiksted) is a better home base for you, and so much more.

Beyond all of the incredible things to do in the U.S. Virgin Islands, it's also increasingly easy to visit. Pandemic entry restrictions are long gone. And, as always, you can leave your passport at home for a trip to the U.S. Virgin Islands.
Bottom Line
Puerto Rico and the U.S. Virgin Islands are some of the hottest destinations we feature on Thrifty Traveler Premium. And that has only grown throughout the past few years.
Whether you want a Caribbean beach getaway, an arts and culture immersion, or a National Parks excursion, the islands have something for you without all of the hassle of international travel.