New airplanes get a lot of hype among travel industry insiders and frequent flyers, but the average traveler often won't notice the difference.For many, the Delta Airbus A220 will be a notable exception.
At least it was for me. After a recent trip that took me on a handful of older, more crowded planes on other airlines followed by a shiny new Airbus A220 with Delta, I'm sold.
Delta introduced these planes in February, quickly adding them on more routes with plans to make them a mainstay for domestic flights. There may be no better plane on which to hitch a ride within the U.S. than the Delta A220.
Here's why.
All About the Delta A220
As you'll see, this is just a different plane.
For starters, it's built more like a small, regional jet that you might fly on 1-2 hour flights. There are just 109 seats on board, which is on the small side. That puts it among the smaller side – and much smaller than the Beoing 737s that United and American Airlines fly on similar routes.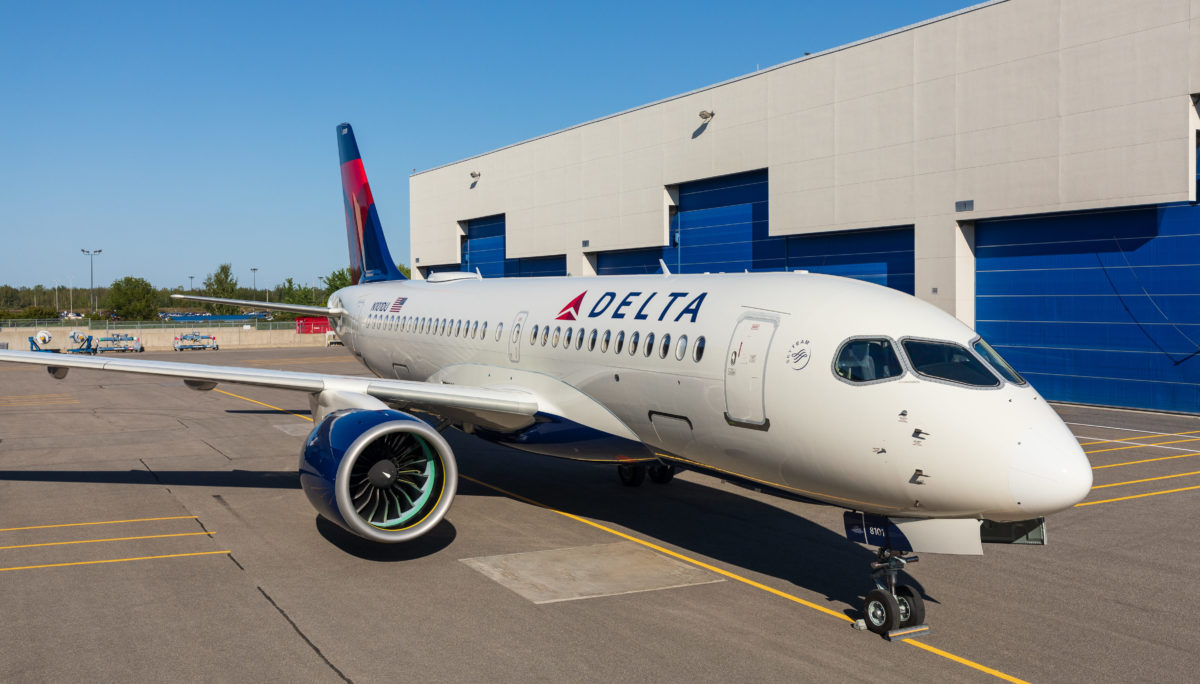 Delta was the first U.S. carrier to order the A220, and it spent months boasting about how it would set a new standard in passenger comfort. But a prolonged federal government shutdown in early 2019 put that on hold – at least temporarily.
But by February 2019, it finally took flight. These days, you can find it on more than two dozen routes within the U.S. and counting.
A Passenger-Friendly Arrangement
We live in an era of more seats in less space. And that's what makes the Airbus A220 stand out.
Along with the other international airlines with this new plane in their fleets, Delta put five seats in each row of the economy cabin: three seats on one side of the aisle, and just two seats on the other.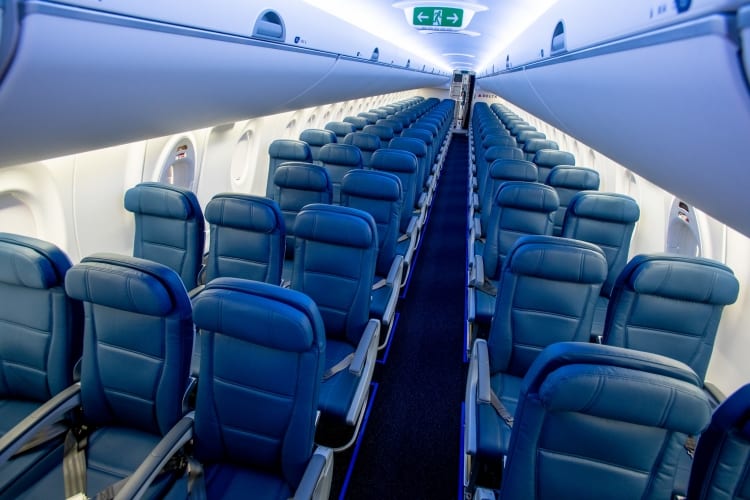 Maybe it's impossible to squeeze that sixth seat on the A220 – though we wouldn't be surprised to see a penny-pinching airline try it eventually. But either way, it's a win for passengers. It means more space at each seat – more on that later.
And critically, it means there's less of a chance of getting a dreaded middle seat when you're flying basic economy and can't pick your spot on the plane. Overall, the five-across arrangement makes the plane feel more airy and comfortable.
Spacious Seating on the Delta A220
Fewer seats on the plane = bigger seats for everyone. And after flying in fairly cramped planes on both American and United earlier in the day, it was a noticeable difference on the A220.

For starters, Delta leaves 32 inches of legroom for all economy passengers on these new planes. That's not only an inch or two more than you'll find on similar aircraft with the competition – it's also more space than most planes Delta itself flies domestically.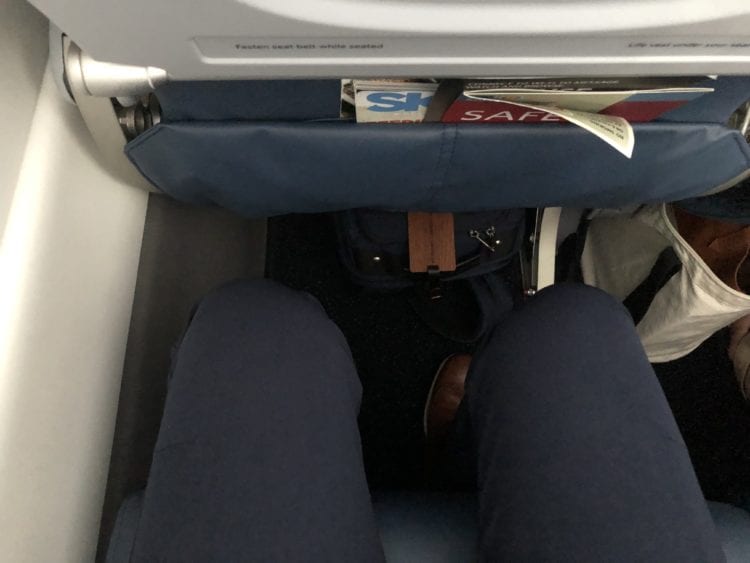 But it's the seat width where this really shines. Because there are only five seats in each row of economy, every seat on the A220 is much wider than most airlines: A whopping 18 1/2 inches wide, to be exact – the biggest seat in Delta's fleet. And while that still might sound like a tight squeeze, consider that American and United typically have 17 1/2 inches or less of width at each seat.
That extra inch is the difference between rubbing elbows (or even shoulders) with your neighbor and having plenty of room to sit back comfortably.
A Beautiful Bathroom
Most of us avoid using airplane lavatories unless absolutely necessary. But it's a different story onboard the A220.
Just look at this.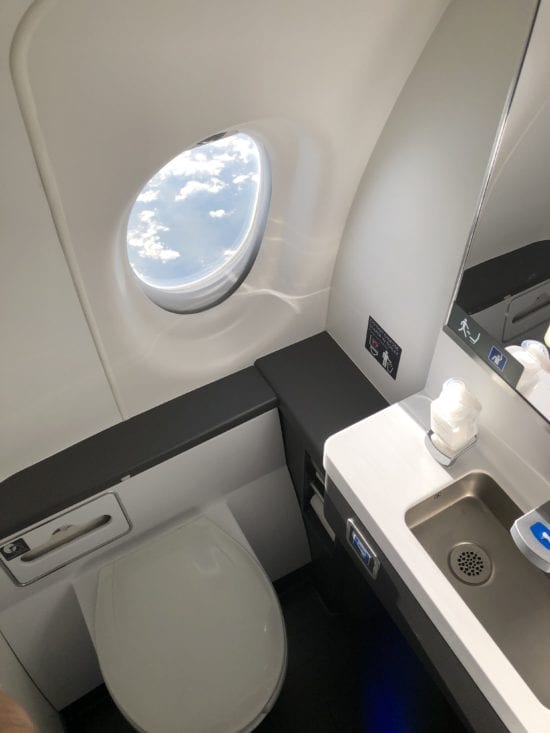 That's right; there's a window in the lavatory. And this is the lavatory at the back of the plane for economy passengers – not just First Class flyers.
It's not just the window. This bathroom onboard the A220 are bright, spacious, and well-designed. Only one of the three bathrooms on the A220 have the window, and it's by far the largest.
Seatback Screens
While other airlines ditch seatback entertainment, Delta is doubling down. So, of course, every seat on the Airbus A220 is equipped with its own entertainment screen.

The screens in economy measure 10.1 inches, while first class passengers each get a 13.3-inch screen. But no matter where you're sitting, the display is crisp, and stocked with plenty of movie and TV options.
Whisper Quiet
What's that you hear? Nothing?
The Airbus A220 is almost unbelievably quiet, it took me by surprise. Let me put it this way: When we started our takeoff roll, I assumed we were just taxiing to a different runway.
But soon enough, we were airborne without the typical roar of the aircraft engines. It was more of a hum.
While a quiet ride isn't a must-have, it's still a nice and notable feature of the A220.
The Delta Difference
Delta's A220 is most notable for what it's not. And it's obviously not an American Airlines or United plane.
While United and American rip out seatback TVs in the name of decreasing costs, Delta is installing them on its newest planes while retrofitting older planes with more entertainment options.
As its competitors cram more seats into their Boeing 737s and the Boeing 737 MAX, Delta has gone for a more spacious arrangement.
It all adds up. Beyond the Wi-Fi and better on-time performance, the airline's Airbus A220 is the clearest example yet that Delta is taking a different path to woo customers. Rather than cutting costs, it's putting money toward what customers see, feel, and experience in hopes of winning their business.
Delta President Glen Hauenstein said the airline has intentionally made that choice a few years ago after a customer survey found that most customers "were choosing on something other than the lowest fare."
"It's been about providing people what they want to buy," Hauenstein said. 
And that's what brought us the Airbus A220.
Bottom Line
It's too early to call this plane a gamechanger, but it just could be. Seek out the Delta A220 if you can. The emphasis on passenger comfort and extra touches are undeniable.